How to look well put together
If your goal is to find ways on how to look polished and put together, you are in luck.
Whether you have a job interview to go to, or you want to look awesome for the gram, we have a few creative hacks you can use to look polished and put together on a daily basis.
I am a big believer in always looking and feeling great.
If you look great, you feel great and you become highly motivated to get things done.
That is why most successful entrepreneurs decide to get up in the morning, take a shower, change into epic clothing before getting to work. 
And by doing this, you get more things done.
Looking "put together" doesn't have to cost you much either and you don't need anything fancy to achieve the look and feel. 
So how can you always look polished?
For those that have hit the slumps, and are really not feeling motivated to get it together, you will find our tips very useful.
I was in the same spot as you a few months ago when for some reason I couldn't get my look together. 
I felt completely out of it, my hair was starting to look really dry and overall my self-esteem felt low.
I knew I had to do something more than just tying my hair up in a ponytail to feel good.
If you know me, you know I have natural hair and having that my hair all dry is definitely not an option.
But thank goodness for these easy natural hairstyles that I tried to spruce myself up a little.
Other than my hair, my readers as always also had a few questions in regards to my secret beauty hacks. 
A few of my favourite questions: 
How can I look more put together?

How can I look polished every day?

How can I look classy all the time?

How can I look more fashionable?

How do I look put together on a budget?
If any of you happened to have asked any of these questions, thank you for that. 
They are all amazing questions and we will be sharing our best tips below, so grab that coffee or your favourite beverage and take notes, my friends.
I am definitely going to go into more detail on how to look put together and polished!
Before I go any further, don't forget to grab this awesome Beauty & Glow Up Planner.
It has personally helped me on my quest of getting that polished look put together.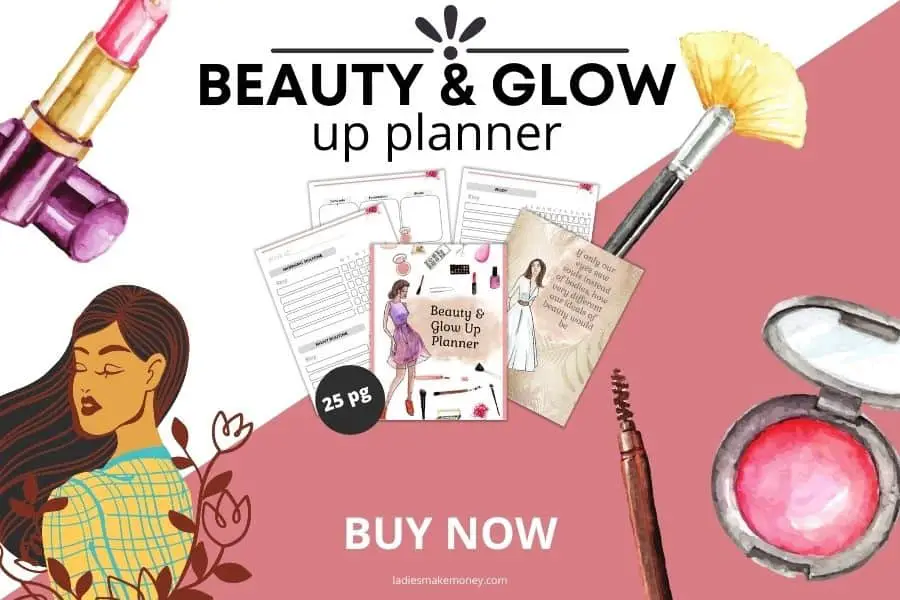 Here is how to look more put together
Before we get started on our best tips on how to look polished and put together, we did want you to follow us on Instagram for more tips. 
We also wanted to take the opportunity to let you know that we use Affiliate links on some of our blog posts. This means that we could make a commission if you click on an affiliate link and purchase something. Read our full disclosure and blog policy for more information.
15 Ways to Look Polished
For those looking for ways to look polished and put together, we have a great list coming your way below. 
We put an epic list of amazing ways for you to look your best at all times.
I am personally always looking for ways on how to always look polished as I work that busy 9-5. 
I need to look my best at all times. 
If you are ready to learn our tricks, keep reading below.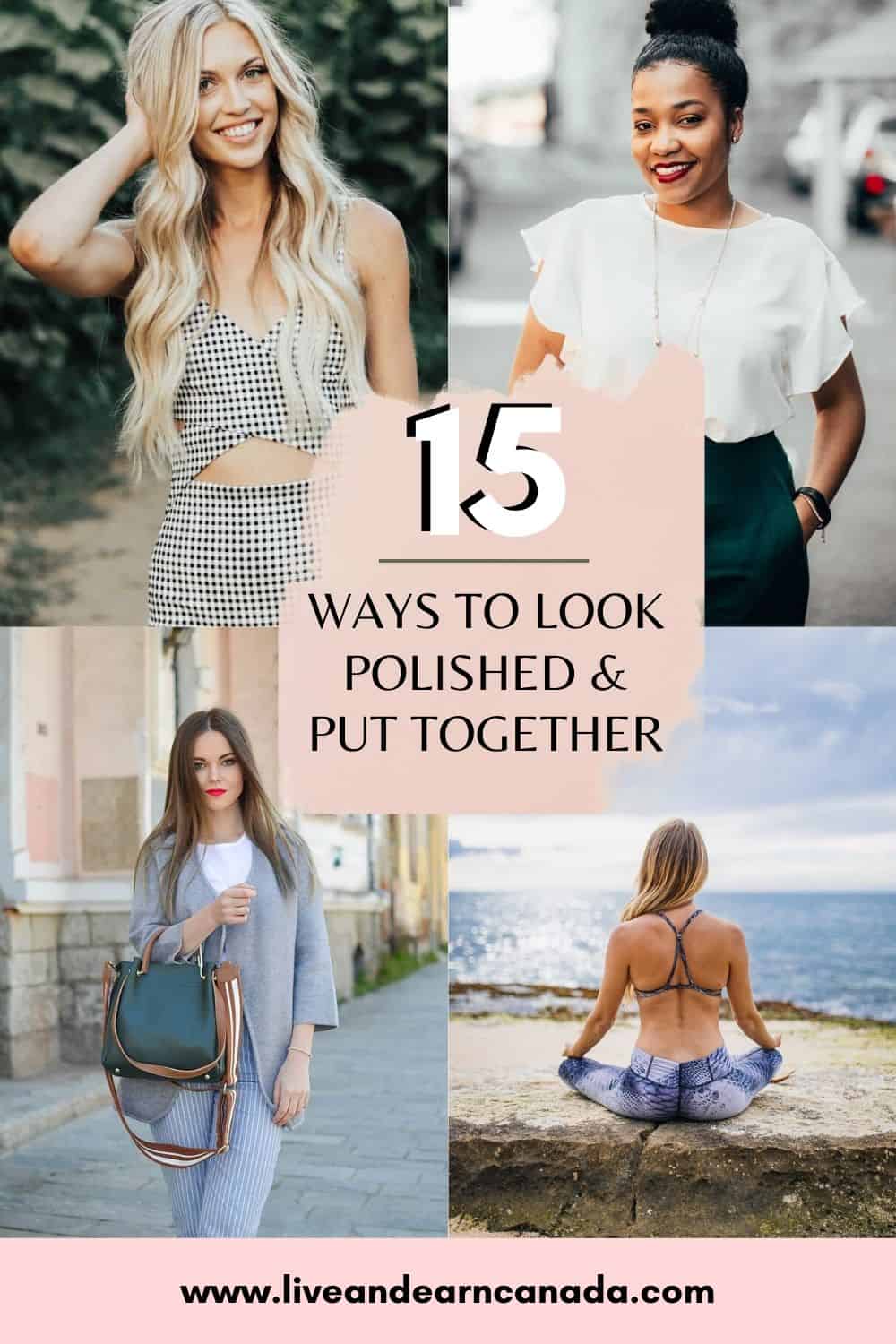 1. Make time to eat and drink right
My first major tip to ensuring that you always look put together is for you to look and feel healthy. 
This means staying hydrated at all times and eating right. 
When I do not drink enough water, not only does my skin feel dry and icky, but lack of water is bad for you regardless.
The more you drink, the healthier you tend to look and the more your cheeks stand out in a good way.
Water will flush out toxins and give you that glowing complexion that we love.
I got this amazing water bottle the other day from Amazon and I totally love it! You can also check out this one which was my second option.
This is how I stay accountable and ensure I am drinking enough water all the time. 
As well as drinking enough water, try to eat a balanced diet if you can. 
Check out these lunch meal prep ideas for those that tend to skip lunches! 
2. Your nails and skin matter too
Getting a manicure and pedicure is not always an option for everyone. 
I used to get my nails done every two weeks like clockwork and I know how expensive that tends to get. 
In order to look well put together, you need to consider keeping your skin moisturized and nails manicured at all times. 
A moisturizer of your liking that helps with the sun will ensure you have an even skin tone, will prevent sun damage and will keep the skin moisturized all day. 
I love to moisturize my skin with something that has a bit of coconut.
You can make your own coconut moisturizer with this recipe or you can use this one from NatureWell! 
To take care of your nails at home with the same excellent results that you can get from a professional salon visit, I use this nail starter kit. 
But to look polished and put together, you simply need to ensure your nails are always clean and well-trimmed.
The options are yours. 
People tend to look at your hands a lot especially if you work around people, so make sure they are clean and moisturized at all times. 
3. Do you need Mascara and Concealer?
I know that my friends swear by mascara, and would never leave the house without wearing some. 
But do you really need them? 
I am not a big makeup person and in fact, I wrote a whole post on how to be beautiful naturally and it doesn't involve a lot of makeup!
However, if you need to wear that mascara, I will cheer you on. 
For dark circles, pimples and blemishes you know that a good concealer works miracles. 
So I would suggest wearing it as needed to make your skin flawless.
This flawless concealer by e.l.f cosmetics is my go-to! 
But my first point of watching what you eat and staying hydrated will do a lot of great miracles. 
4. Polish your Bushy Brows 
No one wants to look at bushy brows.
If you have no time for a salon visit, plucking and ensuring your brows are even will give you that clean look in no time.
The secret to the perfect eyebrows is finding a shape that works with your face.
Some people love the thick brows look as it can instantly balance out a round face. If this is you, just make sure it's trimmed carefully.
Here is a video on how to get the perfect brows!
5. Don't forget your lips 
If you are not a makeup person, I understand, we are on the same boat.
But you can never go wrong with a statement lipstick. 
A statement lipstick is a lipstick that works for you!
Whether you love a little red lipstick or a more neutral tone, a little lipstick can do wonders in making you look and feel put together in no time.
I have been using this day to night duo lipstick from e.l.f for a while now and I love it.
Go with a matte lipstick finish to give you a more well-put-together look. 
6. Keep your Overall Makeup Routine Simple
Looking put together means looking and feeling great. 
Makeup will help bring out your best features. 
In my opinion (unless you are doing makeup for your wedding, magazine shoot or a fashion shoot), keeping your makeup simple for everyday wear should be your go-to.
I am personally not a make-up person but I understand those that have to wear it.
So keep it really simple.
If you are going bold on the lips keep the eyes simple.
Want to wear a smoky eye? Go easy on the lips. 
Here is my list of 5 minimalist makeup collections for those that enjoy the simple look too! 
7. Your hair and all the fancy hair accessories
If you want a more polished look, I definitely suggest doing something with your hair. 
People will look at your hair.
Whatever you do, make sure your hair is always clean and ensure you take the time to at least brush your hair. 
I know so many people that just tie up their hair in a ponytail without proper care.
No time?
I suggest having a small brush and hair tie with you in your purse at all times just in case.
A hair moisturizer or spray is not a bad idea to have in your handbag too (not necessary). 
In terms of hair accessories, you have plenty of options, I prefer just using a hair tie or some bobby pins. 
You can style your hair in so many different ways with a simple bobby pin and it's one of the easiest ways to look well put together.
I really love this video on all the trendy hairstyles you can do with bobby pins or even this one! 
Another go-to hairstyle that will make you look put together is the wave. 
Simply do a few tight braids (4 or 6 braids) and loosen up the braids the next morning for soft and wavy curls.
Feel free to also check out this post where we share epic ways to wear a scarf in your hair.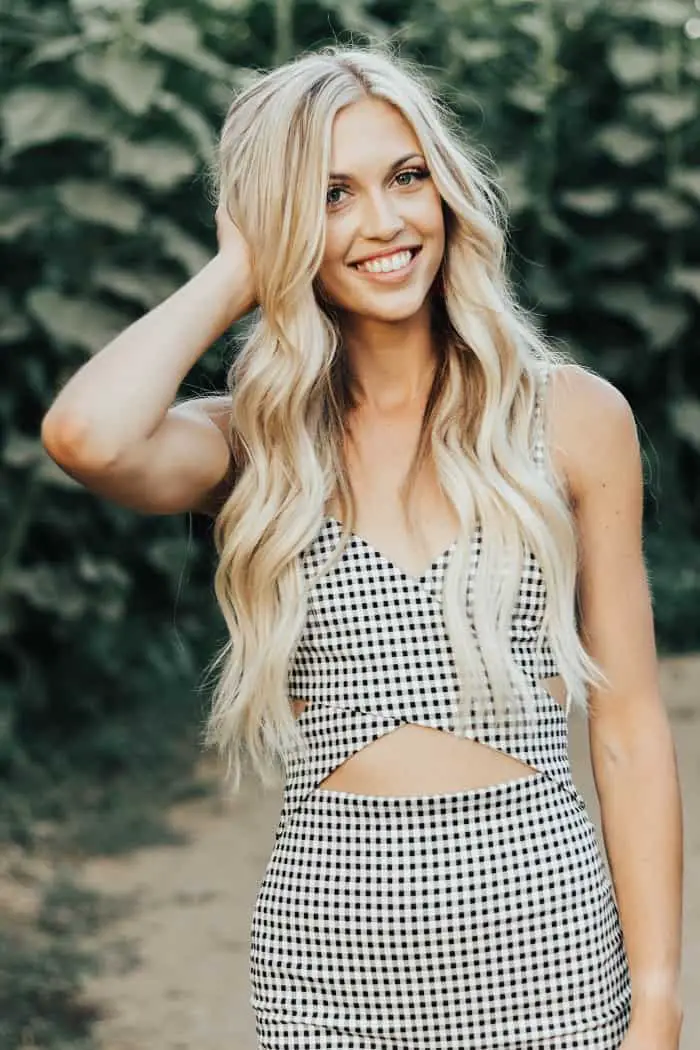 8. Wear Fitted Clothing To Look Polished
There is nothing worse than wearing clothes that don't fit well or flatter you. 
If you want my best tips for how to look clean and polished, then fitted clothes are the way to go. 
You want to wear clothes that always show your best. 
If you are not sure, make an appointment at any store and ask the store stylist to show you two or three styles that work well for you.
If you keep adjusting your outfit, take it off.
Don't wear clothes just because your friends and everyone else are wearing the style.
Find something that works for you and accessories it. 
For those looking for ways on how to look polished all the time, I truly recommend getting fitted for the perfect size. It will make a difference that you will love. 
9. Look Polished With A Go-To Blazer
There is no better way to look put together than by wearing a fitted blazer. 
A blazer has the ability to dress up any outfit. 
Whether you are wearing a plain old white t-shirt or a floral dress, a blazer will instantly transform the look and make you look put together.
If you do not have a blazer, a cuter sweater works just as fine. 
10. Accessories Your Outfit
In point 9 we talked about accessorizing your outfit.
They are so many fun ways to accessories an outfit. 
My go-to is to wear large earrings as they can dress up any outfit. 
Do you have a fancy belt? Will it work with your outfit? Belts are a great way to dress up a long dress-like shirt. 
I have added a poppy style to my dresses by wearing big belts and tightening it around the waist area.
This will instantly accentuate your figure perfectly. 
Other accessories to consider to look polished and put together: 
Layering bracelets 

Mixing materials 

Wearing large purses or a small clutch also works
Don't overdo it though. 
Wearing long necklaces is also a great look and will work with any simple outfit.

11. Simple is MORE if looking polished is your goal
If you are eager to know more about how to look put together and polished, I suggest taking it back to the basics.
As I mentioned earlier, do not overdo it. 
For example, if I am wearing pants with patterns, then you bet everything else will be simple and plain. 
This means that the focus will be on the pants. 
If your goals are to look put together, definitely keep it simple.
Never come across as though you are trying way too much. 
12. Avoid Wrinkles, Damaged Goods and Worn out
If you really want to know how to look polished, I recommend not wearing clothes that are wrinkled, torn or even really old that they look worn out. 
It is just not a good look.
If you have a handheld steamer, use it on your wrinkled clothes. 
I have one because my husband simply hates wrinkles and he uses the steamer on his dress shirts for work.
Unless you can get your clothes fixed, avoid wearing torn clothes.
They are plenty of places to recycle clothes.
The same thing goes for worn-out clothing, avoid them if you can. 
13. Walk the Walk For A More Polished Look
We really wanted to share our best tips on how to look polished and put together. 
So let's not forget your shoes. 
A good pair of shoes will make or break your outfit so make sure you have the right ones. 
I love to get my shoes from JustFabs!
Use this link to get your first pair of shoes from JustFabs for only $10!
14. No time to work out? 
If you are always in a hurry and you have little time for anything else like some of us, then walk. 
Walking will help you lose weight with little to no effort. 
I once remember losing weight just from walking 45 minutes a day and cutting out all non-essential foods like chocolate! 
I know, we love chocolate. 
But if you want to look polished and put together, you need to stay fit. 
I am not talking about the gym, flat-ab girls you see in magazines, I am talking about simply being healthy. Moving is good for you overall so sneak in steps throughout your day. 
If you have a one-hour lunch break, save 15 minutes for a quick walk with a friend. 
And if you drive to work, park a little further so you can get your steps in. 
I use this cheap watch pedometer to count my steps because it does the job for me. 
Getting at least 10,000 steps a day is always my goal. 
Here is a little motivation for you, learn the steps I recommend to people on how to get paid to lose weight!
You will be impressed.
15. Stand Tall and Put Together
Chest out and neck up is the way to go. 
Ever since I was a little girl, my mother yelled at me for slouching and ever since, I never do it. 
You look sloppy and lack confidence if you tend to slouch.
If you want to always look put together be sure you have the right posture. No matter how you feel, standing tall will make you appear more confident. 
Look more put together by shopping the look below:
Start off by grabbing this epic romper look and clicking the links below for more looks that will make you look more put together!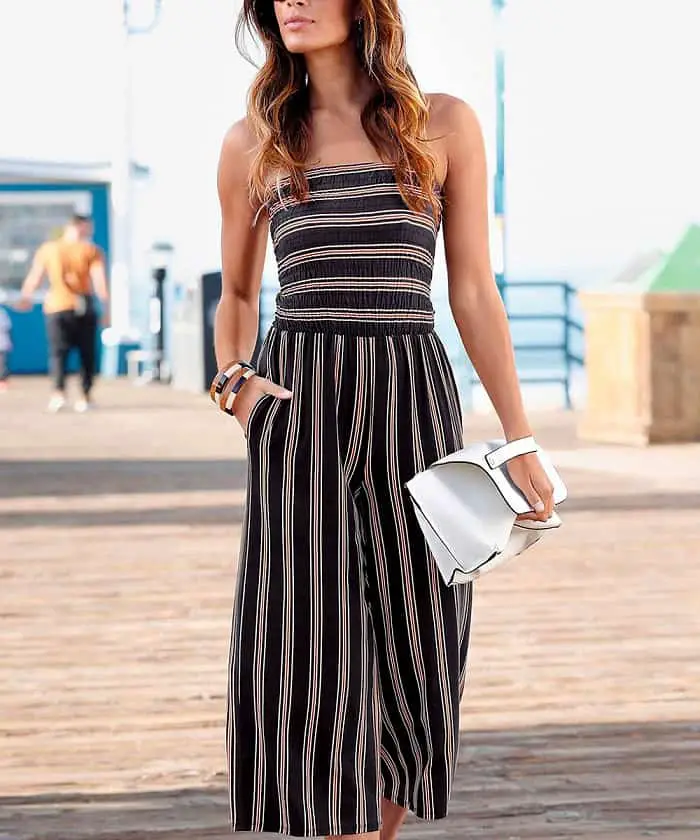 How to look polished on a budget
What if you are on a budget and you are still eager to look polished on a budget?
In this case, I would purchase things that are black as they tend to go with everything. For example, a black dress, pants and a blazer. 
Then, I would add a few fitted tops bold in colour to complete the looks.
Don't forget the extras! 
A good purse, nice shoes and a killer hairstyle can all do the trick of making you look polished on a budget. 
Popular recommendation from the list on how to look polished:
And there you have it, an epic list for you on how to look polished and put together.
Did we miss anything? 
I definitely enjoyed writing these tips on how to look put together and polished!
Please share your comments below, we would love to hear from you. 
Related:
How To Look Polished and Put Together: 10 Ways to Look Polished