Beauty hacks every girl should know
These beauty hacks for girls are the ultimate tip everyone should know about.
When you need to get out the door for work on time but still want to look presentable to the outside world, sometimes all you need is a little beauty hack to make it a little bit easier.
We've got a whole load of beauty hacks, tips and tricks for you that will make your morning routine a breeze.
Canada is pretty fast-paced, so if you want to be ready in record time and out the door quickly, these beauty hacks will do you justice. 
We know that you can find plenty of girl beauty hacks on the internet, but we really wanted to share our unique perspectives!
Why Use Beauty Hacks? 
Looking good and professional at work could help you in so many ways.
Sometimes it can give you the boost that motivates you to do better, and sometimes it could get you promoted as you look better put together.
I don't believe you should go to work not looking your best. 
And most people don't put in the effort as they feel that it might cost a little more.
But these beauty hacks are designed to save you money, they will avoid you being late to work and they are quick to do.
And the more you do these beauty hacks, the fast you get. 
Honestly, regardless of whether you use them or not, these are hacks that every girl should know just in case. 
You never know when it will come in handy. 
How To Look Put Together And Polished for Work
You can look well put together and polished for work by following our easy steps below.
Basically, you want to ensure that you always bathe in the morning, your teeth and hair are cleaned and your clothes are always fresh.
Dirty nails and bad shoes are never a good sign either, so make sure your nails are clean and you have comfy work shoes.
A simple task like sleeping early can work wonders on how you look every morning for work.
Follow our quick beauty hacks designed for girls like you to look polished and more than well put together for work. 
Don't forget to grab this awesome Beauty & Glow Up Planner.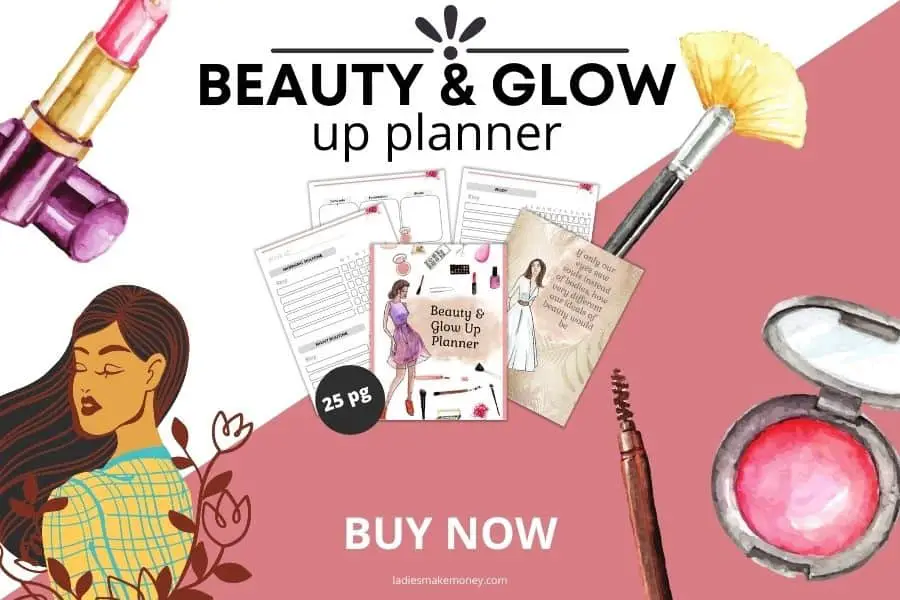 We are so excited and pumped to share some of our best and easy beauty hacks for the busy girl with you! 
Before we get started on beauty hacks for girls, we did want you to follow us on Instagram for more tips. 
We also wanted to take the opportunity to let you know that we use Affiliate links on some of our blog posts. This means that we could make a commission if you click on an affiliate link and purchase something. Read our full disclosure and blog policy for more information.
Get ready to know more about: 
Simple beauty hacks that will change your life (not really, but are helpful)

Creative beauty hacks every girl needs to know to speed up getting ready in the morning

Essential beauty tips for girls worth giving a shot
And at the end of the post, you can watch a super cool video with more hacks every girl should know! 
Genius Beauty Hacks For Girls
Here is a list of amazing beauty hacks for girls that are pressed for time each morning can quickly do and be out the door for work.
Don't worry we will not only focus on makeup hacks for girls but give you the whole deal!
It is the best way to look elegant and classy every day for work on a budget! 

1. Dry shampoo
Forget about the long and arduous battle of washing, drying and then styling your hair each morning! 
A little bit of dry shampoo can work wonders and produce the same results.
Not only is it a major time saver but it leaves your hair volumized, grease-free and smelling fresh and this is exactly how you want to feel at work.
This is for quick results in the morning, make a habit to wash your hair with actual shampoo when you have more time. 
Fresh! 
2. BB cream
This little miracle in a tube is perfect for those that don't want to apply a heavy layer of foundation.
I am not a foundation kind of girl and I try to wear it only if I have to. 
BB cream works just as good as a moisturizer for your skin and also has a hint of colour to help smooth out your skin tone.
It's light on your face and a lot of them have SPF making it a great choice before heading out the door
3. Get the most out of your mascara
Easy beauty hacks for the busy girl is what we want to achieve here today!
With this in mind, we all know how applying mascara can make a difference to your overall look! A little bit of mascara does go a long way!
We all love a full lash look but when the work bells are ringing we can't always apply a set of beautiful falsies.
Just a simple application of mascara can help give the look of long lashes but that's not all.
If you work the wand all the down to the roots of your lashes it will leave behind a little bit of colour on the skin giving you the look of liner in just seconds!
4. Get a smoky eye in record speed
We love this social media hashtag trick to get a gorgeous smoky eye in record speed.
If you are looking for girl hacks and tips that are quick and easy to do, then you will love this smokey eye hack. 
You first have to dust on shadow from lid to crease.
Next, use an eyeliner pencil that's a shade or two darker to draw a small hashtag symbol on the outer corner of each eye, then smudge inward with a cotton swab.
The result is a smoky eye with depth and drama without using a million products and having to follow tricky tutorials. 
Go ahead and watch the YouTube video to get the full tutorial trick.
5. Get your outfit ready the night before
Sometimes the hardest part of getting ready for work in the morning is choosing what to wear each morning.
Make the mornings so much easier by picking out your ensemble the night before and have it hanging ready to put on.
Not only will this save time but it will also help take away any stress you might feel about picking out your clothes and the horrible feeling of having nothing to wear as you stare into your wardrobe.
You'll leave the house feeling ten times more relaxed and ready to start your day out strong.
6. Develop a signature uniform for work
If the scramble of finding an outfit even if it is sorted out the night before leaves you pulling out hairs then why not try developing a signature uniform look.
You don't have to worry about what to wear as it's already decided for you and it can look cute and well put together too.
Whether you love skinny jeans or a skirt, a shirt or a loose top you decide and then have a range of those items ready to go.
It really does take the stress out of getting ready every morning for work.
7. Creased clothes
One great trick to take out creases from your outfit without having to haul out the ironing board and iron is to hang your clothes on a hanger in the bathroom while you shower.
The steam will pull the creases right out killing two birds with one stone.
Perfect!
Did I already mention that I hate ironing? And there you have it, beauty hacks for girls to use to get ready for work more quickly!
That is all we have for you today in terms of quick beauty hacks for busy girls.
Get your own Beauty and Glow Planner right now.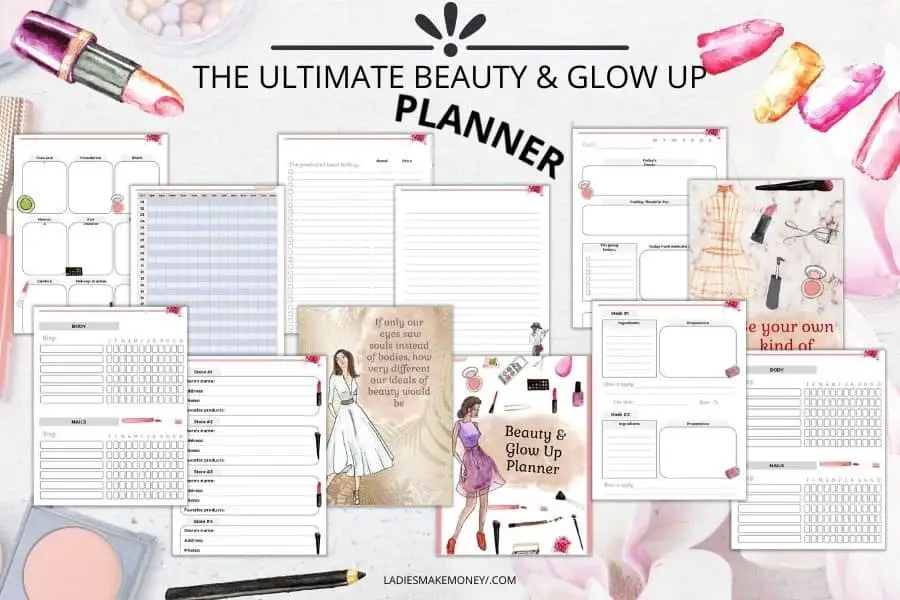 We did find an amazing YouTube video with more fun tips that you can watch below. 
Ideally, we want to share our best and easy beauty hacks for the busy girl that we know you are! 
Additional Quick & Beauty Hacks Every Girl Should Know
Do you have other beauty hacks to share with our ladies?
Tell us in the comments below. 
Read this next: 
**This is not a sponsored post. All opinions are my own.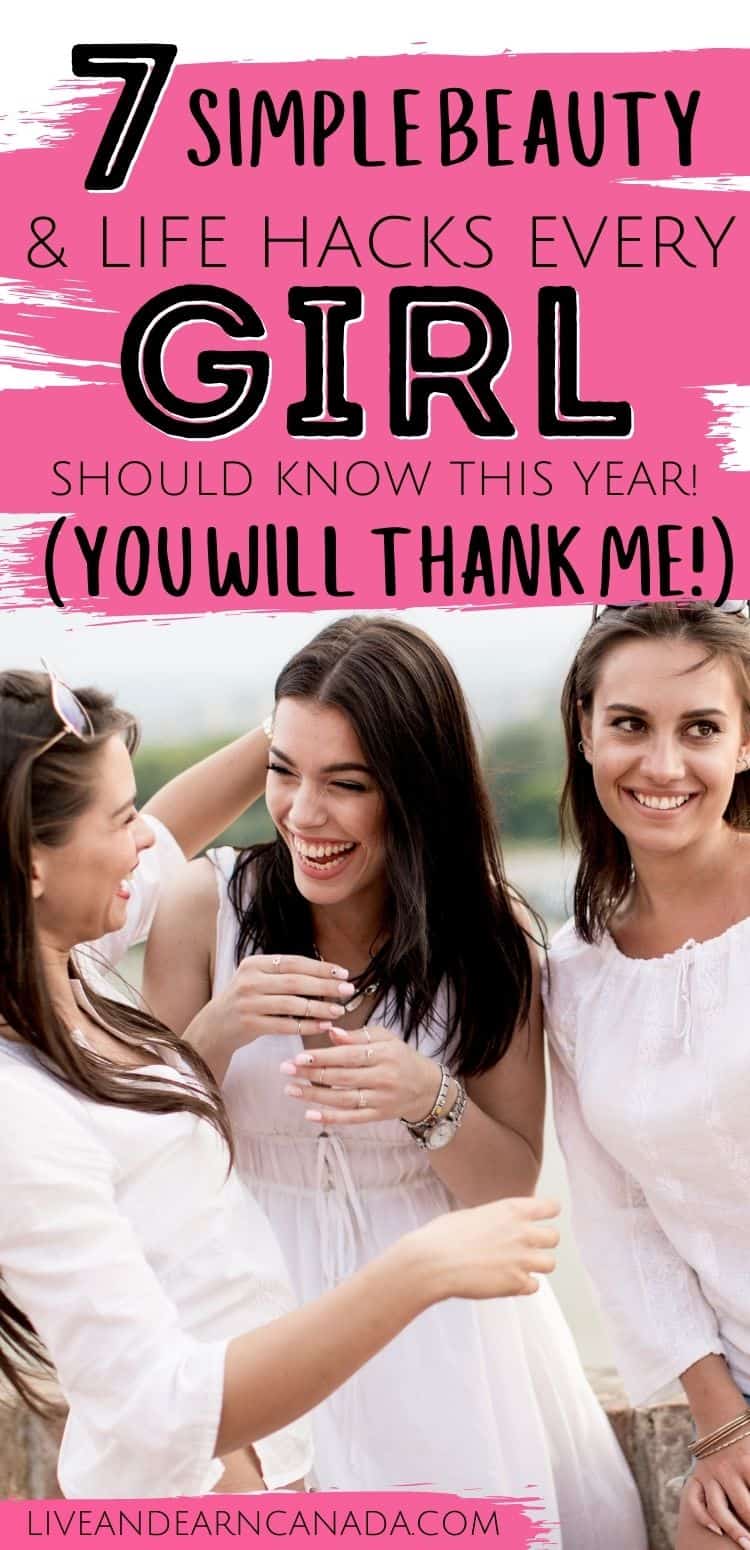 Brilliant Beauty Hacks For Girls To Get Ready For Work Quickly