Apple Picking Ottawa
If you are looking for the best spots for apple picking in Ottawa this fall, you have come to the right place. 
I love fall for so many reasons. 
Since having my daughter, I am enjoying spending a lot of time outdoors as much as I can regardless of the weather. 
Summer was fun and went by way too quickly for all involved. 
But fall is also a great time to enjoy the great outdoors.
The best time to go apple picking in Ottawa is in September. 
While different varieties of apples ripen at different times as you know, the climate also varies the harvest from year to year!
I definitely recommend early fall as the most reliable time to go apple picking in Ottawa.
You will know it's time when the leaves on the trees start to change colours and it begins to feel a lot like fall. 
We are now going to tell you some of the best places to go apple picking in the Ottawa area so you can have a blast either by yourself, with family or with friends!
Be sure to call the farms ahead of time to ensure they are fully functioning and check out some of the extra activities they may offer so you can make the day of it.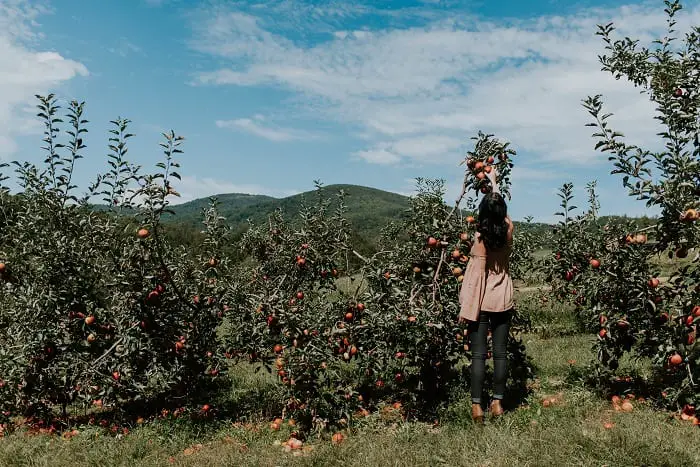 Some of my favourite activities at some of these orchards include:
Playground section for the kids

Forest trails 

Corn mazes 

Straw jump areas

Wagon rides

BBQs

Picnic areas to enjoy
With that in mind, we have put a list of some of our favourite apple orchards in the Ottawa area worth visiting this year or the next.
Where are the best apple orchards in Ottawa?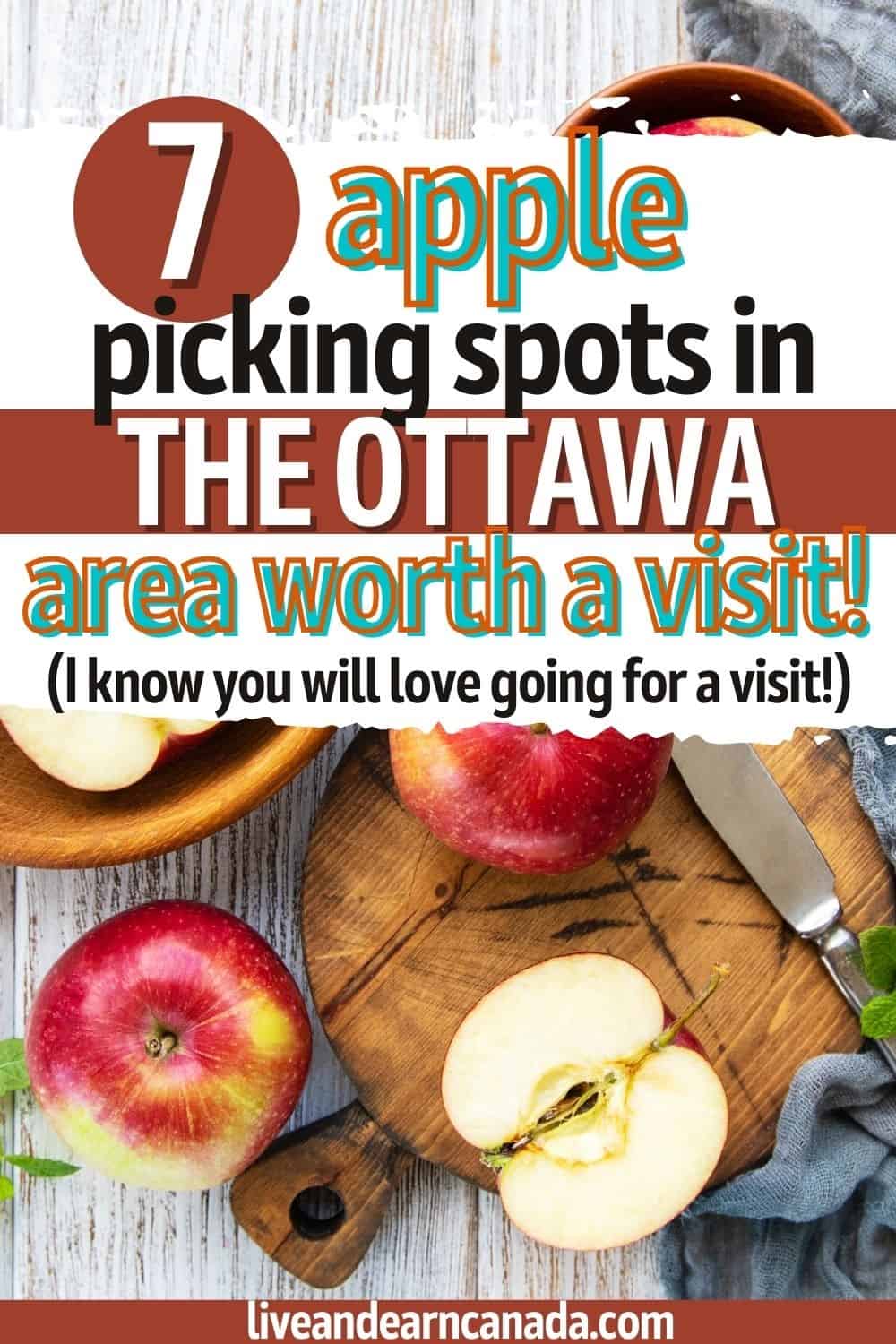 1. Mountain Orchards
If you are excited to pick your own apples in Ottawa this fall as much as I am, then you should definitely check out Mountain Orchards. 
Located approximately 45 minutes south of Ottawa, this amazing orchard tends to offer a variety of apples so you are not only stuck with one type that you may or may not like. 
I love the fact that you can choose to pick your own apples here or simply purchase some pre-picked apples. 
I personally enjoyed visiting the Mountain Orchards on the weekend as they host some amazing BBQs, baked goods and the wagon rides are just epic. 
The weekends do tend to be a little busy with a lot of families attending, but it's really fun. 
If you have little ones with you like myself, they can enjoy the playground structure, the hay bale jumping and absolutely the corn maze.
Honestly, you can make the best of it by spending the day or even just a couple of hours here. 
I know, my daughter didn't want to leave. 
To get more information or pricing, operating times and simply more details, check out their websites right here – Mountain Orchards website.
2. Orleans Fruit Farm
The next place I definitely recommend for apple picking in Ottawa is the Orleans Fruit Farm!
I am in the east end personally, so anything on my side of the world, I highly recommend.
Because this is so close to home, it's definitely not a long drive although I do not mind driving if I am going to have a good time. 
If you also want a great view, then you need to check out the Orleans Fruit Farm. 
This one is definitely a huge apple orchard that lies on a hill with an epic view of the Ottawa river. 
It felt like it had over a thousand apple trees. 
For the kids, they can enjoy the play structure available, hang out on an old tractor which is really fun or they can jump in the straw. 
Bring snacks and enjoy a picnic. 
Get more details over on the Orleans Fruit Farm website.
3. Avonmore Berry Farm
This amazing farm is located about an hour's drive outside of Ottawa close to Casselman.
This is a great farm, to be honest, and can be enjoyed several times in the year. 
Their season begins in June with Strawberries, Raspberries follows in about mid-July along with 20 different varieties of vegetables, and for the fall season, you can enjoy some Apple and Pumpkin picking.
Even though it's a little bit outside of Ottawa, I think it's worth the drive. 
I enjoyed the free wagon rides they offered on weekends when we went apple picking. 
The children's play area is always a hit with my little one. 
You can also enjoy the farm bakery mostly known for creating wonderful homemade fruit pies, biscuits, muffins and jams.
These are offered freshly out of the oven which makes for a yummy treat.
Get more details over on the Avonmore website.
4. McGregor's Orchard
If you love to support small businesses and family-owned operations, then you have to make a trip over to McGregor's Orchard this year or even next year for all your apple picking needs. 
This family-owned apple orchard is in the early years of growing and producing apples for direct sales to their customers!
And so far, they are doing a really great job. 
There are also putting in the effort to provide a variety of apples to its customers such as: 
Honeycrisp

Ruby McIntosh

Pioneer McIntosh

Paula Red
And so much more. 
In addition to apples, they also grow lavender. 
Don't forget to enjoy some apple cider during your visit. 
For more information – visit the McGregor's Orchard website right here.
5. Log Cabin Orchard
You have to check out the Log Cabin Orchard.
It was highly recommended to me when I first started looking into apple picking in Ottawa. 
When several people kept saying Log Cabin is the place to be, I knew right away that I needed to check it out fast. 
I am proud to say that Log Cabin Orchard is now my favourite spot for apple picking near Ottawa.
When they say that this apple orchard is a gem, it definitely is. 
Log Cabin is a family-run orchard located in Osgoode, about 30 minutes away from Ottawa.
On the weekends you can enjoy wagon rides, churros, hot dogs, candy apples and a bonfire pit! 
During the week you can walk around the spot without the crowds, visit the small petting zoo, and enjoy picking their mouth-watering apples.
They offer free admission and parking.
Visit The Log Cabin website for more information.
6. Pinewood Orchard
If you are in Kanata, be sure to visit the Pinewood Orchard.
This one is located off March road in Kanata and is a cute place to go apple picking in Ottawa. 
Unfortunately, they don't offer any activities or anything special and their focus is mainly on just apple picking. 
If all you want to do is pick apples and be on your way, this is the place to be. 
They offer several different varieties of apples that are all hand-picked from the more than 800+ full-size trees most of which are more than 50 years old.
A variety of seasonal produce and vegetables, grown at the orchard or from local farms, is for sale on-site as well.
Visit the Pinewood Orchards website for more information. 
7. Cannamore Orchard
Located just 40 minutes east of Ottawa lies the Cannamore Orchard.
You are definitely in for some fun if you do choose to check them out this apple picking season. 
There's an amazing petting zoo on-site, a cow train, wagon rides, a pedal car track, several mazes, and play structures available for the young ones.
Honestly, so much fun.
If you love poutine as much as I do, then you will be glad to know that they typically have an on-site chip wagon. 
Yes, they really do. 
And for those reasons, we were able to enjoy some really delicious poutine, burgers and fries, while cotton candy and drinks are available at the canteen.
Perfect for those that um – do not like poutine (do they exist?). 
I also liked the fact that you could enjoy some frozen baked goods, jams, cider, honey, and fudge which were available for sale.
Keep in mind there is an admission fee to take part in some of the family activities they offer, and they don't all operate on weekdays!
But the weekend is really the best time to enjoy what they have to offer. 
As you can see, there are a lot of amazing Ottawa apple picking spots worth visiting. 
For the Cannamore Orchard, visit their website for additional information. 
And there you have it, a list of our favourite spots for apple picking near Ottawa.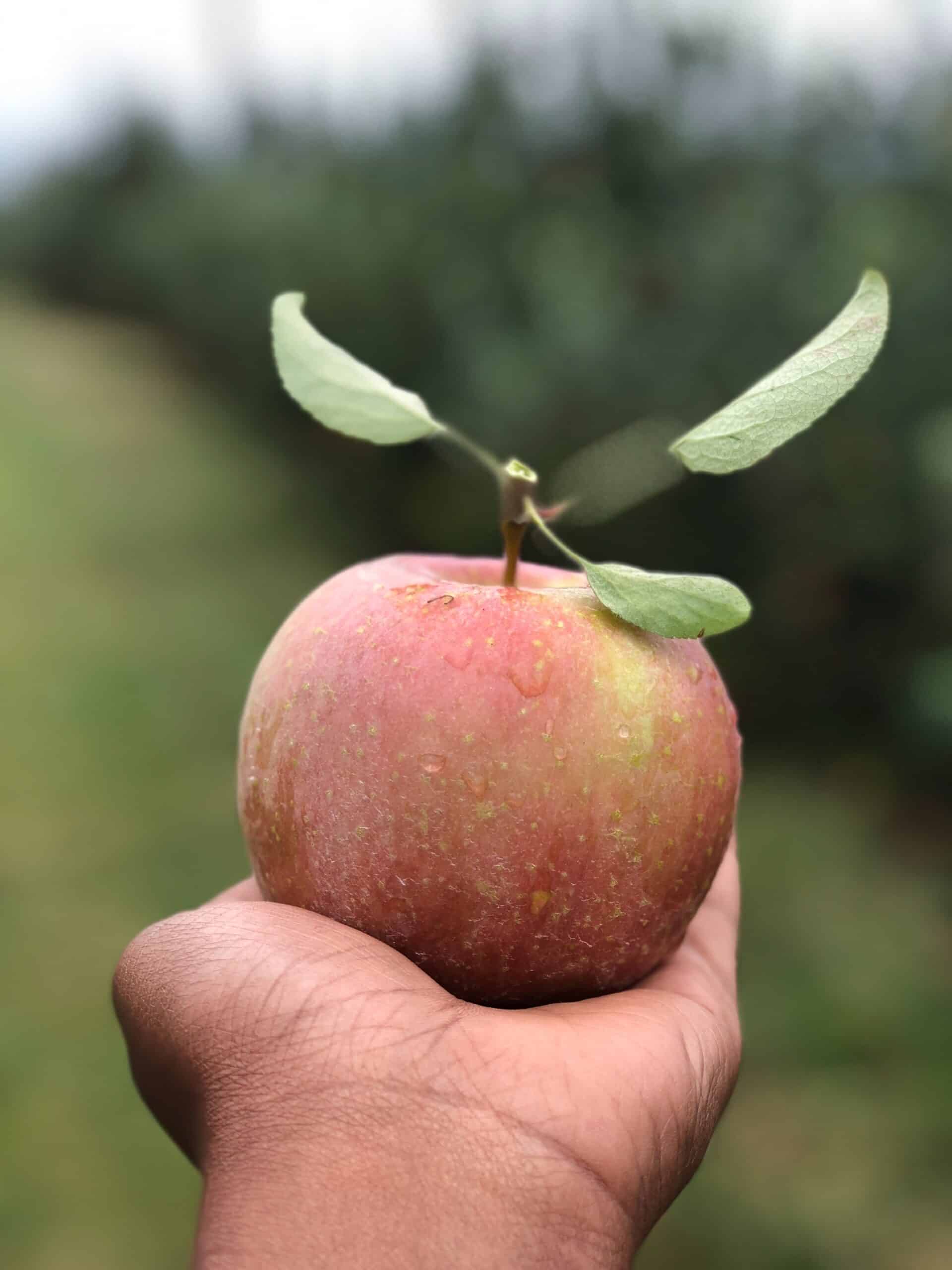 Is Apple Picking worth it?
This is definitely a personal preference and it really depends on how much of an apple eater you are. 
Check out this epic list of over 50 easy apple recipes you can try out just in time for the fall. 
I tend to find the prices of apples in stores to be much more expensive than the great deals you will get at some of these apple orchard farms.
Picking your own apples also guarantees that you pick only the best ones. 
And don't forget about all the fun you could have if you make it a day with friends or family. 
Will you be going apple picking in Ottawa this year? 
We would love to hear your thoughts and what your favourite apple picking spots in Ottawa are. 
Next up:
Best Spots For Apple Picking in Ottawa {You Will Have Fun}