Beaches in Ottawa Ontario
Now that summer is buzzing and popping, I went on a hunt to find some of the best beaches in Ottawa to help cool off a little. 
If you are looking for the best beaches in Ontario, but more specifically in Ottawa, you have come to the right place. 
With the humidity we have had the last couple of months, it's only fair that we try to spend the day at the beach when possible. 
Ottawa is a great town but we really do not have a lot of interesting beaches, so finding some that we totally loved was a little hard.
But it was worth trying! 
If you know of other Ottawa beaches that we might have left out, feel free to share them below. 
I will personally go out and check it out to ensure that it is a great beach for both friends and family. 
In the post, we are going to share some of the best beaches in Ottawa and the surrounding areas. This means it would be a short drive but it will be worth the drive out. 
When I had two different readers email me the other day asking me this:
Does Ottawa have a beach? 

Where can I swim in Ottawa?

And what are the best beaches around Ottawa?
I knew I needed to finally write this post.
I had it on my to-do list for the longest time, but I really needed to push it out asap.
So for those that were looking for the best places to swim in Ottawa, this is for you.
We are going to focus on City of Ottawa beaches and some of the best beaches around Ottawa!
Before we get started on the best beaches in Ottawa, we did want you to follow us on Instagram for more tips. 
We also wanted to take the opportunity to let you know that we use Affiliate links on some of our blog posts. This means that we could make a commission if you click on an affiliate link and purchase something. Read our full disclosure and blog policy for more information.
Please note that Covid19 is still very much here and social distancing is definitely in full effect. Bring hand sanitizers with you to keep your hands clean at all times. 
The Best Ottawa Beaches Perfect For Summer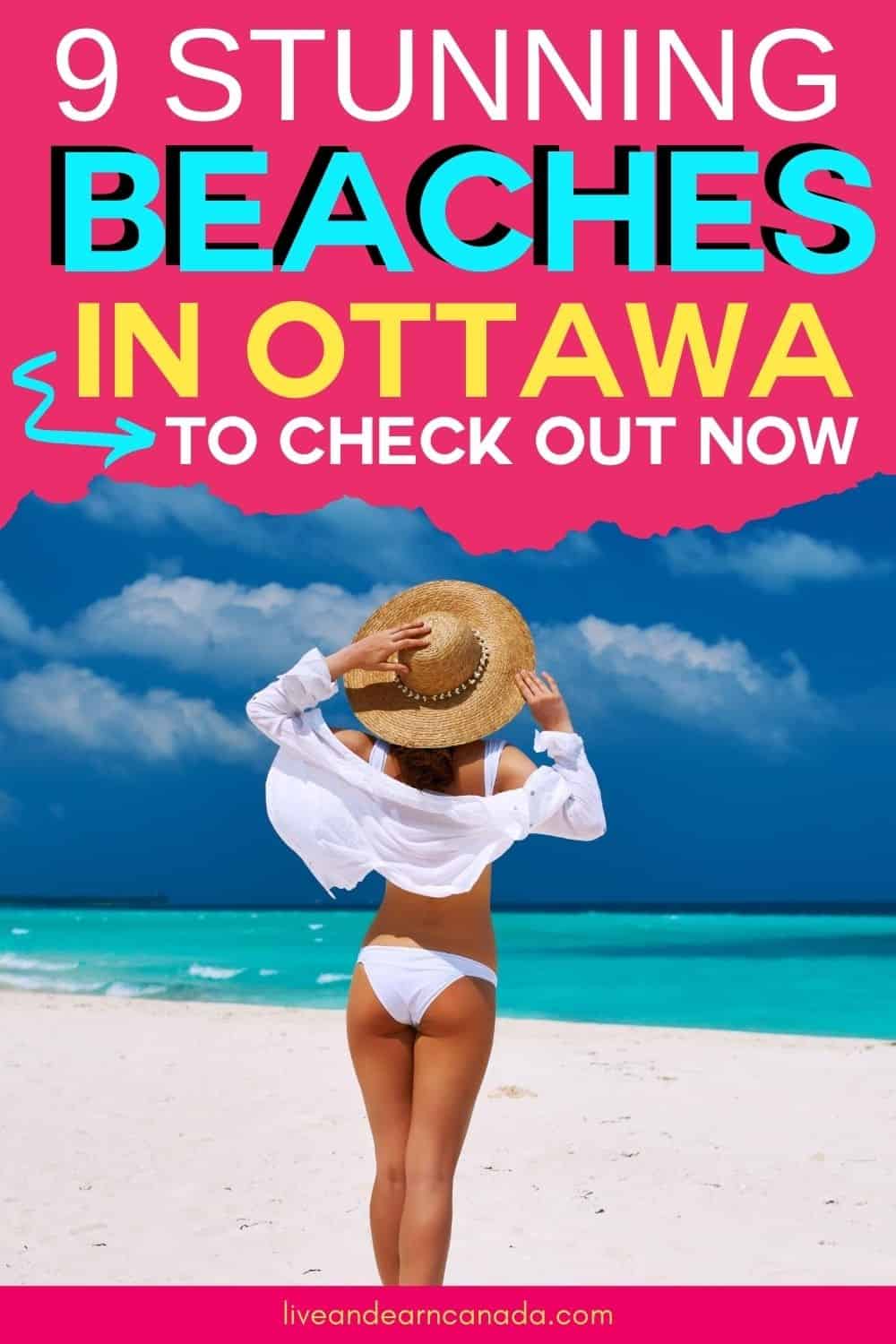 1. Petrie Island Beach
I had to put Petrie Island first on my list of beaches to visit in Ottawa because it is minutes from my house. 
Every day this summer, if the weather allowed it, we went to the beach to eat and just enjoy the good outside. 
Located in the east end of Ottawa (more specifically in Orleans –  727 Trim Road), this beach offers a lot of shade areas, a picnic area for those that want to eat on-site and fun activities. 
Petrie island seems to be the best beach in Ottawa (and personally believe it's because it's family-friendly).
The parking is paid so prepare to dish out a few coins for that. 
You can also rent out Canoe, Kayaks, Paddle Boards, Row Boats and Pedal Boats on site. I also love the fact that you can play beach volleyball on-site.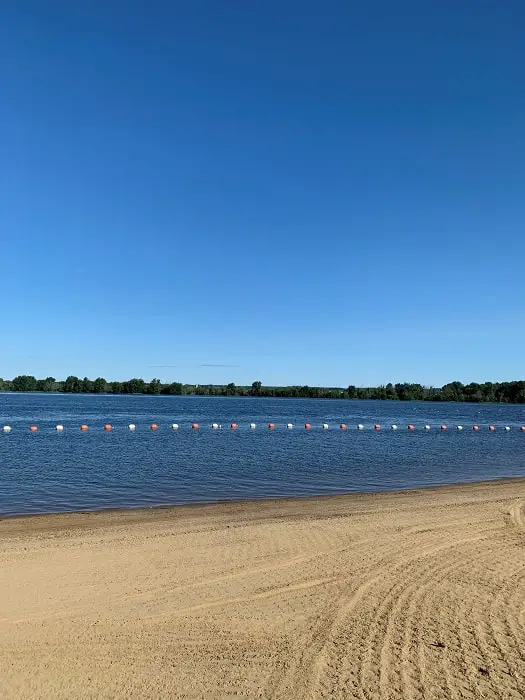 2. Britannia Beach
If you are looking for the best places for swimming in Ottawa, then I would recommend Britannia Beach. 
I personally like the fact that it has free parking which is huge, and I also like the outdoor showers for a quick rinse-off. 
If you have little ones as I do, you will definitely like the on-site playground for them to also enjoy. 
Britannia Beach is one of the best in Ottawa as it is perfect for swimming, picnics and relaxation. 
If you visit Britannia, be sure to comment your thoughts below.
It's located at 2805 Carling Avenue! 
3. Mooney's Bay Beach
If you have kids, you definitely want to check out Mooney's bay.
Ottawa area beaches that cater to kids will always be top on my list. With that in mind, Mooney's Bay is where you want to go.
Those looking for family-friendly places to swim in Ottawa should give this beach a go. 
Your kids will definitely like the Canada-themed playground at Mooney's Bay and I trust they will have an epic time.
Mooney's Bay Beach is a very popular summer destination for beach lovers and this means it is often busy with people. 
It is also one of the beaches that hosts many of Ottawa's festivals and events such as the Ottawa Dragon Boat Race Festival, H.O.P.E. Volleyball SummerFest and plenty of other fun events. 
So you know that Mooney's Bay beach in Ottawa is the place to be if you want to have fun.
The beach is located on the east shore of the Rideau River just south of Carleton University, at 2926 Riverside Drive.
4. Westboro Beach in Ottawa
I have personally never visited Westboro Beach and I am hoping to do that before the summer ends.
You will find plenty of nice beaches in Ottawa, and from what I have heard, this one is also great. 
But from what I have heard, if you are looking for things to do in Ottawa with the family, you can go here as it is small and has fewer people. This means you are more likely to enjoy the area. 
It is located on the NCC property at Kitchissippi Lookout on the Ottawa River.
Bonus for you, it has free parking and you know how much I love free. 
You can also rent paddle-boards, play volleyball and do other fun things. 
5. Meech Lake/ O'Brien Beach
This sand beach is so beautiful and it is great for swimming, picnics and family fun in the sun.
20 minutes from downtown Ottawa, this lake has two sandy beaches patrolled by lifeguards and it is one lake you just have to visit this summer.
Technically, it is located in the Gatineau area but it is a really short drive from Ottawa. 
Get the direction here!
6. Lac Philippe Beach
If you are looking for great beaches outside Ottawa, Lac Philippe is where you want to go. 
Located a short 20-minute drive outside of the city centre in the Gatineau Park area, you will find this beautiful beach. This is a big beach with three different beaches to choose from.
You can choose between Breton Beach and Parent Beach, or Smith Beach.
Smith beach is for campers only so bring a tent.
Lac Philipe is definitely a popular destination for those on the Quebec side so expect crowding. 
7. Le Parc du Lac Leamy
Also known as Leamy Lake Park, this lake is located in the Hull sector of Gatineau.
Although it is paid parking (which I am not a fan of), this park comes with two volleyball courts and a play area for children!
It also comes with a picnic area with tables and barbecue pits which is perfect for family events at the beach.
If you are worried about food and you are not in the mood to BBQ, there is a food concession stand.
8.  Lac La Peche Beach
La Pêche Lake is the largest lake in Gatineau Park. 
It is located approximately an hour away from Ottawa but the drive is totally worth it. Just so you know, the beach is actually located inside Gatineau Park. 
If you are looking for great things to do at this beach, you can definitely rent a canoe or just enjoy the beach.
Be sure to check the site for more information. 
9. Constance Bay Beach
Constance Bay Beach is not a City of Ottawa beach but is open to the public.
There are plenty of gorgeous beaches near Ottawa, and Constance Bay is one of them. 
 This epic beach is 20 minutes from Kanata, and 45 minutes to downtown Ottawa. 
It is definitely a family-friendly, shallow and clean sandy beach located in the quiet Constance Bay Village!
You can expect to see people doing some sailing, boating, fishing, and swimming. 
So if you are looking for the best beaches near Ottawa, check this one out. 
There you have it, a list of some of the best beaches in Ottawa! 
What to bring and wear to a beach in Ottawa
If you have kids, I recommend bringing a few toys to build castles and such. 
Don't forget a water bottle, beach towels, hats and sunglasses. 
I never leave my house without:
Sunscreen

Bug spray (you know Ottawa has a few) 

Flip flops

A cooler or this bag that keeps things cool

And a beach blanket. 
A good friend of mine purchased this mini beach tent that I totally loved and I got myself one as well. 
You can shop my Ottawa beach accessories below:

Now that you have a full list of the best beaches in Ottawa, which one will you check out first?
Don't forget to share it in the comments below. 
We would love to hear from you. We can even feature your experience on the blog (just reach out with your epic story). 
Also, please be sure to check out the quality of water before you go out to any of the beaches in Ottawa! 
Top Selling Tours and Activities in and Around Ottawa
Read next: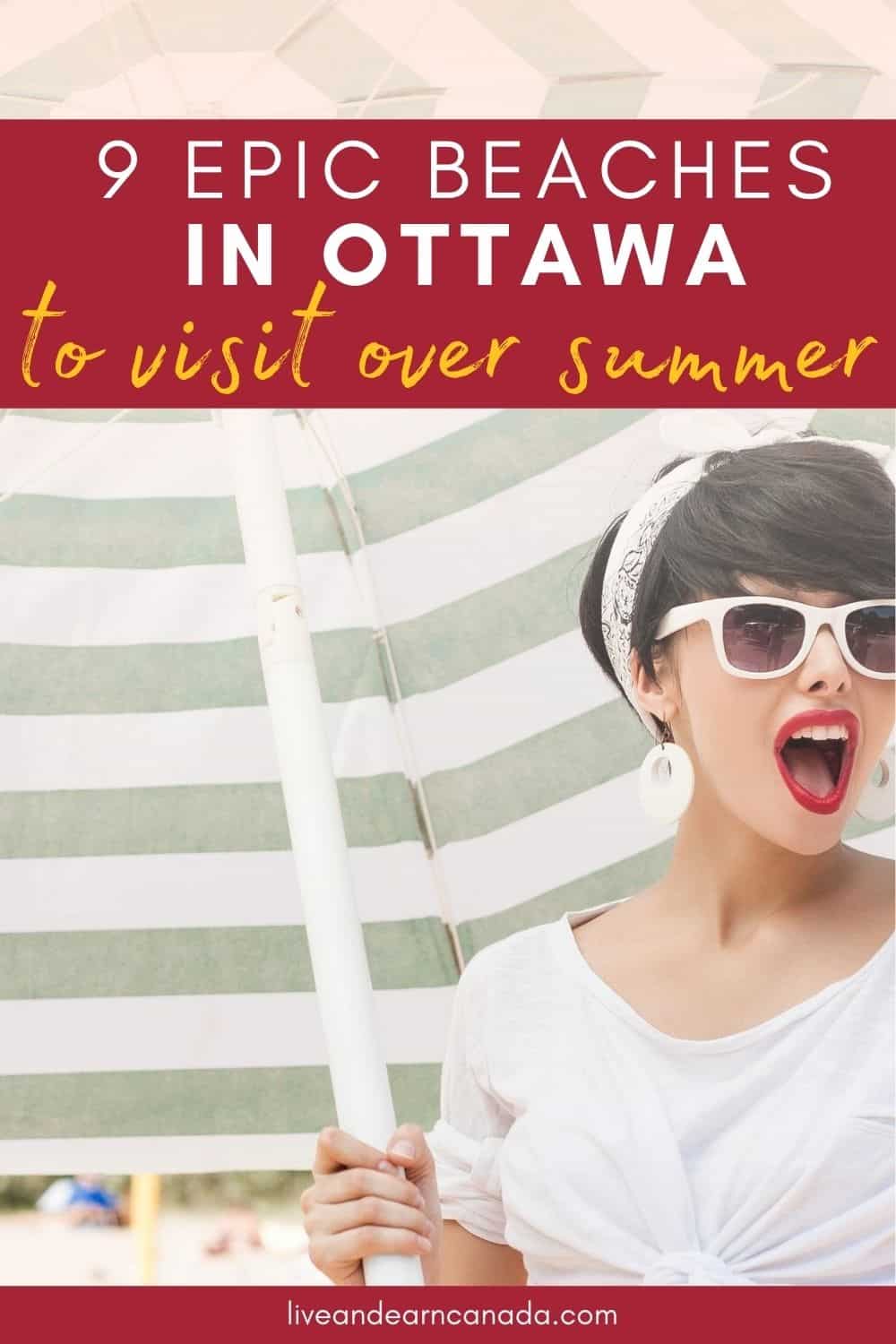 9 Best Beaches in Ottawa and Surrounding Areas to Visit in Summer