Things To Do In Ottawa
Looking for free things to do in Ottawa?
Ottawa is Canada's Capital city, trust me, we attract thousands of visitors each year to this amazing city!
If you are visiting Ottawa for the first time, be aware that the City is a Bilingual place and both French and English are mostly spoken.
They are plenty of free things to do in the beautiful City of Ottawa and we are going to share a few of our favorites!
And guess what? They are all free! 
What Can You Do in Ottawa for Free?
Visiting the City of Ottawa does not have to be expensive.
With some careful planning and good research, you will find plenty of things to do for free in Ottawa.
Ottawa is home to many beaches, a lot of museums, and you can never run of things to see.
If you are budget conscious or you just not looking to spend money, these free things can be in Ottawa with zero money exchanged.
With this in mind, we are going to share our top free things to do in Ottawa when spending money is not an option. 
Before we get started on the free things to do in Ottawa, we did want you to follow us on Instagram for more tips. 
We also wanted to take the opportunity to let you know that we use Affiliate links on some of our blog posts. This means that we could make a commission if you click on an affiliate link and purchase something. Read our full disclosure and blog policy for more information.
Things To Do In Ottawa For Free
We know how expensive things can get, and to be honest, Ottawa is fairly an inexpensive place in Canada compared to other cities like Toronto or Vancouver.
But if you and your BFF are looking for affordable things to do, give our mega list a try today! 

1// Visit the ByWard Market in Downtown Ottawa
I personally love walking in the ByWard Market in Ottawa especially during the summer. 
They are plenty of things going on, and local vendors are out there selling amazing local products. If you love supporting the locals, you will have plenty to see and buy in the market. 
Or you can simply take a walk and enjoy your surroundings.
The buildings in the ByWard Market is open all year round, however, the stalls and vendors come out as soon as the weather gets better.
There is also entertainment and restaurants during the day as well as in the evenings for you to enjoy.
Be sure to visit the market when you are next in Ottawa. 
2// Visit the Parliament Hills in Ottawa for Free
Except for driving in front of Parliament Hill almost daily, I have personally not visited the inside of the buildings.
I have at least walked the grounds which are both free to do!
If you are in Ottawa and you are looking for free things to do while in town, be sure to visit the Hill and learn the history of the capital! 
3// Visit the Museums in Ottawa for Free
They are a few free museums in Ottawa that are free, be sure to visit them when you are next in town. 
The Canada Agriculture and Food Museum, the Canada Aviation and Space Museum and the Canada Science and Technology Museum all offer free admission daily between 4:00 p.m. and 5:00 p.m.
On Thursday evenings, admission to the National Gallery of Canada, the Canadian Museum of History, the Canadian War Museum and the Canadian Museum of Nature is free from 5:00 p.m. to 8:00 p.m.
And lastly, the Bytown Museum offers free admission on Thursday between 5 pm and 8 pm.  Learn everything you need to know about the History of Ottawa here!
At all other times, admission is free for children under 5 and only $2 CDN for everyone else.
And our secret tip:
If you are a resident of Ottawa you can apply for the Museum privilege program at the Ottawa Public Library.
The Library loans out family pass to several museums at no charge – all you need is your library card.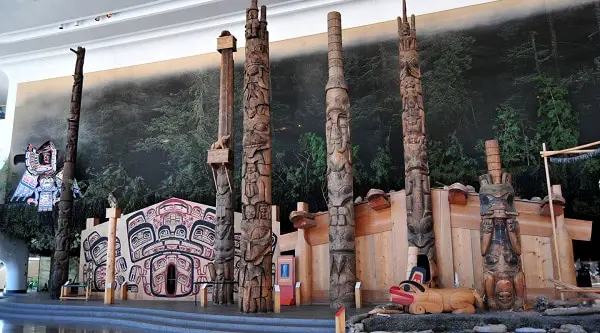 Visit the Museum History of Canada
4// Book Your Rideau Hall Tours For Free
Visit Rideau Hall which is the Governor-General of Canada's residence.
Be sure to walk the beautiful grounds where political figures have planted trees. They open every day from 8:00 am to one hour before sunset.
You can also take a guided tour of the famous stone residence. Just be sure to check out their schedules. 
During the summer, they offer residence tours, art tours, garden tours, and free outdoor concerts.
You are more than welcome to skate on the outdoor rink as well as to tour the residence during winter. 
As always, all activities are free. 
5// Yoga on Parliament Hill 
If you are looking for free things to do in Ottawa and you are in town over the summer months, be sure to join in with all the activities happening on Parliament Hill! 
Starting early May or as soon as the weather starts to get warmer, Lululemon hosts Yoga every Wednesdays.
This is obviously weather permitting, so be sure to find out first if it is on. 
6// Ottawa Salsa
Bring a friend or friends and enjoy a night at the Ottawa City Hall. 
Every Wednesday from 6 – 11 pm you can enjoy Salsa lessons, or fun salsa dancing at City Hall. Classes are offered in and outdoors starting in early July until the end of August!
Again weather depending. 
7// Visit The Fairmont Chateau Laurier
Be sure to visit the Fairmont Chateau Laurier – which is Ottawa's Castle now turn luxurious hotel.
This gorgeous hotel is located in the corner of Rideau Street and Sussex Drive, overlooking the Rideau Canal.
You might be allowed to visit the whole castle, but be sure to at least see it. 
8// Visit the Westboro Village
Westboro Village is one of the most unique and diverse neighborhoods in Ottawa.
Here, you will enjoy tree-lined streets, shop in one-of-a-kind boutiques and popular stores.
Be sure to spend time in welcoming outdoor spaces, dine at Ottawa's trendiest spots and enjoy the natural beauty of Westboro Beach and the scenic views of Gatineau Hills.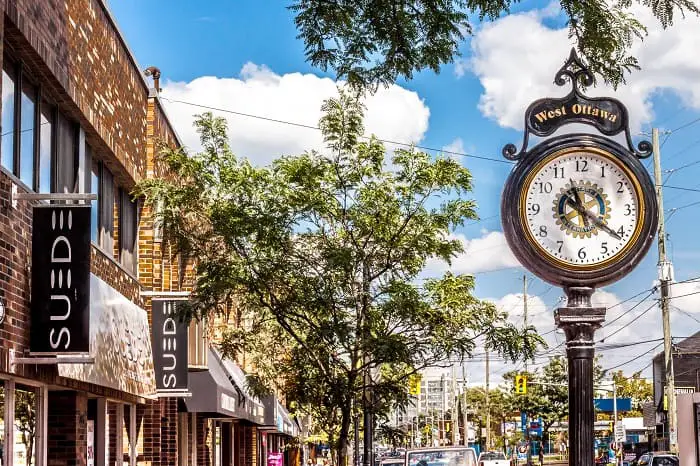 Visit the Westboro Village This Summer
9// Spend The Day At The Beach 
Yes, Ottawa is home to a few beaches. 
A few the popular beaches in Ottawa include Britannia Beach, Mooney's Bay Beach, Westboro Beach, and Petrie Island Beach in Orleans. 
In fact, check out our list of the beach beaches in Ottawa and surrounding areas that you have to check out. 
10// Go Hiking in The Gatineau Park
Gatineau has beautiful walking trails that you can explore if you are looking for things to do for free. I personally fell in love with Pink Lake trails but they are all beautiful!
Take the time to explore the beautiful parks in Gatineau!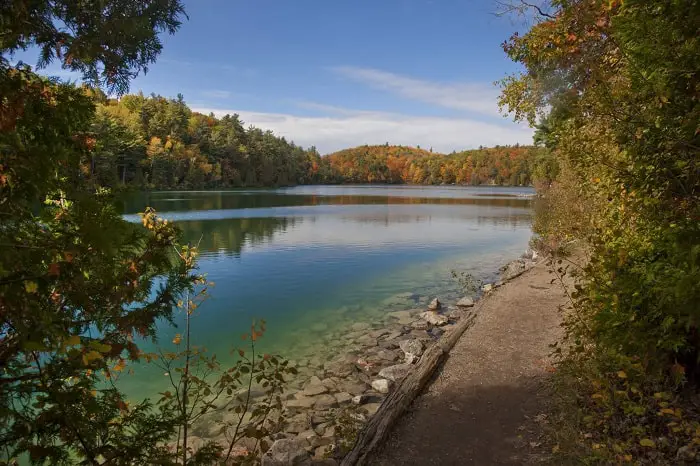 This is Pink Lake in Gatineau
11// Canada Day Fireworks
The best place to enjoy Canada is on the Hill.
As you can see, we keep referring back to Parliament Hill and that is because a lot of amazing activities happen here depending on the day!
If you happen to be in Ottawa for Canada Day, head over downtown where you will be able to watch several free concerts as a well as the popular Canada Day fireworks. 
12// Ottawa International Busker Festival
Spark's street is where you want to be this summer! 
Around mid-summer every year, you can enjoy a lot of free entertainment by street performers from around the world at the Ottawa International Busker Festival.
It is also known as "Buskerfest" on Sparks Street!
13// Attend the Glow Fair Festival in Ottawa
Around mid-June, you can enjoy a good party at the GlowFair festival!
This amazing takes place across 10 city blocks down a major main street in Ottawa, known as Downtown Bank Street. 
Each of these blocks focuses on a unique theme or element to celebrate the diverse community that Ottawa is known for.
14// Th3rd Fridays: Street Dance Battles
If you love dancing, then this free event is for you.
Be sure to attend Ottawa's street dancing scene at Th3rd Fridays: Street Dance Battles.
A DJ plays hip hop, funk, and other music styles while dancers compete against each other.
The event normally takes place every 3rd Friday evening of each month at Ottawa City Hall. You can attend and watch the show for free.
If you would like to participate, you will be charged a low fee of $2 per category.
15// Skate For Free In Ottawa
Ottawa is home to the largest naturally frozen skating rink in the world!
You can skate on the Rideau Canal every year from January to about February, depending on the weather!
In the summer, you can walk along the river as well as to go kayaking. 
Which of these Free Things to Do In Ottawa Today will You Do? Tell us in the comments below.
PS If you are looking for things to do with kids in the area, try out the Playgroups in Ottawa for extra fun! 
Read this next:
Some of the best places to eat in Ottawa this Summer
Best Cities to in Canada For Families and Work 
The Best Free Things To Do In Ottawa This Year For F

un