Celebrate Canada day
Looking to take part in the Canada Day celebrations this year?
Canada Day is celebrated July 1st every year, in case you are not Canadian.
This is a holiday and most of Canada are not working unless they have to. This means everyone will be out celebrating Canada most in the downtown area.
Most of Ottawa will be out celebrating this day early during the day and this will go on until late in the evening.
Because Ottawa is the nation's capital, they always put on a big show to celebrate Canada Day. Expect to participate in a lot of family activities, big firework displays and lots of eating.
Before we get started on all the Canada Day Celebrations tips and ideas, we did want you to follow us on Instagram for more tips. 
We also wanted to take the opportunity to let you know that we use Affiliate links on some of our blog posts. This means that we could make a commission if you click on an affiliate link and purchase something. Read our full disclosure and blog policy for more information.
Things To Do On Canada Day
If you are looking for things to do on Canada Day this list should help you get around.
To be honest, they are so many activities happening around the city that this list should only be used as a guide!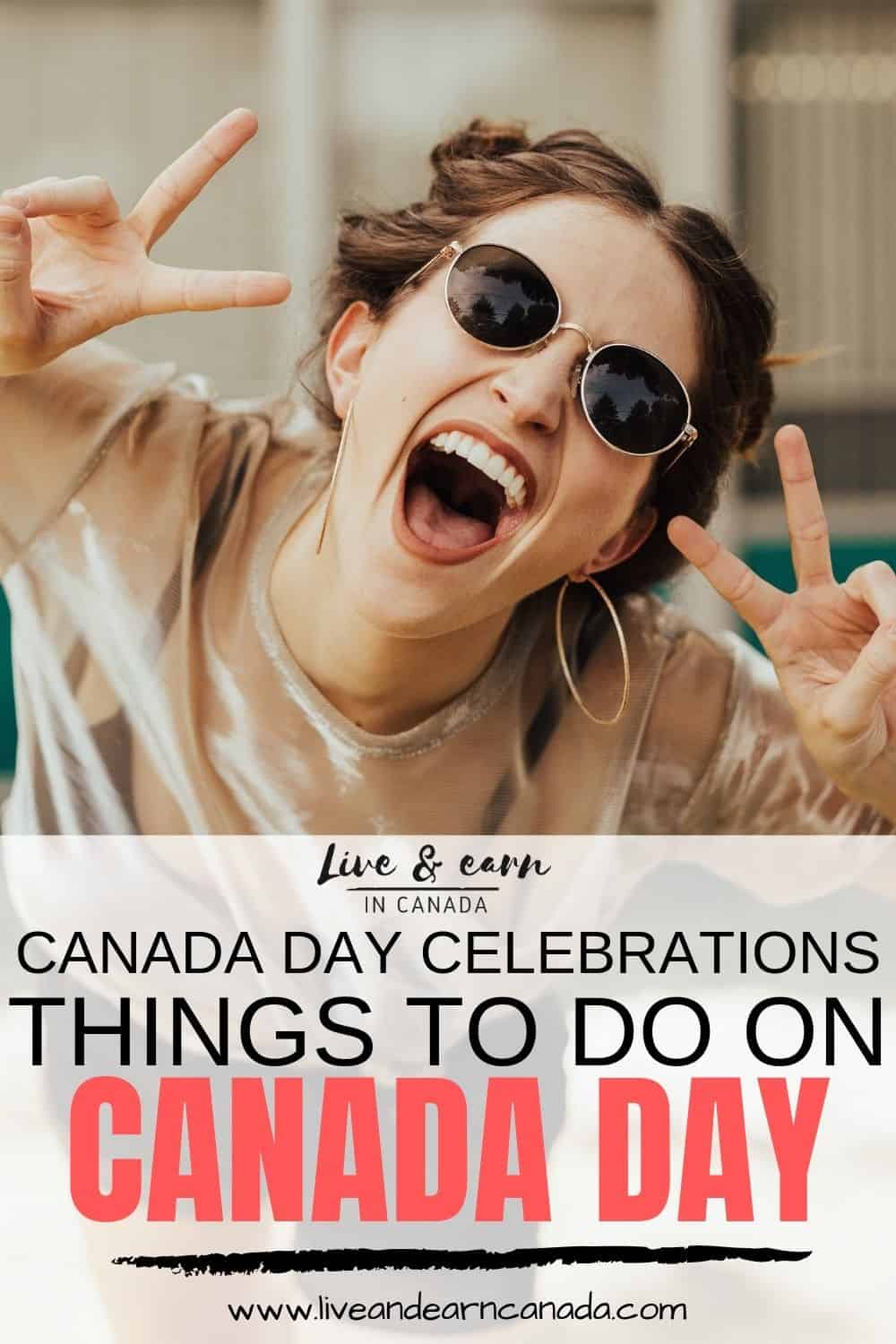 1// Canadian Museum of History – Expect to find a lot of fun activities at this museum as the Canada Day Celebrations begins. 
Admission for is free and the doors open 9 am until 9 pm.
Fun-filled activities and live entertainment will pump up the whole family on Canada day and the museum is happy to provide all of this.
For a list of all the activities and entertainment that will take place at the museum, visit the event site!
2// Parliament Hill For Canada Day
Definitely wear your red and white outfits on Canada to blend in with the rest of the public! Then head on over to Parliament Hill for some amazing entertainment!
Don't forget your camera, water and maybe some food. Canada Day is usually extremely hot and it almost always rains a little! 
Parliament Hill is typically where Canada Day festivities officially kick off and this starts at 9 am with the raising of the flag! It is followed by the changing of the guards at 9:30 am!
Expect to have a few concerts happening throughout the day on the Hill! 
3// Canada Day At Major Hill Park 
If you are looking for a more family-friendly place to kick start your Canada Day celebrations, then head out to Major Hill Park! 
You can enjoy some face painting activities for the kids, live musical and cultural performances, exhibitions and a lot more. 
Visit the park for face painting for the kids, live musical and cultural performances, pop up shops, exhibitions, and so much more
Activities on Canada day
Are you looking for more things to do in the Nations Capital? Check out this list of all the activities happening on Canada Day!
Go to a Museum on Canada Day 

Participate in the Canada Day Road Races in Support of Kanata Food Cupboard
Attend the TD Ottawa Jazz Festival

Go for a ride in a hot air balloon if you can – enjoy the view of the city from the air
Canada Day fireworks
What is Canada Day without fireworks?
Every year on July 1 you can enjoy an amazing 15 to 20 minutes pyromusical fireworks show that will light up the Ottawa–Gatineau sky in a spectacular way. 
Fireworks on Canada Day typically start at 10 p.m depending on the weather that day. 
Where are the fireworks in Ottawa for Canada Day
You can definitely watch the fireworks in the downtown core area if you are brave enough to watch it with the hundreds, if not the thousands of other people. 
The fireworks on Canada day are typically launched from the Nepean Point over the Ottawa River.
You can also watch the fireworks from these points: 
Major's Hill Park (located west of Mackenzie Avenue, behind the Fairmont Château Laurier at 1 Rideau St.) – This is another popular area! 
Along the central loop of Confederation Boulevard (This is near Wellington Street, MacKenzie Avenue, Sussex Drive and Laurier Street in Gatineau)
Victoria Island (accessed from the Chaudière Bridge)
The Canadian Museum of History also hosts amazing Firework views for those that are in this area
These are all near downtown, Ottawa! 
And if you are located on the side of the river in Gatineau, you can get a great view of the fireworks display from the lawn behind the Canadian Museum of History (100 Laurier St.) or from Jacques-Cartier Park (285 Laurier St.).
But they are other places in Ottawa that you can definitely enjoy fireworks.
They just may not be as big as the ones downtown! 
In Orleans – You can view the Canada Day Fireworks on Petrie Island

In Stittsville, you can view the fireworks typically on the football field of Sacred Heart High School

If you are in Greely – go to the Greely Community Centre

In Barrhaven, you might want to be at Clarke Fields Park

In Russell check it out at the Russell High School grounds

And if you are located in Riverside South, it will be held at Claudette Cain Park
You definitely want to find a spot where you will get to see the fireworks well. Otherwise, it is not worth it.
I sometimes envy those that live downtown Ottawa, as they have the perfect views for sure depending on where downtown you are located. 
What time do fireworks start on Canada Day
Most fireworks start at 10 pm depending on your location. 
If you wish to attend the local areas just look them up in advance, but most of them tend to start at 10 pm.
I would suggest arriving at least 45 minutes before the start of the fireworks to have a great spot and view of the fireworks. 
Are Museums Free on Canada in Ottawa
There is nothing better than to visit a few museums on Canada Day!
Most museums in Ottawa will be open for free to their general exhibitions all day July 1st and many have special events available just for Canada Day!
Museums that are typically free on Canada includes the National Gallery of Canada, Canada Space and Aviation Museum and the Canadian War Museum! 
We already mentioned this, but the Canadian Museum of History will be free on Canada Day as they host a few fun activities for Canada Day such as the fireworks.
The Museum of Nature and the Agriculture Museum will also be free on Canada Day. 
What To Expect On Canada Day
Because Canada day is a holiday, most schools, banks, government offices, including stores and business will be closed for the day on July 1st.
However, a lot of the tourist destinations including major shopping malls like the Rideau Centre will stay open for you to enjoy! 
If stores do open up, they will be open based on holiday hours, definitely plan ahead.
Your best bet would be to call ahead to any restaurants, stores or attractions you wish to visit on Canada Day. 
Looking at hours online will not guarantee that these stores will be open on those hours as some establishments do forget to update their hours of operation. 
Because Canada Day celebrations are expected to kick in the morning, you will see a lot of parades, fireworks, people barbecuing and a lot of get-togethers! 
Lots of people will be dressed in red and white to honor the nation's colors. 
How to get around on Canada Day
Keep in mind that many of the streets are closed on Canada Day.
If you not exactly sure of all the road closures, you can find a full list here!
This makes it easy for you to plan your routes, especially if you are traveling with kids! 
Because of how congested things get with so many people, we highly recommend taking public transportation when attending the Canada Festivities.
The traffic is really bad and if you can avoid driving, please keep your cars off the road. 
For more information about our public transportation system, visit OC Transpo and the Société de transport de l'Outaouais (STO) that serve Canada's Capital Region.
The bus schedules are not the same during Canada, be sure look up the special timeline and the O-Train light rail transit schedule before leaving your homes. 
Traveling by foot: 
Walking in and around Ottawa and Gatineau is one of the best ways to visit and enjoy the celebrations on Canada Day.
Just remember that it sometimes rains on Canada Day and it can get really hot as well! 
As much as we do not recommend driving on Canada Day, you can also carpool! 
During the Canada Day celebrations, the number of parking spaces is very limited due to large crowds and street closures.
The best way to get to Canada Day sites is by public transportation or by bike.
More Information About Canada 
List of events expected on Canada Day
Want to be featured on our Instagram Page? Hashtag #CanadaDayEarned or #LiveCanadaDay
Read this next: 
Best Free Things to Do In Ottawa This Year For Fun
Canada Day Celebrations: Things To Do On Canada Day 2019