Visiting St Lucia in July
Thinking of visiting St Lucia in July?
The alluring and naturally beautiful island of St. Lucia is available to you for thrilling and exciting vacations throughout the year.
One of the highlights of the Island is that it is located in the tropics which means that temperatures are constantly warm and welcoming throughout the year. 
And I can tell you that you will really enjoy the unspoiled white sand beaches which are perfect for swimming and diving throughout the year.
You, therefore, have no reason not to book a trip to St. Lucia!
Despite St. Lucia been open for business throughout the year, some months offer unique experiences that are worth planning a trip around.
One such month we found is July; we will highlight some of the top events that take place on the island of St. Lucia in July.
When we planned our ultimate girls' trip to St Lucia a few years ago, we had no idea it would be the best highlight of our lives. 
My very best friend Jeanelle is from St Lucia, so it was the perfect opportunity for me to visit this beautiful island.
If you want to follow her and get more tips about visiting St Lucia, she has an amazing blog you can follow about all things St Lucia. 
We are going to share the best time to visit St Lucia below.
 

View this post on Instagram

 
Is July a good time to visit St Lucia? 
A lot of you had questions about visiting St Lucia such as:
How hot is St Lucia in July?

What is the rainy season in St Lucia?

What is the best time to go to St Lucia?

Is July hurricane season in the Caribbean? 
And these are all great questions!
I know most of you just want to have the best time possible when you do visit St Lucia, so having the right information is important. 
If you spending the money and taking the time, you want to explore the island when it is at its best. 
So what is St Lucia weather in July like and is it worth it?
Before we get started on our tips for visiting St Lucia in July, we did want you to follow us on Instagram for more tips. 
We also wanted to take the opportunity to let you know that we use Affiliate links on some of our blog posts. This means that we could make a commission if you click on an affiliate link and purchase something. Read our full disclosure and blog policy for more information.
Things to do in St Lucia in July
St Lucia is an amazing island with beautiful people, delicious food, great beaches and they also have an amazing local nightlife that you just have to experience for yourself.
If you happen to visit in July and you are wondering, what can we do when we visit St Lucia?
I am here to tell you, they are plenty of things to do! 
What to do in St Lucia in July
1. Carnival
Probably the most enticing and by far the biggest event that happens in St. Lucia in July is the St. Lucia Carnival.
And I strongly believe that the best time to visit St Lucia is when the Carnival is on!
This is a National cultural celebration where social groups and age groups come together for the best part of two weeks to celebrate St. Lucia's rich cultural heritage in the form of music, dancing, costumes and of course eating.
St. Lucia Carnival includes events such as costume shows, pageants, Soca Monarchs, culinary displays and concludes with a pulsating street parade through the main towns of St. Lucia.
This street parade is where St. Lucians of all ages and visitors alike go reveling down the streets of the beautiful island, celebrating life and another year of living.
This is a spectacle that attracts visitors from all over the world. 
Visitors enjoy pulsating vibes and also learn more about the culture of St. Lucia and the significance of carnival to the island.
St. Lucia Carnival is surely an event that you can travel to the island specifically to enjoy.
Your time and money will be well spent, and you will be looking forward to the following year as soon as the event is over!
So, go ahead and book that trip to St. Lucia in July; it will be time well spent and an experience that you will remember for a lifetime!
2. Mercury Fest
Carnival is not the only event that happens in St Lucia in July.
Mercury Fest is another event that people travel from far and wide to attend.
This is a two-day beach party held at the Pigeon Island National Landmark.
Mercury Fest includes live performances from leading international superstars, DJ'S, boat shows, bikini contests, and many more events.
Mercury Fest is one of the most anticipated events of the summer and comes directly after the conclusion of St. Lucia Carnival.
We recommend that you book your St. Lucia trip to coincide with these amazing events to enjoy them both.
This is one of the reasons, I really encourage you to plan your next trip to St Lucia in July.
You do not want to miss out on all the great festivals. 
3. Spend some time in Marigot Bay
Marigot is the most popular place to visit in St Lucia. 
Fun fact: Marigot Bay was actually featured in Dr. Doolittle movie and it's definitely worth a visit when you do go to St Lucia.
They also have the Doolittle's restaurant you can visit and cross off your list. 
Located on the west coast of the island, this beautiful side of the island is extremely popular and touristic. 
Be sure to find time to snorkel if you happen to visit Marigot Bay! 
4. Check out the Sulphur Springs in St Lucia
Do not leave St Lucia without visiting the Sulphur springs.
Located in Soufriere, I was happy to have made it there to visit the world's only drive-in volcano.
You can take a 30-minute tour with a guide to learn more about this volcano!
They have amazing stories to tell, trust me!!!
Next to the volcano, you can take advantage of the mud bath in Sulphur Springs which is one of the highlights of visiting St Lucia. 
My friend's mom suggested that we visit the Sulphur Springs first thing in the morning as the baths can get extremely hot. 
The baths are supposed to make your skin feel really nice due to all the rich minerals. 
You can book any of these excursions in order to visit the mad bath in St Lucia. 
We did ours as a group! 
Please note: The Sulphur Springs has a really strong smell which we were not prepared for. But after you get past that, you will have a great time. 
 

View this post on Instagram

 
5.  Spend A Day At The Beach
The best time to visit St Lucia is when the weather is great so you can enjoy some beach time. 
I don't know about you, but spending the day at the beach sounds like a good thing to me. 
And St Lucia is full of gorgeous beaches that you can enjoy all day long. 
Some of the best beaches in St Lucia are Sugar Beach which is located between the famous Pitons of St Lucia or the Anse Chastanet Beach and Reef. 
Anse Chastanet is located in the South-West part of the Island.
Two other popular beaches in St Lucia are the Jalousie and Sandy beach. If you have the chance, be sure to experience any of these beaches.
And if you have kids as I do, you might want to go to Reduit Beach which is home to the popular Splash Island Water Park! 
6. Tet Paul – Stairway to Heaven in St Lucia
If you are on Instagram, I am sure you have noticed every photo posted on the stairway to heaven in St Lucia.
I know I noticed it, and it was a no-brainer then to ensure that we visited this place.
If you do not know, Tet Paul is one of St. Lucia's main hiking trails and it is situated in the South-Western town of Soufriere!
The hike can be done in 45-minutes by yourself or with a guided tour. 
Tet Paul Nature Trail is one of the most popular attractions in Soufriere that you just have to experience. 
 

View this post on Instagram

 
7. St Lucia Castries Pitons Tour
If you are wondering what St Lucia is known for? 
You guessed it! 
The famous twin Pitons: Gros Piton and the Petit Piton! 
And climbing these Pitons are what most people look forward to doing when visiting St Lucia.
The Pitons are the most popular attractions in St Lucia and they can be seen from almost every part of the island.
These mountains are located in Jalousie Bay in the very South Western town of Soufriere! 
Be sure to book your "Climbing the Piton" tour in advance as these fill up pretty quickly!
The Gros Piton Trail takes approximately 4 – 5 hours to complete and we highly suggest you take your time when doing these.
The view of the island is extremely breathtaking at the top of the pitons and that's why people just love to climb it. 
If you do climb the Petit Piton, you can even see the islands of Dominica, Martinique, Barbados and St. Vicent at the very top, if the weather is nice and clear. 
8. Party Like The Locals / Nightlife in St Lucia
If you know me, then you will know that I enjoy having a great time. 
The nightlife in St Lucia was the best time I had in St Lucia. 
The Friday night street party in Gros Islet is the place to be if you want to have a great time in St Lucia.
It is also known as the "Jump Up!"
The whole street is sectioned off for this event and guests are free to go and come as they please. 
You will get the chance to mingle with the locals, enjoy some amazing food which typically includes seafood, barbecue, and other local foods. 
If you want to truly enjoy the St Lucian culture, be sure to attend this event, party with the locals and enjoy great music. 
I happened to have gone twice when I was in St Lucia and I would do it over and over again.
Visiting St Lucia in July just got exciting! 
What time should you head out to the Jump Up party in St Lucia? 
As I mentioned, I went twice and the first time we didn't get there until about 10 pm. I really suggest getting there a bit early. 
We hired a driver to take us to and from the location and it was a total blast. 
This party is located in Gros Islet which is in the northern part of Rodney Bay. 
If you happen to be staying at the Royalton Saint Lucia & Spa, then it is close to it. 
9. Visit the Sparkling Diamond Waterfall
St Lucia is home to beautiful waterfalls but the tallest one is the Sault Falls and it's located in Dennery which is on the east of the island.
I don't know about you, but I love waterfalls. 
The Diamond Botanical Gardens is home to the Diamond Waterfalls which you need to visit.
This one is located in Soufriere which is the South almost the Western side of St Lucia. 
If you want to dip in a waterfall, I suggest either the Toraille Waterfall or the Piton Falls which we went to. 
There is a little hike to get to, but there is a place to swim and relax as well. 
I love this one a lot. 
Visiting St Lucia in July is extremely popular, and things can get hectic. 
If you are looking to avoid the crowd, I would suggest visiting the La Tille Waterfall which seems to be less filled with tourists. 
10. Go on a Rum Tasting Tour
I visited St Lucia with my best friend and a group of other friends. 
And according to the St Lucians, they make pretty amazing rum, so doing a tasting was the next logical thing. 
This can be done by visiting the distillery located near Marigot Bay. 
Here you can learn all about how sugarcane is turned into wine and be sure to taste the abundant rum selections they have available. 
This can also be arranged using a knowledgeable tour guide for a better experience.
The Best Tours in St Lucia
If you are in the mood of really exploring St Lucia in July and you want the best bang for your cash, I highly suggest booking a tour with someone who really knows the island. 
Some other highly suggested tours I recommend doing while in St Lucia are:
With this tour, you will visit the Roseau Valley, quaint fishing villages, the awesome Piton Mountains, and the Sulphur Springs at Soufriere.
You will also get to visit the Diamond waterfall and much more. 
Get more details about this tour here.
Experience the rain forest from 3 different perspectives. 
Enjoy a short hike and zip line through the rain forest canopy. This 5-hour tour will leave you wanting more.
Get the full descriptions of what is included in this tour here. 
Tips for booking a tour in St Lucia
This is another popular tour with amazing reviews that you should consider taking. 
This tour departs from Castries and sets for Soufriere and Marigot Bay. Here you can explore the volcanoes and waterfalls. 
You can also enjoy a great time snorkelling as well as a delicious Creole buffet lunch at Morne Coubaril Estate. 
It's a full-day trip, so expect a lot of fun! 
Tips for booking a tour in St Lucia
It is best to book your tours in St Lucia in advance as they fill up pretty quickly.
By reserving your spot ahead, you will pay a good price. 
We found that some of the tour prices cost a lot more if purchased on the spot than if you purchased them online. 
Also paying at the spot often required you to pay in cash as most places did not accept cards.
I highly suggest planning ahead. 
Weather in St Lucia in July
The best time of year to visit St Lucia in July when they are so many fun activities.
When we visited St Lucia in July, the weather was a mix of really hot and some rain. 
I didn't mind the rain as it cooled it down a bit. 
If rain bothers you, then you might want to visit St Lucia more in the late spring and early summer months which are between May and June. 
Other than that, it would rain for a good 10 minutes and it would completely stop. 
And it didn't even rain every day when we travelled to the island.
The island typically has two seasons, wet and dry!
The rainy season is from June to November.
But usually, the island is sunny with temperatures ranging between 27 degrees Celcius and 30 degrees Celcius all year round!
 

View this post on Instagram

 
Places to Stay in St Lucia in July
When we visited St Lucia, initially we stayed with my friend's family. 
Her mother was more than happy to welcome us into her beautiful home which gave me the chance and opportunity to really understand how St Lucians lived.
I really enjoy learning more about different cultures and the people of St Lucia. 
We did end up extending our trip to St Lucia a little and asked more of our friends to join us. 
The plan was to rent an Airbnb venue in order to accommodate all of us, which is an option for you as well. 
But I also wanted to get the opportunity to check out a few resorts.
My recommendation is to check out the Royalton St. Lucia,  Serenity at Coconut Bay or the Landing Resort and Spa. 
We stayed at the Royalton St. Lucia, for two days and then booked an Airbnb for the rest of the trip!
Another hotel that I really wished I had the opportunity to visit is the Sandals, Grande St Lucia!
How to Get Around the Island
St Lucia is a gorgeous island and if you get the opportunity to explore it, be sure to do so! 
We highly suggest booking an airport transfer but be aware that they will be multiple stops on your way to your hotel as they drop off other passengers visiting the island. 
This can make your drive to your hotel a bit longer. 
You also have the opportunity to book a private airport transfer directly to your resort or hotel. 
And if you want to get around the island to visit other attractions, renting a car or just hiring a driver is your best bet!
Cheap Flights to St Lucia in July
Another thing to keep in mind when travelling to the Caribbean is your budget.
And I would say the best time to travel to St Lucia is when flights are cheap. 
We flew from Toronto to St Lucia and the flight was approximately 6 hours. 
The cheapest flights from Toronto to St Lucia, Hewanorra cost us about $510 in Canadian dollars and I bought the tickets approximately 3 weeks prior to our date of departure.
You can find great flights to St Lucia on Bookings.com. 
You can also use Kiwi.com to book cheap flights to St Lucia in July as they have comparable rates. 
Is St Lucia worth visiting?
Finally, visiting St. Lucia in July is a great option for avid party fans and also for people who enjoy cultural celebrations, good food, world-class entertainment, and good company.
St. Lucia Carnival and Mercury Fest are two memorable events that will leave you with experiences that you will remember for a long time.
So, yes, go ahead and book your trip to St. Lucia in July, you will be glad you did!
With all this information? I have just one question for you! 
Will you be visiting St Lucia in July? 
We really want to hear from you, tell us if you are planning on visiting St Lucia in July, and come back and share your experiences.
We will be happy to feature your experiences!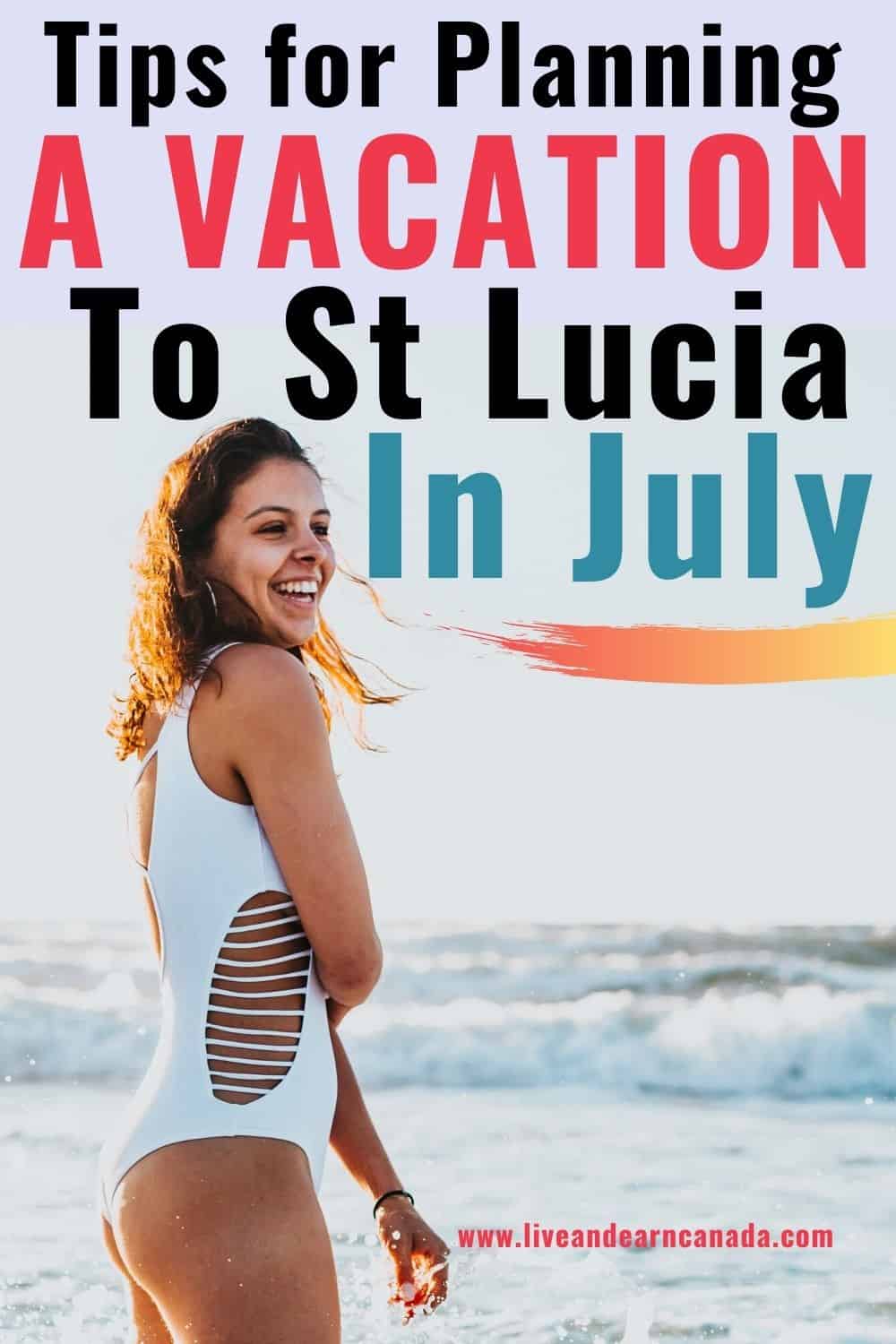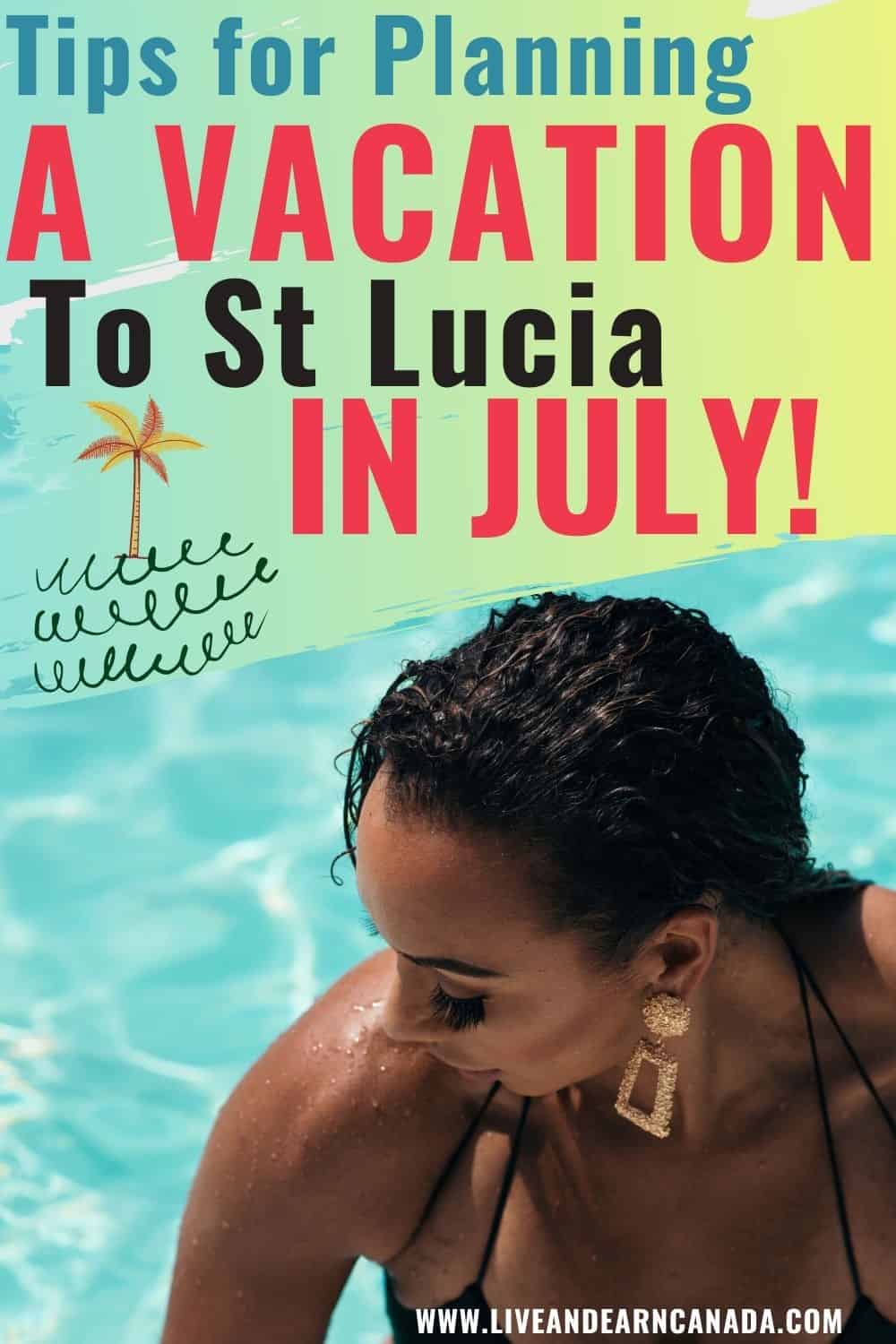 More posts to read: 
St Lucia in July – Why You Must Visit This Beautiful Island this Year