Fun Stuff To Do in NYC
They are so many wonderful things to do in New York City!
In fact, I love NY! Bright lights, big city! 
NYC has a pulse all it's own and of course, the entertainment options are limitless.  
There are literally hundreds, if not thousands of things to do in NYC. 
If you can think of it, you can probably do it. 
Whether you've been there once or  100 times, you're sure to always find something new and unique in NYC.
Why Should You Visit New York City?
Among other reasons, NYC is known for it's being the home of fashion, amazing art, great food, and the culture! 
And if any of these things resonate with you, then you should definitely consider visiting New York City this year.
Whether you are planning a day trip to NYC or you are planning a couple of days in the city, we have a few things you should consider doing when you plan your trip down.
Is New York City worth visiting at all?
New York is a very fast-paced and it's definitely a city that never sleeps!
The food and culture alone should be enough to warrant a trip down to NYC. And did you know that Friends and Gossip Girls were short in NYC?
Should we say more?
I mean, even the "Tonight Show With Jimmy Fallon" is shot in New York City! 
We are not going to lie, it is an expensive city, but with careful planning, you can definitely vacation in NYC on a budget! 
Be sure to grab your New York Access card which gives you access to over 100 attractions and tours. 
Before we get started on the top things to do in New York City, we did want you to follow us on Instagram for more tips. 
We also wanted to take the opportunity to let you know that we use Affiliate links on some of our blog posts. This means that we could make a commission if you click on an affiliate link and purchase something. Read our full disclosure and blog policy for more information.
When Is The Best Time To Visit New York City?
You can pretty much visit NYC anytime you are able to take a trip. 
But if you are on a budget, they are times that much cheaper to travel to NYC than other times. 
For example, traveling to New York City over the summer and busy holiday times is much more expensive as this is when tourists tend to travel.
To keep it on budget, we suggest traveling from January (after the holiday season) to Mid April.
You can also travel anytime after September and November making note of holidays. 
Free Things To Do in New York City
New York City is expensive but they are a lot of free things you can while visiting this gorgeous city.
We definitely wanted to share our top must-visit places in NYC, but if cash is a major factor for you these ideas might also help:
Enjoy a day in a local park and have a picnic

Enjoy a free walking tour 

Walk across the famous Brooklyn Bridge 

Go Stargazing on the High Line

Ride the Staten Island Ferry which is free
In addition to these things, here is a list of 5 top things you must absolutely do in order to enjoy the full experience in NYC:
Top 5 Things to do in New York City

1// Go Visit A Museum
New York City has a plethora of museums. 
From art to science to history, you can see it all.  
NYC has some of the best museums in the world and if you have a chance, we highly suggest going to at least one! 
The entrance fee to all is very reasonable and some are even free depending on when you visit.
Here are just a few museums that you should visit in NYC:
American Museum of Natural History, 9/11 Memorial, Museum of Modern Art, NY Historical Society and my favorite, The Metropolitan Museum of Art. 
There is nothing like seeing the work of some of the masters up close and personal. 
Do yourself a favor and go to at least one museum while in NYC. 
You'll be glad you did.
2// Central Park
I am sure you are familiar with Central Park and most have seen it in movies, magazines, TV shows but it's time you visit in person.
If you plan on visiting NYC this year, be sure to add Central Park to your list of places to visit. 
You'll see locals and tourists alike, all enjoying the green expanse that is Central Park. 
The great thing about Central Park is its vastness. 
At  840 acres,  there is plenty of room to spread out and wander. I recommend taking a carriage ride or pedicab trip through the park.
It's a great way to see some of the different areas. 
Some of my favorite areas are the Imagine Mosaic, which is the touching tribute to John Lennon; and the Bow Bridge, the iconic bridge over The Lake. 
Also high on my list is stopping for lunch or brunch at famed Tavern on the Green. 
Located within Central Park at West 67th, we enjoyed the delicious Sunday Brunch there and the yummy cocktails!
3// See a Show in NYC
You're in New York City so you must visit Broadway! 
It's an experience you won't forget. 
As we mentioned, they are so many things to do in New York City and seeing a Broadway show should go without saying!
Do some research and decide which show you want to see based on your time frame and your budget. 
Show prices vary widely. 
You can go pretty economical or you can spend a fortune, the choice is yours!  
While you're there take in all the sights and sounds of Times Square. 
It's very loud and chaotic but also a must-see.
4// Have a cocktail on a rooftop bar to see the lights
There's nothing like NYC at night. 
Watching the sunset from a rooftop bar is a must-do while in NYC.  
Many hotels have rooftop bars that offer great views of the city. 
One of the reasons we chose our hotel in Manhattan was because of the great view it offered from its rooftop bar. 
We were literally right across from the Empire State Building and our view was magnificent. 
We found it really convenient to be able to take the elevator up to the rooftop bar every night and watch the sunset rather than fighting the crowds at some of the other popular places to enjoy the lights. 
If you do feel like exploring other places in NYC to enjoy the night lights, I recommend the Top of the Rock.

5// Walk Across the iconic Brooklyn Bridge
How many times have you seen the Brooklyn Bridge on television and in movies?
If you're like most people, I bet a lot! 
Now's your chance to take a walk across the bridge that connects Brooklyn and Manhattan. 
It takes about 30 minutes to walk the bridge, not including all the photo ops you'll want to stop for.  
It's really cool to walk the bridge from Brooklyn to Manhattan at sunset to catch the setting sun and see all the city lights begin to twinkle.
If you're like me, no matter how long your trip is to NYC, it won't be long enough because there's so much you'll want to do. 
Don't worry if you can't fit everything you want to do. 
Just start making a must-see list for your next trip to The Big Apple. 
Enjoy your trip to New York City!
Will you be visiting New York City? 
Tell us in the comments below, we would love to hear your experience. Don't hesitate to check out this page for more attractions in NYC that you can visit.
Author Bio:
I'm SJ.  I'm from the Midwest, USA and when I'm not blogging over at The Prosperous Blonde, you can find me traveling, or planning my next trip; or hanging out with my Goldendoodle mini pup, Homer! 
My favorite US travel spots so far are Sedona, AZ: New Orleans, LA;  South Florida and NYC!
Come visit me at The Prosperous Blonde where we talk about travel, money and how to live a prosperous life. 
It's more than just about money.  Being prosperous is to grow and flourish in all aspects of life!  Come with me to Prosperity!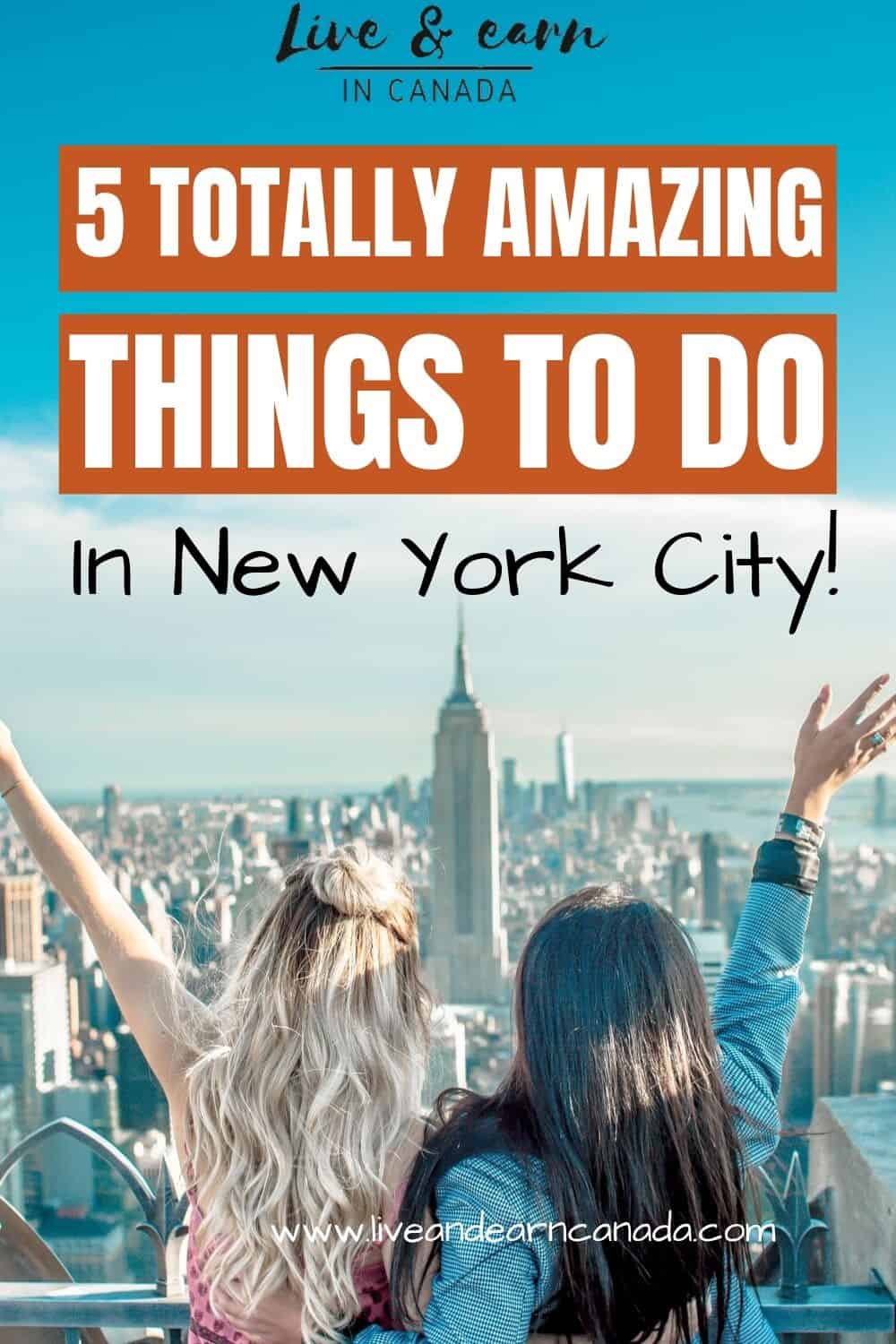 Related Places to Travel:
Canada: Visiting Canada and Everything You Need To Know
17 Absolutely Places To Visit in Oahu, Hawaii
5 Top Things to Do in New York City This Year