Last Updated on
When is the best time to go to Mauritius?
Are you wondering what the best time to go to Mauritius is? 
Well, you are in luck, I just came back from this absolutely beautiful island and I must say,  it's a must-visit. 
With all the breathtaking beaches they have in Mauritius, white sand and amazing people and food, I can guarantee you will have a great time on this island. 
I had such a great time in Mauritius and I want to share my opinion on the best time to visit Mauritius in order to get the best out of your vacation. 
If you do not know a thing about Mauritius, it is a gorgeous island right in the middle of the Indian Ocean, near Madagascar!
The island is surrounded by beaches to die for, breathtaking waterfalls and beautiful small towns. 
This makes it the best place to go on vacation to relax, enjoy and rejuvenate. 

Before we get started on the best time to go to Mauritius, we did want you to follow us on Instagram for more tips. 
We also wanted to take the opportunity to let you know that we use Affiliate links on some of our blog posts. This means that we could make a commission if you click on an affiliate link and purchase something. Read our full disclosure and blog policy for more information.
What are the hottest months in Mauritius?
As I mentioned earlier, my family and I visited Mauritius for two weeks at the beginning of October and it was really warm. 
We loved it and enjoyed it. 
Mauritius considers winter months to be May to October with temperatures as high as 22 degrees Celcius. 
If you are wondering what the hottest months in Mauritius I would say it starts in October when it starts to warm up. 
And by November, you are hitting your summer months in Mauritius and this goes to April. 
I would say the warmest months will then be December, January, and February!
Is there a rainy season in Mauritius
When we went to Mauritius it was the beginning of October. Lucky for us, we had little to no rain and when it rained it dried up really fast. 
From what we got from the locals, the rainy season usually begins in December and ends in and around April. 
And despite the rain, the average maximum temperature is still 31 degrees Celcius.
The tropical cyclones typically hit the island between January and March. 
So when is the best time to go to Mauritius?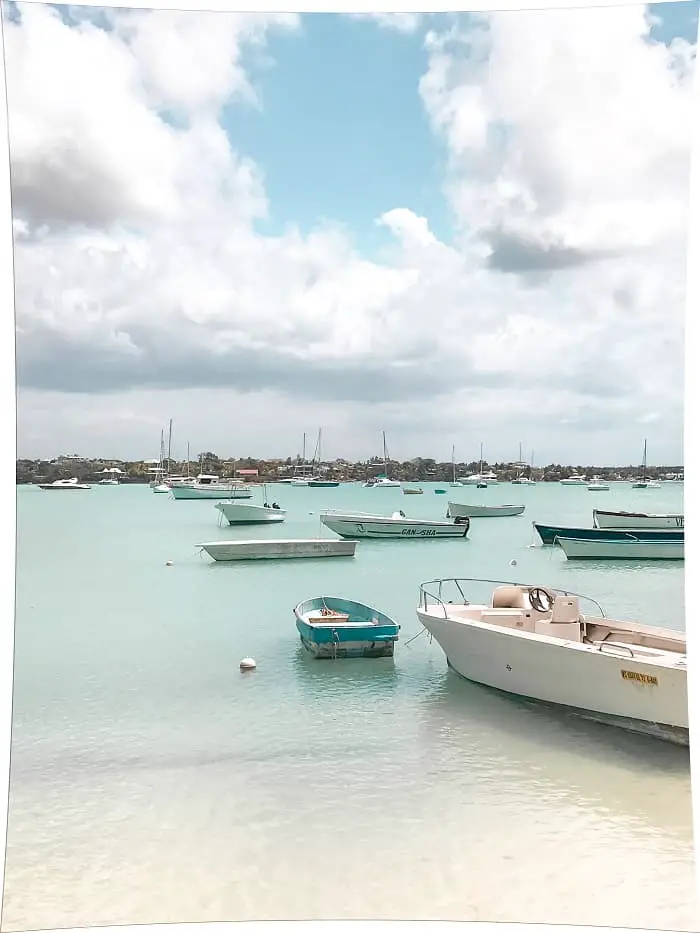 Grand Baie / Grand Bay in Mauritius
Peak Season in Mauritius (Summer Months)
Mauritius is really a great, lovable island and there is no doubt that they receive repeat tourists.
It is really busy with tourists in the summer months which is really December to March which is also when the cyclone tends to hit. 
Mauritius is one of the tropical islands in Africa and naturally it would be hot all year round. 
But if you are trying to avoid all the tourist and high ticket prices, I would avoid the peak season which is the summer months (December to March). 
During these months, the island gets extremely crowded with tourists, the festive season also starts around this time as well as the school holidays. 
However, summer is also the perfect time for snorkeling and scuba diving which is really popular in Mauritius.
It is also the perfect time to spend the day at the beach. 
Cheapest time to go to Mauritius
The cheapest time to go to Mauritius is during the low season which is May to September (and even October would work).
I personally went in October and I found traveling to Mauritius on a budget at this time of the year worked perfectly for me.
The temperatures during the day were definitely hanging around the 30 degrees mark, and we had little sprouts of rainy here and there but hardly. 
You could easily save an easy 50% on flights.
For the best and most affordable holiday in Mauritius, I would do the low season as flights and hotels and even excursions do drop in pricing. 
Be sure to check out HotelsCombined.com to find all your accommodation needs, you can easily compare hotel prices. I also used Bookings.com to secure great villas for my stay in Mauritius. 
You can also use AirBnB for your visit to Mauritius. 
**Keep in mind that from January to March, Mauritius sometimes gets hit by cyclones which causes power failures and flooding. 
In terms of affordable places to stay in Mauritius:
I suggest looking into Mauricia Beachcomber Resort & Spa, Veranda Grand Baie Hotel & Spa or even Villa Jessica II!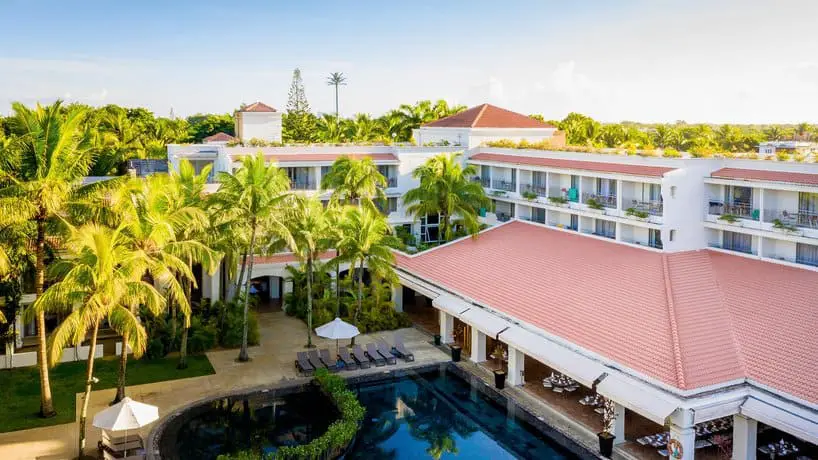 Source: Hotel website – Mauricia Beachcomber Resort & Spa in Grand Bay
When is the best time to visit Mauritius
With all of this information, it is safe to safe to say that the best time to visit Mauritius is ideally from May to December when the weather tends to be cool, dry and sunny. 
As an African and someone who grew up in Africa, the weather works for me all year round. 
And the island of Mauritius tends to be warm all year round due to the classic tropical climate it has. 
Is October a good time to visit Mauritius?
If you want to know how we are able to afford to travel to Mauritius, be sure to read our full guide to this amazing vacation.      
As you may or may not know, Mauritius is a tropical island and it typically enjoys warm temperatures all year round. 
Based on everything we talked about such as budget, busy times, as well as the temperature in Mauritius, I would suggest traveling to Mauritius around May to December (we already included this.)
My family and I really enjoyed visiting Mauritius around October.
We so less rain, warm and dry weather, but it did get dark much faster outside (around 6 pm). 
Best time to visit Mauritius for Honeymoon
With our wedding coming up early next year, we were looking for places to revisit for our honeymoon.
And Mauritius did make it our top 5 list. 
And if you are one of those lucky couples looking for a great place to go for your honeymoon, I highly recommend Mauritius. 
In terms of the best time to visit Mauritius for your honeymoon, I suggest keeping with our recommendation from May to December! 
If you had the chance to visit this amazing island, what is your recommendation for the best time to go to Mauritius? And why? Share your opinion below. 
What is the best time to go to Mauritius for An Awesome Time