Traveling for business tips
Are you traveling for business this year?
More and more businesses are allowing their employees to travel for business and if you are one of those that often travel for business, we have a few tips for you.
Over 25% of annual revenues in the travel and tourism industry are made up of those who travel for business.
And while there are no statistics regarding the number of female business travelers, another relevant number raises an alarm: 83% of women who travel for business have experienced a safety issue while away.
Considering that 80% of these women have also stated that these safety issues have impacted their productivity while on a business trip, it becomes clear why we need to address the issue and explore how to keep ourselves safe.
What are some of the most common safety concerns?
Women travelers, in general, are faced with more risks than their male counterparts. These risks include:
Sexual harassment and assault

Traveling to certain countries known for unequal treatment of women

Risk of assault or kidnapping

A whole range of general safety issues, that can include robbery, theft, stalking, etc.
When traveling alone, women are often much easier targets than men.
And while female solo travel is on the rise, and we are learning to embrace some of our fears, taking the necessary precautions is still of paramount importance.
I myself tend to have a lot of questions before accepting business travel from work such as: 
How can I make my business travel better?
Can my company force me to travel? 
How can I enjoy my business trip?
How do you survive business travel?
How often do business people travel?
I really wanted to understand the concept of traveling for business and how safe it could be for me as a woman.
You can never be too safe especially if traveling for business to a place you have never gone to.
Before we get started on the best tips for traveling for business, we did want you to follow us on Instagram for more tips.
We also wanted to take the opportunity to let you know that we use Affiliate links on some of our blog posts. This means that we could make a commission if you click on an affiliate link and purchase something. Read our full disclosure and blog policy for more information.
Business travel specifics: how to stay safe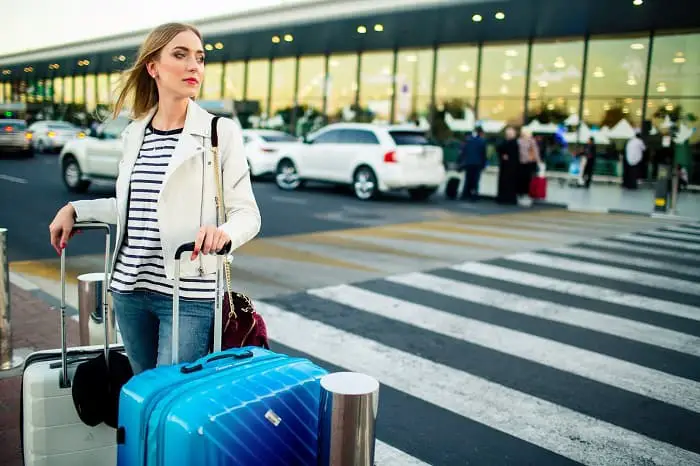 Source: freepik.com 
When going on a business trip, make sure you tick the following boxes:
Choose only trusted accommodation. This can either be a large hotel chain, a hotel with great reviews, or even an AirBnB that has been reviewed well by other solo female business travelers. Make sure you also check out the neighborhood you are staying in and only book your stay once you have all the information you need to feel safe.
Choose your transportation wisely. You might want to consider arriving during the daytime, whether you are driving or flying in. Check out the local taxi service or arrange for a car to pick you up. Try to stay clear of shared transportation unless you know the people you are sharing the ride with. Check your driver's credentials before getting into the car.
Communicate with the office, or with family, while you are away. It's important to let people know you are safe regularly. This can mean replying to emails from coworkers regularly or texting your family and friends just to let them know how your day is going.
Let others know your itinerary. Your office will know about your general itinerary and whom you are supposed to be meeting, but make sure also to let someone know about your personal plans. Where you plan to shop, eat, and walk around should always be known to someone other than yourself.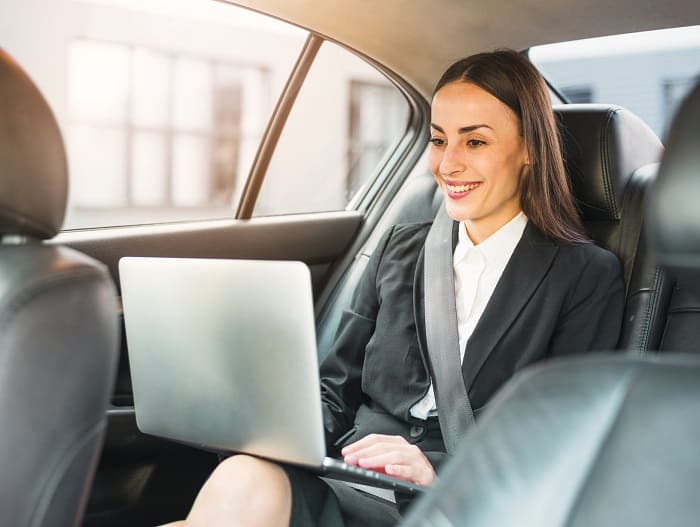 Source: freepik.com 
Some of these tips might seem perfectly logical and natural, while you may also feel that letting someone know where you are is silly and time-consuming.
Depending on where you are going in the world, and how safe the location is, you still might want to consider it.
I'd love to share a statistic here about the numbers of solo female travelers attacked, versus the number of men whose safety has been compromised abroad.
However, these statistics are rare and far between and do not give us any comprehensive view of the situation.
All we know and can say is that women should exercise all the precautions and common sense they can when traveling alone.
Personal safety when traveling for business: what (not) to do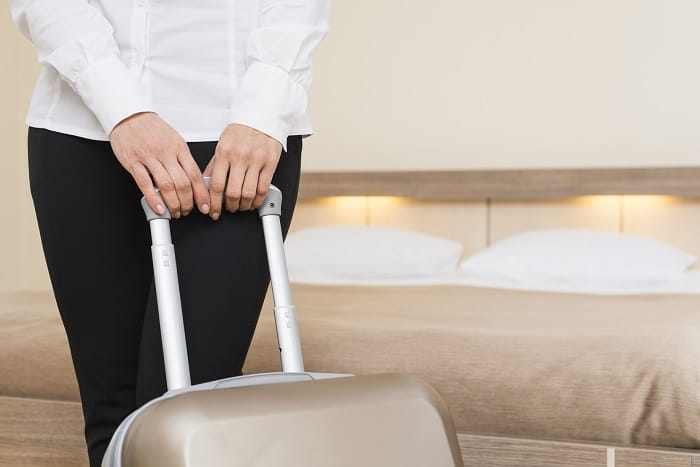 Source: freepik.com 
Apart from the above-listed general safety precautions when traveling for business, there are some more things you can do to ensure personal safety:
Choose your luggage wisely. When buying a suitcase, make sure you can lock it and that you clearly label it as yours. More importantly, make sure you find a bag that is both difficult to steal off you and get into.
Dress down. You don't want to be attracting too much-unwanted attention, so try to keep your style a bit more conservative when traveling alone.
Pack extras. Bring some additional cash with you, as well as a copy of your ID and passport. Just in case, also bring an alternative credit card, which you can leave in your suitcase in the hotel. That way, even if you lose the cash you have on you, you will have backups.
Ask for two room keys. This will not only mask the fact that you are traveling alone, but you will again have a backup option. Keep one key in your purse, and the other one on your person, so you can always get back to the room even if your purse is taken off you.
Try to act less like a tourist. While taking a map with you is always a good idea, in case your phone dies or you lose it, don't keep staring at a map while walking around. Rather look at your phone and try to memorize the way you are going for a certain destination, so you will stand out less. Also, try not to devote too much time to souvenirs and the obvious tourist traps you will come across.
Don't talk to just anyone. Don't give out your room number or any other information about where you are staying to anyone. Even though some of the people you meet for business will seem nice, they don't really need to know where you are spending the night. If someone is being too pushy or asking too many questions, don't hesitate to just remove yourself from the conversation.
Keep your phone charged. This is a given, but you can also make sure you bring a portable charger with you so you are never out of power when you need it.
Don't drink excessively. Or better yet, don't drink at all. We tend to lose a bit of our judgment and clarity when under the influence, so staying sober also means staying safe. It's also the more professional way to go.
Benefits of business travel
They are so many amazing benefits to traveling for business, trust us. In fact, if I had a chance, I would travel for work all the time. 
Here are a few benefits of traveling for business: 
You get to experience new places, new cultures, and new food

You will get to meet new people and possibly build new and lasting friendships

You are not always sitting in the office 

You will build new ideas to take back to work as you learn new experiences
With solo female travel on the rise, we are slowly starting to overcome some of the barriers holding us down.
However, it is still mostly up to us to keep ourselves safe when traveling for business.
Exercise due caution, listen to your senses if they are telling you something is off, and don't forget to enjoy yourself too. The world might be a scary place, but it is a great place to explore as well.
Don't let your safety concerns make you forget that.
If you liked

Traveling for Business, read this next:
The best places to travel alone – Perfect for female travelers
How To Afford To Travel – Cut Costs On Transportation Expenses
Traveling for Business: Is Safety a More Complicated Issue for Women?