Ottawa Winter Activities 2022
Even though winter is not my favourite season, there are so many amazing things to do in Ottawa that I especially want to try out with my now 2.5-year-old baby girl. 
As I write this post, she will be going on a Winterlude mini-trip with her other baby friends from daycare. 
It's only -2 outside and we are a little bit just past mid-January which is not bad for winter in Ottawa!
As you can see, winter is not as cold throughout. 
The weather does tend to vary in temperature day by day, so they are plenty of things to do in winter in Ottawa that can be enjoyed both indoors and outdoors.
I am a homebody but the majority of my household (my daughter and husband) are outdoor fanatics!
This means I spend the majority of time outside all year round.
Ottawa is where you want to be when planning your winter trip to Canada.
As of right now, we are still waiting for the Rideau Canal to freeze over so we can enjoy some skating.
This doesn't mean we are currently not enjoying all the winter activities that Ottawa has to offer.
Ottawa is so beautiful during winter when all of the city is covered with white snow, it's definitely not a sight you want to miss.
Seeing as this is my hometown, I am going to share with you all the fun things to do in Ottawa in Winter with friends and family.
If you happen to be in Toronto which I also love, you can check out this amazing post of things to do in Niagara Falls with kids which I plan to fully explore next. 
Here are a few things I hope to answer in this post:
What is there to do in Ottawa in the winter?

Indoor winter activities in Ottawa

What to see and do in Ottawa in winter?

Share a list of Ottawa Winter Attractions

Fun things to do in Ottawa in the winter with Kids
Whether this is your first time visiting Ottawa or you frequently visit this amazing city, we want you to try a few winter activities in Ottawa at least once. 
Ottawa is gorgeous and entertaining and there is always so much to do!
The holiday seasons are definitely my favourite times as they have Christmas lights across the downtown Ottawa core and it's just so beautiful!
If you want to experience a winter wonderland, be sure to come to Ottawa.
So what are some fun Ottawa Winter Activities to try out this year? 
With this in mind, we really wanted to take a look at what great things Ottawa had to offer. 
If you are curious about what to do in Ottawa in winter, we have a lot of exciting ideas.  
Before we get started on the best things to do in Ottawa in winter, we did want you to follow us on Instagram for more tips. 
We also wanted to take the opportunity to let you know that we use Affiliate links on some of our blog posts. This means that we could make a commission if you click on an affiliate link and purchase something. Read our full disclosure and blog policy for more information.
Things To Do in Ottawa in Winter
We are going to share a list of amazing activities and some cheap things to do in Ottawa in winter that you can try out when you are next in Ottawa.
Whether you are a homebody and you enjoy spending time indoors or you love to explore the great outdoors no matter what the weather is like, you will enjoy these winter activities in Ottawa.
Ottawa is home to adventure, friendly people and great food, so trust us when we say they are plenty of things to see in Ottawa in winter if you are up to it.
This winter specifically, I promised myself to spend more time outdoors in order to have more fun with the family.
Ottawa Winter Festival to Watch Out For: 
Winterlude

Quebec Winter Carnival

The Grassroots Festival Ottawa

The Glow Fair
There is plenty of amazing things to do in Ottawa in winter, with that in mind, here they are. 
Here are some of the best things to do in Ottawa in Winter: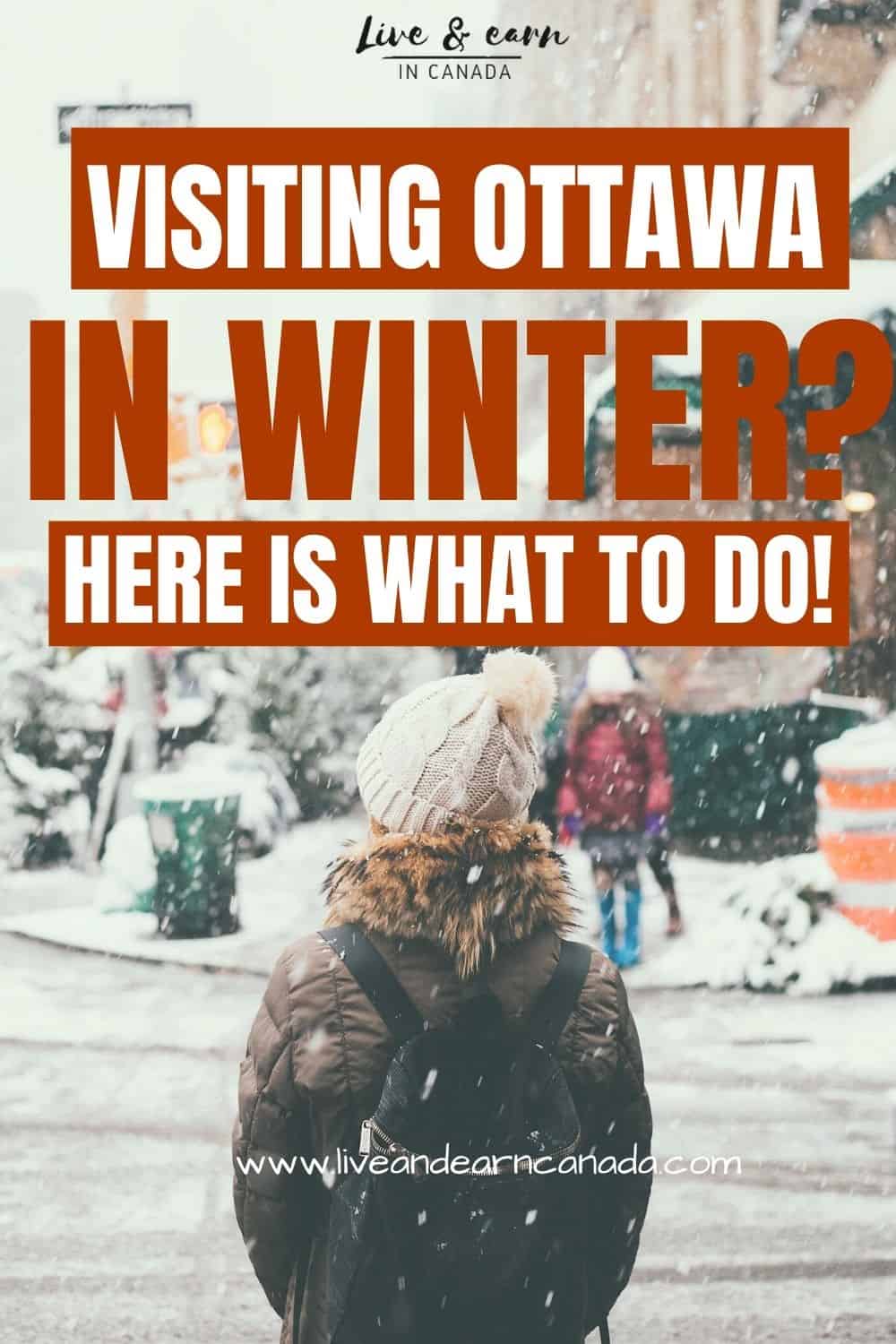 1. Go Skating on the Rideau Canal this Winter
Ottawa in the wintertime is really fun especially if you get the chance to visit the Rideau Canal. 
One thing I have not done is skating on the Rideau Canal! 
I know I have been here for years and I have attempted skating on the Rideau Canal. That is all about to change this year!
My goal is to go skating once the Rideau river finally freezes over. It shouldn't be much longer but I am patiently waiting for this.
Skating on the canal is the most popular thing to do for those visiting during winter.
The Rideau Canal skateway is one of the main attractions of the city, and you can bet it gets really busy.
If you didn't know the Rideau Canal is a recreational paradise, attracting visitors from across North America and beyond to travel its 202 km length. 
It is a UNESCO World Heritage Site and the rink is some 7.8 km!
So yes, you definitely want this to be one of the first things to do in Ottawa in winter this year. 
Rink of Dreams: Is ice skating your dream? If you happen to be visiting Ottawa in winter and the canal is closed, you can also skate the Rink of Dreams in front of City Hall. 
It is free to do and is open from 6 am to 11 pm daily. And if you look on the internet, you can find other skating rinks you can make full use of. 
Get more information about the SENS Rink of Dream right here.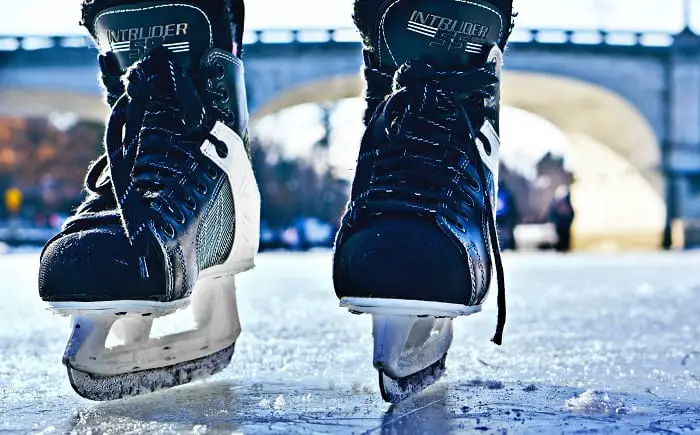 I haven't gone skating yet (so no photos of this), but here is a great photo by Matthew Fournier on Unsplash!
2. Grab a Beavertail Dessert 
I love beavertails and I am so excited to eat one this winter hopefully with some hot chocolate. 
Beavertails are popular desserts in Canada and you will hear us talk about them frequently. Basically, it is fried dough pastries, individually hand-stretched to resemble a beaver's tail. 
It is often topped with a choice of sweet condiments and confections, such as whipped cream, banana slices, crumbled Oreos, cinnamon sugar, and chocolate hazelnut. 
My favourite beavertail is the plain one which is the cinnamon sugar. 
Trust me – "Once you go, Beaver, you will never leave!" (Ha – I just made that up!!!)
3. Glow Fair

Ottawa
I had the privilege of going to the Glow fair this year!
The glow gardens are an indoor activity you can do in Ottawa during winter. If you love lights as much as we do, then you will love the glow fair.
It took place at the EY Centre over the December holiday months and we had so much fun.
I am planning to write my full glow fair Ottawa review soon! 
We were given little passports and we had to Glow around the World and collect stamps from the different countries. 
They had plenty of activities, food, and music on site. 
If you looking for fun things to do in Ottawa with kids in Winter, the Glow Fair will blow your mind.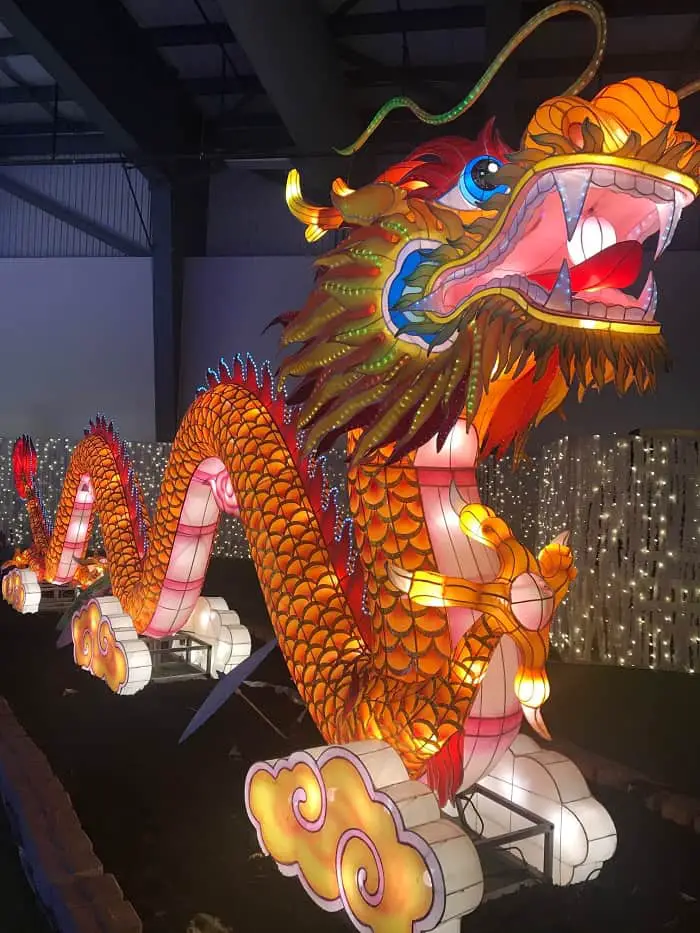 4. Christmas Lights Across Canada
I missed this amazing winter activity in Ottawa this year but I have a mental note to check out next year. 
If you are looking for fun things to do in Ottawa in the winter, you should definitely consider this. 
I have been to it before so I can say this magical winter light festival is a must-see.
It takes place on Parliament Hill and they pretty much light the Parliament buildings from 5:30 to 11 pm almost every night.
It even goes to later on New Year's Eve. 
And to top it off, the city does an amazing job covering the whole region in Christmas Lights starting in December. 
If you want other places to take photos and enjoy the lights, Major's Hill Park and Confederation are highly recommended.
If you would like a full schedule on when these happen, be sure to visit the Ottawa Tourism site!
5. Ottawa Winterlude Festival
Are you ready to explore Ottawa Winterlude ice sculptures this winter?
You can not come to Ottawa without visiting the Winterlude ice sculptures and they are purely magical and a sight to die for.
Just like Skating on the Rideau Canal, Winterlude is just as popular, and it gets jam-packed every year.
It is a unique winter festival featuring ice sculpture competitions and other cool winter activities for you to enjoy. 
Enjoy some coffee, take some photos and dance a little.
Check out the Winterlude schedule here. 
It is only open for a limited time every year for skating and winter activities in Ottawa. 
6. Visit the Ottawa Museums in Winter
If you are looking for free things to do in Ottawa in Winter, I would recommend checking out one of the local museums.
Visiting museums is the best way to escape the cold and also learn educational things about Ottawa and Canada as a whole. 
On Thursday evenings, admission to the National Gallery of Canada, the Canadian Museum of History, the Canadian War Museum and the Canadian Museum of Nature is free from 5:00 p.m. to 8:00 p.m.
These are highly recommended Museums.
If you want to see more, you can also check out:
Museum of History
7. The ByWard Market in Winter
Even though the ByWard Market is not as active over the winter months, it's still a very popular hot spot for most people from Ottawa to hang out.
Here you can find lots of amazing restaurants, and coffee shops to warm and there is a little Beavertails store on the corner.
As you can see, I love Beavertails. 
I have already mentioned it twice in the post, so be sure to go try some.
The nightlife in Ottawa typically happens in and around the ByWard Market. 
8. Cross Country skiing in Ottawa
If you are looking for more fun things to do in Ottawa in Winter, then I highly suggest doing some cross country skiing!
The skiing season is definitely a short one but it doesn't mean you can not fully enjoy it. 
They are plenty of trails available in Ottawa for snowshoeing and cross-country skiing!
A few that come to mind: 
Lauriault Trail and Waterfall Trail – In the Gatineau Park

Mer Bleue Bog 

Old Quarry Trail
9. Go tobogganing this winter in Ottawa
As I mentioned, I promised to spend more outside this winter. 
So we decided to take my little girl tobogganing this winter. 
One of the more popular hills in Ottawa to go tobogganing, is located off Bearbrook Road in Orleans, is Green's Creek hill. 
When she got on, she went down pretty fast. 
My heart almost stopped but she loved it and so did everyone else. 
If you are looking for fun things to do in Ottawa at night, then go tobogganing in the evening. 
You will have plenty of fun. 
Other tobogganing hills in Ottawa:
Mooney's Bay

Craig's Henry Park in Nepean

Walter Baker Park

Carlington Park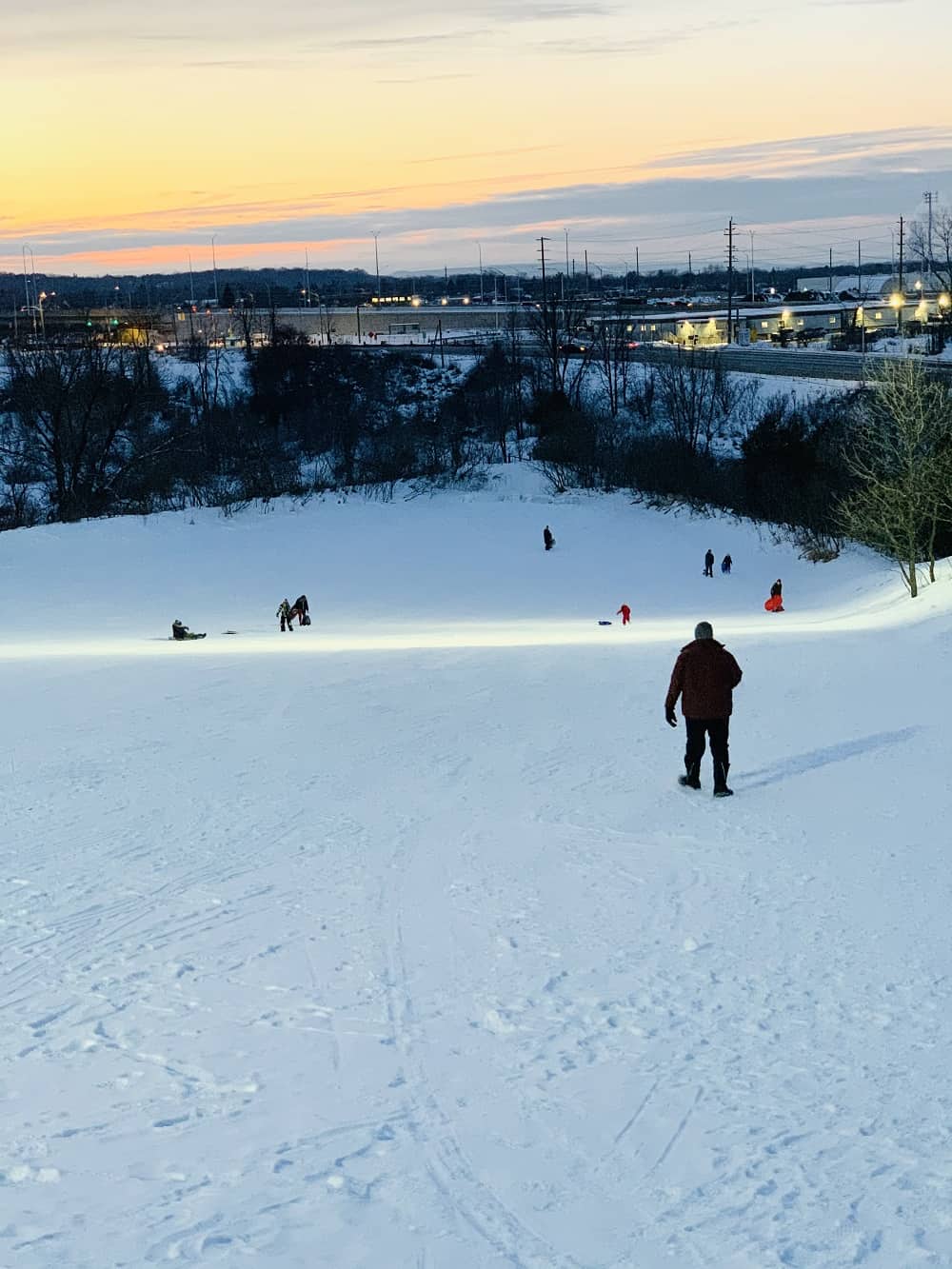 Green's Creek hill in Orleans 
10. Parc Omega
Visit Parc Omega this winter if you happen to be in Ottawa.
The park is only about an hour away from Ottawa but it is worth the visit as you can truly experience the very best of Canadian wildlife and nature.
If you have little kids as I do, it is definitely the best winter activity to attempt. At Parc Omega, you will get the chance to experience the heritage of Canada's First Nations. 
This park is open year-round but going during winter is definitely a view you want to see.
You will absolutely enjoy an amazing Winterland at Omega Parc. 
Ps. I visited Omega Parc last summer and it was epic. 
11. Tour the Rideau Hall in Winter
I had the pleasure to finally tour the Rideau Hall a couple of summers ago. 
Luckily for you, the place is open to you all year round and you can have the pleasure of visiting the General Governor's quarters.
Ottawa in the winter has so many amazing opportunities such as taking the time to learn more about our History.
There is so much history alone at Rideau Hall, you will leave feeling completely knowledgeable and part of Canadian History. 
Her Excellency the Right Honourable Julie Payette was invested as Canada's 29 th governor-general on October 2, 2017.
When I visited, she was not yet the Governor.
I last visited Rideau Hall in the summer of 2017, a visit is long overdue. 
12. Visit the Nordik Spa in Winter
Did you know the Nordik Spa-Nature is the largest day spa in North America?
Located minutes from downtown Ottawa, this amazing spa offers over 10 outdoor hot and cold baths, 9 saunas, relaxation areas, restaurants, and treatment rooms.
The best time to visit the Nordik Spa is in Winter when you can take full advantage of the hot and cold baths!
The Nordik spa experience is a relaxing one and I recommend it to all.
From the warm pools to full-body massages, Nordik spa is where you want to end up before concluding your winter vacation in Ottawa.  You can also explore other spas in the area should you wish. 
This list has some of the best spas in Ottawa, be sure to check it out as well.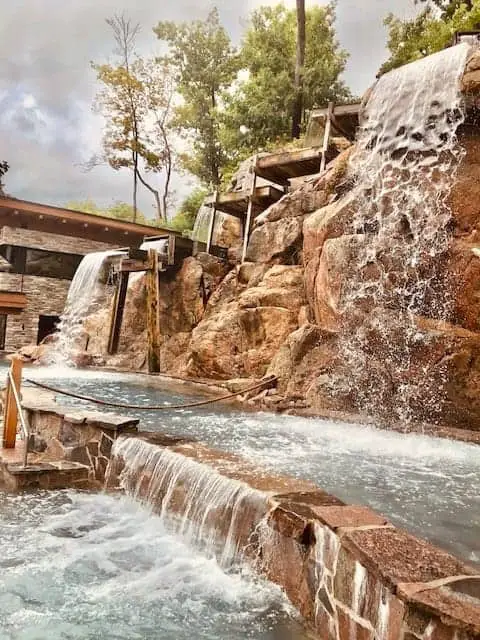 As you can see, they are many places to visit in Ottawa in winter. Which winter activity will you do? 
More Winter Activities in Ottawa:
Best time to visit Ottawa in Winter
If you truly want to experience winter in Ottawa, I would suggest coming out anyway from mid-December to about the end of February. 
It's not guaranteed we will have snow at any of these times, but in December, the Christmas lights across Canada are on full display and you can see this. 
Some of the skating rinks are also open at this time except for the Rideau Canal which typically opens up around late January / February depending on whether.
And most people will say the best time is to visit Ottawa in February!
But you will find some other activities like the Glow around the World light festival only happen in December. 
This year, we were lucky enough to see snow in early November, and as I write this, we just had a winter storm yesterday!
This meant we were up and shovelling early this morning.   
In January as the holiday highs start to go down, again depending on weather, the Rideau Canal Skateway could partially be opened.
The Ottawa Weather in January is unpredictable, I would say this year, it hasn't been bad.
Last year it was a different story with really low degrees and horrid winter storms. 
All in all, I will say that the best time to visit Ottawa in winter is in February. 
You will get the opportunity to experience the Winterlude Festivals which typically last for up to 3 weeks and the Rideau Canal is also fully opened to skaters. 
If you want the full Ottawa Winter experience, come in February!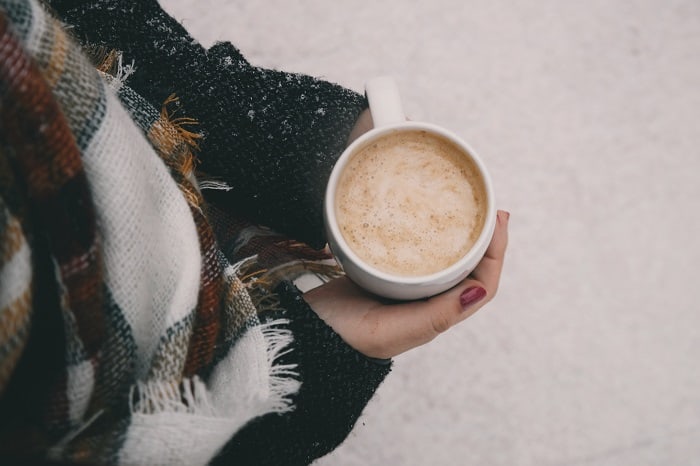 Places to eat in Ottawa
They are so many great places to eat in Ottawa when on your winter trip!
If you are visiting during winter and you plan on taking advantage of all the fun winter activities Ottawa has to offer, then I suggest downtown for most if not all of your meals.
If you are looking for cheap places to eat in Ottawa, I would suggest Kind Eddy, El Furniture Warehouse on Clarence Street, Moulin de Provence and Chez Lucien.
If you are looking for great deals, I would suggest grabbing yourself some local discounts on the Ottawa Food & Drinks page on Groupon! 
It's a great way to save money this winter in Ottawa. We have a great list of amazing places to eat in Ottawa if you want more options.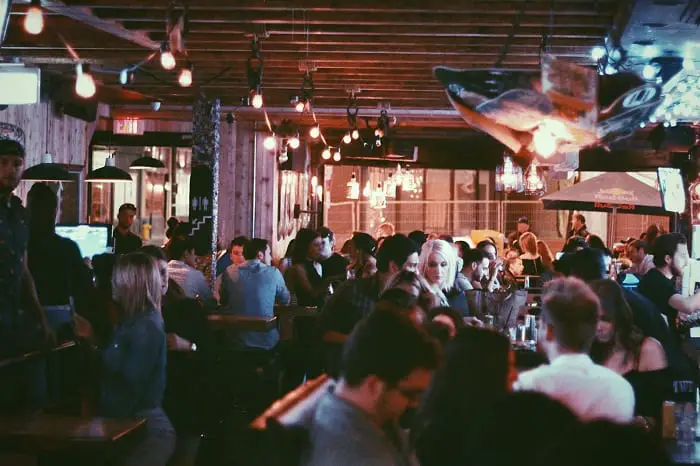 Photo compliment of Ottawa Restaurant Location – Warehouse!
Getting around Ottawa in Winter
Getting around Ottawa in Winter could be a bit tricky, but the transportation system is not bad.
If you are staying in the downtown core, then you can definitely walk around Ottawa enjoying the view.
Most of the winter attractions suggested are within the downtown core of Ottawa such as the ByWard Market, the Parliament Buildings and the Winterlude Festivals.
Anything outside of Ottawa that is within an hour or so requires a car and renting one from any car rental is not too expensive either especially during winter.
Otherwise, Uber is widely used in Ottawa (except Gatineau) and it is extremely affordable. 
Places to stay in Ottawa during Winter
If you plan to visit Ottawa in winter, make sure you plan your trip accordingly. 
As I suggested with the food if you are trying to avoid the long commute, then staying close to downtown where all the winter activities tend to be is the best idea. 
For nice hotels, I would suggest looking into the Andaz Ottawa Hotel which is located right near the ByWard Market in Ottawa, or staying at the Ottawa Marriott! 
I have also really enjoyed staying at the Westin Ottawa Hotel and if you really want a comfortable premier hotel in Ottawa, check out the Fairmont Chateau Laurier. 
Be sure to check out HotelsCombined.com to find all your accommodation, you can easily compare hotel prices.
Other options would be looking for affordable accommodations on Airbnb! 
We have listed so many great things to do in Ottawa in Winter this year! We hope you enjoy at least one on the list!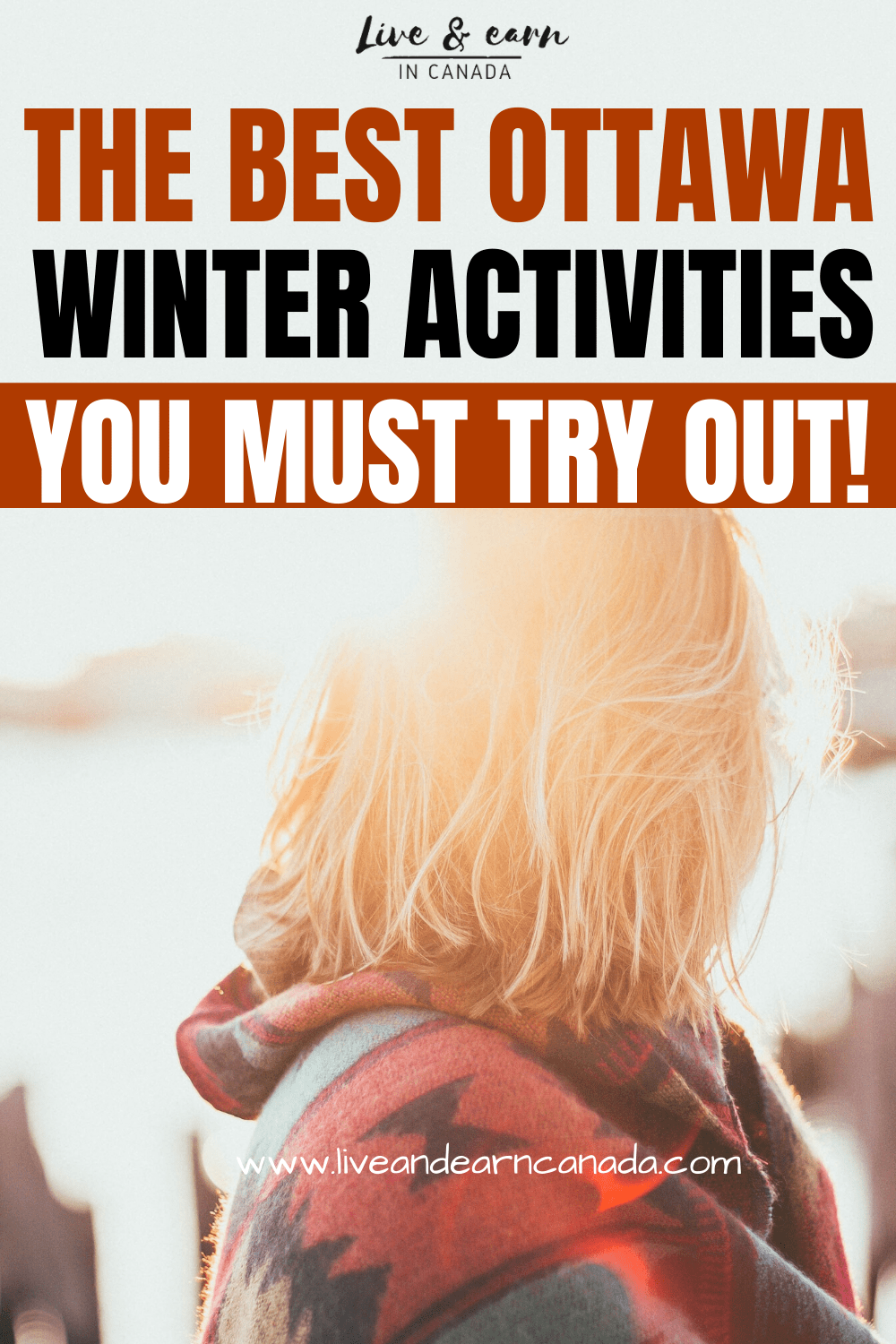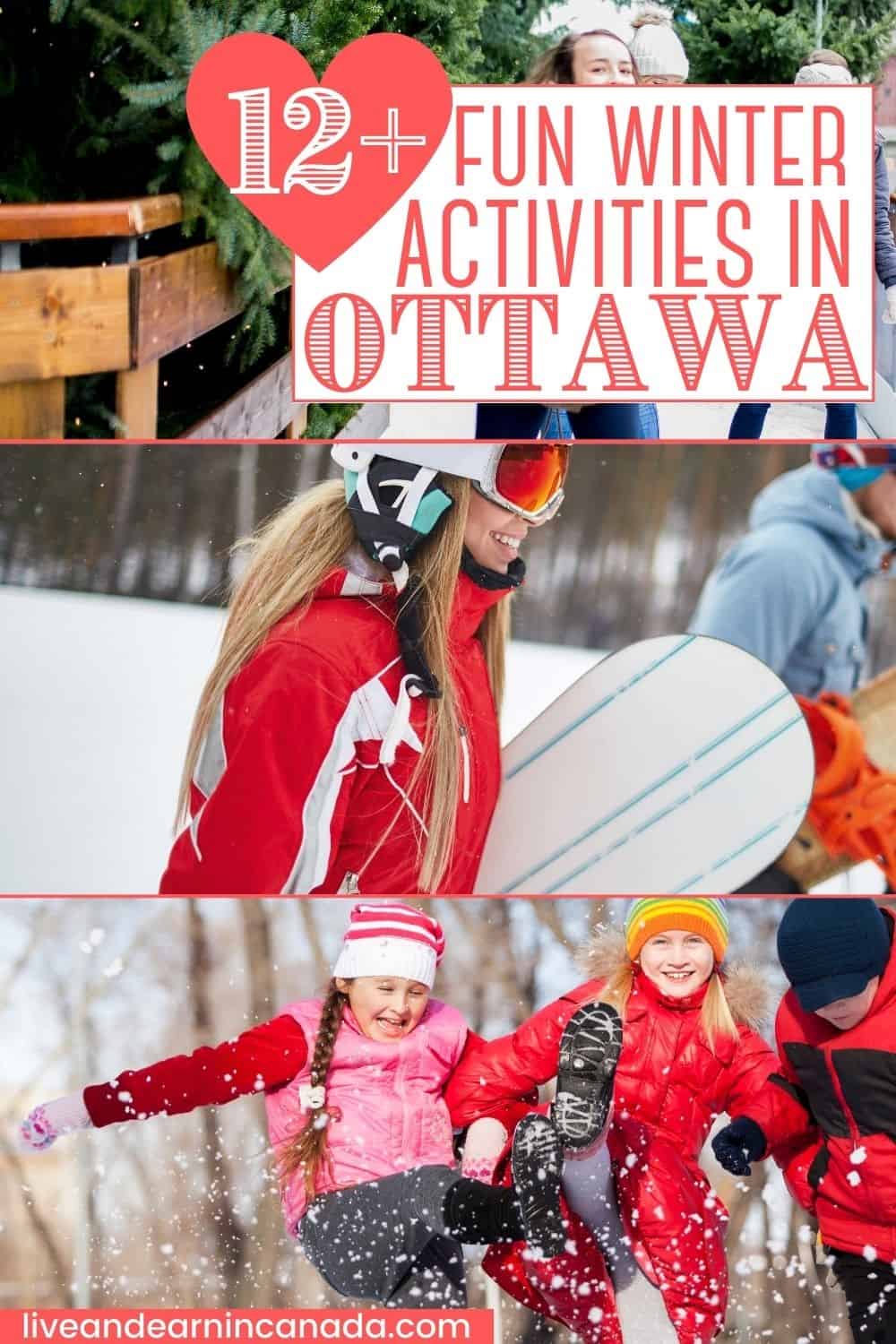 Related: 
Creative Things To Do in Ottawa in Winter this Year By a Local