Best Jobs for Moms During School Hours
Whether you are a single mom, or mom that needs a job, we have created a list of the best jobs for moms during school hours that you can do for extra cash. I call this "School hour jobs"!
They are so many profitable ways to make money during school hours and we are extremely excited to explore them today.
As a stay at home mom, I found that I need to keep busy when my daughter was in day care. I get this is not school, but my daughter was still away from me and I knew I need to keep busy.
For most of you, depending on where you are in life, you may not want to go back to work just yet after maternity leave or after your children go back to school. 
Can you really work during school hours and make a decent income?
This will really depend on the type of job you get. 
Ideally you want to aim for high paying jobs, that way the amount time spent doing these jobs will get you better results which is high pay outs.
We are going to share our top jobs that work around the school schedule that way you can make some money as well as keep yourself occupied until the kids get back home. 
If you love the idea of working from home but you are not sure what to do, this post needs to be booked marked as we will have a lot of great ideas for you. 
What can moms do at home as a job?
Whether you choose to stay at home with your kids or you decide to find ways to make extra money on the side while the kids are in school, school hour jobs are the best type of jobs you can get in order to continue financially supporting your family.
We are excited to answer a few amazing questions our readers have asking about working from as a mom to make that extra cash. A few popular questions we want to look into today are: 
What can stay at home moms do to make money?
We are going to explore part time school hour jobs
If you are eager to learn everything you can about making extra money while the kids are in school, grab a pen and paper and take some great notes.
We are about to blow your mind with school hour jobs you can do right now. 
Before we get started the best jobs for moms during school hours, we did want you to follow us on Instagram for more tips. 
We also wanted to take the opportunity to let you know that we use Affiliate links on some of our blog posts. This means that we could make a commission if you click on an affiliate link and purchase something. Read our full disclosure and blog policy for more information.
15 Jobs for Moms During School Hours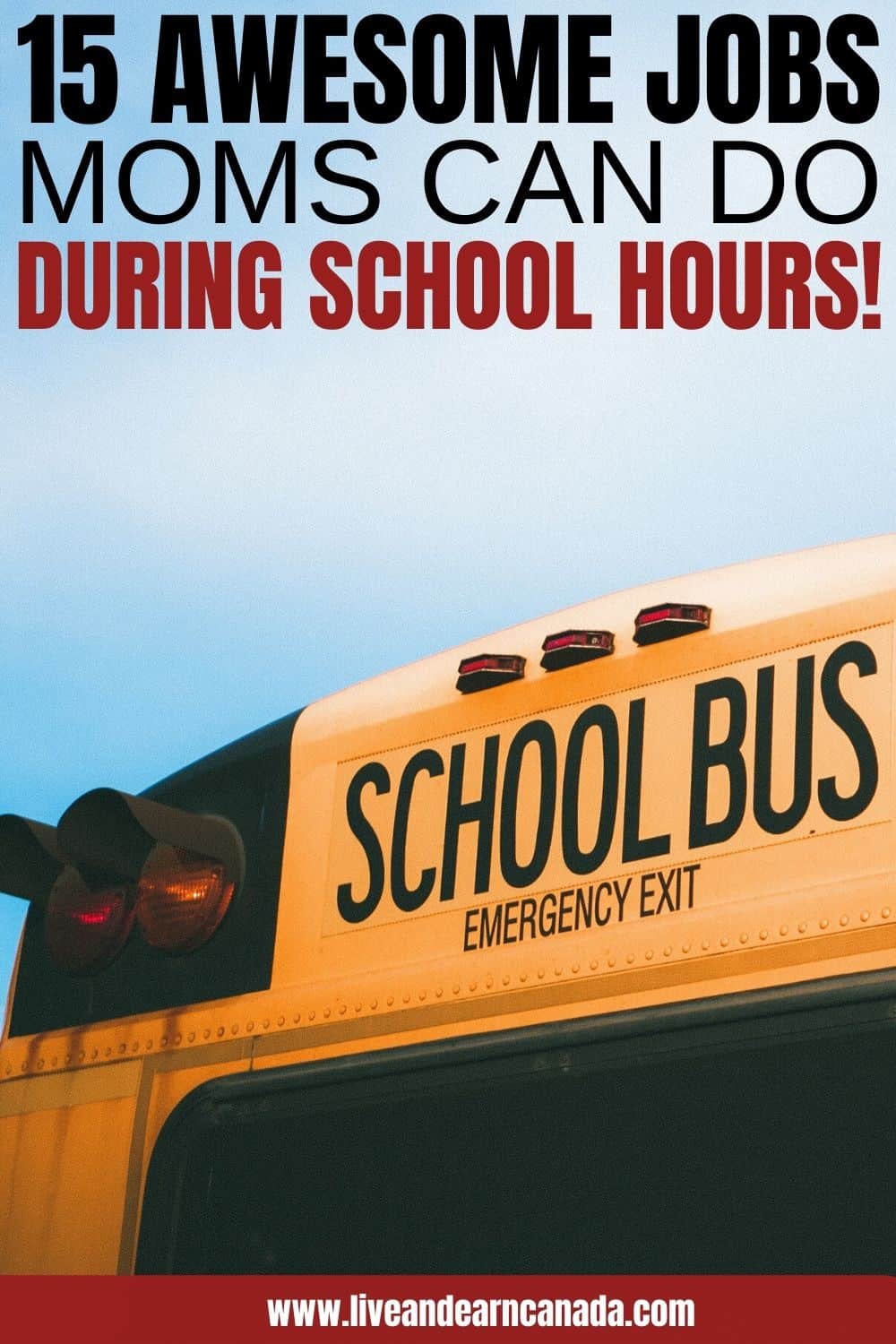 1// Become a Virtual Assistant 
Consider becoming a Virtual Assistant and start earning extra money during school hours all from the comfort of your own home.
Many moms and entrepreneurs love working as a virtual assistant as the hours are pretty flexible and you can do it part time. For example the virtual assistant that I use, typically works for me 4 hours a week.
She no doubt has other clients, but she can manage it nicely.
The most amazing thing about becoming a virtual assistant is that you can focus on one skill or just offer an array of skills, from social media management to Pinterest VA, etc.
Specialize in something that you are really great at.
It's one of the most popular school hour jobs anyone can get into and it pays really well. 
You can learn everything you need to know about becoming a virtual assistant right here. 
2// Become a Freelance Writer 
If you are looking for great jobs for moms that can be done during the school hours, then you should consider becoming a freelance writer.
You can start your own freelance business or you can choose to just find odd jobs online and write for small companies part-time.
For moms that just love to write, this is the perfect work at home job for you. 
Are you ready to kick start your freelance writing career?
Then you might want to take a course or start a website to promote your services in order to get more clients on a weekly basis. Some of these clients may even turn out to be long term clients.
If you want to work with companies, places like Contena, or Fiverr and even Upwork well for finding freelance writing jobs.
You can also check out write job boards for more paid writing opportunities.
And if you are really interested in getting paid to write blog posts,this will help you out!
3// Become a Proofreader 
As you know, we are only sharing potentially high paying school hour jobs that you as a mom can take full advantage of.
With that in mind, you should really consider becoming a proofreader.
If editing, correcting and ensuring everything you read online or offline is top quality, then you will just love proofreading as a long term career.  
Again as a full-time blogger, I have used proofreading services multiple times for myself and I know many small businesses and bloggers who are also in need of this service.
Did you know that proofreaders can potentially make $43, 000 per year? 
Caitlin Pyle who I love was able to make over $43, 000 in her first year as a proofreader doing it part-time!
If are looking for a great job that can be done during school hours you can now start a successful career as a proofreader, and I really do encourage you to learn all the skills you need to start your freelance proofreading hustle here.
4// Consider getting paid to Transcribe
Did you know as a busy mom, you could get paid to transcribe? What exactly does it mean to transcribe? 
This is when you are paid by people or companies to type out or write out what you hear word for word from an audio file. This could be a YouTube videos, Podcasts or anything that needs transcribing.
Do you think this is a job you can do during school hours? 
I think so, with a little time and concentration, you can transcribe as long as you are given a great audio sound file. 
If you are not sure if this is something you want to get into, I highly suggest that you sign up for the free transcribe training. 
You will be amazed how great of a job it is. 
Can you make money transcribing?
The pay can be anywhere between $15 and $25 per hour if you land great transcribing job.
5// Teach English Online
Honestly this is the best jobs for moms that can easily be done during school hours. 
You can really benefit from making money by teaching English online.
They are so many school hour jobs for moms, but teaching English online seems to be one of the many popular ones. It's a great way to make money and you are also working with kids. 
The pay is really good and you can be making money as early as this weekend.
Another way you can great money during school hours from teaching English online is to apply for multiple positions that are available online such as on VIPKid and Magic Ears!
6// Become A Pinterest Virtual Assistant 
I love Pinterest and if you love it as much as I do and you are looking to make extra money when the kids are out in school, you should definitely look into becoming a Pinterest Virtual Assistant today. 
A Pinterest Virtual Assistant is responsible for managing Pinterest accounts for small and large businesses in order to market their products on Pinterest.
By having a Pinterest VA business where you offer services, you can have multiple clients that you manage their Pinterest Presence and you can get paid for it as a stay at home mom. 
As a Pinterest Manager, here are a few jobs you are expected to take care of for a client / small business:
You will need to design outstanding Pinterest images and graphics

You might be expected to clean up a client's Pinterest account for better results

You will need to conduct Pinterest Keyword Research

Organize and Optimize Pinterest Boards

Schedule pins or manually pin clients work
Virtual Assistant work is some of best paying jobs for moms during school hours and I highly suggest you get started today. 
7// Get Paid to Blog and Write Articles from Home
As a mom that is looking for a great job during school hours, you can now make money writing articles from home.
If you are looking for simple school hour jobs that can do from home while the children are still in school, then you must really consider writing articles and getting paid for it.
Are wondering if you can really make money writing articles?
Absolutely, as a blogger and a mom myself, I am always looking for people that can write articles for me so I can put up on the 3 blogs that I have!
Let me tell you that blogging can take up a lot of your time and having 3 does not make it any easier. The only way I can keep going is due to the wonderful team of writers that I have.
I will encourage you to really look into ways you can start making extra money writing articles from home. 
It's an amazing side job you can absolutely have when the children are in school. 
8// Consider a Blog Flipping Job During School Hours
I almost put up one of my blogs for sell, last weekend and I was told I could sell if for between $10, 000 and $10, 500! 
What? 
I could have easily made $10, 000 over the weekend but I decided to keep my blog. 
This really had me look into Blog Flipping and consider starting a side business flipping blogs. 
So what exactly is blog flipping and why should you consider it as a job during school hours when the kids are busy?
If know and follow the show where they share everything about flipping a houses, the idea of blog flipping is almost if not the same.
Blog flipping is when you purchase or start a new blog and after a while, you sell it or (flip it) for an amazing profit in almost all cases.
Just like flipping a home, you would purchase a property below value or at a great deal, then make improvements and sell it for a profit.
Or you can just start a brand new blog. 
Blog flipping works the exact same way. 
How much can you make with flipping blogs? This will depend on how much value your new blog has to offer.
The better the blog, the more money you can make.
You can learn more about blog flipping here. 
9// Start A Money-Making Mom Blog 
Can you imagine how much money you can make with a blog? 
As a mom who enjoys writing, I have been having a lot of fun with my three blogs as well monetizing them. 
If you are a stay at home mom that really doesn't know what to do when the kids are in school and you feel that blogging is the right path for you, then I would seriously consider starting a blog that actually makes money.
They are many moms that are currently making a full-time blogging income blogging and this could be you in no time.
Mom blogs are extremely popular.
10// Make money selling printables online with Shopify
Selling digital products like printables is extremely profitable and it has become extremely popular.
We encourage you to look into selling printables online. 
Just take a look at how these easy to make printables made this blogger over $2 million dollars a year! 
She is my go-to person for learning everything I need to know about making money selling printables online. 
If you want to learn more about making money selling printables online, they are plenty of amazing tips on the internet and YouTube that you can follow. 
11//

Get Paid To Deliver Food 
Have you ever considered delivering food in your spare time?
Why not do it to make more money on the side, over the weekends or during the school hours when the kids are out of the house?
They are so many small businesses out there that are ready to pay you the money to deliver food to their customers as this is now the way of life.
People are no longer cooking and spending time at restaurants is also time consuming. 
The next best thing is to get food delivered. 
The most popular delivery company out there is UberEats!
If you have not heard of UberEats, then you might want to look it up. It is a taxi service that you can use from your phone to have food delivered to you just as you would with Uber!
Are you ready to make some cash? If you want to work with them, go ahead and put in your application right now.
Another amazing company I will highly suggest you sign to up for is Postmates!
12// Make Money Renting Your Car
Are you home most of the day waiting for the kids to come home? If you  If you have a car and are eager to make extra cash, why not rent out your car?
You can make some great morning this amazingly crazy side hustle. 
With a great company like GetAround, you can list your vehicle and allow others to rent them from you when you are not using it.
They are an amazing company and you can trust to make a couple of thousands of dollars by renting your unused car!
If you are ready to make money renting your car, go ahead and sign up here!
 13// Consider Dog Walking
Did you know you can now get paid to become a pet sitter or companion? If you love pets, then this is a job for you.
If you are home most of the day with the kids in school, I would suggest you look into getting paid to pet sit people's pets while they are at work or are on vacation?
Walking dogs is one side job that is very much on demand and to get started, you simply have to sign up with Rover!
It is as simple as that. 
It does not matter if you are in Canada or in the US, we encourage to sign up with Rover today and start making extra money in your spare time. 
 14// Become a Stella and Dot Stylist
Yes, Stella and Dot still exists and they are bigger than ever.
You can make a decent income by becoming a Stella and Dot Stylist in your spare time.
If you are into fashion, makeup and styling, you should consider giving Stella and Dot a try as a way to make some extra money during school hours.
You will be surprised at how much you may love it and how much you could potentially make.
You can potentially make as much as 25-35% in commission of the sales you make as a Stella and Dot stylist.
I usually shop on Stella and Dot as I love their jewelry and accessory collections and by recommending them to friends and family, I am also able to make a commission very easily. 
You can also earn more money with Stella and Dot by referring to other stylists.
15// Make Extra Money Selling Photos Online
This is one side hustle I really want to perfect and get into.
If you are good at taking amazing photos with a camera or your phone, you can make a decent income selling these photos to professional bloggers or small business owners to use on their website.
This is a very profitable business. 
I know plenty of bloggers and small business owners who are constantly looking for photos to use on their websites and blogs.
I know for one I am constantly looking for photos for my business as it takes a lot of time to take beautiful photos. If you have the talent, be sure to sign up and sell your photos on Zazzle!
You can even start your own online store on Shopify and list your photos for sell!
With the number of bloggers on the internet right now, you are guaranteed to make lots of money for years to come.
For now, we hope you enjoyed our awesome list of school hour jobs that you absolutely must try out!
Related:
18 Easy Jobs For Lazy People To Do For Cash in Canada
20 Summer Jobs in Canada that Pay Extremely Well
15 Awesome Jobs for Moms During School Hours – School Hour Jobs to Try