Summer Jobs That Pay Well
Are you looking for summer jobs in Canada?
Now that summer is officially here, everyone is scrambling to find the perfect summer job that pays well.
Whether you are a student or someone that is actively looking for a good job this summer, this list will help you start your job hunting on the right foot. 
Remember that some of the best summer jobs in Canada, and others can be done throughout the year.
It's not limited to summer only!
Before we get started on the best summer jobs in Canada, we did want you to follow us on Instagram for more tips. 
We also wanted to take the opportunity to let you know that we use Affiliate links on some of our blog posts. This means that we could make a commission if you click on an affiliate link and purchase something. Read our full disclosure and blog policy for more information.
Canada Summer Jobs
As we mentioned earlier, summer is a big deal in Canada that the government is even able to provide funding to help with summer job recruitment.
The funding is typically for youths though! 
If you are not a youth, we still have many options below for you. 
And if you are a youth you can now search for employers that have been approved for Canada Summer Jobs funding to hire youth.
If you are looking to connect with employers hiring in their local communities, visit this government website!
Find The Best Summer Jobs In Canada:
They are so many amazing summer jobs that open up as soon as the weather starts clearing!
If you live in Canada, you know how bad the winters can get!
And that's why we love summer as everyone is so eager to go out and with this, so many job opportunities open up to meet the demands of the public.
When I was doing some research about this post, I found a lot of questions like these been asked: 
What Kind of Jobs Are Available in Canada? 

How Can I get Job Opportunities in Canada this Summer? 

Does Canada have Good Job Opportunities? 
Below are 15 awesome summer jobs that not only pay well but have great benefits.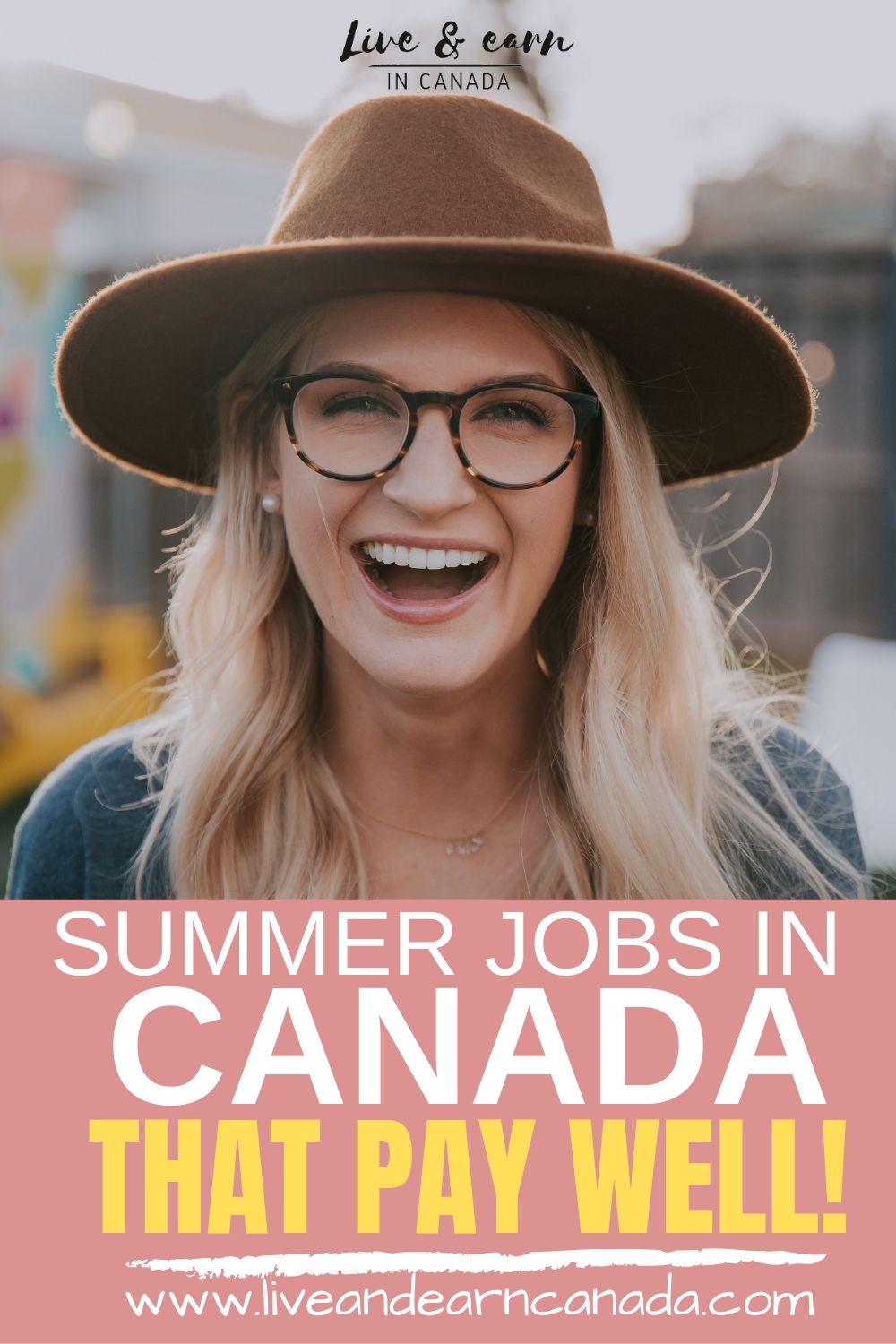 1// Become A Professional Proofreader
Did you know that in just one year, Caitlin was able to make just slightly over $43,000 as a freelance proofreader, while also going on several awesome vacations?
If you are looking for a new job, or just new ways to make money on the side this summer, this may be something to look into.
Learn more at Make Money Proofreading By Becoming A Freelance Proofreader.
2// Become A Tour Guide
Summer is the best time in Canada!
Don't get us wrong, they are so many fun things you can do in Canada during the winter!
But typically during the hot summer months, we are usually filled with people wanting to be outdoors, tourist visiting and people wanting to explore!
With this in mind, summer is the perfect time to land tour guide jobs in Canada.
I would personally look online and start applying with your local cities as early as March and even earlier if possible. 
3// Parks Canada Jobs – Become A Youth Ambassador
Be part of the movement and learn about all of the opportunities for you to be involved with Parks Canada! 
If you love the great outdoors and you are eager to experience the rich and diverse natural and cultural heritage that Canada has to offer then this might be for you.
Working with Parks Canada is such an amazing opportunity and will only help you advance further in your future careers and goals. 
5// Make Money As Seasonal Home Painter
Do Painters make good money?
Yes, they do and they are in high demand in Canada. 
After a long winter every year, most Canadians love the feel of spring which means spring clean is in full force.
This means updating a room with fresh colors or give a room a simple upgrade with fresh paint!
You can look up jobs on Kijiji, create a post promoting your freelance services or join Facebook groups where people are constantly looking to hire! 
6// Become a freelance writer 
A freelance writer is someone who writes for a number of different clients, such as websites, blogs, magazines, and more.
As a freelance writer, you will not work for one specific company, rather you will need to work for yourself and contract out your writing services.
You can learn more about how to How To Start A Successful Freelance Writing Career.
And if you are looking for ways to find the perfect summer job as a freelance writer, you may want to check out this post where it shares exactly how to find freelance writing gigs that pay well!
7// Look for Summer Jobs in Canada At Amusement Parks
From coast to coast, theme parks and water parks bring people and families of all ages together to ride on roller coasters, engage with sea life, and enjoy attractions of many different shapes and sizes.
As soon as summer hits in Canada, the outdoor amusement parks open up in full force and they need people to work them!
Be sure to keep your eyes open for job opportunities at some of the best amusement parks in Canada. 
8// Teach English Online
Did you know that you may be able to teach English online to children?
 VIPKID is a company that we highly recommend which allows you to work from home, create your own schedule, and earn $18-21 per hour (many teachers are earning over $1,000 per month) all while teaching English online.
You don't need a teaching degree, but you do need to have a four-year degree in something.
This is a great option for anyone who has a passion for teaching and looking for ways to make money online.
You can also use TeachPartTime!
9// Make and Sell Printables
Making and selling printables is a thing!
You can literally make thousands and even millions of dollars selling Printables online?
Just read up on how a very good friend of mine was able to make over $2 Million dollars a year selling Printables with her online store.
I was so impressed with her story that I started my own online store using Shopify!
If your dream job is to start a successful online store the way my friend did, and you want to turn your hobby into a successful business, I highly suggest you sign up for the Million Dollar Shop course or How to create Printables that people will want to buy.
10// Find A Job in Retail
With the sun out, the best summer jobs in Canada at the moment is retail.
If you love clothes, fashion and just love to work retail, companies are hiring as they know that people are out and shopping!
If you are ready to start making money (commission) with your super salesmen/woman skills, get yourself a retail job!
11// Become a Stella and Dot Stylist
You can make great money by becoming a Stella and Dot Stylist.
I am always looking for fun but interesting side gigs that can be done from home. When I heard about Stella and Dot, I knew I had to give it a try.
You can earn between 25-35% in commission of the sales you make as a Stella and Dot stylist.
They have amazing clothing, Jewelry and Accessories you can easily sell to your friends and family. Earn more money with Stella and Dot by referring to other stylists.
Read more about how I made over $400 with this easy side job here.
12// Find a Job At A Golf Course
As a previous event coordinator, I know that planning golf tournaments is huge in the hospitality industry. And what better place to find a summer job than at a golf venue!

Whether you are a server, doing weddings, working the golf course, you know you will have a blast working at a golf course near you. 
13// Apply For The Federal Student Work Experience Program
Get valuable and meaningful experience working for the top student employer in Canada!
Explore hundreds of career paths and thousands of jobs that the Government of Canada has to offer across the country. 
Work in English, French or both, depending on the job!
14// Student employment With The Government of Canada
Find a few summer jobs in Canada with the Government of Canada.
There is a wide range of summer student jobs available in the Government of Canada! Keep looking on their website for updates and information. 
15// Apply For Translator jobs in Canada
Canada is a heavily bilingual place and there is always a demand for translation jobs!
In order to become a professional translator, you must be fluent in at least two languages, including your own official language that you speak. 
Your level of language skills must be extremely high. You can offer your services or find companies that require these services in your area.
And they are always looking. 
16// Become A Virtual Assistant 
A Virtual Assistant has many jobs!
They can be tasked to do social media management, formatting, and editing blog posts, scheduling appointments or travel, email management, and more.
Basically, you get paid to do any task that needs to be done for someone's business that they may not have the time to do.
If you are not sure how to start or how much to charge, we have a post for you filled with details – Learn How to start a Virtual Assistant Job from home. 
Sign up to become a VA here. 
17// Consider Blog Flipping & Earn $2500 A Month
Ready to make some serious cash this summer in Canada? If you live in Canada and you are looking to earn extra cash, consider blog flipping!
What exactly is blog flipping? 
Blog flipping is buying a Blog or building a blog, then selling it (flipping it) for a profit. It works just like house flipping. 
You can literally start a $2, 500 a month business flipping blogs.
Blog flipping is definitely a side hustle that all students must try at least once.
If this is a side gig you want to try out in order to work at home and make more money, you can get more details here. 
Use code LADIESFLIPBLOGS to join the university today and learn how to make money flipping websites.
18// Start An Online Store in Canada
Did you know that you can create your own online store to make money?
Sarah, a great friend of mine, started her online business a while back and added a very successful online store to her business.
This online store has made her over $2 Million dollars in just over a year! 
Not to worry if you can not come up with things to sell. Shopify can hook you up with a third platform and you can integrate their items to sell on your platform.
19// Get Paid to Blog and Write Articles from Home 
If you enjoy writing and want to make some extra money from it this summer, you now can! You are now able to get paid to blog and write articles from home.
I have personally hired freelance writers to write articles for my other blogs and I pay them every month for it as well as any other side projects I may have! 
Next time you are looking for summer jobs in Canada that pay well, consider writing articles. 
In other words, you can write articles online for money and make a great income from it. 
Find more freelance writing jobs right here! 
20// Become a Pinterest Virtual Assistant
Looking for a few cool summer jobs in Canada?
Look no further than your phone – social media!
I personally love Pinterest and I could spend hours on it. I loved Pinterest, even more, when I found out I could make some extra cash with it.
You can now help people manage and promote their businesses on Pinterest if you are a Pinterest Pro.
This is when you become a Pinterest Virtual Assistant and offer your services to manage other businesses Pinterest presence.
Sign up to become a Pinterest VA here!
Related Post for finding more Summer jobs in Canada
Home Based Job Opportunities in Canada That You Need To Try
How To Convince Your Boss To Let You Work From Home Part-Time
18 Easy Jobs For Lazy People To Do For Cash In Canada
20 Summer Jobs in Canada That Pay Extremely Well