Jobs For Unmotivated Individuals 
Life can be really demanding and no wonder more and more people are searching for easy jobs for lazy people to make some extra cash on the side.
It may not be that you are lazy but simply unmotivated!
I found that when I was really overworked from my busy workplace, getting up just to go to work would give me a huge migraine!
I just didn't have the strength to deal with everything at work.
Do I call in sick? Do I sleep in? Or do I just go to work? 
Some may see this as lazy, but I think it's just overwhelming. If you have too much to do, you sometimes are not able to get through it all.
And as a backup, most of us try to find easy and less stressful jobs that can be done either from home or at work. 
Is There Such A Thing As Good Jobs For Lazy People?
In this day and age, they seem to be jobs for just about everything!
Even though you feel lazy, for some of you, you may be searching for jobs that you can do that are not hard and demanding but jobs that can help pay the bills.
And I get it!
When you do a quick search on the internet, you will find that you are not the only one asking this question.
In fact, a lot of the typical questions you will find are: 
What Is The Best Job For A Lazy Person?

What Are The Least Stressful Careers 

What Are The Easiest High Paying Jobs To Do?

What Jobs Are Good For Introverts
And the list goes on and on!
This just goes to show that even though you may be feeling lazy or even simply unmotivated, you are still willing to do the work!
And that's a good thing!
I mean those pilling bills are not going to pay themselves!
You will have to find a way to generate some sort of income for your day-to-day living expenses. 
And for those with a good job but you just feel really unmotivated to work, try to find a way to convince your boss to work part-time from home or simply go through this list of the perfect jobs for unmotivated!
You never know, you might just find something that works for you are your lifestyle.
Whether you are looking for a list of careers for lazy people or you are looking for quick ways to make money by landing lazy jobs that pay well, we have you covered today. 
So what's a good job for a lazy person then?
Before we go any further, be sure to grab this FREE side hustle income tracker, to track all the money you are going to make!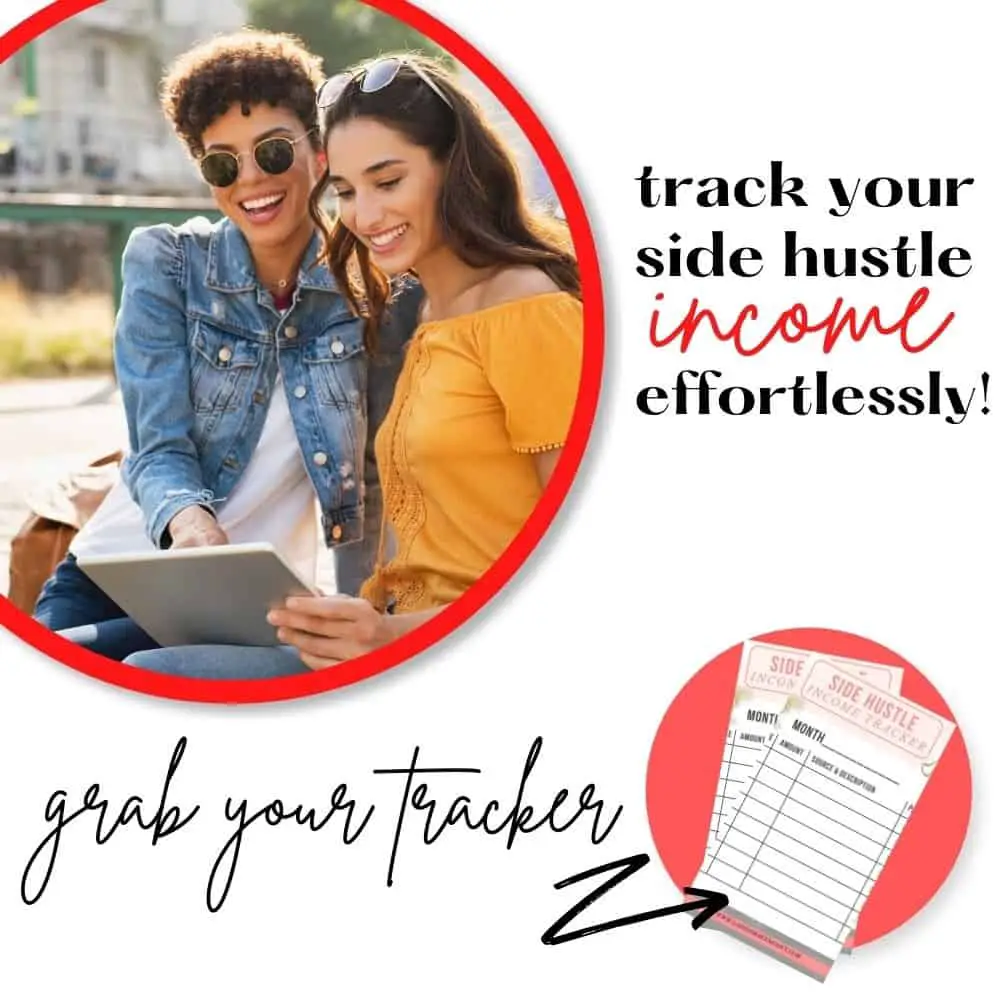 Where Can You Find The Best Jobs For Lazy People?
Some of the easiest jobs in the world are those that require little to no effort and are fun to do. 
So if you are in search of lazy high-paying jobs, be sure to pick something that is inspiring to you. 
Depending on what you are great at, you can turn your hobby into a money-making hustle job!
Other than that, just doing a simple search on Google to find jobs that can be done from home or even just searching for high paying jobs for lazy people will come back with plenty of legitimate results.
Whether you are in Canada or not, these jobs are perfect for you if you are just too lazy to do anything else! 
Low Stress Jobs For Lazy People
We have made a list of over 10 amazing high paying Jobs for lazy people to do today.
In order to make even more money, look over the list and find at least 2 or three jobs you can do to ensure you make the most money!
The more of these jobs you can attempt to do, the more money you will make.
A Great List of Jobs For Lazy People
Before we get started on jobs for lazy people, we did want you to follow us on Instagram for more tips. 
We also wanted to take the opportunity to let you know that we use Affiliate links on some of our blog posts. This means that we could make a commission if you click on an affiliate link and purchase something. Read our full disclosure and blog policy for more information.
If you are ready to start making extra money today, we are hoping this list of easy jobs that pay well in Canada will inspire you to get started. 
Here Are 18 Easy jobs that pay well in Canada: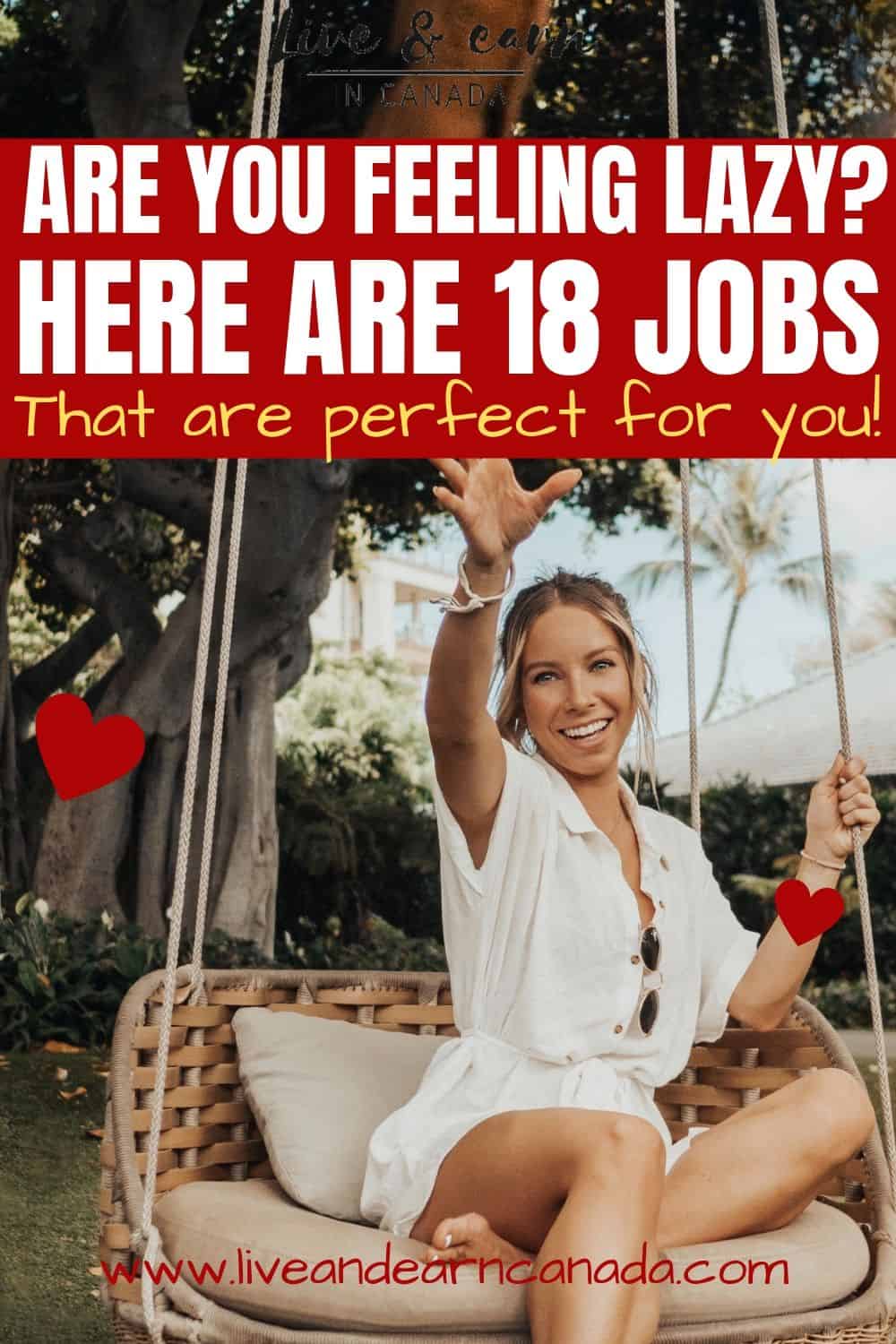 1. Dog Walking Is The Perfect Job For Lazy People
Did you know you can now get paid to become a pet sitter or companion?
If you are home most of the day, why not get paid to pet sit people's pets while they work or are on vacation?
This is one job that is in high demand, and you simply have to sign up with Rover to get started!
Whether you are in Canada or in the US, you can sign up with Rover and start earning a decent income watching pets from home.
2.

Become a Pinterest Virtual Assistant
Have you ever considered becoming a Pinterest Virtual Assistant?
This amazing side hustle has been on the rise for a while now and if you are into pinning on Pinterest you should definitely consider getting the skills needed to become a Pinterest Virtual Assistant!
With the skills acquired, you can land and secure clients that are looking for Pinterest VAs to manage their Pinterest accounts!
Small businesses and bloggers are definitely hiring those with Pinterest VA skills, so be sure to look into it!
Sign up to become a Pinterest VA here!
And if you want to know other ways you can be making money on Pinterest, be sure to read this post too. 
3.

 Get Paid To Share Your Opinion
Other amazing low-stress jobs for lazy people are sharing your opinions about certain things.
Companies will pay you to share your opinion about certain products and services available in your area.
This is done to ensure that there is still interest in a particular product or service and sometimes they just want to ensure that people still need these products or services!
A few Canadian Paid Surveys that I enjoy doing are: 
These amazing survey sites are designed to help you make some extra money from home with little to no effort! 
4. Get Paid To Deliver Food 
If you have some spare time in your schedule, why not deliver food to make more money on the side, over the weekends or in the evenings?
They are a lot of amazing companies that are willing to pay you the right amount of money to deliver food to their customers.
The most popular delivery company is UberEats!
If you have not heard of UberEats, then do a bit of research right now. It is a taxi service that you can use from your phone to have food delivered to you just as you would with Uber!
If you want to work with them, go ahead and put in your application right now.
Another amazing company I will highly suggest you sign up for is Postmates!
5. Get Paid to Lose Weight
How many of you have ever set a goal to lose weight only to lose focus instead?
I know I have personally been there.
You get motivated one minute and the next your whole weight loss plan is out the window. But what if you could get paid to lose weight?
Wouldn't that be motivational enough?
If I got paid to lose 10 pounds a month, I would be more than motivated to lose those few pounds that are just sticking to me like butter!
I highly recommend signing up for HealthyWage, if you are hoping to get a few dollars for your weight loss efforts.
To make even more money, why not become a dog walker with Rover and apply for HealthyWage to make double the money? 
6. Become a Professional Cuddler
How much do professional cuddlers make? According to people in this industry, you can make anywhere between $40 – $80 per hour plus tips.
This is pretty amazing if this is the kind of thing you enjoy doing!
If you have a reoccurring clientele that books your services regularly and you have enough bookings to fill your calendar out, then I am sure you can make good money with this easy job!
What are professional cuddlers?
Professional cuddlers are people who get paid to cuddle with clients in a non-sexual way!
Cuddling is a form of therapy and helps you feel less stressed if you suffer from stressful situations.
So get your cuddling on! 
7. Get Paid To Write Articles At Home
One of the best high paying jobs for lazy people is this one right here. 
Did you know that you could get paid to write articles at home and actually make a good living with it?
A good friend of mine shares the exact tips on how she earned her first $1000 writing articles. 
Check it out here.
A few ways to get paid for writing include but are not limited to:
Starting your own successful blog

Writing for other bloggers as a freelancer 

You could write a book and sell it for a profit
Join a network that can find you writing gigs like ClearVoice
If you want to know more about how to get paid to write articles from home this article will help! 
Those that are serious and are looking for lazy ways to make money writing should also consider enrolling in the Write Your Way to Your First $1k to help you get started in the freelance writing field!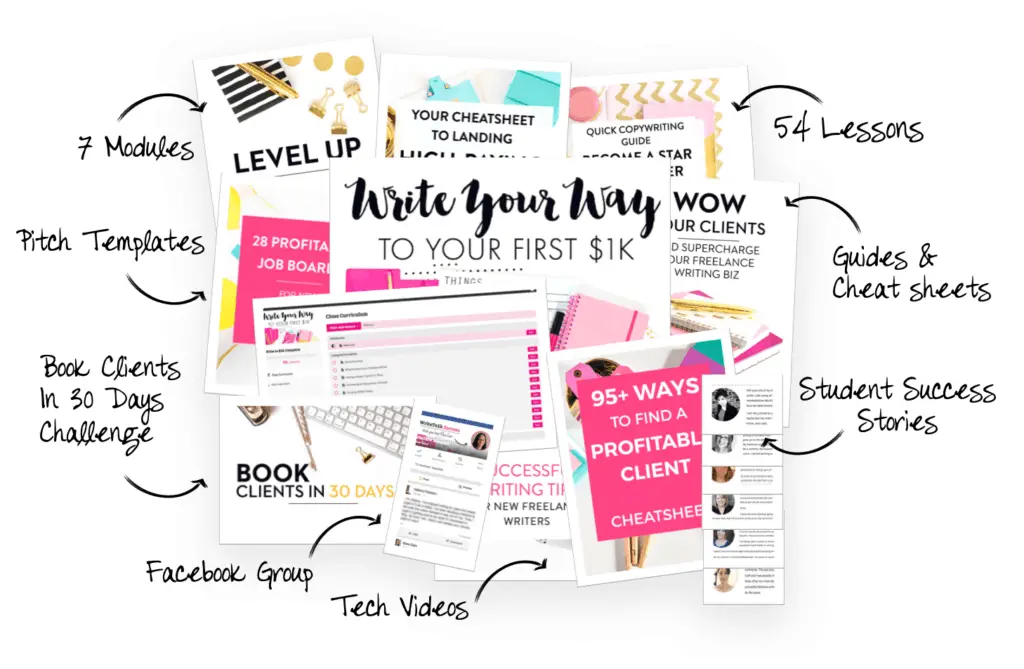 8. Become A Mystery Shopper
So what exactly is a Mystery Shopper?
Mystery shopping is a fun and exciting way to earn money while you shop! And you can find a few companies that are hiring Mystery shoppers within Canada!
I highly recommend going with MSP Canada!
MSP Canada has been a service provider for the mystery shopping industry since 2002.
A mystery shopper (also called a secret shopper) is someone who gets paid to visit a store or restaurant and secretly evaluates things like customer service, store cleanliness and product quality.
After the visit, the secret shopper fills out a brief questionnaire (shopper report) describing their shopping experience and gets paid for their time and opinions.
If you are ready to get started, sign up here. 
9. Rent Out Items For Extra Cash
If you are too lazy to go out and get a job, why not take a long hard look around your home and find items that you can possibly rent out to make extra cash?
People are willing to rent out items rather than going out to purchase something that they may not need long-term.
And if you have these things, you can simply rent them and earn additional income for them on the side.
A few things you can rent out to earn extra cash:
A Bike

A Camera 

Equipment or tools 

Fancy furniture
You can use an app like Fat Lama to rent out your items and they will pay you good money for it.
They are an amazing company and you can trust that your items will be returned to you safely and in great shape.
Expect to make anywhere between $25 to $150 depending on what items are getting rented from you and how frequently! 
10. Teach English Online
Teaching English online is the perfect job for lazy people because it doesn't require you to go out to get the experience to do it effectively.
If you speak English, you can get paid to teach others how to speak it.
You can easily make up to $2000 a month with a company like  VIPKID.
All you have to do is to have the equipment to teach and that is typically a good laptop and internet connection.
Teaching English as a second language has since been a long-time side gig that will probably continue to grow and become popular and they will always need people. 
11. Make Money Renting Your Car
If you have a car and you are too lazy to go to work, why not rent out your car? It's sitting in the driveway anyway, so make some extra cash with it.
With a company like GetAround, you can list your vehicle and allow others to rent them from you when you are not using it.
They are an amazing company and you can trust them to make a couple of thousands of dollars by renting your unused car!
If you are ready to make money renting your car, go ahead and sign up here!
12. Rent A Spare Room In Your House
We talked about renting your car, but if you want to maximize the amount of money you can make from home, why not rent out a room or basement in your home?
They are plenty of people that temporarily looking for places to stay and you can offer up a room or two for a few days and earn the extra cash! 
Whether people are vacationing, visiting friends, or out on a work call, there is always someone in need of a place to stay the night.
Hotels can be expensive and not at all homey, and that is why I enjoy booking AirBnB every time I travel with my family or friends.
You can easily find out how much money you potentially make in your area by entering your details on the AirBnB website today!
13. Find An Exciting Freelance Job on Fiverr
If you have amazing skills such as writing, coding, video editing or anything really, you are more likely going to be able to find odd jobs on Fiverr! 
Fiverr is an online marketplace for freelance services.
With more and more businesses using the platform to find people doing odd jobs for them, it is more likely you are going to get hired.
Even simple easy jobs such as someone that can manage emails are offered on Fiverr!
If you are not sure what skills you could potentially offer to earn extra cash, sign up for a profile on Fiverr and browse the job sessions.
Can you offer the services that these people are looking for? If this is the case, then go ahead and create an entice profile and get hired sooner than later!
14. Make Extra Money Selling Photos Online
If you are good at taking amazing photos, you can make a decent income by selling your photos to professional bloggers to use on their websites.
Plenty of bloggers and small business owners are constantly looking for photos to use on their websites and blogs.
With the lack of time and the amount of energy required to keep a business running, photos simply take a lot of time.
You can sell your photos on Zazzle or you can start your own online store on Shopify hosting your photos!
With the number of bloggers on the internet right now, you are guaranteed to make lots of money for years to come. 
15. Consider A Lazy Job In Blog Flipping
Blog Flipping is an amazing job for those that are just too lazy to get a regular 9-5 job! 
So what exactly is Blog Flipping? 
Blog flipping is when you have a blog or you build a blog, that you are then going to sell (flip it) for a good profit.
It works exactly like house flipping.
You can make up to $2, 500 a month flipping blogs and even more depending on how successful the blog is.
It's no secret that I have multiple sites and this means I have had buyers approach me to purchase my sites.
I was once offered approximately $150, 000 for my main site which I turned down.
If you are interested in Blog Flipping, you can sign up for a course right here which will ensure that you are more successful getting into it. 
16. Are You Creative? Make and Sell Things On Etsy 
If you are feeling lazy but you still want to make some extra cash, why not make something to sell on Etsy!
Etsy is a platform for creatives to sell things. It is a multi-billion company and is known for DIYs and crafts.
You can join and sell things on Etsy very easily.
I have bought homemade soaps from Etsy, you can find party favours, cool affordable Christmas Gifts that are homemade and many other cool things!
If you can make some cute Printables, Jewelry, arts, graphic designs, and other unique items, you can make quick money online just by selling them.
I would suggest browsing the platform to see what others are making and see if you can make better do it! 
To be honest with you, plenty of people love handmade items and they will pay big money for them. If you are big on DIY & Crafts, you can make money from home easily.
Sign up for an Etsy account today.
17. Become A Proofreader Today
How would you like to make $43,000 a year working from home as a Proofreader?
Those looking for lazy ways to make money online should consider working as a proofreader!
If you like to edit people's work, then proofreading is the side hustle you should definitely take up if you want to make some extra cash working from home today! 
Not sure where to start?
Get everything you need including the right skills needed to start your freelance proofreading hustle here.
It's one of the best stay-at-home jobs you can do to earn extra cash! In fact, if you are looking for good careers for a lazy person to get into, I will suggest they try this one out!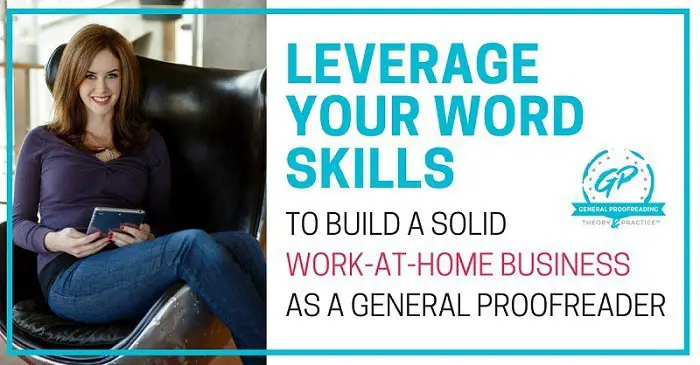 18. Explore Ways To Make Money Shopping
Who doesn't love to shop?
I know that if I could shop all day long if given the opportunity, I would. And when I found out that I could make money shopping, I jumped on board! 
They are a few companies that make shopping and getting paid possible. My ultimate and most favourite app is ShopKick!
By using this shopping app, you will make money by doing various things such as linking your credit card, scanning and submitting your shopping receipts or simply by watching shopping-related videos.
Other apps that I highly recommend that will pay you to shop:
Consider using an app like Paribus, Nielson Homescan or even Swagbucks!
If you are like me and love to shop, we hope these shopping apps help you make the extra money you need with little effort!
If you have a favourite store you love to shop at, why not see if they offer a points card or reward card.
With a points card, you can be earning free money to use at a later stage.
My favourite points cards are MyPoints and Drop!
Which of these easy jobs for lazy people will you try out today? If you know of other easy jobs that pay well, please share below!
And don't forget to save for emergencies!
An app like Cleo will automatically take care of your savings so you can enjoy a stress-free life!
Read more about easy jobs for lazy people that pay well: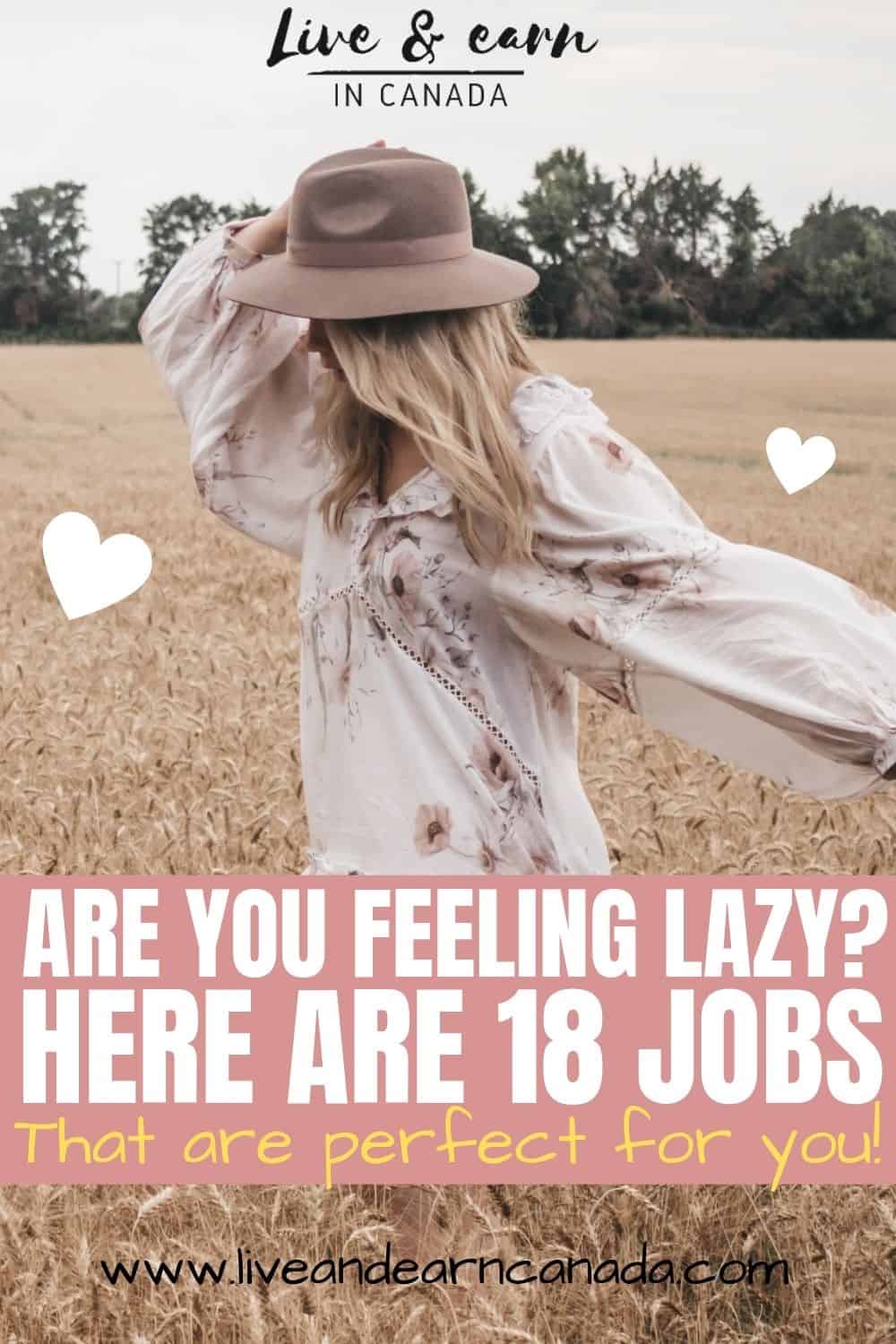 18 Easy Jobs For Lazy People To Do For Cash in Canada