Vacation Hairstyles For Black Hair That Are Easy
Since I will be heading out on vacation pretty soon, I decided to look up a few natural hairstyles for the beach that I could rock when in Mauritius!
I very natural hair and the last time I went on vacation I wasn't as ready. This time around, I plan to be as ready as I can be!
And this goes for my little girl as well! The best option for me would be to do a protective hairstyle that has zero to low maintenance.
This would be really ideal!
Ready to get some cool inspiration for beach hairstyles for black hair?
As someone that has natural hair, I felt that it was important to share ideas on how to style your hair while on vacation. 
I also refer back to this post every time I plan a vacation gateway to somewhere warm like when we visited Mauritius!
With that in mind, today we will be sharing:
The best vacation hairstyles for black natural hair

Low maintenance natural hairstyles for the beach

Black girl vacation hairstyles you would want to rock all the time

And cute natural hairstyles for black women that are quick and easy to do
Before getting starting, I think it's great to find out what hair type you have.
I think my hair type is an easy 4B/4C hair that gets extremely coiled when wet with no room to do anything else.
Finding the perfect natural hairstyles for the beach was my top priority.
We hope these vacation hairstyles for black hair inspire you to protect your hair more. 
What is the best way to wear your hair when swimming?
Personally, I enjoy wearing my natural hair in braids or some sort of protective hairstyles. This also makes it much easy to wash out and condition my hair after the beach.
My hair typically really shrinks when wet, and if I don't care for it the right way to start off, then this means I will spend hours later trying to fix and smooth out my hair. 
That is why I really needed to find some quick and easy natural hairstyles for black hair that can easily be maintained during my trip.
Finding natural hairstyles for a beach vacation was reasonably easy online!
But not only did I want to find the best vacation hairstyles for black hair, but I also need tips on how to maintain it. 
This is really my ultimate struggle!
How do I maintain my natural hair while swimming? 
If you are looking for natural hairstyles for swimming, we have plenty of ideas below.
However, if you want the hairstyles to last for a long time, while on vacation, you have a lot of maintenance to do!
I typically take a bath before going into the pull or the beach which forces me to wet my hair thoroughly.
By doing this, it minimizes the amount of chlorine or salt that gets to my hair.
I also quickly add a bit of coconut oil to my hair which acts as an added protective layer.
After the swim, I always wash my hair with my go-to shampoo and I always add a leave-in conditional with coconut oil.
When I am back home, I immediately do a hot oil treatment. 
Protective hairstyles for the beach is it necessary?
Yes, I believe that protective hairstyles are absolutely needed for those that have natural hair.
Swimming every day with natural hair can be really hard to maintain especially if your hair tends to shrink and even worse, develop tight knots.
These knots are really hard to untangle, they sometimes take up so much time to untangle and this is just not ideal for most.
By finding a way to protect your hair from the harsh water of the beach will help to alleviate the stress your hair might go through. 
Check out these amazing vacation hairstyles for natural hair!
Before we get started on the best natural hairstyles for the beach, we did want you to follow us on Instagram for more tips. 
We also wanted to take the opportunity to let you know that we use Affiliate links on some of our blog posts. This means that we could make a commission if you click on an affiliate link and purchase something. Read our full disclosure and blog policy for more information
25 Natural Hairstyles For The Beach
I am going to share a few hairstyles that I came across that totally loved and that caters to natural hair of all types.
You can decide which one you want to go with and I will let you know my pick at the end of the post!
There is no right or wrong style but you definitely want to choose one that you are most comfortable with. 
With that in mind, here are 25 natural hairstyles for the beach that are worth your time!  

1. An Up-Do with Bangs
This amazing hairstyle not only looks totally cute, but it is so easy to style. If you would like to achieve the same look, view the full tutorial right here!
If you are looking for the best beach vacation hairstyles for black hair, I recommend going with a style that would be easy for you to maintain like this one. 
It is also really cute for the beach.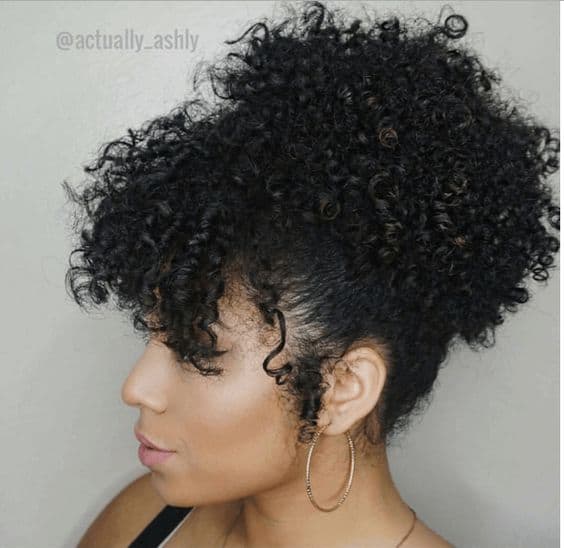 Source: Natural Hair Mag
2. A Defined Twist Out That Lasts 
I love this amazing twist out and I think it is so perfect for a day at the beach! Latoya does an amazing job styling her twist out that makes it feel beach ready!
Vacation hairstyles for black women do not need to be complicated.
In fact, going with something that you can easily re-do while on vacation might be your best bet!
Achieving this flawless twist-out is easy with the tutorial she put together.
Honestly, this is one of the best natural beach hairstyles I have seen and wouldn't mind trying out.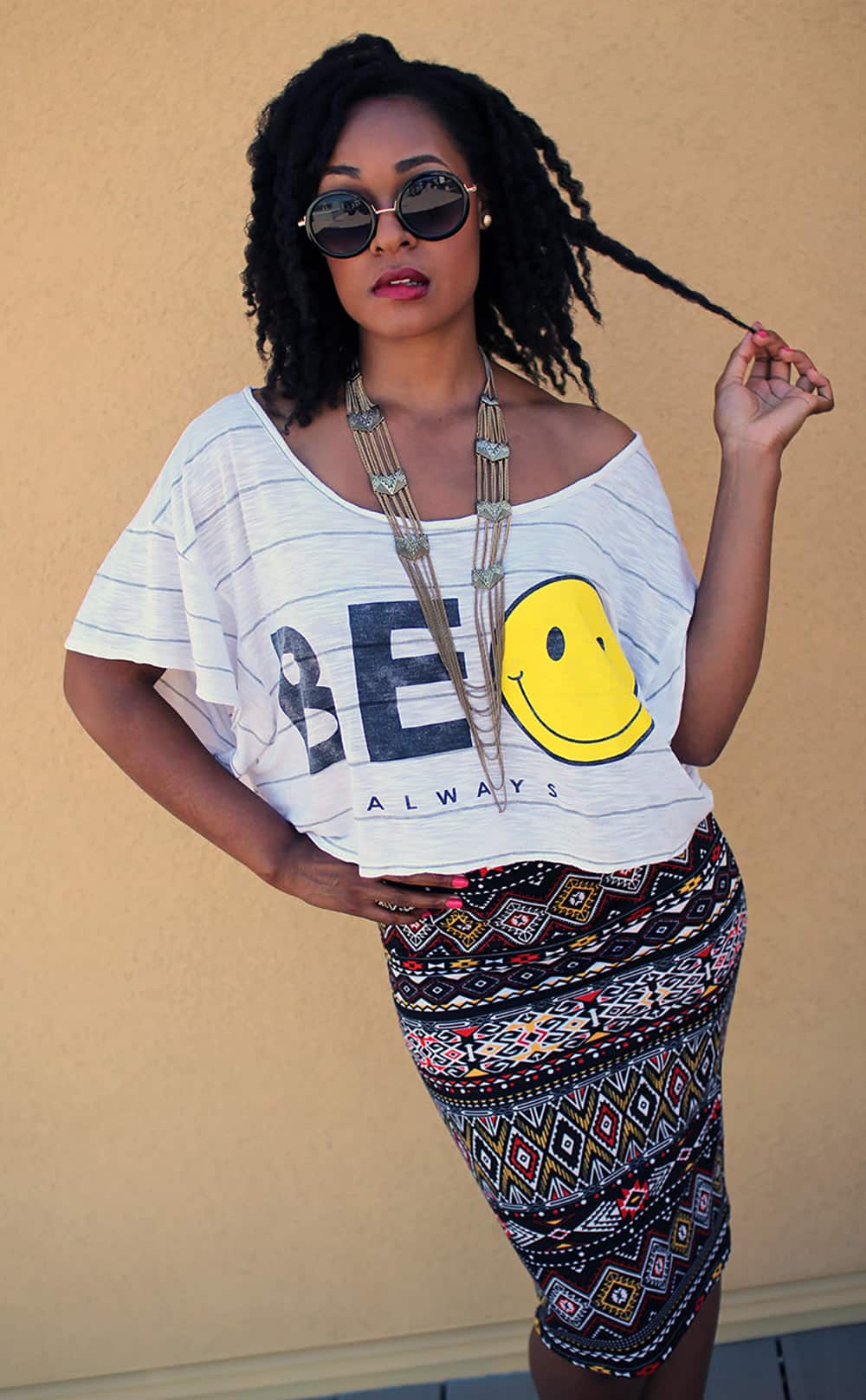 Source: Latoya Ebony
3. Double Dutch Braids For Beach
This look is an easy and simple hairstyle do for the beach.
I think with this hairstyle it would need to be braided really good in order to last a week if you are in the water daily. 
I am not a cornrow type of girl but I think this is quick to do and I would probably get a professional to do it. 
If you are looking for cute hairstyles for the beach and one that is easy to maintain, this is it.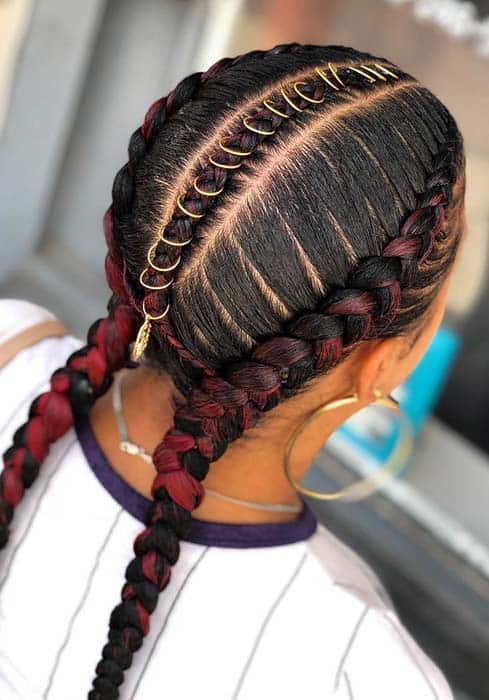 Source: @mimisbraids
4. Faux Locs Protective Style
This faux locs by Meagan Goods is absolutely stunning and I feel like I will do it with my own hair. My partner currently has dreads but I am more into this faux locs look. 
This is on maybe list.
My trip to Mauritius is not until October 5th!
Here are Meagan Goods rocking this protective hairstyle at the beach!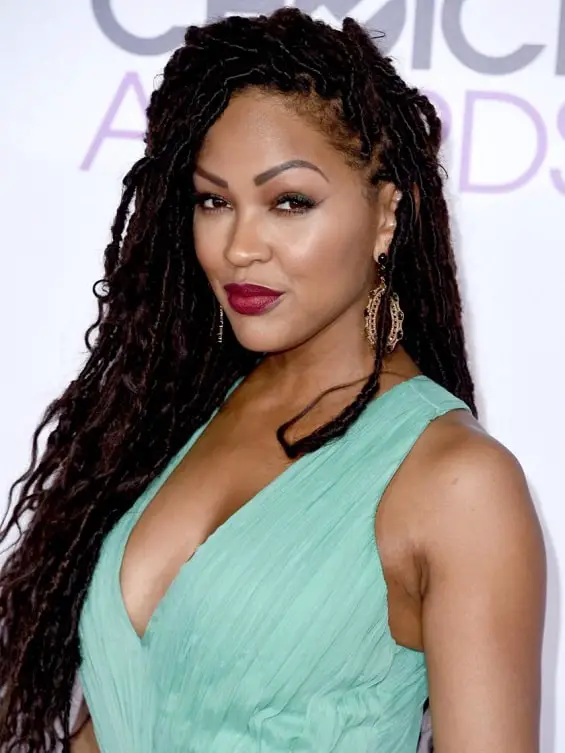 Source: Essence
5. Double Halo Braids
This double halo braid protective style that Lupita Nyong'o has going is awesome for a day at the beach!
Although I personally wouldn't rock it, I think is perfect for those that are into this look. 
It's simple, elegant and easy to do!
It's one of the best swimming hairstyles for natural hair especially if you are looking for a protective style. 
You can see more of her styles here!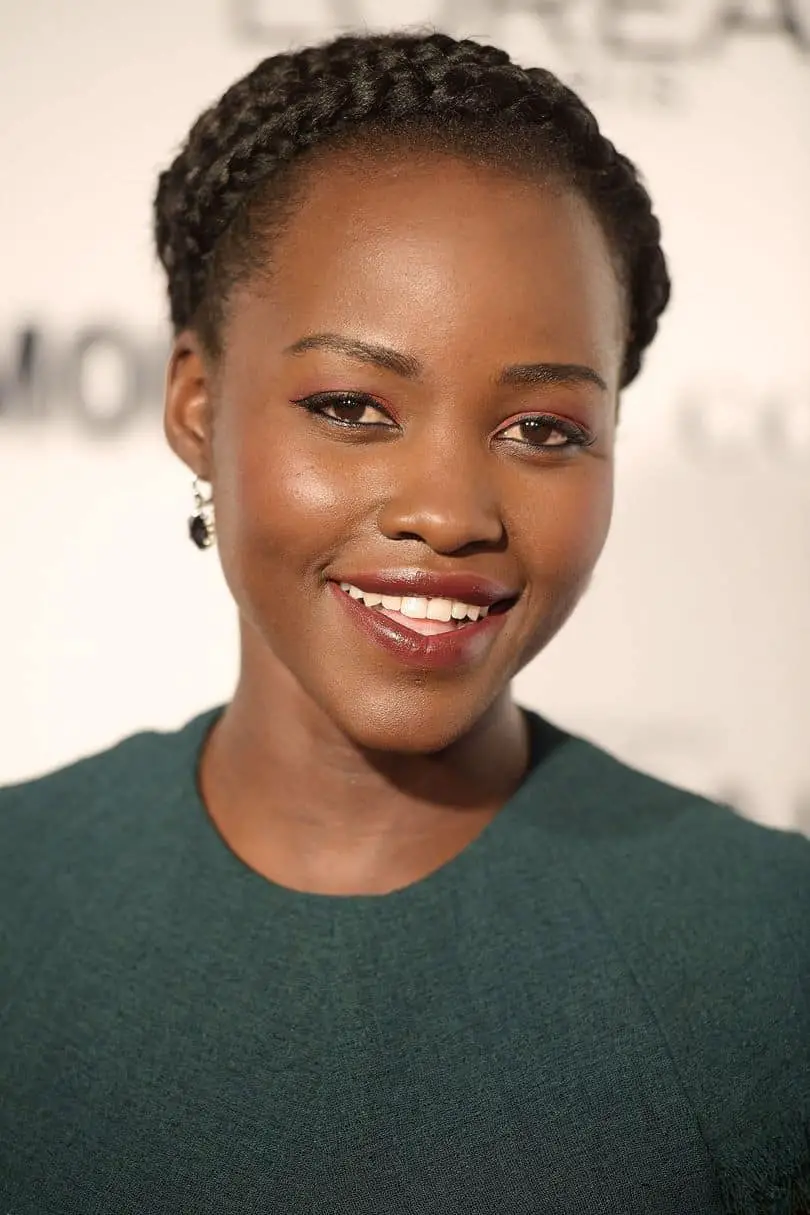 6. Senegalese Twist Hairstyles For Women
I totally love the look and style of the Senegalese Twits.
Easy vacation hairstyles like these are easy to style and can instantly give you a new look.
Keep in mind they can be done differently, but I like the smaller ones compared to the jumbo ones for the beach. I really liked this style I found on The TrendSportter!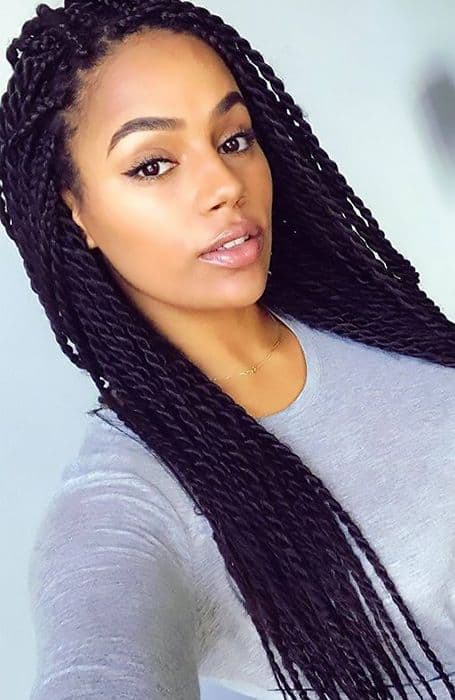 7. Simple Single Braids
If you can rock the single braids route then go for it.
It is definitely the best protective hairstyle for swimming hands down! 
This is my go-to style most of the time and that's why I am looking for something very unique for my vacation. 
But single braids are safe and can be styled in multiple ways. 
Hairdos for the beach that are easy to maintain is always a plus in my books. 
Source: Getty Images
8. Marley Twists Perfect Natural Hairstyle For The Beach
What's the best beach hairstyles for black hair?
Marley Twists. 
Marley twist is the perfect hairstyle for the beach only because I find them light on the head, they are extremely fast to do (not a day job like the single braids) and they look so fashionable!
Brandy does an adorable job wearing this Marley twist hairstyle.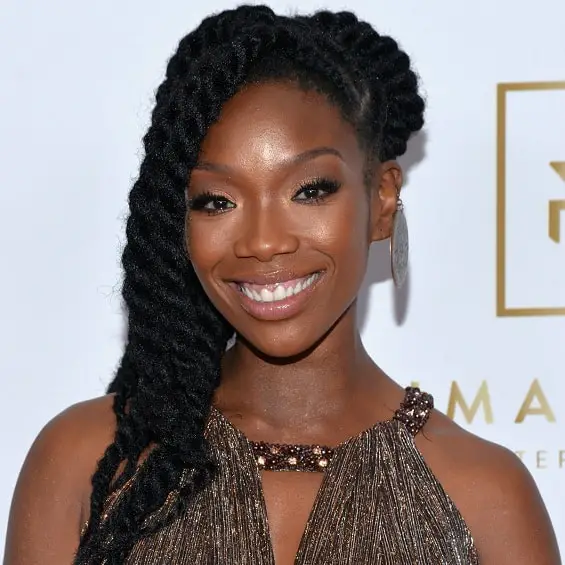 Source: Getty
9. Marley Kinky Twist – Small
Some of the best beach hairstyles for black women are those that are simple to do!
I love these Kinky twists. They are tiny and perfect which means they may not be too heavy to go on the beach with.
Ideally, you want something that is light and easy to style.
Water tends to weigh things down so I would avoid that, especially on a very hot day.
That is why I love these tiny twists. Check out Nicole Ari Parker does an amazing job rocking these kinky twists.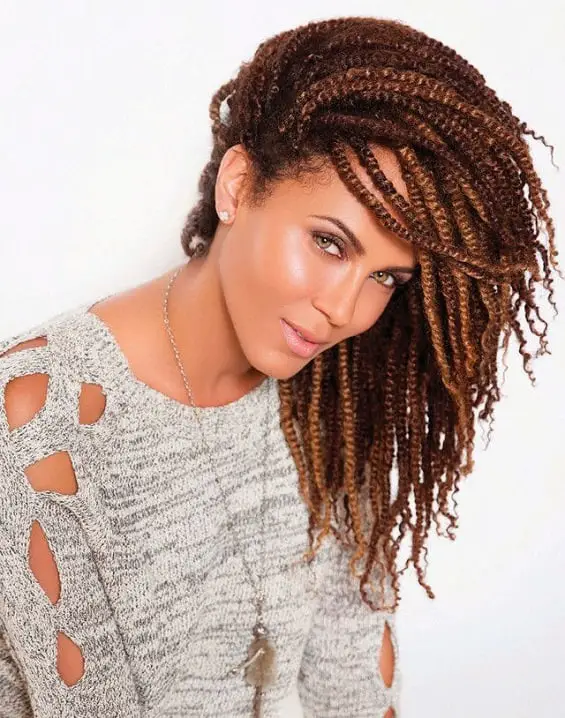 10. Box Braids Perfect Hairstyle For The Beach
Box braids are a great protective style when you need a break from your natural hair.
When I am away on vacation, I definitely need a little break from looking after my natural hair which sometimes takes up so much time to maintain.
Box braids are definitely more fashionable and can be worn at anytime.
Easy natural hairstyles for black women for the beach are much easier to maintain and box braids are just that. 
Easy to do and definitely to style.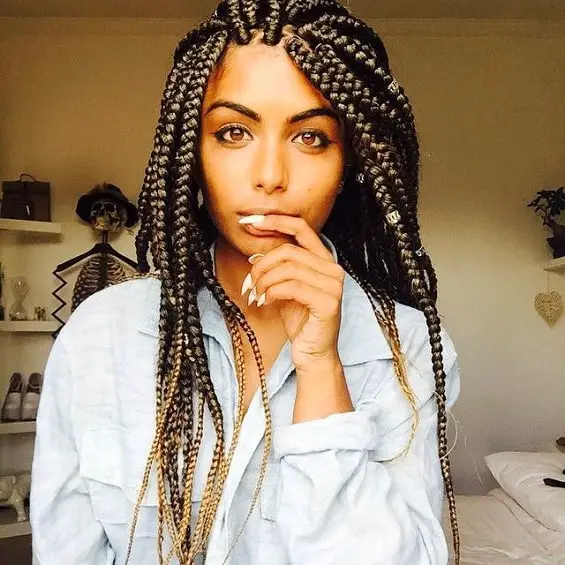 11. Short Bob Braids For Summer Beach Days
Now here is a natural hairstyle worth wearing? 
Bobs are a perfect hairdo for summer as well as for a day on the beach! 
This simple hairstyle is great for those that will spend most of their time on the beach and the aftercare will be short and sweet! Would you do a bob hairstyle in braids? 
12.Twist on the classic French braids
This style is really simple to do. 
I definitely like rocking quick natural hairstyles and this one is one to consider. 
All you really need is to do two French braids and twist out the rest of your hair. It's low maintenance although you will need to frequently condition and moisturize your ends.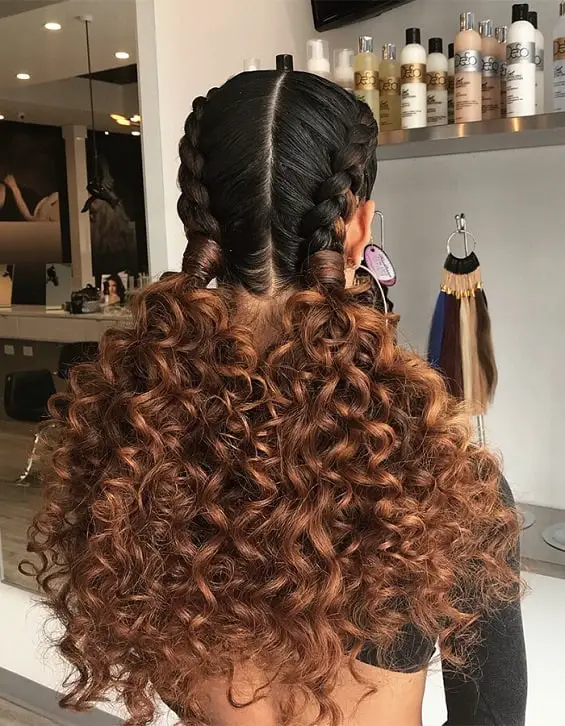 13. Feed-in Ponytail Braids
How long do feeder braids last? These types of styles typically last for about a week or so which is great if you are going away for a week. 
It's perfect for a short amount of time which makes it great for the beach!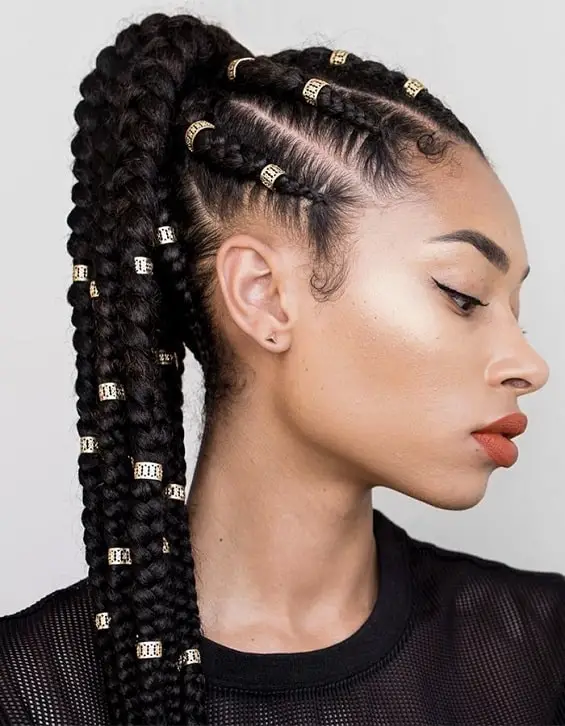 Source: @Freshlengths
14. Cornrow Bun Protective Hairstyle
If you are looking for the perfect up-do hairstyle for the beach, this cornrow bun is perfect for the week!
This is both incredibly pretty and pretty low-maintenance and therefore perfect. 
Swimming hairstyles for black hair definitely have to be lightweight and easy to maintain. 
To grab the tutorial, visit this page!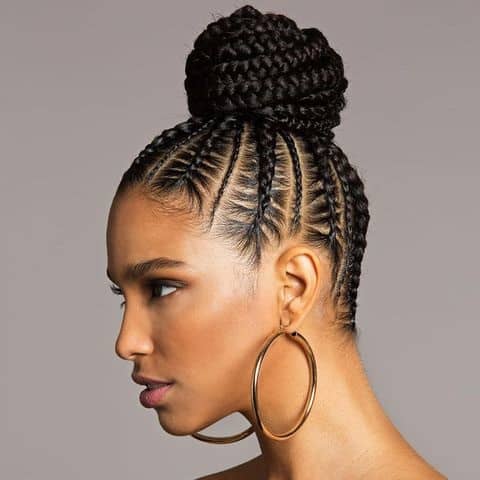 Source: Cosmopolitan
15. Crochet braids good for swimming
I love crochet braids for the simple fact that is quick to do and I don't have to spend a day or two putting it on.
Depending on the type of crochet braids you use, they are typically easy to maintain and last about 2 weeks with proper care!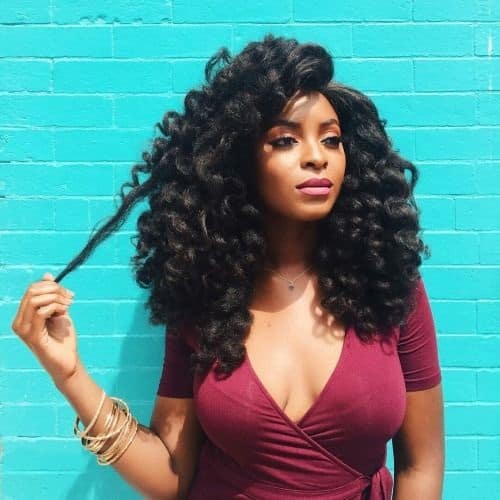 16. Half-Up, Half-Down Mini Braids
These half-up and half-down mini braids are a simple cornrow look that is very low maintenance. It makes for a gorgeous look for the beach!
If you are looking for natural hairstyles for the pool, this one also works perfectly. 
And it will look gorgeous over a cute swim-suit.
17. Fishtail braid on natural black hair
If you search online for fishtail braids for black hair, you will be greeted with a lot of amazing styles.
I really love this fishtail braid on Janelle Monae! 
But for the beach, I would definitely make it much more plain and tight in order to last! Otherwise, this look is simple to do and maintain.
Janelle Monae is known to wear amazing hairstyles. You can simply look her up for more inspiration. 
18. Jumbo Senegalese Twists
We already shared the mini Senegalese Twists above, but these jumbo twists just had to make the cut. I love the way they look.
And it is a possible option for me for the beach!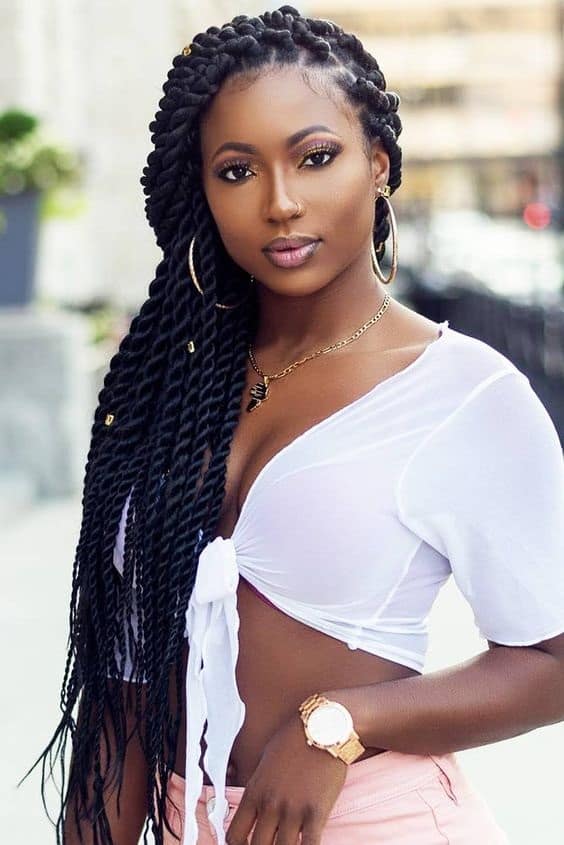 19. Easy Jumbo Cornrow 
Don't you just love the look of this easy to do jumbo cornrow hairstyle? 
They look easy to do and also easy to maintain while on vacation. And you can finish it by tying it into a bun.
I think it's one of the best black hairstyles for swimming as it would also take a little time to dry off and moisturize.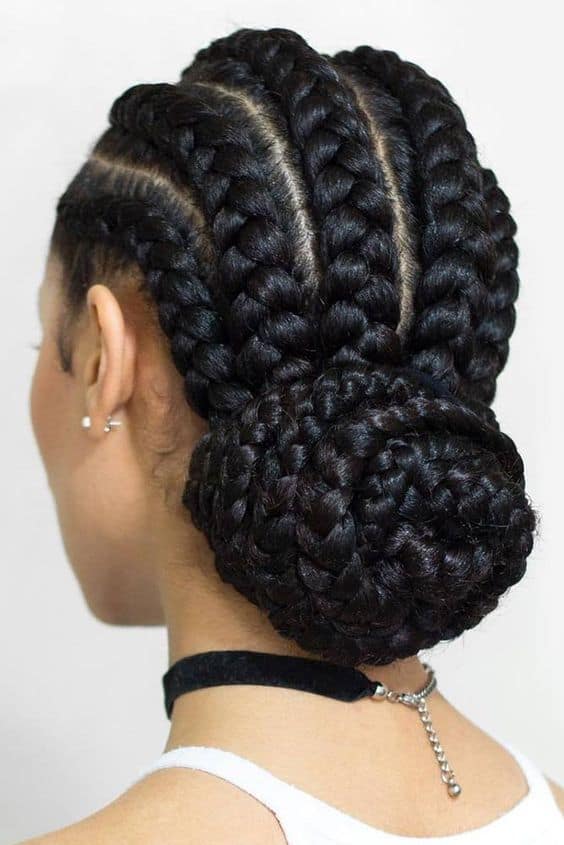 20. Curly Twists Braids For The Beach
This amazing curly twist hairstyle looks totally amazing. 
I love the way you can style it any way you want and the up-do with the bangs makes it perfect for a day at the beach! 

Source: Beauty Hair Cut
21.

 Crochet Hair with Side Braids
Crochet is really an easy but perfect beach hairstyle for natural hair!
This particular hairstyle gives an illusion of a Mohawk look which I totally love. And I love it even more because it is crochet styled meaning little time spent putting it on!
If you are looking for natural hairstyles for the beach, I would make it slightly less poofy and we are all good to go!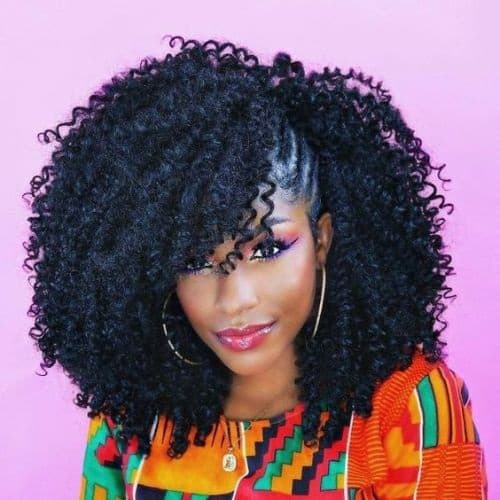 22. Beyonce Lemon Braids
I love the Beyonce super long mini lemonade braids with some touches of gold throughout the locks.
It is one of the best natural hairstyles for the beach if you are looking for something different than the regular backward cornrows. 
When I looked up black braided hairstyles for swimming, it was important that I find something that was also fashionable. 
And this look made the cut.

23. Water Wave Crochet Braids
It's no lie that "I love me" some crochet braids. 
This water wave crochet looks really elegant, wavy and not too heavy for the beach! I might give this one a try before going on vacation.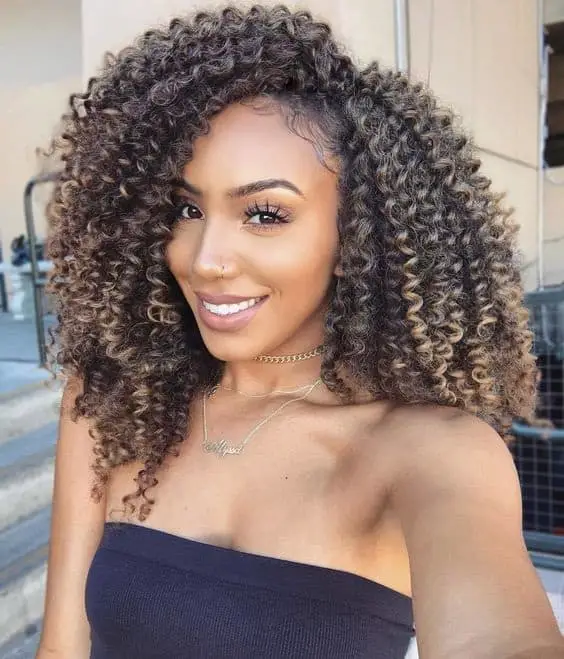 24. Keep it Short – Short Hair For Black Women
If you have short hair, why not rock it. 
Simply find a haircut that suits you and rock it out naturally. Honestly, this is the best natural hairstyle for the beach as you have nothing more to worry about.
Simply moisturize and condition. 

25. Short Mohawk Natural Hairstyle
The Mohawk natural hairstyle is one I have never tried but I am 100% willing to try one day!
Have you had the opportunity to style your hair with the Mohawk look?
Which of these natural hairstyles for the beach would you do?
I really love number 4 and 9, although I have never had these styles before. I think they would look great on me.
I would really have to try it out to fully recommend the styles.
Products Required For Your Quick and Easy Natural Hairstyles
First, if you don't have a Prime account, you better get one today!
I recommend these products for anyone going on vacation and still wants to protect their natural hair:
If you have other natural hairstyles for swimming that you suggest, share them below.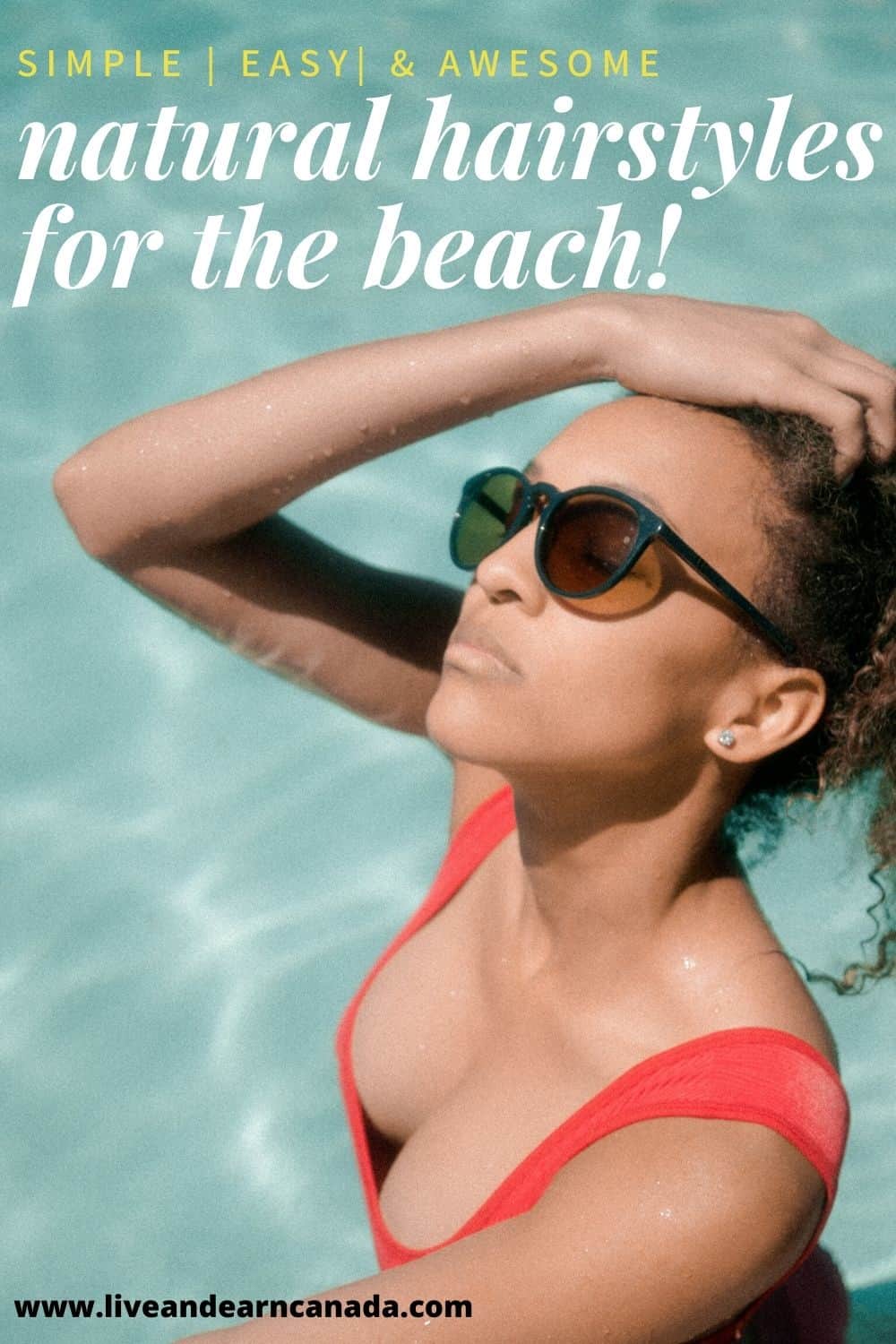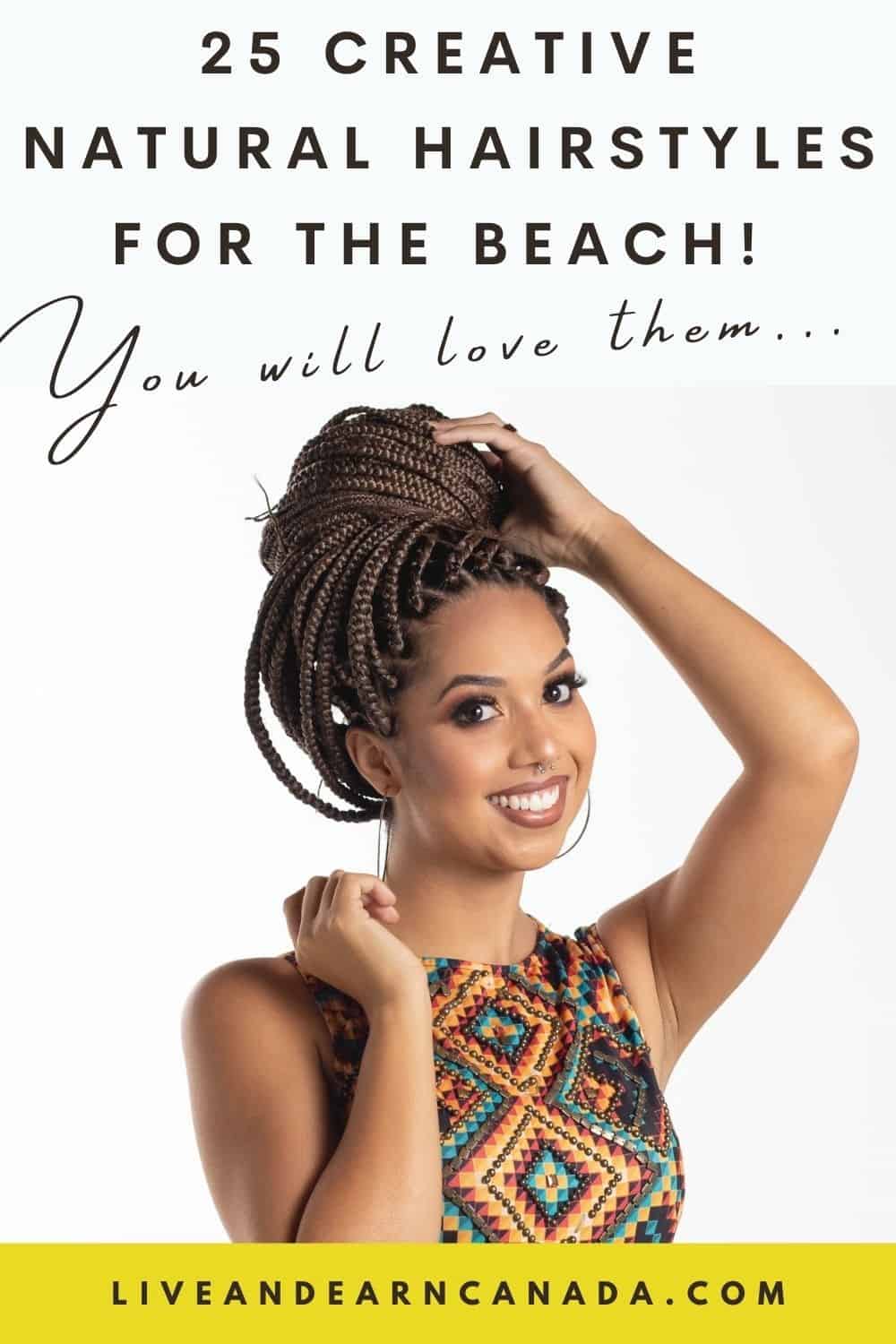 Read this next:
25 Awesome & Easy Natural Hairstyles For The Beach