What to do in Oahu
Planning a trip down to Hawaii? Aloha! We put travel guide together on some of the best places to visit in Oahu. 
Earlier this year I had the extraordinarily good fortune to explore Hawaii with one of my favorite people, my mom.
Together, we scoured the island and compiled a list of must-see and must-experience places around Oahu.
The list comprises of seventeen locations broken down by interest.
This guide caters to foodies, outdoor enthusiasts, cultural adventurers, and coffee lovers.
With this comprehensive post, any visitor will be able to mix and match their favorites to create the perfect Oahu itinerary whether you only have a day or two weeks.
Why Is Oahu The Best Place To Visit?
Oahu, also known as the Heart of Hawaii, is extremely popular and is home to many popular activities and touristic attractions.
From the popular North shore to the opposite side of the island, you will find plenty to do when you visit Oahu! 
This in-depth guide will feature some of the best places to visit in Oahu, Hawaii!
If this is your next stop destination, we have action-packed information that we turn your next trip from amazing to Woah! 
Where should we stay in Oahu?
Where you stay in Oahu will greatly be impacted by your budget and what you want to do! 
Most travel enthusiast highly recommend Waikiki, but it is very touristic and tends to become overly crowded because everyone goes there!
But they are other amazing options on where to stay while visiting Oahu.
You can find gorgeous accommodations on the North Shore area or simply get away and stay in Ko'Olina!
The choice is up to you. 
Now let's start our Oahu travel guide!
Before we get started on the best places to visit in Oahu, we did want you to follow us on Instagram for more tips. 
We also wanted to take the opportunity to let you know that we use Affiliate links on some of our blog posts. This means that we could make a commission if you click on an affiliate link and purchase something. Read our full disclosure and blog policy for more information
Best Places to Visit in Oahu, Hawaii and What To Do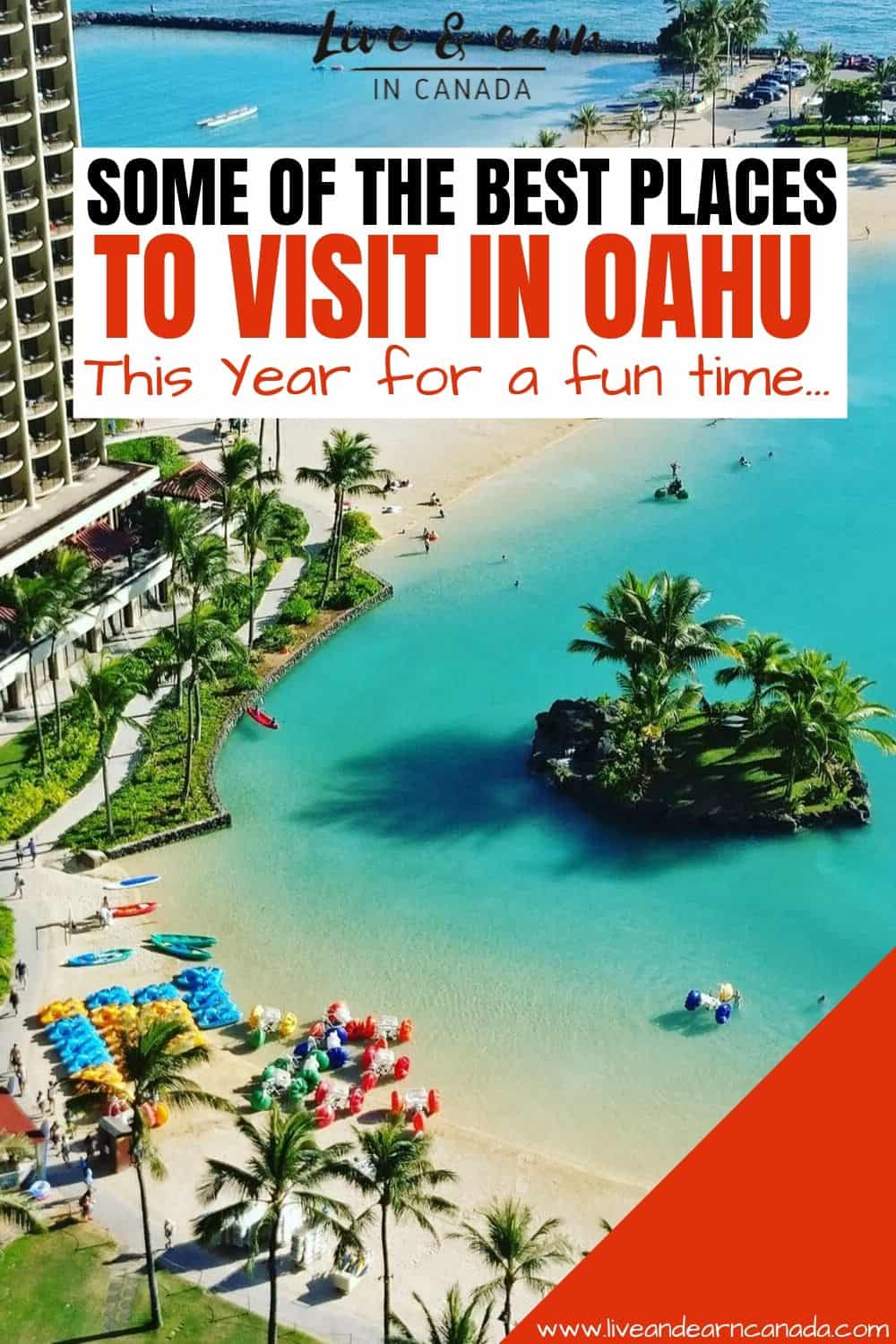 Outdoor Adventure Hotspots
1// Kailua
One of, if not the highlight of our trip.
Kailua Beach stretches 3 miles long (my mom and I walked the entire beach for a total distance of about 6 miles) and its views are second to none in terms of beauty.
The teal waves lap the edges of the pristine, white beaches.
Most days, you can watch parasailers, surfers and paddle-boarders from your perch on the beach. Or you can wade into Kailua's pristine waters and enjoy it yourself.
While I cannot adequately describe Kailua's beauty to you all, I can definitely describe how it made me feel, at peace.
Regardless of whether the warm water and sand or the views lulled me into a sense of calm, I hadn't felt that peaceful or happy in a while.
2// Mokuleia beach and trails
To preface this review of Mokuleia's beach and trails, you must know that Hawaii has excellent hiking.
A few favorites are Diamond Head, Pillbox Hike, while our absolute favorite is Ka'ena Point Trail in Mokuleia.
The trail starts by the beach and you walk among the tide pools before you round the corner of the hills.
Hikers have the option of staying overnight or start late in order to see the stars and occasional meteor shower.
This hike made me fall in love in Hawaii (as if I wasn't already besotted!) Below are several popular hikes.
Ka'au Crater Trail

Manoa Falls Trail

Diamond Head

Honolulu Watershed Forest Reserve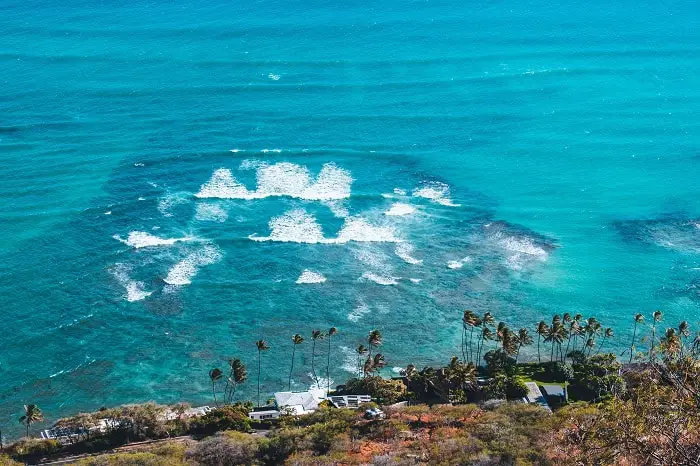 View from Diamond Head in Hawaii
3// Visit the North Shore
Tied with Kailua as my favorite spot in Oahu, North Shore should be at the top of your list for must-visit destinations in Hawaii.
It's honestly one of the best places to visit in Oahu and you mustn't leave without making a trip down. 
Its beaches offer gorgeous views of the ocean as well as excellent spots for surfing (the waves break larger here).
If surfing isn't your calling, paddle-boarding, and diving are also available (I recommend you book these in advance as they sometimes fill up quickly).
You can also watch polo here or view the Pacific Ocean atop one of the local horse farm's horses.
While visiting the North Shore, visitors may glimpse sea turtles or even a whale!
The best place to discover them is Lanaikea Beach. 
The green sea turtles have chosen to make this Lanaikea Beach their home.
When my mom and I traipsed the North Shore, we had only walked onto the beach for a minute when we encountered a family of sea turtles!
The turtles were only four feet away thus enabling us to observe their elegant and graceful beauty in full!
4// Waimea Valley
Also located on the northern side of Oahu are the Waimea Botanical Gardens.
To enter, visitors will either walk or drive about a mile to the entrance.
I recommend walking because the gardens and waterfall flow into a valley and to truly experience it, one must walk.
Before you enter the garden's trail, there are stores and a restaurant.
I recommend you bypass them since the food is expensive and you're there to absorb the gorgeous lushness of the Hawaiian flora.
After you pay the entrance fee ($13 person/ $5 kids) meander on the 0.75-mile trail which ends at the waterfall.
My mom and I had so much fun and thoroughly enjoyed learning about the botanical history of Hawaii. 
You might also enjoy the full package of the North Shore photo tour off the beaten path!
Beautiful Places to Visit in Oahu
We'll preface this entire section with the statement that Hawaii, in general, is beautiful.
These spots, however, go above Hawaii's standard of beautiful and simply stunned us.

5// Walk Waikiki
While many choose Waikiki as their Hawaiian destination, I did not enjoy Waikiki.
The crowds and touristy feel seemed stale after encountering the North Shore and Kailua.
A stroll down Waikiki however, should be at least somewhere on your list.
While you meander its boardwalks and beaches you will find historical statues, exquisite shopping, and dining, as well as beautiful views of the Pacific Ocean. 
6// Stroll along Kailua
Kailua's scenic beaches include Lanikai and Waimanalo beaches.
As you stroll on its white sand, gaze out at the rock formations and Marine Corp Base Hawaii.
The views will stun regardless of the weather.
Personally, my mom and I enjoyed Lanikai so much that we continually returned during our trip.
We encountered both fabulously sunny and gloomy clouds.
As we walked, surfers and paddle-boards entertained us.
When the walking became too hot, we dipped ourselves into the water.
Kailua's beaches brought us peace and soothed us. If you go to no other beach area, go to Kailua and Lanikai Beach.
7// Drive Interstate H-3
Interstate H-3 starts at the Halawa Interchange and continues through the Tesuo Harano Tunnels and Ko'olau Mountains.
Next, the interstate flows into Kaneohe and continues eastward until it ends at the Marine Corps Base Hawaii.
As you speed along H3, make sure you dawdle just a little to enjoy possibly the most scenic drive you have experienced to date.
The breathtaking sky-high mountain crags and glimpses of the aquamarine Kailua beaches will astound your brain with its beauty.
Indulge yourself with this 20-minute drive so scenic that Jurassic Park and Lost used it throughout their filming.
History Buff Bonanza 8// Queen Iolani's palace
Located in downtown Honolulu, Queen Ionlani's Palace stands as a graceful reminder of Hawaii's history.
The palace housed the Kingdom of Hawaii's rulers from 1845 to 1893.
After a group of foreigners, US businessmen and sugar planters overthrew the Kingdom of Hawaii's monarchy in 1893, the government used it as a capitol building for the provisional government and state of Hawaii until 1963.
Fifteen years later, the palace opened as a museum and is now a National Historic Landmark.
Furthermore, Iolani Palace is the only royal palace located on U.S. soil.
Steeped in heritage, visitors can visit Iolani's palace from 9 AM – 4 PM Monday through Saturday.
In order to enter, visitors must pay a small fee ($6). If you don't want to pay the fee, however, visitors can wander the grounds for free.
9// Rainbow Bridge
Located in Haleiwa on the North Shore, the Rainbow Bridge crosses the Anahulu River.
The Rainbow Bridge marks the northern edge of old Haleiwa town.
While its unassuming appearance causes many to overlook it, the bridge provides a link to some of the most beautiful scenery on Oahu.
Furthermore, you can walk the bridge as you explore North Shore.
Top Spots in Hawaii for Coffee Lovers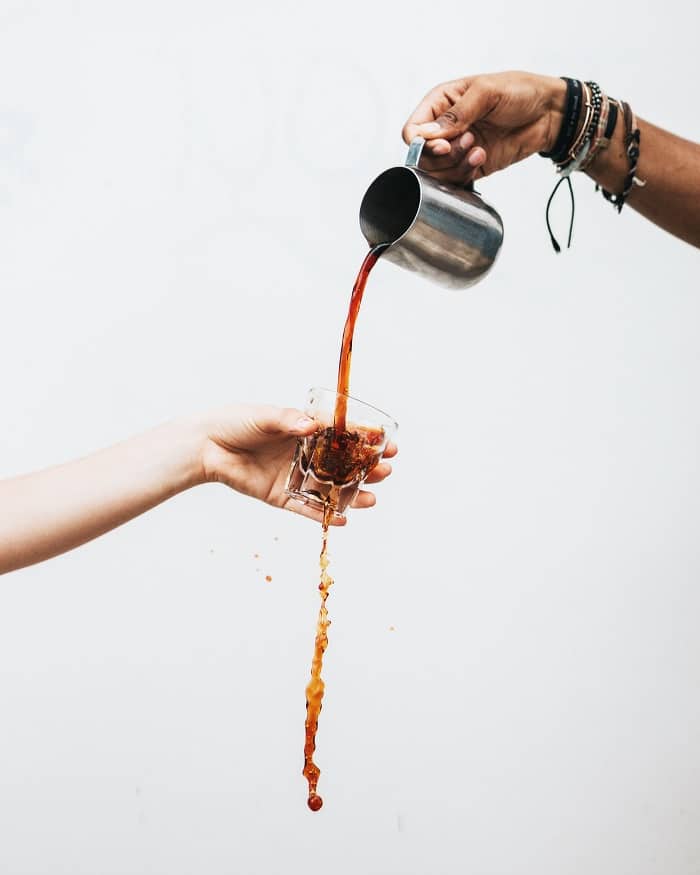 10// Chadlou's
A coffee shop unlike any other in taste and variety.
Located a few short blocks off Kailua beach, ChadLou receives extra points because you can grab your delectables and wander to the beach.
Chadlou provides indoor and outdoor seating and you'll want to partake in one of the outdoor seats.
As you walk inside, the scent of sweet, roasted coffee envelopes your nostrils.
Next, you'll glimpse their wall of coffee brewing equipment that they use (the wall models are for sale).
Once you round the bar, you'll encounter the menu. This list encompasses not only your traditional coffee shop fare but also waffles that are second only to my mother's.
When we went, my mom and I couldn't decide what to order since everything sounded so delicious! In the end, we chose their fruit waffles and a bacon, egg, and cheese breakfast sandwich.
Neither lasted for more than 7 minutes.
As for our beverages, we landed upon drip coffee and a macadamia nut tea latte. Let us take a moment to honor that latte. As the waiter set it down on our table, it's sweet and nutty notes wafted up towards me.
After it cooled, I tasted it and wow, just wow.
The milk foam transformed the latte into a creamy, fluffy macadamia nut love affair.
I had to restrain from gulping it down! If you try no other beverage on this list, try Chadlou's macadamia nut tea latte.
 11// Green World Coffee Farm
Situated near the North Shore, Green World Coffee Farm is an absolute must-visit destination while in Hawaii.
Here you can transport yourself to a tropical world full of beautiful coffee trees and excellent coffee.
Not only will you learn about coffee as you tour the grounds, but you can do so with a steaming cup of joe (or a frozen coffee if the weather is warm).
Green World Coffee Farm building includes a café where you can devour your choices as well as a coffee tasting bar.
Since it was there, my mom and I sampled every blend they offered. Their Chocolate Pleasure was my hands-down favorite.
As amazing as their coffee tasted, I'm not sure which is better, their coffee or their coffee-themed bakery treats (try the brownies!).
The other half of the Green World Coffee Farm main building is their store.
Once you enter the store portion, you can find every coffee bean that they grow available for you to take home. Interspersed with their wares are placards intent upon impressing coffee's history and versatility on its reader.
The coffee farm is open from 07:30 AM -17 00 PM.
Hawaii: A Foodie's Paradise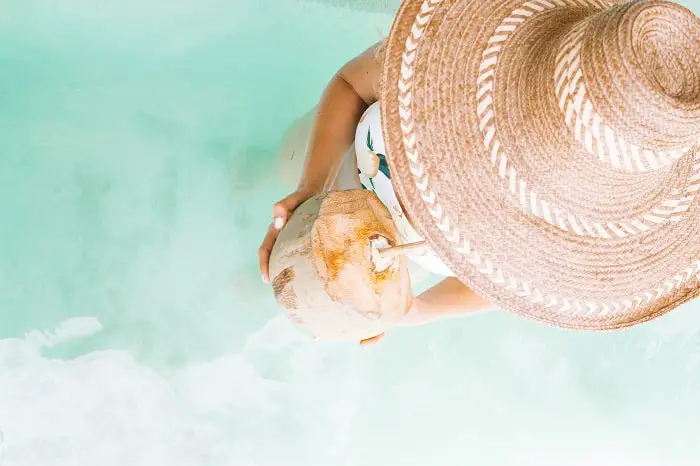 12// Drink trucks
Located all over Hawaii, any tourist, visitor, or local must visit at least one of Oahu's drink trucks.
There you can try all sorts of traditional Hawaiian specials or find an excellent fresh fruit juice-based drink.
To recollect from my mom and my trip, we stopped at a "drink truck" right by Ono's Steak and Shrimp Shack.
The verdict?
THE. BEST. FRUIT. DRINK. EVER!
The truck offered two varieties of a local favorite, a Hawaiian Twist, (with their own spin of course) using either pineapple or watermelon juice.
The vendors created the drink by mixing the fresh fruit with creamy coconut milk. We decided to sip on one of each and they did not last longer than 3 minutes.
I tried to pace myself to savor the delicious and cold beverage but just couldn't resist lapping it up until the last drops were gone.
13// Dole's Plantation
Located just minutes from Schofield Barracks and 20 minutes from the North Shore (approximately 40 minutes from Honolulu), lies a pineapple enthusiast's heaven.
Waving pineapple trees beckon visitors into a bustling plantation main building which houses a restaurant, and pineapple themed information booths/events.
Outside, train and walking tours are available during the day.
Even if you are short on time, the Dole Plantation is worth a visit, if only to try their pineapple whip!
Composed of soft and creamy pineapple ice cream with real pineapple dotted on top, this frozen treat perfectly soothes all who taste it.
14// Monkey Pod
One of the best places to visit in Oahu is the Monkey Pod.
Situated in the Ko'Olina Station, Monkey Pod's chic entrance glides onto a fashionable patio that overlooks other resort areas.
The posh exterior conceals a wildly delicious and varied menu. Monkey Pod serves sustainable meals from 11:30 AM to 11 PM.
Their sustainability arises from their partnerships with local farms, growers, and artisans.
Together they created a local far- based menu comprised of appetizers, salads, sandwiches, Hawaiian specialties, and desserts.
In addition, they offer a wide selection of alcoholic and non-alcoholic beverages.
To provide you with an example, my mom and I visited the Ko'Olina Station location in May 2019.
We began our order by sampling their ginger beer and lemonade.
The lemonade refreshed me with its delectable blend of sweet and sour. My mother's ginger beer, however, provided too much tang that verged on the point of sour.
I recommend that only true ginger beer fans partake.
To complement our drinks, we tasted Monkey Pod's garlic truffle oil fries and a mixed green salad from Waipoli Farm.
In regard to, our entrees, we ordered a daily pizza special and the fish tacos. YUM! The pizza remained light and didn't bog my stomach down, while the fish tacos (despite their kick) disappeared into our stomach and left us in a happy food haze.
Fun Fact: Monkeypod is a tree that grows throughout Hawaii and is reminiscent of the Africa Savannah trees seen in safari movie scenes.
15// Mexican and garlic shrimp food trucks
While you will find food and drink trucks sprinkled across Oahu, the two best food truck destinations are the North Shore and Waimanalo.
When visiting the North Shore, ensure you arrive hungry as you will want to try Macky's Shrimp Truck.
Their garlic shrimp converts many shrimp enthusiasts into shrimp lovers.
Enjoy the warm weather and cool breezes while devouring your meal!
Below we've listed some popular food trucks:
Beto's Tacos and Platos (Kailua)

Chow Down Shrimp Truck (Waimānalo)

North Shore Tacos (North Shore)

The Elephant Truck (North Shore)

Giovanni's Shrimp Truck (North Shore)

Mike's Huli-Huli Chicken (North Shore)

Haleiwa Bowls Truck (North Shore)

Dokkaebi (Waimānalo)

Molokai Hot Bread (Honolulu)

Keoki's Fresh Fish Shack (Waimānalo)
16// Ono Steaks & Shrimp Shack
The absolute best coconut shrimp and fish tacos around!
My mother found this gem while we explored Kailua.
Located about 15 minutes south of the Kailua beachfront, Ono's bright exterior beckons you to a steak and seafood mecca.
Inside, the interior reminds one of 1950s diner, but instead of hamburgers and fries, patrons can order fish tacos, mahi-mahi, coconut shrimp, as well as Hawaiian specialties such as loco moco.
If my stomach had more room, I would have stayed there all night!
Rated 4.5/5 stars on Yelp and TripAdvisor, any visitor to Oahu would be remiss to skip this funky shrimp and steak shack.
17// Old Sugar Mill Brand Waialua Coffee
Before we begin praising Old Sugar Mill Brand Coffee, we'll dive into its history.
The mill began in 1865 when Levi and Warren Chamberlain stated a sugarcane plantation.
Unfortunately, it failed, and Robert Halstead bought it in 1874. The mill continued to operate under several different owners until it closed in 1996.
It was the final sugarcane plantation on Oahu prior to its closure.
Today, visitors and coffee lovers and tour the facilities which showcase local wares and offer free coffee and chocolate tours!
The tours only last approximately 20 minutes, but coffee enthusiasts will become coffee connoisseurs.
During the coffee tasting portion, curious souls can sample one of the four coffee types and then indulge once a favorite is found!
Personally, I found the Old Mill intriguing and worth a few hours of your time! Open from 9 AM-5 PM (Holiday hours may vary).
Do you have other tips on the best things to do or the best places to visit in Oahu? We would love to hear them below.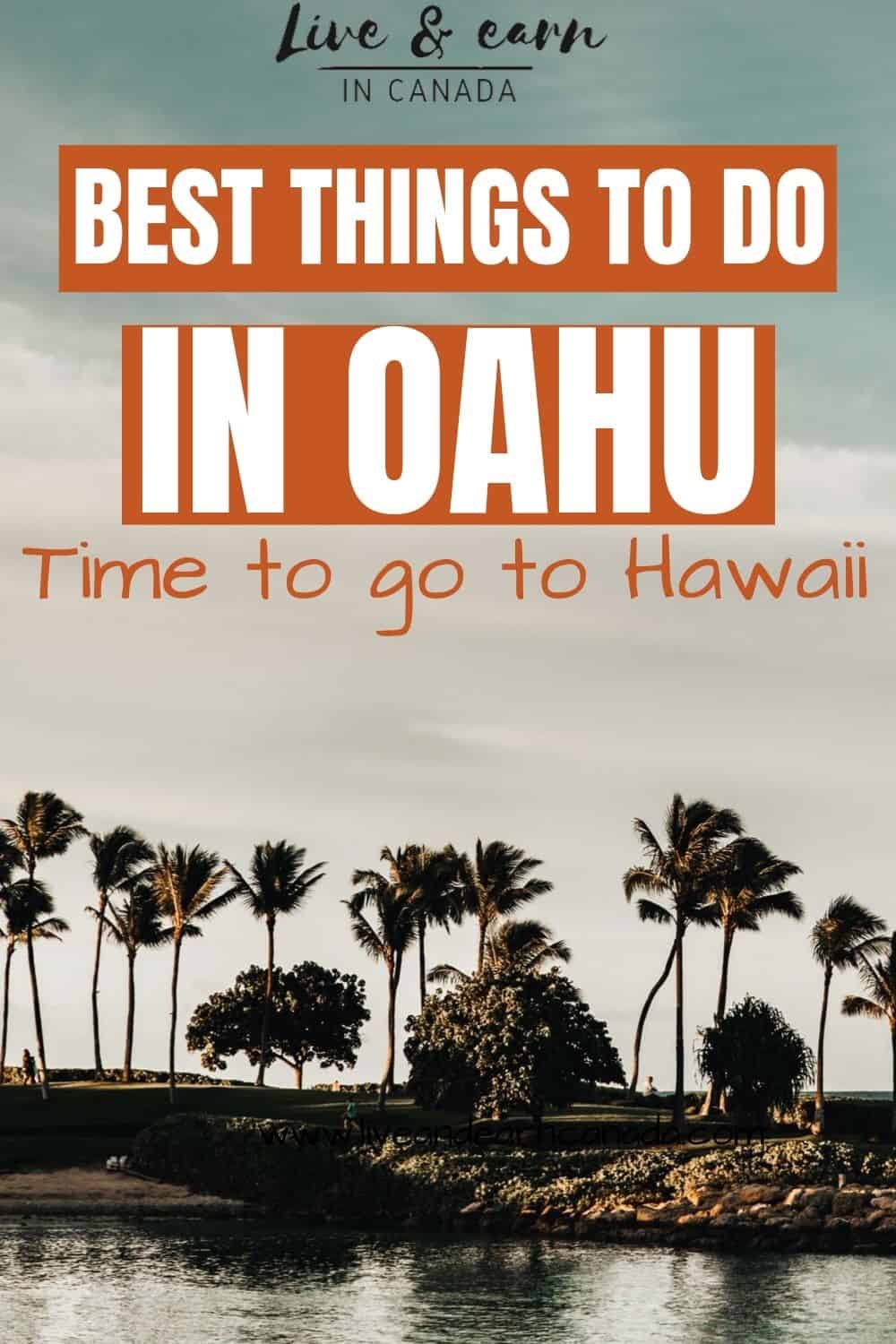 BIO: Hello! I run the lifestyle blog, booksbourbonandchocolate. I started blogging a little over a year ago and have adored (almost) every minute. Over this past year, I have fallen into the habit of devouring great blogs, such as Saving Talents. In addition to reading blogs, I read books of all genres (I favor historical fiction, poetry, and mysteries). When I'm not reading, I'm either writing, doing yoga, or running. In addition to running, I enjoy hiking and traveling during which I try to sample that area's bourbon and chocolate.
Website Link: booksbourbonandchocolate
Feel to free to follow them on Facebook, Instagram and Pinterest!
Read this next: 
Visiting Canada: Everything you need to know about your next trip
Traveling Alone: Pros and Cons For Enjoying A Solo Trip
17 Absolute Best Places to Visit in Oahu, Hawaii