Top Cities to Visit in France
We are excited to share our list of the best cities to visit in France this year! 
As you may or may not know, France is the most romantic place in the world in my humble opinion.
I have been so lucky to have travelled over there multiple times and I will keep going as long as luck is on my side. 
Most people think of Paris when they plan to travel to France. 
But France as a whole is made of many beautiful cities and if you can, we suggest visiting a few. As for me, I was totally blown away by Marseille, Montpellier, and Nîmes, just to name a few.
We are definitely going to share some of the most beautiful cities to visit in France in the hopes that you can make a plan to visit some. 
So what are the most beautiful cities in France to visit?
Before we get started on some of the best cities to visit in France this year, we did want you to follow us on Instagram for more tips. 
We also wanted to take the opportunity to let you know that we use Affiliate links on some of our blog posts. This means that we could make a commission if you click on an affiliate link and purchase something. Read our full disclosure and blog policy for more information.
If you are planning a trip to France anytime soon, we urge you to visit some of the top places cities France has to offer. 
In this post, we are hoping to answer some of the frequently asked questions such as:
What are the best cities to visit in France?

What is the most beautiful city in France?

Best cities in France for food

Top places to visit in France to shop
And a lot more fun facts!
France is truly an amazing country with lots of amazing cultures, foods, wine, and gorgeous buildings.
I totally fell in love with the South of France, but as a whole, this country has so much to offer.
When I first created my list of 20 things to do before turning 20, visiting France and all the beautiful cities was on my top spot.
If you are not sure why you should add France to your list of places to visit, check out our reasons why you should truly consider it. 
Top Reasons to Visit France
Not only is France a beautiful historical country, but the French really know how to enjoy good foods and wine.
And if you happen to be in the South of France, you can enjoy endless coastlines of sandy beaches and warm sunshine.
From the amazing city of Saint Tropez to the popular city of Normandy, you can trust that you will enjoy gorgeous beaches. Do you love to shop?
What better place to shop than in the country of fashion itself?
Not only is Paris one of the best cities to visit in France, but it is home to many fashion gurus such as Coco Chanel, Christina Dior, Yves Saint-Laurent just to name a few.
So yes, a visit is truly needed.
And if Art and Culture are more of your thing, you will never run out of these in France. You can visit the Louvre which is one of the best art museums in the world.
And be sure to visit France during the Cannes Film Festival to get in touch with your artistic sides. 
Let's not forget all the beautiful churches France has to offer such as the Notre-Dame or the Sainte-Chapelle. 
We can spend all day trying to convince you why you should visit France, but we are just going to share with you all the beautiful places to visit in France. 
List of the Most Beautiful Places to Visit in France
Now that we have partially convinced you to buy your ticket and fly to France, here is a list of beautiful places you must visit when you are in France.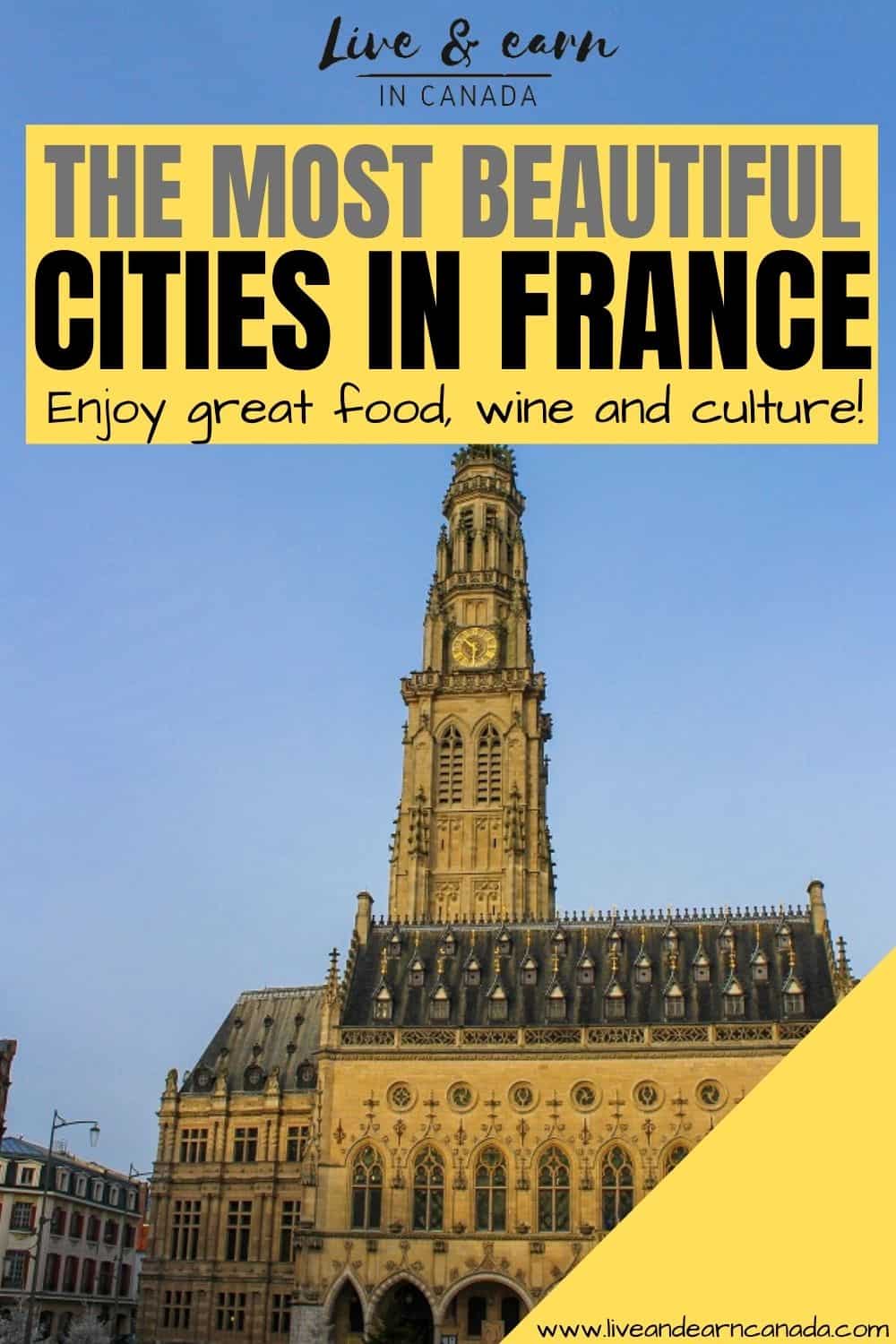 1. Paris
The very best city to visit in France is Paris, of course!
As the biggest city in France and arguably the most well-known, Paris, the City of Light, is an essential destination unto itself. 
With the history of Paris dating as far back as 250 BC, it has been known as Paris since the fourth century. 
Paris has been an important commercial and religious center since the early Middle Ages!
A visitor to Paris for the first time will be amazed by the sheer volume of breathtakingly beautiful and historic buildings. 
From the grandeur of Notre-Dame (currently under scaffolding but re-emerging as its original gorgeous self) to the hills of Montmartre, Paris has something beautiful to see around every corner.
No visit to France would be complete without some time in Paris.

Lesley Christensen – Freedom 56 Travel
2. Marseille
Marseille is the 2nd largest city in France, after Paris.
The city on the sea (the Mediterranean) may not have the same beautiful architecture as Paris, but it certainly has its charms.
With its ambling beaches and historic Vieux Port center (Old Port), it is a city of many charms with plenty of things to do.
Gritty and authentic, this hidden gem is the real South of France.
Historically, it is a city that has always been at odds with Paris, French King Louis XIV famously had his cannons pointed AT the city, instead of defending it.
More recently, Marseille has undergone a renaissance. 
It was declared the European Capital of Culture in 2013,  With the new Museum of Civilisations opening, a complete renovation of the Vieux Port and the city's brand new metro lines, Marseille today attracts more tourists than ever.
So if you have a few days to spare, don't hesitate, it is only 3 hours by TGV from Paris.  See you in Marseille! 
A bientôt!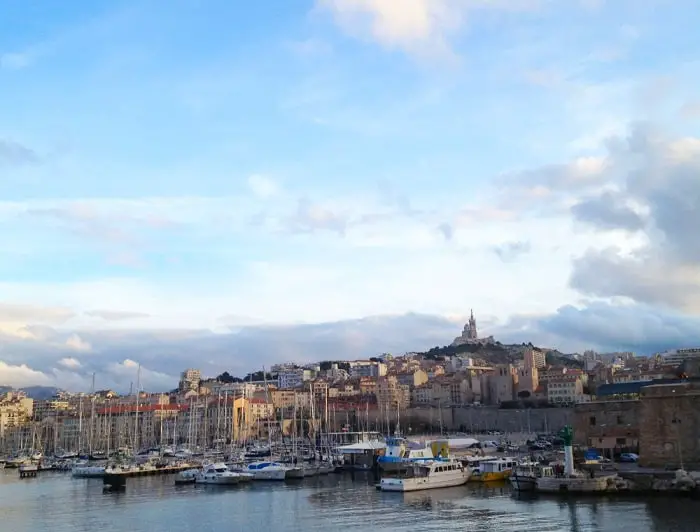 3. Colmar
Colmar is a charming and beautiful city in the Alsace region of France.
Close to the Rhine River, the region has a cultural blend of French and German influence. It's in an area known for timber-framed houses and, of course, wine production. 
There are so many things to do in Colmar, but one of the best is to embark on a wine tasting experience.
There is also wonderful food which combines hearty German-style meals with world-class French culinary technique. The results are delicious! Besides the wine and food, Colmar offers museums, art, and quaint scenery.
You can spend a day simply wandering the streets of the old town and feeling like you've gone back in time.
One of the most beautiful and most-photographed parts of Colmar is Le Petit Venise or "Little Venice".
It's a gorgeous network of canals and bridges and visitors can even book a gondola ride.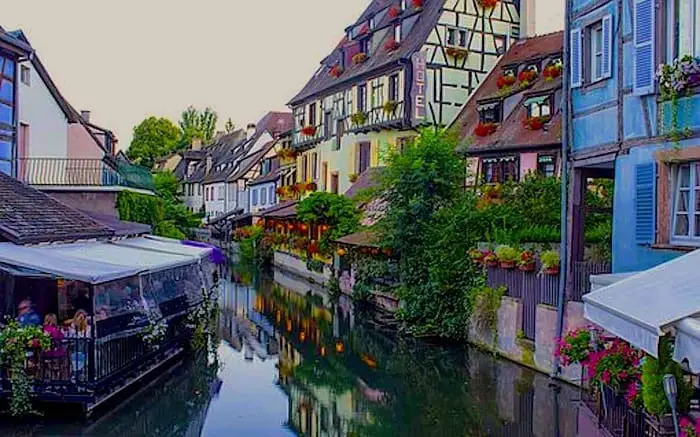 Dereck Hartman – Robe Trotting
4. Nice 
As you know, they are so many beautiful cities in France that picking just one is nearly impossible to do. 
Nice is the perfect city to stay in when visiting the French Riviera. A big city with small-town vibes, there's plenty to do in and around Nice.  
The charming Old Town is made up of narrow passageways and squares, surrounded by buildings with vibrant shades of red, yellow, and orange.
Cours Saleya is the heart of the Old Town.
Lined by restaurants and bars frequently visited by locals and tourists, you will also find daily markets selling flowers, fruit, vegetables, locally made goods, and food.
Place Massena, located next to Old Town, is home to the statue of Apollo and the Fontaine du Soleil.
The place is surrounded by a park, pastel-coloured buildings, and the large shopping street Avenue Jean Medecin.
The best seafood restaurant in town, Peixes, is also located here.
A trip to Château du Colline is a must for panoramic views of Nice, the Mediterranean Sea, and the lavish yachts parked at the port.
What also makes Nice a worthy city is the vast selection of day trip destinations! You can take a bus, train, or rental car to visit towns like Eze, Menton, Moustiers-Sainte-Marie, Monaco, or even go to Italy.
The lavender fields of Valensole and the Gorges du Verdon are also epic day trips from Nice!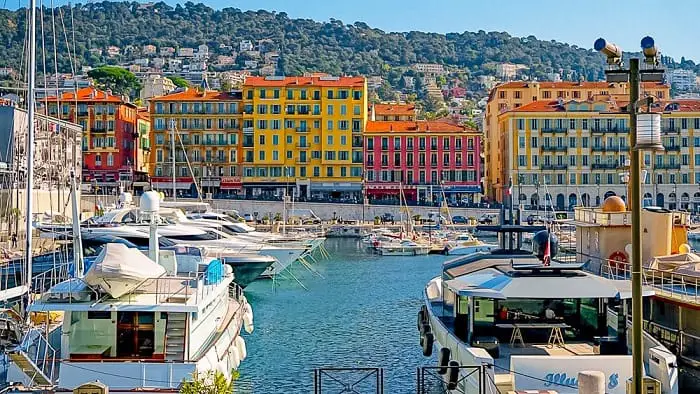 5.

St Tropez, France
If you are looking for the best place to visit in France, I would definitely recommend St Tropez!
St Tropez is known as the French Riviera's celebrity-magnet peninsula.
But when you look beneath the luxurious surface of luxurious yachts and jet-set beach parties, you'll see a surprisingly authentic side of this former fishing village.
Wander the picturesque streets of La Ponche, the old town, and discover a different St Tropez with charming pastel-hued houses, hints of Bougainville, cute cafés and cozy restaurants.
Enjoy the panoramic views from the citadel, visit one of the numerous art exhibitions and indulge in a delicious Tarte Tropézienne under the shade of the linden trees on the Place des Lices.
Hike the coastal trail and take in the views from Cape Camarat.
This iconic French city has more to offer than its glamorous cover would suggest.
I think it's one of the most beautiful cities in France and one that you should have the privilege of experiencing.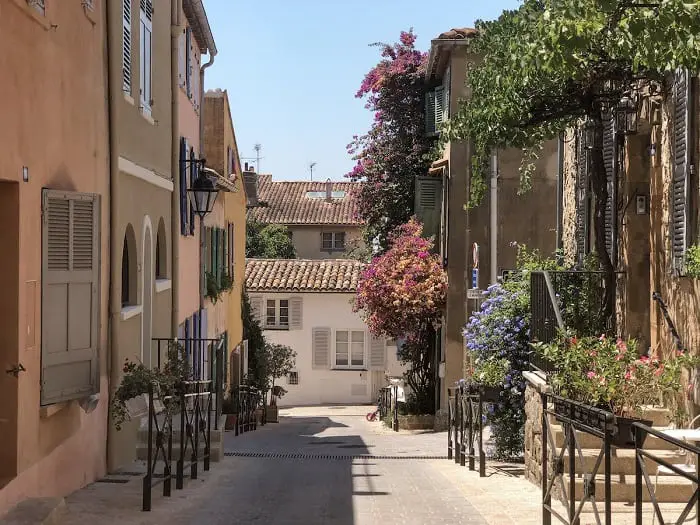 Sarah Vanheel of CosmopoliClan
6. Menton
Menton is the gateway to the French Riviera and the beginning of the Côte d'Azur.
Menton is divided into a new city and an old one. The old city occupies the entire hill and the Old Port.
You can get there by the seaside promenade, so right after leaving the station, it is worth going to the beach and then heading left.
For most, the old part of the city was the biggest attraction of Menton.
We enjoyed walking through the streets and passages.
Behind every corner, we will find stairs, narrow tunnels, and small entrance doors to the apartments.
Menton is famous worldwide for the Lemon Festival (Fête du Citron) organized every year.
The goal of the festival is to encourage tourists to come to Menton during the winter months.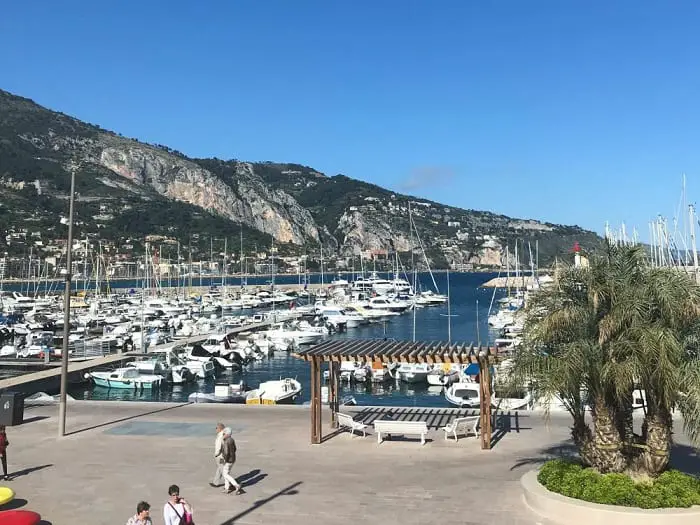 Marta and Milosz – BackpackersWro
7. Lyon
The city of Lyon was once known as Lugdunum when the Romans founded it in 43BC.
With rich layers of history that stretch back thousands of years, it's not surprising Lyon is home to some of the oldest landmarks in France.
This treasure trove of beautiful buildings makes the city a delightful place for lovers of history to explore.
The Historic Site of Lyon is a sprawling area of cathedrals, courtyards, mansions and other stunning architecture that is a UNESCO World Heritage Site.
Besides beautiful historic architecture, Lyon is famous for its silk weavers, and you can delve into the history and intricacies of how the skilled artisans weaved silk at the city's silk museum, La Maison des Canuts.
One of the things to do in Lyon not to be missed is a tour of its collection of outdoor mural art, which is painted on walls and buildings throughout the city.
A tour of these murals is a must-do while visiting Lyon.
Besides visiting museums, admiring lovely architecture and murals, Lyon is also famous for its food and has 20 restaurants on the Michelin list.
But if you're on a budget, Lyon's markets are a great place to sample local cuisine too.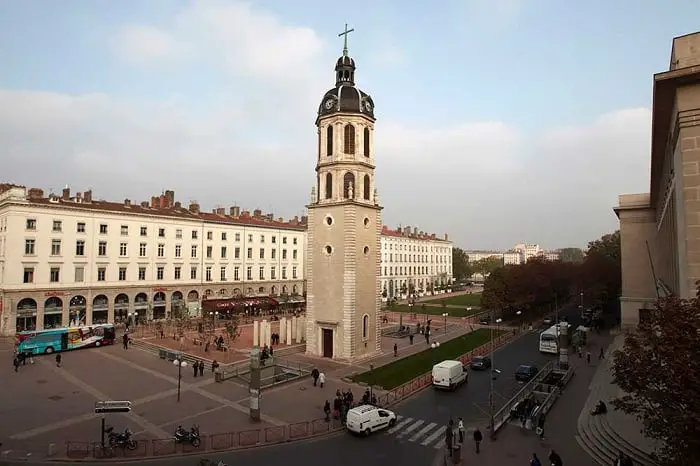 Christina – Travel2next
8. Metz
The beautiful city of Metz is located in the northeast of France! 
This beautiful old town is filled with many wonderful gardens, many French restaurants, and boutiques which are all some of the absolute highlights of the city.
This charming city is located directly on the marvellous Moselle River, where a bridge connects to the island of Saulcy, a charming area with many buildings from the 18th century.
Another must-visit is the Metz Cathedral – Saint-Étienne! 
It is one of the most beautiful and largest Gothic church buildings in France.
All in all, Metz is truly amazing and with lots of historic charm and plenty of wonderful attractions and it is for sure one of the best cities to visit in France.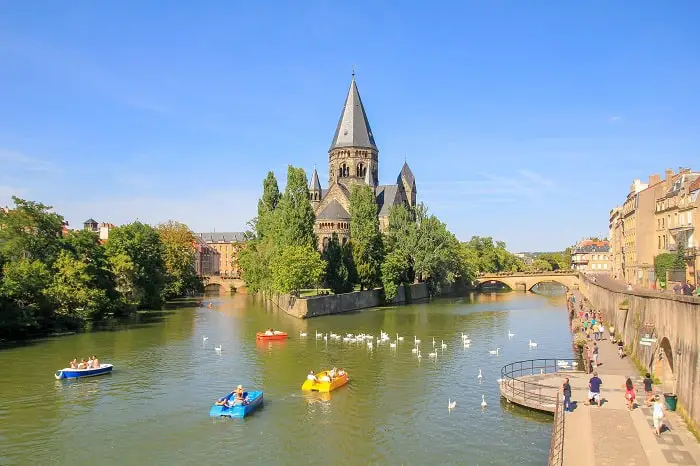 Martina and Jürgen – Places of Juma
9. Arras
The beautiful town of Arras is located approximately 200 km (around a two-hour drive) north of Paris and is one city which shouldn't be missed when you visit France.
There's a lot of history in this city but unfortunately, most of it bad due to the First World War as battles between Germany and the Allied Forces took part in this area.
The most famous of which is the Battle of the Somme and Vimy.
This means the city is a great base to go history hunting, looking for graves and checking out museums.
The city itself is located on the banks of the River Scarpe, and it is built on a huge chalk plateau, alas when it comes to taking in views from tall buildings, visitors can see for miles.
The best place to get a view is Belfry Tower.
It is also here where the entrance to the Boves (underground tunnels) can be found where the forty-minutes tour is worth going to, & seeing what life was like for the locals when hiding from enemies during the wars.
The buildings in Arras also have a Dutch feel to the place which makes this area very unique.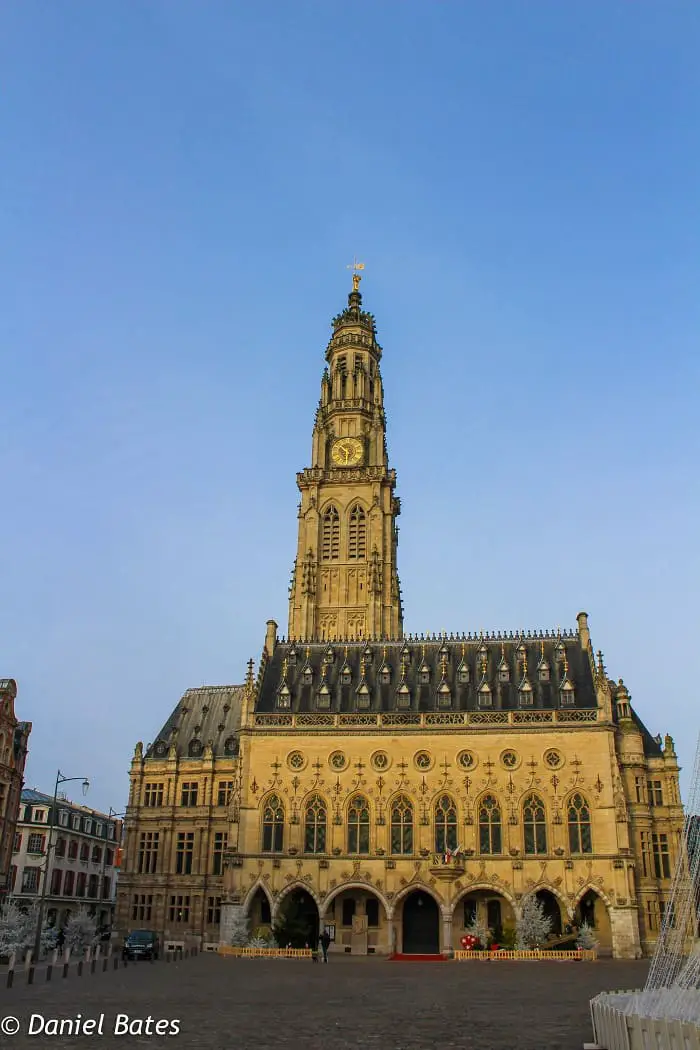 Danik the Explorer
10. Strasbourg
A city to visit is Strasbourg – for sure.
Are you also into beautiful, colourful, half-timbered houses and the medieval feel of a city? Then you will love Strasbourg. 
Visit La Petite France and get lost in the streets with colourful houses and cobbled-street stones. 
Walk from Petite France all the way to Pont d`Auvergne and on the way back spend some time at the UNESCO World Heritage Site, the island of Grande Ile.
There you have the stunning Strasbourg Cathedral, which is one of the tallest cathedrals in the world (so it does not surprise that the views from the top of the cathedral are stunning!).
There is surely more to see – Strasbourg does not lack pretty buildings and cute parks.
And due to its locations, as it lies in the beautiful Alsace region, you can combine it with an Alsace road trip which makes it one of the best cities to visit in France for sure.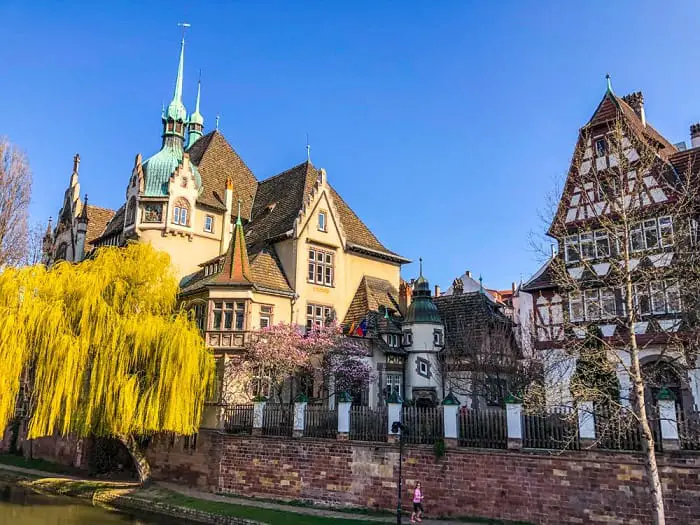 Arzo Nayel – Arzo Travels
11. Chamonix: The Gateway to the Alps
Chamonix is a charming town at the foot of Mont Blanc.
Located in a valley just below the highest peak in Europe, epic mountain views surround the village of Chamonix on all sides.
This is definitely one of the most beautiful places in France.
In the winter, it is a snow sports paradise with some of the best slopes on the continent. However, it's equally exciting during the summer.
From June to September, it's a lively town, filled with mountaineers preparing for their summit attempt, as well as rock climbers, paragliders, and mountain bikers.
Most plentiful are the hundreds of hikers who embark on the legendary Tour du Mont Blanc trek.
During a period of two weeks, they must brave 180 kilometres of trails through the Alps of France, Italy, and Switzerland.
The atmosphere is one of excitement and adventure, and you are sure to meet plenty of inspiring people from all over the world.
Even if you aren't prepared to participate in adventure sports activities yourself, there are plenty of other things to see and do in Chamonix.
You could, for example, take the cable car to the top of Aiguille du Midi.
It holds the world record for the highest vertical ascent and will carry you to some of the most unforgettable mountain views in the Alps at an altitude of 3.842 meters.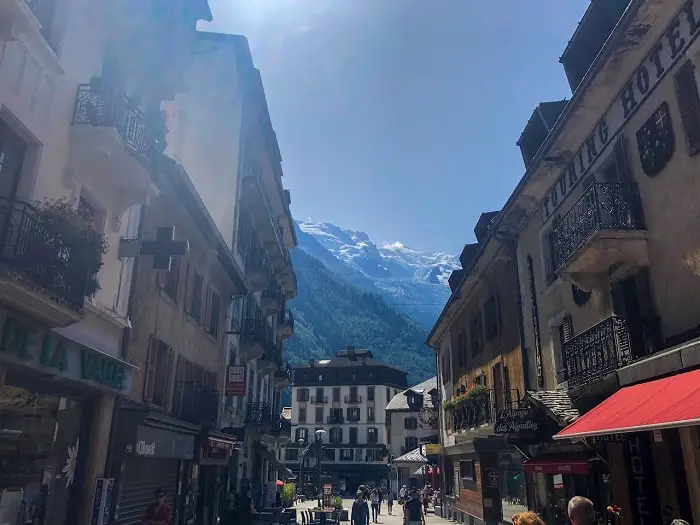 12.

Bordeaux
One of France's most beautiful cities, Bordeaux is much more than the World Capital of Wine.
Known as "The Port of the Moon" because of the crescent moon-shaped Garonne River that snakes through the city center, Bordeaux boasts an incredible 347 UNESCO-listed buildings spanning more than 2000 years of history. 
From wine bars to museums, Bordeaux is a vibrant and bustling city that deserves to be discovered.
While the wine châteaux beckon visitors to this top wine region, don't miss out on exploring the plethora of artisan shops, a range of museums covering everything from wine to natural history, and the foodie scene. 
Jennifer and Tim, the Bordeaux locals behind Bordeaux Travel Guide, recommend not missing out on visiting the Marché des Capucins to start your day.
It's this covered market where you can taste many local specialties including the famous Cap Ferret oysters, foie gras, regional cheese and pastries like the canelé and puit d'amour that originate from Bordeaux.
Follow a fueling up at the market with a visit to La Cité du Vin, a must for any wine lover.
Then wander the city to see the number of monuments, which is like travelling on a time machine through Bordeaux's history.
Finish off any visit to Bordeaux with a meal at one of the city's many restaurants helmed by up and coming young chefs.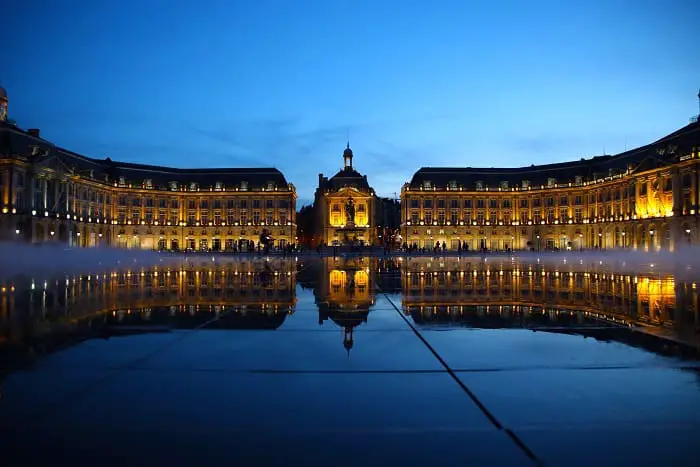 Jennifer & Tim – Bordeaux Travel Guide
13. Calvi, Corsica
I don't know about you, but I love water, good food and good weather.
When travelling to France, you might be overwhelmed by all the fantastic cities and small towns you can visit.
However, one of the most beautiful destinations in France is by far Calvi.
Located on the beautiful island of Corsica in the Mediterranean, just north of Sardinia, Calvi is where French people travel for vacations and holidays.
With miles and miles of beaches and a quaint and charming atmosphere, the views are unparalleled with the bright blue sea waters on one side and stunning mountains stretching up to the clouds on the other.
Stop by the restaurants right along the pier (or the Quai Landry) for a frozen cocktail and seafood caught fresh that morning.
Or hike your way up the iconic Citadel along the shore, initially built in the 12th century!
Either way, Calvi is the perfect beach vacation while still enjoying the romantic nature of French culture and cuisine.
If the beach is what you want, trust us when we say one of the best places to visit in France would be Calvi!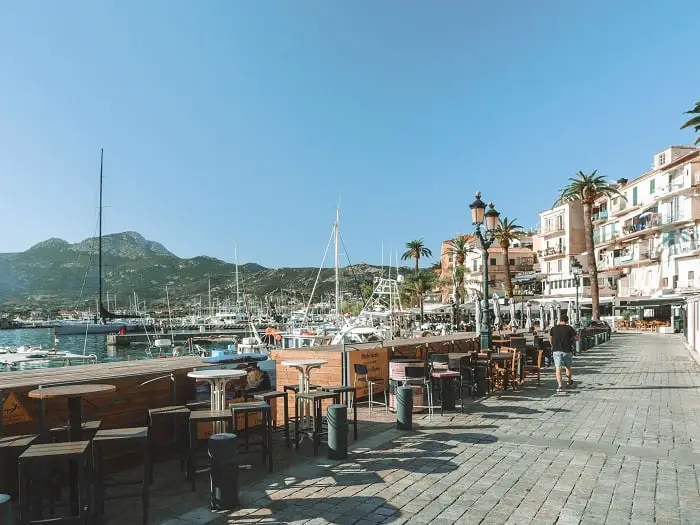 There you have it, a list of the best cities to visit in France. Have you had the opportunity to visit France? If so we want to hear all about it. 
In your opinion, what are the must-see cities in France?
When is the best time to visit France?
Honestly, if I had a way of travelling, I would visit France all-year-round. 
Why? Because I just love that country and I have visited it multiple times now.
I think what you really need to keep in mind is that when visiting France, just avoid the major holidays and all the tourist peak travel times.
French holidays typically fall around mid-July to almost the end of August. January and February are typically a big season for skiing in France (especially mid-February when kids out of school for the ski trips)!
Avoid this time if skiing and winter are not your things. 
So really the best times to visit France are in spring (April-May), summer (June-August) and fall (September-October).
Getting Around France
Now that you are in France, and you are ready to visit some of the best cities the country has to offer, you need to plan how to get around. 
Getting around France is not bad.
I personally think that France has some of the best transportation systems in the world (Please correct me if I am wrong)!
You can travel from city to city in France using the train system. When my partner and I visited, we simply took the slow train and paid with a Eurail Pass. 
They have the TGV line which is expensive and I really didn't get the chance to experience it. According to my partner, we didn't have to. 
We also took the Subway, local buses, and Uber from time to time. 
To really enjoy, we did some of the best tours in France which most of the time included transportation. 
We hope you make it to our top cities to visit in France this year!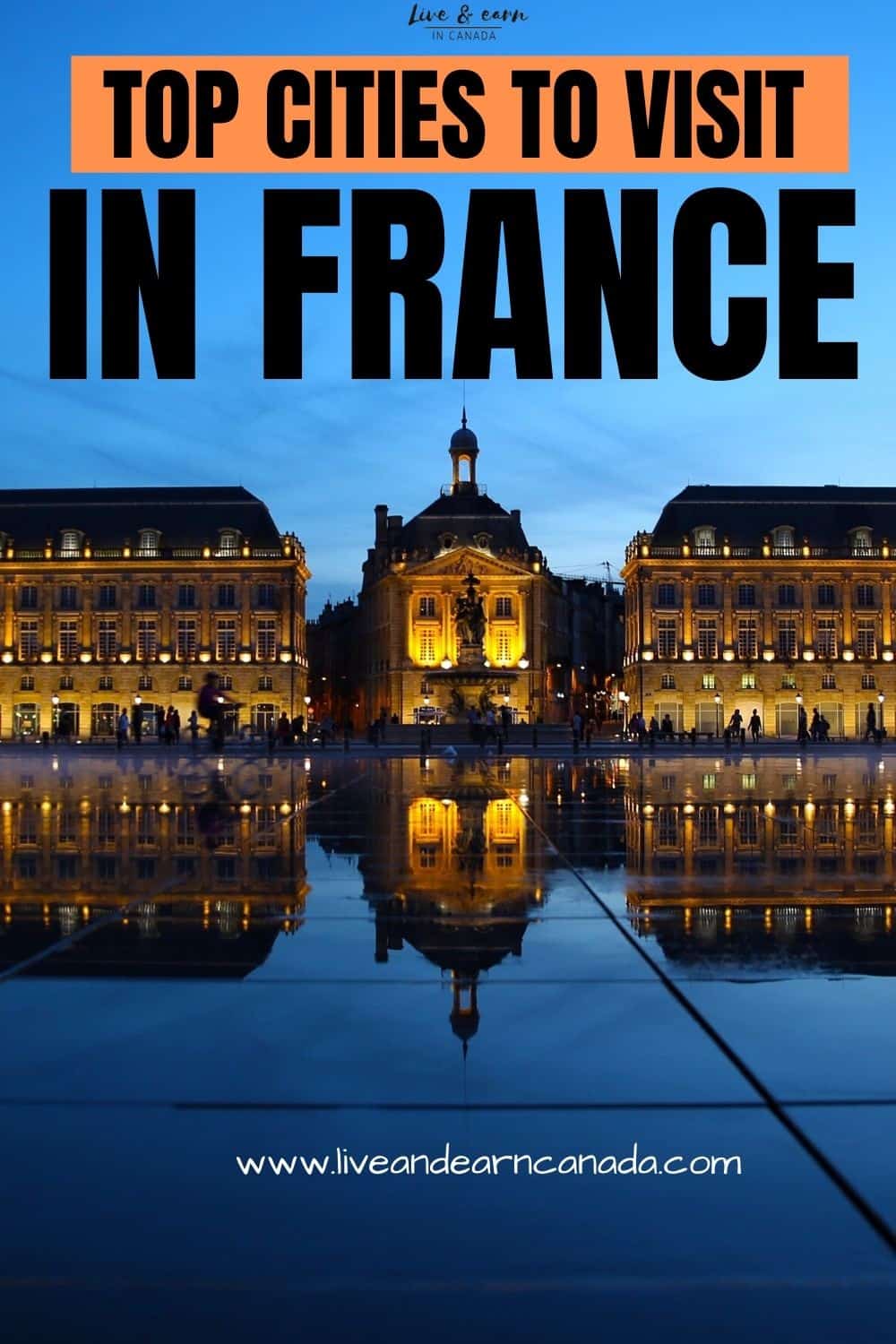 And one last question for you: 
Which is the most beautiful city in France in your opinion?
Related Posts to read next:
The Ultimate List of The Best Cities to Visit in France

in 2021