Solo Female Travel Destinations
Are you adventurous and looking for the best places to travel alone? 
The world is an adventure waiting for you to experience. And as a woman, I highly recommend you find a way to explore everything the world has to offer!
I clearly remember the first time I took a plane all by myself and decided to venture into the big wide world!
I was 18 and eager to spread my wings!
Unfortunately, my best friend at the time could not come with me, so I decided to journey on, and explore the world on my own! 
And maybe you are on the same boat as I was and you do want to travel! 
You might be traveling alone because you didn't have friends willing to join you, or perhaps because you enjoy moments of solitude that traveling in groups doesn't offer.
Either way, they are so many amazing places to travel alone that you can explore safely!
Before we get started on tips of the places to travel alone, we did want you to follow us on Instagram for more amazing tips. 
We also wanted to take the opportunity to let you know that we use Affiliate links on some of our blog posts. This means that we could make a commission if you click on an affiliate link and purchase something. Read our full disclosure and blog policy for more information.
Is it safe for a woman to travel alone?
Women have come along way and wanting to do their own things is everyone's free will!
We are much stronger, more independent and take risks more frequently. So is it safe for a woman to travel alone then?
Just with anything you do, safety should be your number one concern whether in a group or independently!
Yes, it is safe for solo female travelers as long as you keep safety in mind!
A few things you can do ensure you are safe while traveling alone: 
Avoid flights that have a late arrival time such as 2 am in the morning

Always dress appropriately, especially if you are unsure about the cultures of an unfamiliar country

Avoid sharing where you are staying especially on social media

Use licensed transportation (Taxis) 

Don't answer hotel doors especially if you are not expecting any company 

Don't wear flashy items on you such as jewelry 

Keep Phones, cameras, and laptops out of view if possible 

Don't accept food or drinks from strangers

And check the crime rate of the country before traveling
Otherwise if you are wondering where can a woman travel alone? 
They are plenty of places and options available for solo travel.
Places to Travel Alone for Female Travelers 
If you have a personal bucket list of travel destinations you want to really visit and you have no one to go with, this list will help! 
If you find that your friends don't share the same travel passion as you, don't be afraid to book a flight and go to a place you want to explore alone! 
With that in mind, check out these destinations that are welcoming to most single travelers especially women.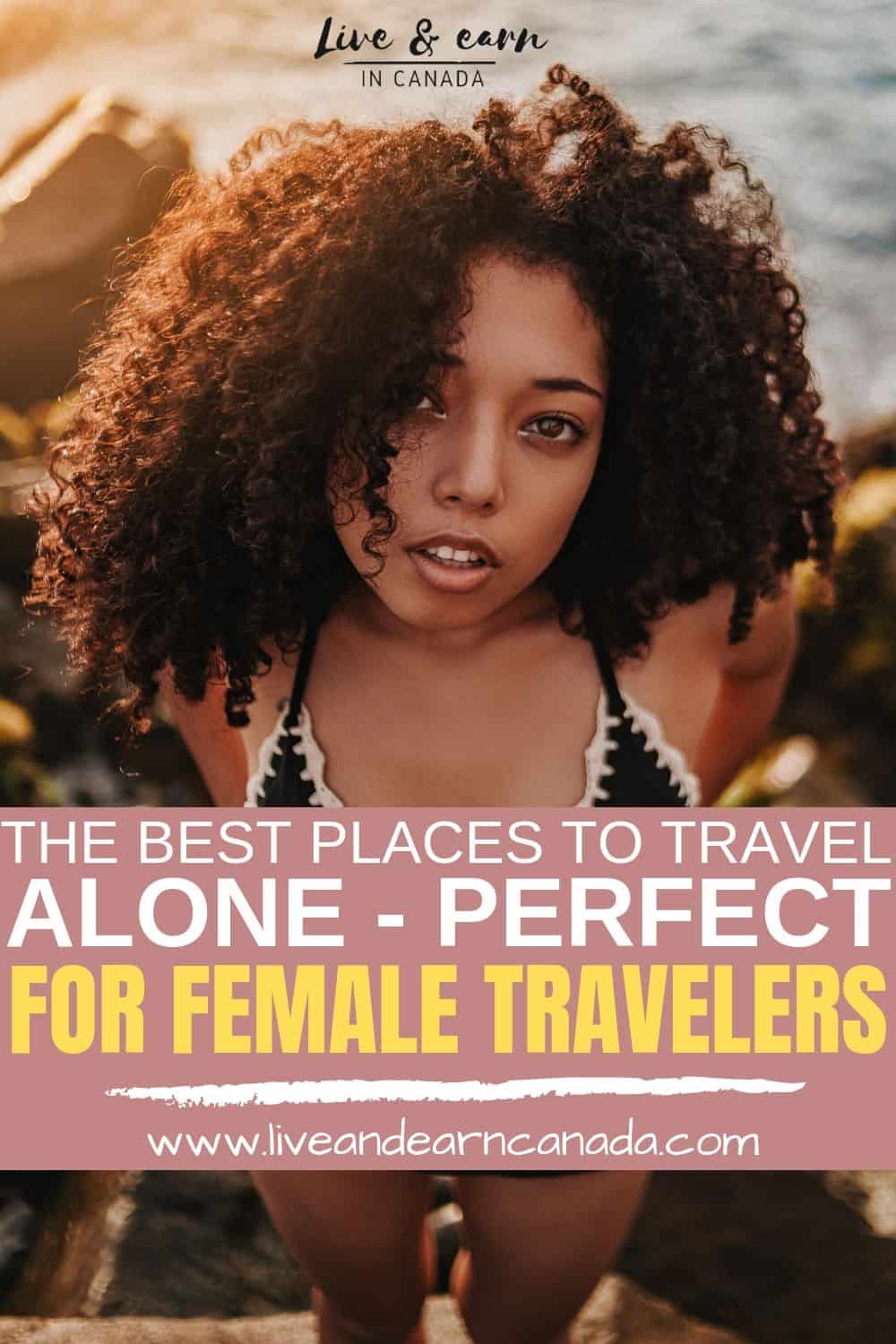 Best places for women to travel alone:
1// Solo Getaways Australia
I have been to Australia, in fact, I lived there for a couple of years (2)!
Australia is a great destination for those who are looking for a variety of adventures. Many women travel alone to visit this gorgeous country.
Honestly, it's one of the best places to travel to as a solo female traveler and it is totally safe!
From sunny beaches and snorkeling to the excitement of big cities, Australia has unlimited options for the solo female traveler.
You can rent a variety of rooms is hostels and private apartments there as well, which means you can save money and live quite comfortably while on your travels.
Don't forget AirBnB! 
2// Solo female travel in Thailand
Thailand is an extremely welcoming place for a solo female traveler.
Bangkok, in particular, is an amazing place to travel alone, yet you will find that you do not feel alone for long there, due to the many amazing people you will meet.
Beautiful temples and amazing walking trails are among the many activities you can enjoy in this gorgeous country.
3// Visiting Tanzania
As an African, I love going back when I can. I have actually traveled to many places in Africa and yes I can tell you that Tanzania is safe!
Tanzania has many rich experiences that await the solo female traveler that you are!
And is it one of the best places to travel alone and explore everything it has to offer.
Going on a safari is a must, but there are many other great adventures – such as hiking Kilimanjaro.
Both places have many companies that offer group trips.
You will find the people who live in Tanzania very welcoming and they will make you feel at home immediately.
4// Solo travel to Ireland
Ireland is a fun country for those that enjoy and choose to travel alone!
It is normal for women to be alone there, and there is no language barrier to face which makes the journey a little more manageable.
Even strangers are friendly, and those who are from Ireland will be happy to help you out if you need directions or ideas about what to do in Ireland!
Take time to soak in the beautiful scenery that Ireland offers, and be sure to visit a few pubs while you are there.
5// Eating Sushi In Japan
Japan is a wonderful country full of rich experiences.
The people there have a reputation for being welcoming to visitors, and you will have no trouble finding help whenever you need it.
Consider visiting some temples and museums there, and enjoy the tasty cuisine, which is generally healthy and light.
If you have had Japanese food then you know how great it is! Only this time, you will be tasting the real deal!
My bucket list is to actually take my family there for a visit sometime in the next few years! 
6// A Trip To Spain Alone
Spain is another place to visit where solo travelers are not seen as out of place. In other words, it is the norm!
Hotels generally give you a reasonable rate when traveling alone, which is not the case in all countries.
So take it!
Short and extended study vacations abound in Spain, so it is one of the best places to travel alone when learning is one of your goals.
And there you have it, amazing places to travel alone if you are looking for an adventure to last a lifetime! 
Traveling alone is an experience that will help you learn more about yourself, become comfortable in your own skin, and gain a new confidence that will always stay with you.
Consider trying at least one or two of the locations suggested on this list! 
It is perfect for you if you want to learn more about the world, and have a wonderful, unforgettable time on your trip for one.
Have you visited any of the places listed above? What are some of your favorite places to travel alone too? 
Related: 
How To Afford To Travel – Cut Costs On Transportation Expenses
15 Free Things to Do In Ottawa This Year For Fun
The Best Places to Travel Alone – Perfect For Female Travelers