Find A Travel Buddy Easily
I have always had the luxury of traveling with someone, but if you are looking to find a travel partner, they are plenty of ways to do so safely. 
Traveling with the right people is the only way to totally enjoy your trip. Bad company can ruin your vacation very quickly. 
Personally, I have always traveled with my family, my best friends, or my partner.
And not everyone has had the opportunity to do so and because of this, they typically turn to travel solo. 
But if you are ready to bring someone with you on your next trip, use our methods below to find a travel partner that is right for you.
What is A Travel Companion? 
A travel companion is someone that you typically go traveling with.
It could be family members, friends, or a group of people that enjoy traveling together.
You could also coordinate traveling arrangements with other solo travelers.
With a travel companion, you could be sharing the same accommodation, sharing travel itineraries including things to do at a particular location and everything else that comes with the travel.
They are so many amazing websites to find travel partners such as flip the trip app and others that we are going to share below.
Get ready for our top lists of sites to help you find a travel buddy.
Even with all the amazing information out there, it can be hard to find the perfect travel partner!
With all of this in mind, does it mean you really have to have a travel partner?
If you are looking for a travel buddy, keep reading our tips, suggestions, and opinions on how to look for one.
Before we get started on how to find a travel partner, we did want you to follow us on Instagram for more amazing tips. 
We also wanted to take the opportunity to let you know that we use Affiliate links on some of our blog posts. This means that we could make a commission if you click on an affiliate link and purchase something. Read our full disclosure and blog policy for more information.
Why Should You Find A Travel Partner?
They are many benefits to finding a travel partner.
I myself love the company of having someone else with me although you can easily make friends with other people while on your trip.
I also personally enjoy the simple fact of sharing travel expenses with other people or with someone else.
This means I may have more money to do other things, buy more things, or just have some extra money left over.
A travel companion also means you can share feedback as well as come up with things to do.
Traveling with others also means you may be more secure and safer rather than if you were alone.
As much as traveling with other people has its advantages, traveling alone is also fun!  
Find A Travel Partner Online
There are so many ways to find travel partners in this day and age. And one of the most popular ways of doing that is by finding a travel partner online.
They are travel buddies apps you can use, Facebook groups, travel forums, and much more. 
We are going to help you: 
Find a Travel Companion

Get tips to Find Travel Partners

Find a road trip partner

If you are looking for a female travel companion, keep reading

We are going to share our best travel companion sites
If you really want to find people to travel with, we have action-packed information for you to go through below.
Sometimes travelling with people makes the whole experience so much butter!
That's we really wanted to find the best travel buddy app for those looking for a travel partner for their next trip. 
Are you ready to find the best travel buddy? Let's get started.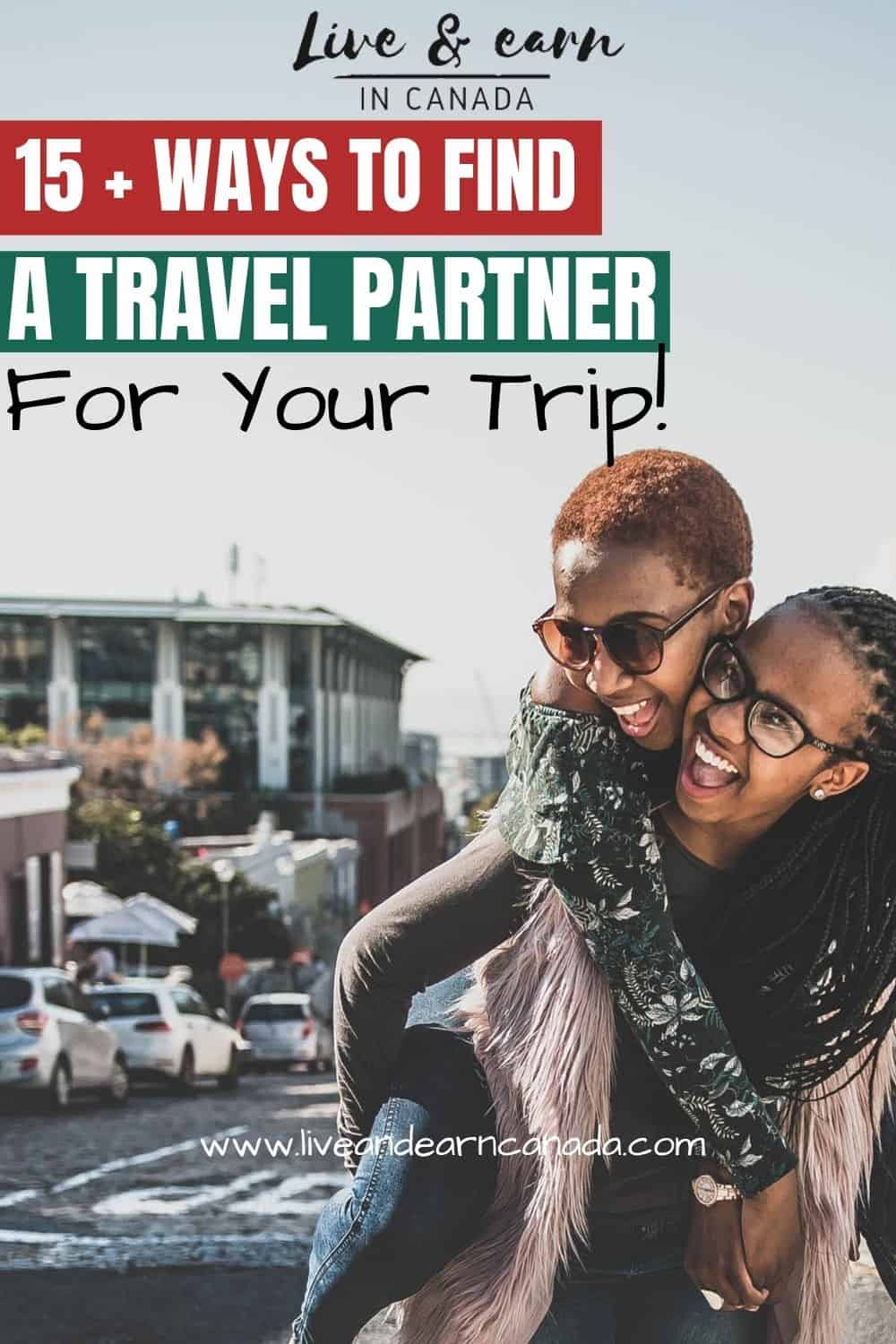 Apps To Find Travel Buddies
They are a variety of travel buddy apps available on the internet.
You will just need to go through them one at a time to find a travel app that best aligns with your needs.
We are going to share travel apps that we have personally used as well as highly recommended ones after great research.
You will still need to exercise some caution even though we highly recommend these apps. Safety is always a priority.
If you have used any of these travel apps before, tell us in the comments below. 
1// Trip Giraffe
Trip Giraffe has an amazing interface and I just love the ease of using this app.
Why I love Trip Giraffe? 
TripGiraffe is the right tool if you find yourself in need of finding a travel buddy.
You can browse travelers and detailed trips until you find the perfect match for a travel companion.
They make the experience of finding a travel buddy as easy as possible so you can start traveling together in no time!
2// WorkAway
WorkAway is an amazing site, which was built on a sharing community of global travelers who genuinely want to see the world whilst contributing to the places they visit.
There is a fee to join this amazing site. 
This fee enables them to contract reliable servers, pay their development team, and also enables them to have staff 24 hours a day 365 days a year available to answer emails and general queries! 
They also give both workawayers and host advice on how to build an effective profile. 
3// Trip Together
Trip together is a social platform available on App or web, which allows you to connect with over a million registered travellers easily.
It makes it easy for you to filter people by gender, age, destination as well as travel dates which ensures you find a travel partner that is compatible with your next trip! 
4// Couchsurfing
Couchsurfing is the best way to stay with locals, make lifelong travel friends, or host travelers coming to your hometown.
With Couchsurfing, you are guaranteed to make new friends, meet travelers without actually traveling as well as find a place to stay should you wish to take a trip! 
5// Backpackr 
Try backparkr today to help you find a travel partner in no time. 
This app allows you to discover travel buddies as well as to connect with other like-minded travelers across the glove!
Travel the world while meeting backpackers who want to see and do the same things as you do.
6// Wandure 
Wandure is a personalized hostel on your phone – providing you with a network of travel buddies and awesome bookable activities in all corners of the world.
Matched by your destinations of interest in common, you can find people in your home city who you may want to travel with.
Or if you're bold and want to travel solo, you can meet travel buddies in your destination once you've arrived.
7// Travel Friend
Are you looking for someone to share your next trip with?
With over 2 million members and countless matches, Travelfriend might be just the right place to start.
It's a simple and fun way to meet people from everywhere who share the same passion for traveling as you do.
Grab the app and start connecting with travel buddies today! 
8// Flip The Trip
FlipTheTrip is an app for travel meet-ups with fellow travelers and the locals. 
The app connects tourists, backpackers, or relocators who will be in the same place at the same time with the locals or other travelers for sightseeing.
Use A Travel Forum To Find Travel Partners
You can use a travel forum to connect with other travel partners that you share the same interests with as well as going to the same travel location.
We are going to take a look at some of my favorite travel forums which are a great way to find a travel partner. 
1// Lonely Planet Thorn Tree
Lonely planet thorn tree is a community filled with independent travelers that share travel experiences and tips.
In this forum, you are able to find a travel buddy to take on your next adventure.
It's an amazing forum that you can definitely learn about the different destinations you are hoping to travel with.
Be sure to check them out if you are planning on finding a travel partner for your next trip. 
2// Travel Facebook Groups
You can use social media to find a travel partner easily. 
I prefer using Facebook groups as you can get feedback and see how other people are able to find travel buddies successfully.
In my opinion, you might want to join a few travel Facebook groups and filter out your best ones as time goes by.
A few travel Facebook you might want to try to find a travel partner are: 
The Solo Female Traveler Network
Always exercise caution when meeting other people online, especially if you plan to travel together. 
3// Traveler's Point Travel Community 
Traveler's point travel community is a forum and a great tool you can use to find a travel buddy easily.
With this forum, you can plan your trip by creating a visual map of your travels, create a packing list, find and talk to people that have traveled to your destination, and much more. 
4// Travel Buddies 
Travel buddies are a free social network that allows you to find a travel partner very efficiently.
Travel buddies are definitely aimed at backpackers, but you can find other groups within the platform that may be going to the same destination location as you are. 
5// Go GAFFL
GAFFL is a popular website perfect for those that are looking to find a travel partner.
On this travel platform, you can find travel buddies, share costs, and experiences with others that are looking to travel.
It is really easy to find a travel partner on this platform. 
To use it, you will search and select a destination to find a travel buddy or buddies.
It also has a great chat section, which you can use to plan with your trip members using the group chat, meet up with your group members at a pre-decided public place, and travel together.
6// TripAdvisor Travel Forum
This popular travel forum is a go-to for many travelers that are seeking a travel partner. 
It is moderated and run by volunteers who are known as travel experts.
The platform is filled with precious information that you can use as a guide while planning your next vacation. 
Meet Travel Buddies – Safety First 
Meeting people doesn't have to be scary as long as you are cautious. It's just like going on a blind date, the rules are almost the same.
Always use common sense and if something seems off, stay away, and trust your instinct.
A few things you can do when you first meet up with your travel buddy or travel buddies: 
Meet in a public place like a coffee store preferably during the day 

Always let someone know in advance who and where you are meeting that person (if possible, take someone with you) 

Get a bit of background information about the person you are traveling with at your meeting

Don't let anyone convince you to meet them at a location you are not comfortable with

Ensure the vibe is great when you meet, if not, cancel your booking. 
Avoiding Scams while finding a Travel Partner
They are people out there that are scammers and it is up to you and me to identify them before any harm comes to us.
The internet is full of crazy people just like in the real world.
Be sure to be extra cautious, and learn to walk away when things seem suspicious. Here are a few things to be aware of:
Avoid anything that requires you to wire money or send money (who does this anymore)?

Oversea scammers tend to work on the wiring money scams -stay clear

Don't wire money to strangers

Never agree to deposit cheques or wire money – NEVER 

Never give away financial information to anyone  – especially over the phone or email

Avoid sharing too much of your personal information with your travel buddy before the trip, during the trip or after (Address, account information, or anything they might use against you) – Stay as general as possible. 
Our last tips are to always be cautious of who you are meeting.
If things sound and look too good to be true, then this is your queue to walk away! 
Travel Partners Canada
If the information above is not sufficient enough for you to find your travel partner in Canada, you can use Facebook-specific travel groups for Canada.
You can also use the platform Meetup.com to find Canadian-specific Travel partners. 
Best Travel Buddy App
Now that we have given you all our tips about ways to find a travel partner, we wanted to give you an idea of what the best travel buddy apps are.
Most of the ones mentioned here are all great in terms of helping you find your travel partner.
I would definitely start with travel forums as you can ask questions, read a few posts from past travelers, and see who has had success.
From here, I would then check out the travel buddy apps. 
Are you ready to find a travel partner? 
Tell us in the comments below, and if you have ever used any of the travel buddy apps we want to hear your experience in the comment section.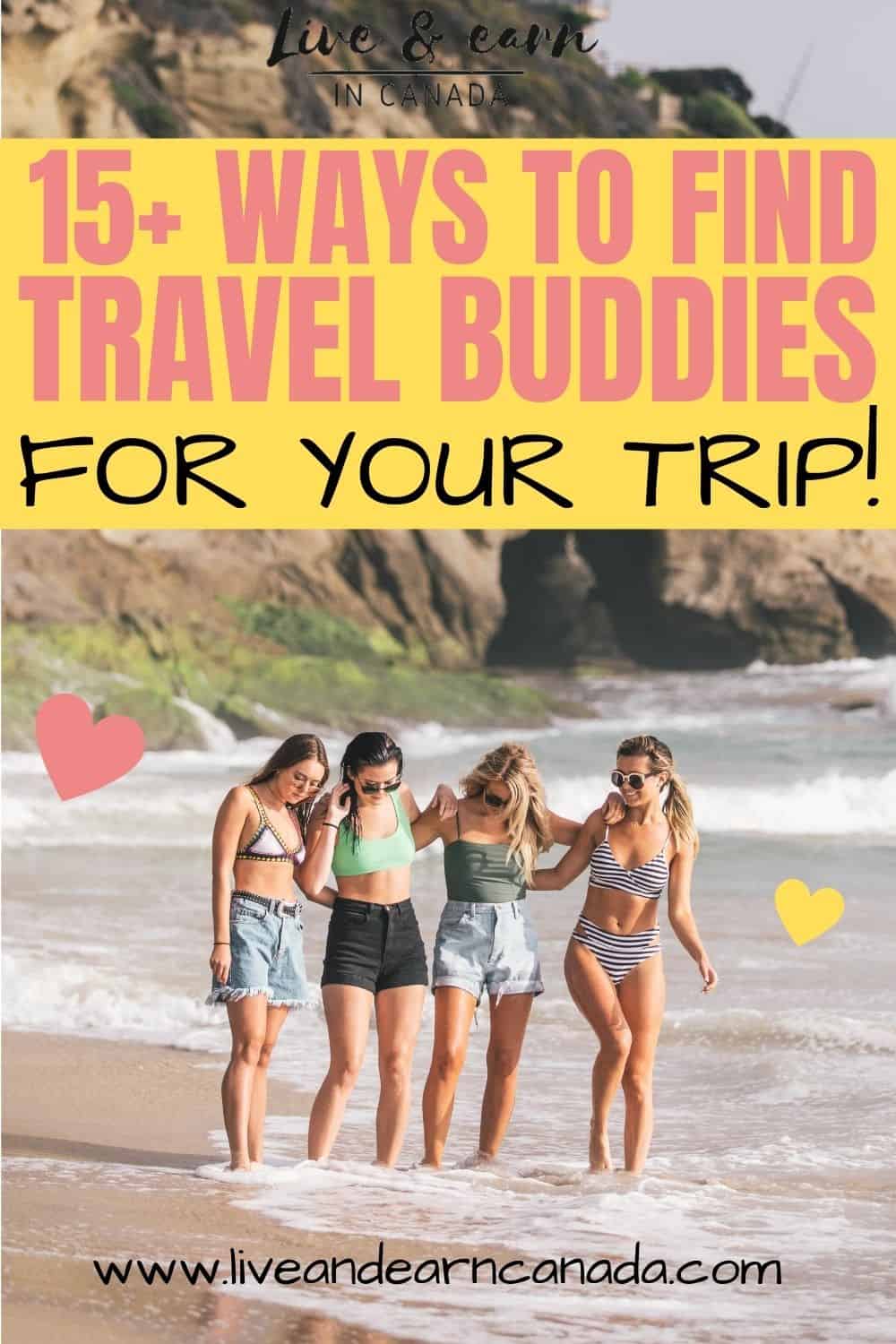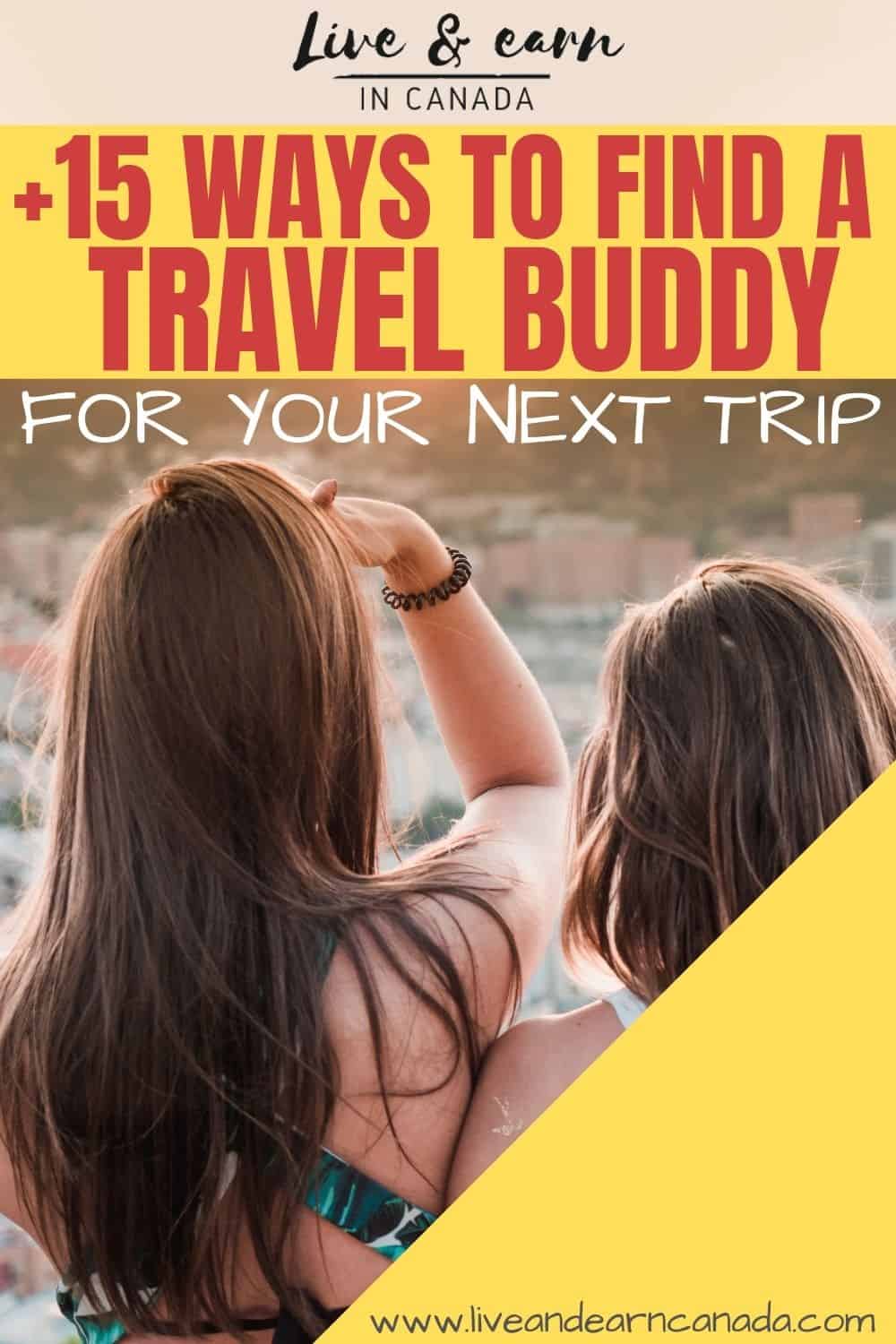 Read this next: 
The Best Places To Travel Alone – Perfect for Female Travelers
How to Afford To Travel – Cut Costs on Transportation Expenses
15 + Ways To Find A Travel Partner For Your Next Trip Online (IN 2021)