Budget Your Trip
If you are looking for creative ways on how to afford to travel, you might want to look at where most of your travel expenses are allocated to!
From experience, this is typically on the cost of transportation.
As I am planning my family trip to Mauritius, a majority of our expenses are going to be on plane tickets.
And this brought me to my next project on finding different ways to save money on transportation.
I would really love the opportunity to take my family to the beautiful country of Mauritius!
The only way is to trim my travel budget as much as I can.
I am trying to find all the ways on how to afford to travel and take this trip by the end of the year!
So how can you cut your transportation cost in order to fit your travel budget? 
There are a number of ways to save on transport when you are on vacation.
You can start by using the smart travel super bundle to save extra money for your next trip! 
Ways to Save Money on Transportation
Depending on where you are traveling too, most of your travel expenses will be made up of the transportation costs used for getting you to a particular location. 
Before we get started on creative ways on how to afford to travel, we did want you to follow us on Instagram for more tips. 
We also wanted to take the opportunity to let you know that we use Affiliate links on some of our blog posts. This means that we could make a commission if you click on an affiliate link and purchase something. Read our full disclosure and blog policy for more information.
17 Ways on How To Afford To Travel
By following our travel tips below, you will be well on your way to planning your next vacation without worrying about your travel budget! 

Save Money On Plane Tickets
If your next vacation requires that you travel by plane, here are a few amazing tips you can use to cut expenses before you book your ticket! 

1// Save money on tickets
You can save a lot of money on airline tickets by being flexible with your travel dates.
A day or two earlier or later can make a huge difference in the cost of your plane tickets.
Tuesdays through Thursdays are usually the cheapest days to travel by plane so keep your date flexible.
You might even find that traveling a week later or before can make a huge difference! 
2// Try Using A Different airport
Sometimes, flying into a different airport can save hundreds of dollars per ticket per flight.
Larger cities typically have multiple airports which will give you a few different options. 
When going to Europe for example, I found flying out from Montreal to France a lot cheaper than from Ottawa!
I also found flying to Marseille instead of Paris a lot cheaper by thousands of dollars!
And simply booking flights within the country much cheaper. 
3// Consider the costs getting to and from the airport 
Other ways to cut transportation costs is how you get to and from the airport.
If you are driving yourself to the airport or a certain location, you are most likely going to have to pay for parking.
Long-term car parking can be expensive and in some cases an unnecessary expense. 
Find ways to eliminate these costs and weigh your options.
Some hotels or park and pay can give you good deals.
For example, stay one night at a hotel park your car for a week.
And airport parking areas offer deals if you pay 2 weeks in advance and so this deal might be best for you instead!
Shop around and find ways on how to afford to travel. 
4// Avoid Over Packing 
Depending on where you are located Airlines can charge a small amount these days for checked baggage.
In fact, in Canada, most Airlines are now charging for checked luggage everywhere within the country! 
Be very intentional about what you pack for each person you are traveling with!
Use the space you have very wisely to avoid extra costs. 
5// Watch out for creeping fuel surcharges and airport taxes
Have you bought your tickets only to find an additional $500 in crazy taxes?
Typically these are included in the price of your plane tickets, but if you are booking your tickets online, that cheap airfare ends up costing you a lot more than you might have bargained for! 
I would definitely keep a close eye on it if you can! 
6// Try To Book Package Travel Deals if possible
When trying to figure out how to afford to travel, be sure to check out package deals.
A lot of places offer deals that you can combine that might end up costing you a lot less than buying or booking them individually. 
A flight, hotel and car rental for one inclusive price can be a good deal if you do profer research.
You could end up saving thousands of dollars by booking package travel deals.
7// Collect Air Miles For Your Budget Trip
Some businesses, banks and or reward places allow you to collect air miles that can be used to redeem plane tickets or transportation fees.
Air miles can all add up to big savings for your next planned vacation as long as there are no high fees for booking.
Charges will usually be highest for last-minute travel, such as less than two weeks prior to departure so definitely book in advance.
8// Consider Booking Vacation During The Off-Season
Take a look at your travel destination and figure out when the low travel season is. Certain places like the Caribbean, traveling between January and April can be really cheap. 
But when I looked for the exact same flights during June and July, the cost was almost double. In some cases, almost triple. 
In other words, avoid flying at the peak of the holiday and summer seasons.
Try for spring or fall getaways instead.
Traveling by Car
If your vacation is not too far and can be done using a car, here are a few tips for saving extra money. 
Detailed advice on saving money when you are traveling by car:

9// Make sure to have the car serviced before you go
Before the road trip, be sure your car is in good condition.
This not only saves money on gas, but it can keep you safe and help you avoid emergency repairs while on the road. 
You don't want to end up with breakdowns and/or any costly repairs on the road.
10// Don't forget the tires
You definitely want to keep an eye on your car tires, especially in warm and cold weather!
The state of the tires can have a significant impact on fuel mileage. Also during weather changes, different tires are needed. 
11// Keep An Eye Out On Good Gas Prices
If you have more than one option, shop around.
My partner uses an App called Gas Buddies which allows you to check out gas prices around your area!
This way you will know exactly where to find the cheapest gas prices in your area and when to buy some.
12// Pay Cash For Your Gas
This can save you around 10 cents a gallon because so many gas stations these days are passing along the credit card company charges to the customer.
If you can pay for cash on your trip you can afford fees that may come with using your card. 
Cheap Coach Holidays
With a wide variety of stunning destinations and exciting itineraries, experience your next vacation using a bus tour which is the ideal way to see and experience the best sights you can see.
13// Go the all-inclusive route
Consider an all-inclusive coach holiday, especially if you are not too fond of driving.
They can be very cost-effective and offer sightseeing to top locations. Do your research and find affordable coaches. 
14// Grab Your Bus Passes
These are popular in Europe, Canada and other locations where people like to see the sights by bus.
You could get a pass offering unlimited travel for 7 days, for example.
Compare the price of the pass with the individual prices of the tickets between all the destinations you want to visit.
Train Travel
 Taking the train has long been popular in Europe.
Canada is also home to train travel!
One of the best ways to travel in Canada is by train: you can enjoy the scenery without having to keep your eye on the road.
Skip airport security and enjoy some sightseeing traveling by train! 
15// Train passes
As with bus passes, these can be a really cheap way to see Europe and the rest of the world.
Note that some train systems will have first, second and perhaps even third-class options.
The latter should be the cheapest, and reasonably clean and comfortable in most cases.
When my partner and I visited France a few years ago, we did use the train to go from one city to the next.
It was completely affordable and the best way to see the country.  
Affordable Boat Cruises
Compare & find cruise deals online.
Booking a cheap cruise is actually quite easy and requires that you are flexible with your booking. 

16// Book a cheap cruise
A cruise is a great deal because your transportation and hotel all rolled into one.
Before booking your cruise vacation, check out each travel destination carefully to make sure there will be enough to do.
Some will stop at interesting destinations, while others will spend most of their time off the shore of their own company-owned island for people to do water sports and other activities.
Try to look for last-minute deals and packages if you don't live at a cruise ship port of call and have to fly to get to your ship.
Boat cruise deals will really depend on where you are located! 
17// Consider Group Travel VS Solo Travel
Don't get us wrong, we love solo travel and traveling alone can be therapeutic for a lot of people including me.
But sometimes, when money is really tight, group travel just makes sense.
Traveling with a group, usually, 4 to 7 people, can really help cut down on travel expenses!
Larger groups can get the best deals and rates if they plan ahead.
Read this next:
Canada: Visiting Canada and Everything you need to know
The Best Places To Travel Alone: Perfect for Female Travelers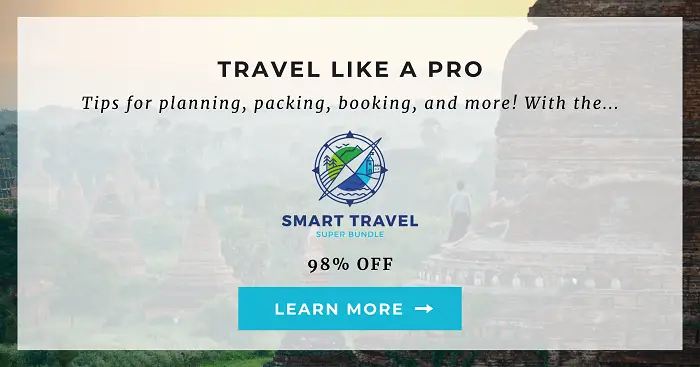 How To Afford To Travel – Cut Cost On Transportation Expenses