Indoor Water Park in Quebec
Our day visit to the Valcartier Bora Parc was a great success.
If you are long things to do in Quebec City especially with kids, then you have got to visit the Valcartier Bora Parc. 
I totally wish that we had taken the day pass instead of the half-day as it was just a lot of fun. 
We have almost come to the end of our 5 day trip across the eastern side of Quebec and I will share everything with you in the next couple of days. 
The full trip cost us just under $800 for a 5-day road trip across Quebec.
I can tell you the best part of the trip was the indoor water park in Quebec which my 2-year old daughter fully enjoyed.
If you are thinking of visiting Canada, and you happen to be in Quebec City, be sure to go to the Valcartier Bora Parc. 
Village Vacances Valcartier in Quebec
After a 4 hour drive from Orleans (Ottawa, Ontario) to Quebec City, we did a quick stop and checked into our hotel room.
Although tired, we decided that we were going to take our daughter out to have some fun before going to bed.
She did just endure a 4-hour drive (with a few breaks in between) and so we decided some fun was well deserved. 
We already had the Valcartier Bora parc on our list of things to do in Quebec City, but because it was already late in the afternoon, we did not know if it was worth the drive to the park.
After doing a quick google search, we found that the evening price was actually cheaper than the day pass at the Bora Parc.
This was a good thing as we were on a plan to travel as cheaply as we could (as we were planning another trip in a few months to Mauritius).
Cheap worked for us at this point. 

Before we get started on Valcartier Bora Parc we did want you to follow us on Instagram for more tips. 
We also wanted to take the opportunity to let you know that we use Affiliate links on some of our blog posts. This means that we could make a commission if you click on an affiliate link and purchase something. Read our full disclosure and blog policy for more information.
About Bora Parc – Indoor water park Quebec
Bora Parc is located about a 30-minute drive north of Quebec City.
It offers a lot of fun activities available on site should you wish to explore more.
We were most attracted to the indoor kid-friendly water park and the accommodation they had at this resort.
However, we had already made plans to stay at an alternative hotel close to the airport as it gave us quick access to leave Quebec City faster the following day.
The next time we return to the Valcartier Village, we will definitely stay at the Village Valcartier Hotel! 
We got to the park just on time for the evening water park session!
(No Line-ups – score!) 
If you are looking for the address for the Valcartier Bora parc – You can find it here: 1860, boul. Valcartier, Saint-Gabriel-de-Valcartier (Québec), G0A4S0 (Canada)! 

Ticket For Valcartier Bora Parc
Check-in was much easier and faster during the week than we expected.
No crazy lineups, no wait time just quick service which we really appreciated.
Cost of tickets at the indoor water park: 
Day Pass – From 10 a.m. to 4 p.m. (or from noon to 8 p.m) –  $34.99
Evening Pass Ticket – From 5 p.m. to 9 p.m. (or from 4 p.m. to 8 p.m) – $29. 99 
VVVIP 3 days unlimited (Until 2nd of September 2019) -it includes 3 consecutive days access to the Bora Parc and the Outdoor Waterpark, 10% off at the boutiques they have on location, 25% off massages and the thermal experience at the Aroma Spa and a $5 gift card for the Digital Games Room – $99 per person

Sun and Bora

(Until 2nd of September 2019) – Access to the Outdoor Waterpark from 10 a.m. to closing and access to the Bora Parc for the evening time slot –

$65.98 
Kids that are 1M or less are free – My daughter got a free pass which was another sweet score. 
You definitely want to bring your own towels which we didn't do, otherwise, you are paying an extra $10.00 per towel. 
Cost of tickets for the Bora Parc – indoor water park for a couple and a baby:

$69.98
This included 2 adult tickets for $29.99 each and $10.00 for a towel! 
You can also get season passes to the Bora Parc which gives you full access to the park for an entire season!
And if you would like to experience the outdoor water park in Quebec, the website has the full price list available! 
**Please note that these are summer rates, and winter rates are different. Rates can also be subject to change and you need to get updated rates on the Valcartier Water Park website before making a decision. 

Groupon Bora Parc 
You can definitely find some great deals on Groupon for the Bora Parc.
An example of a Groupon deal for Bora Parc could be a one-night hotel stay and spa including tickets to the water parks. 
Or even just a hotel and tickets to the water park. 
The Groupon deals change frequently and because of this, we highly suggest you check the website for frequent updates.
And if you are not registered on Groupon yet, do it now.
So many amazing deals to grab. 
Our Review of The Valcartier Bora Parc
We arrived for our evening session at around 6:30 pm. The resort offers free parking for hotel and non-hotel guests visiting the water park. 
Ideally, if you can get to the Valcartier Bora Parc at 5 pm or even at 4 pm, the better for you.
You will get your money's worth of activities.
By the time we paid, changed, showed and got into the indoor water park, it was close to 7 pm.
When you enter the Bora Parc, you will be led straight into the communal changing area which has lockers. 
Mistake number one we made was not to get ourselves a locker.
They did have a spot for you to put your towel indoors, but it was pretty open, and someone stole our towels, including my daughter's towel that we brought with us.
This still has me very upset, but we are over it. 
You will also have showers and plenty of changing rooms right there. As with every water park, you need to take a shower first before going in. 
The Indoor waterpark – Bora Parc
The park is a medium-sized park compared to a few indoor parks have been to.
But I fell in love with the tropical theme of the park and how everything was set up!
The place was literally the colours you see below: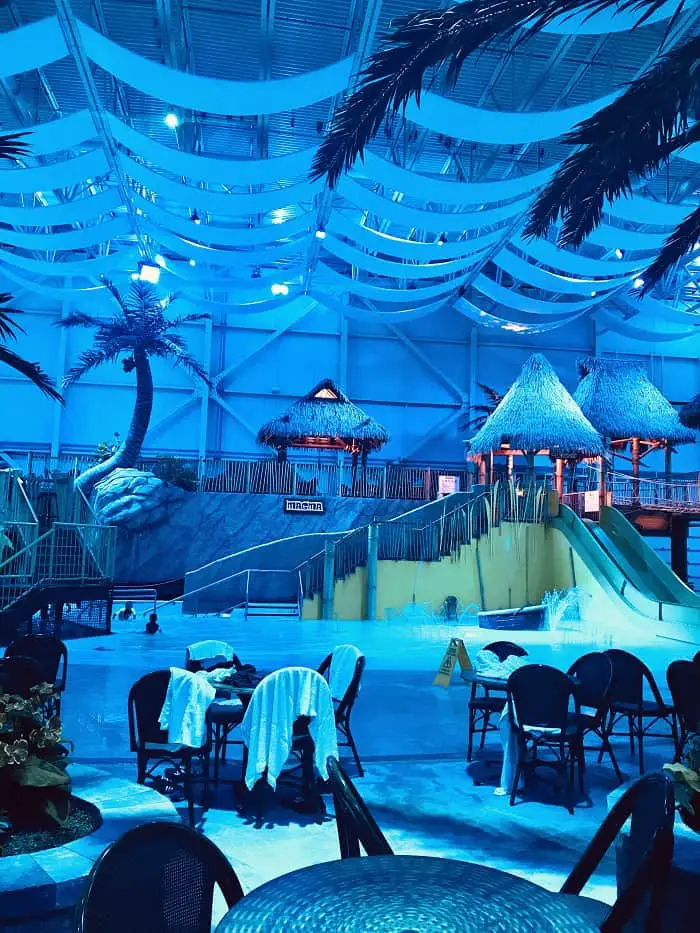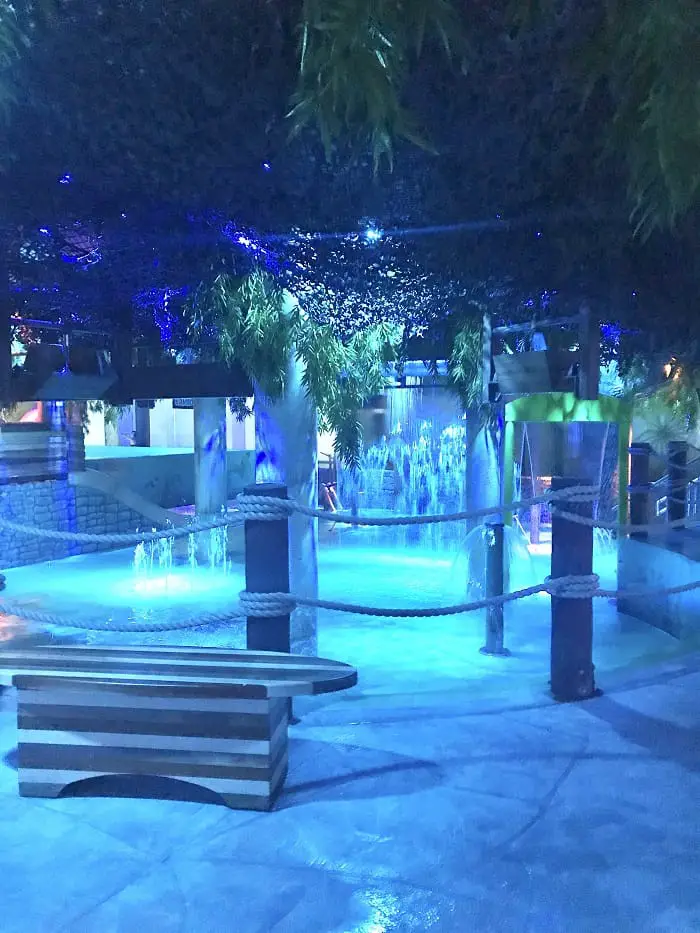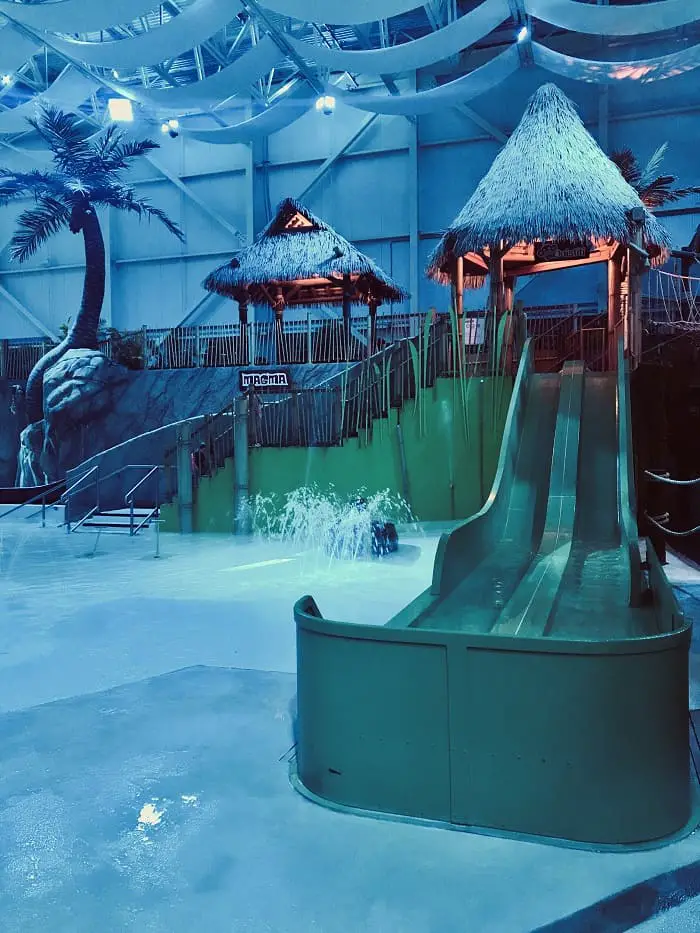 I did most of the rides in the Bora Parc like the Riviera Lazy River and the Serpentine! My partner really enjoyed the Riviera Lazy River.
I did too, but I wish I sat on the flotation device instead of hanging on.
It does go around the pool for about 10 minutes while you get sprayed by water jets, or have water splash you from above.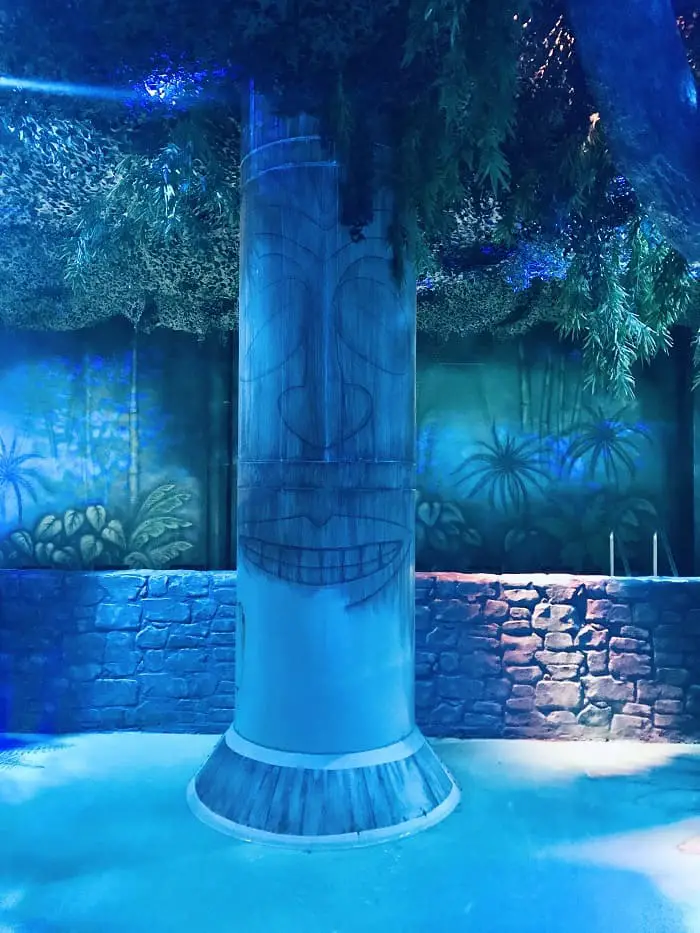 More photos of the Valcartier Bora Parc: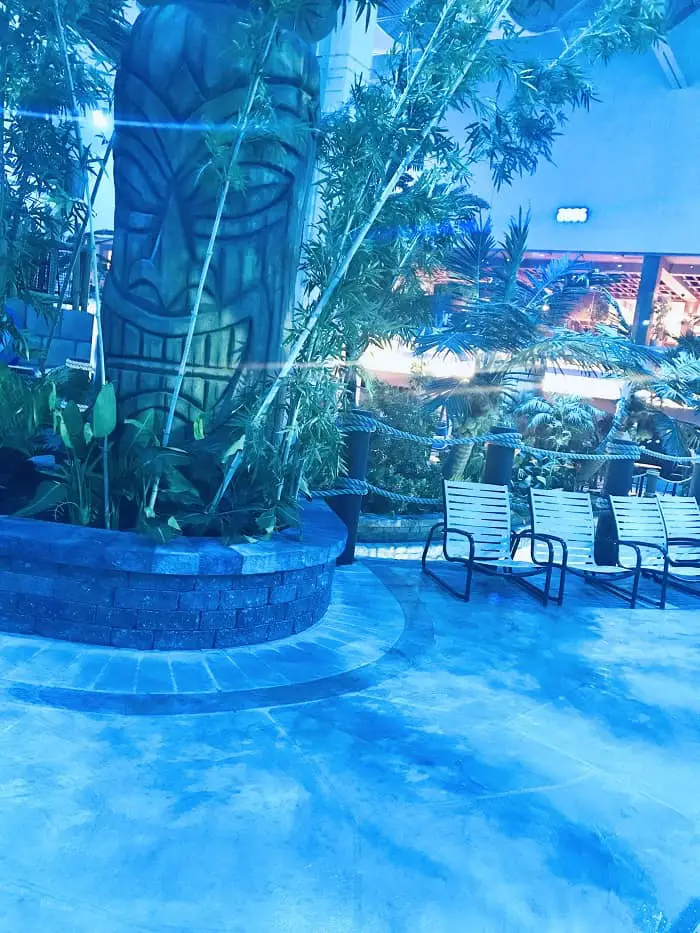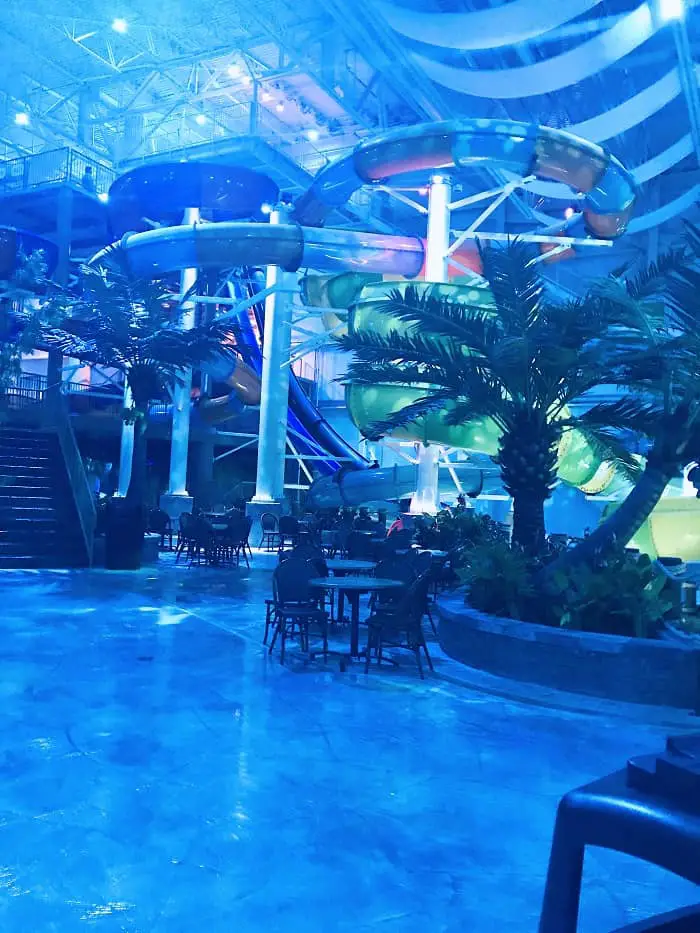 Kids Zone At The Indoor Valcartier Bora Parc
The water park had a section for kids. My daughter really enjoyed The Enchanted Forest area: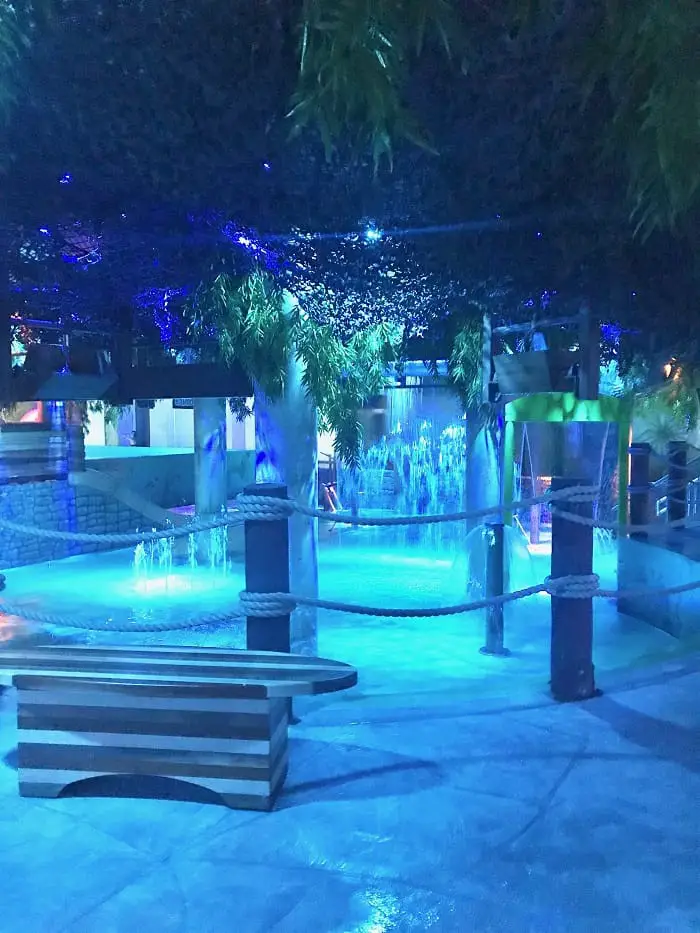 The Reef is where we spent the majority of our time which is also in the kids' zone area.
The Plunge and Magma was also a popular spot, although I thought my daughter was too young for it. 

They are a few other spots you might enjoy such as Oceania which is similar to a beach feel. And if anything, you might want to purchase the day pass and take a look at the outdoor space. 
I will do a review on that next.
Bora Parc For Couples
If you are wondering if this water park is ideal for couples or adults, then the answer is yes. 
The resort includes a  hotel – Hôtel Valcartier which is four-star hotel accommodation.
It has several restaurants and a bar for you to enjoy, as well as a gift shop and Spa Valcartier which you can fully enjoy.
As I mentioned, we did not stay at the hotel, but I am looking forward to my next trip there to enjoy the full experience as well as all the amenities that the resort has. 
When is Bora Parc Valcatier Open?
As one of the most popular recreational destinations in North AmericaThe Bora Parc Valcatiers is typically open all year round. 
Open every day all year round from 10 am to 4 pm and 5 to 9 pm.
You can enjoy it even during winter.
If you are looking for a warm, clean and adventurous water park, Bora Parc Valcartier will meet all of your expectations!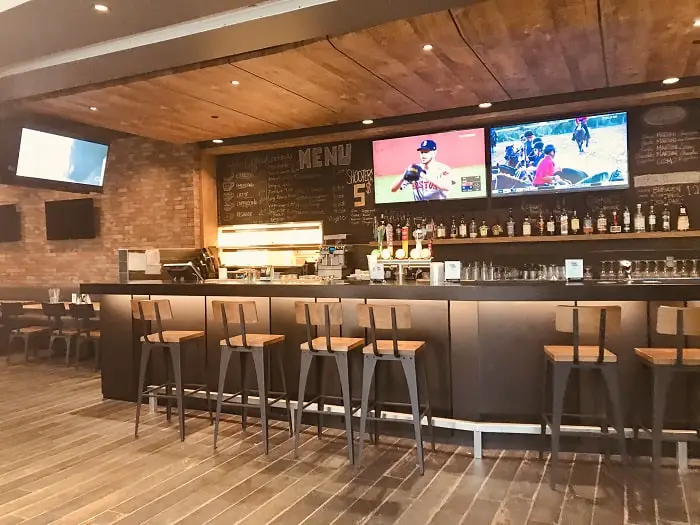 We highly recommend Valcartier Bora Parc, one of the best indoor water parks in Quebec. They have so much to offer, and you are guaranteed to have a great time. 
We also highly recommend staying at the Valcartier Hotel which we will be doing on our next visit!
Driving back the extra 30 minutes back to our hotel could have been better spent going directly upstairs to a room right at the resort. 
Head over to booking.com to check out the hotel rates and deals for your stay!
Will you be visiting the Valcartier Bora Parc? 
If you have already visited this water park, we want to hear all about your experience, tell us in the comments below. 
Next up:
Valcartier Bora Parc – Indoor Water Park in Quebec for Families