Montreal In A Day
Thinking of spending a day in Montreal?
Montreal is the largest city in the French province of Quebec and is one of the most populated places in Canada as well as the most loved city.
The city is steeped in history and culture and has many different attractions and activities to keep you busy for the whole day and more if you want to stay for longer (which you will want to do).
Canada is a beautiful country to visit and as well as to live in.
They are so many wonderful cities to visit but we have a secret list of the best cities to visit in Canada should you wish to explore further. 
If you are visiting Montreal for the first time and you only have a day to spare, the tips below will help you enjoy the city easily.
You have absolutely not visited Montreal if you have not spent some time in Old Montreal which is the oldest part of Montreal. 
Here you can see the famous basilica (Notre Dame Basilica)!
We created this popular itinerary to help you explore Montreal in the most time effective way as possible. 
Montreal in a day, here is what to do and see all in our ultimate guide to seeing this beautiful city with limited time. 
"They are plenty of things to do in Montreal this weekend! Start here!"
Why You Should Visit Montreal
Did you know that Montreal is typically referred to as "The Paris of Canada"? And having been to both, I would agree. 
They are so many amazing reasons we feel that you should visit Montreal.
And once you are there, you would wish you had more time to spend in Montreal.
We understand that some of you might not have additional time, that's why you will enjoy our guide on how to visit Montreal in one day. 
I definitely suggest visiting Montreal on foot as there is just so much to take in especially if you walk around Vieux Port de Montreal.
If you can, definitely do a walking tour for the best experience.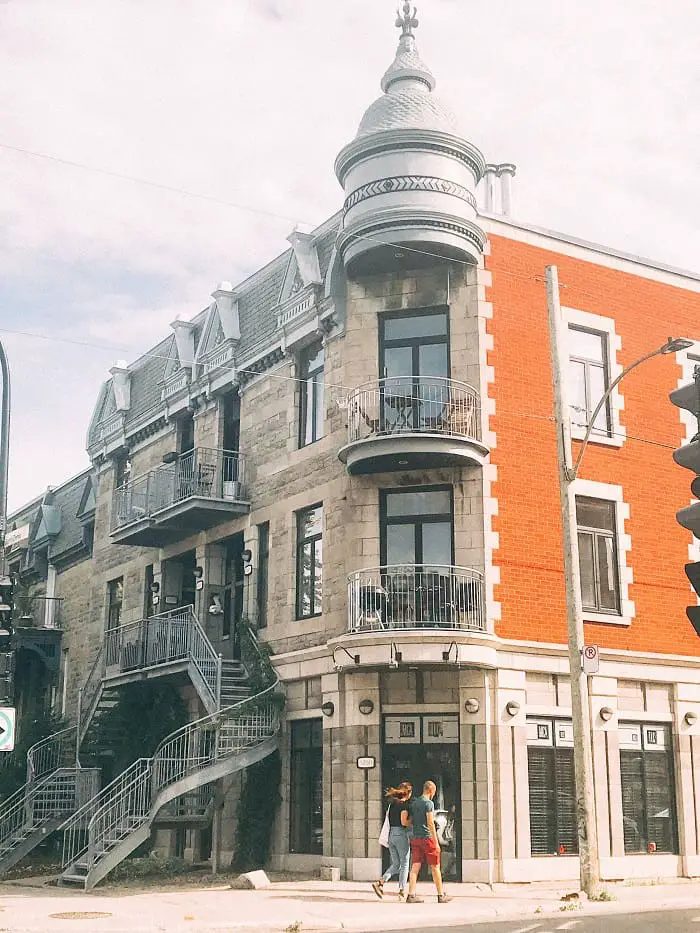 Visit Montreal by foot
Montreal Day Trip Itinerary 
They are so many places to visit in Montreal in a day, but we are hoping that you are able to do what we suggest below, in just 24 hours.
Montreal is definitely a city you would want to visit if you love the great culture, if you are into fashion, and if you enjoy awesome food.
If you want something different other than the norm, Montreal is the city you. 
From markets and museums to night-life and fine dining you'll find it all in Montreal. Here are our top things to do in a day in Montreal.
Before we get started on tips for visiting Montreal in a day, we did want you to follow us on Instagram for more tips. 
We also wanted to take the opportunity to let you know that we use Affiliate links on some of our blog posts. This means that we could make a commission if you click on an affiliate link and purchase something. Read our full disclosure and blog policy for more information.
Here is how to have a day to remember in Montreal:
We have put together a detailed list of must-see in Montreal in one day activities and highlights.
As we have mentioned, one day in Montreal is hardly enough, but with our list, we are hoping you get the best out of the city. 
Ready to see Montreal in 1 day?
Enjoy our one day in Montreal Itinerary: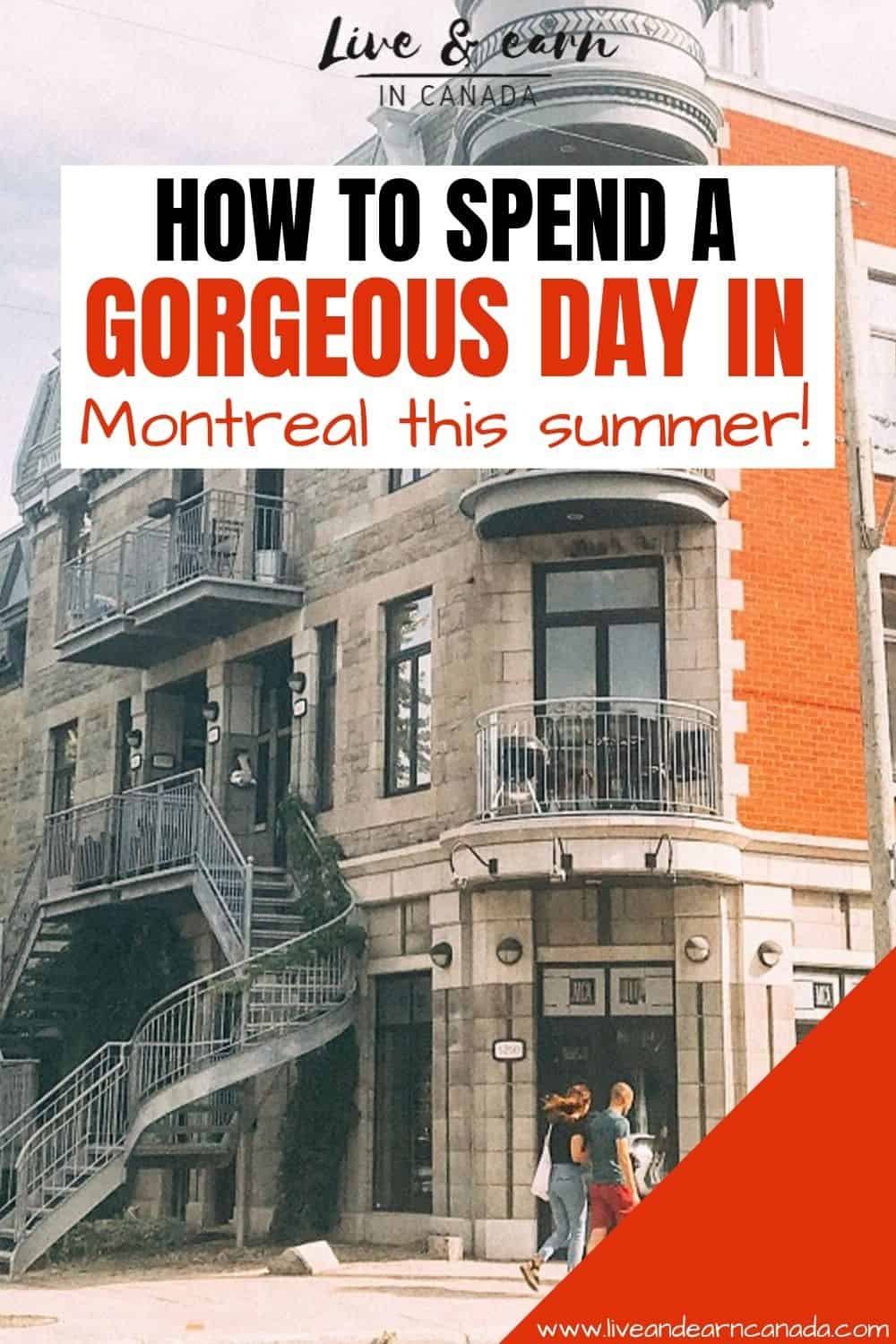 1// Go Up the Mount Royal Park (Montreal)
Start your day with a little light exercise and explore the summit of Mount Royal.
It's a great way to get the best views of the city without straying too far.
With acres of forested pathways, perfect picnic spots and miles of cross-country skiing trails you'll be sure to get your day started off right visiting the mountain.
If you are driving, it will take you just about 10-15 minutes to get to it from Downtown Montreal. 
Cool facts: The name Mount Royal was given to the hill. Réal was a variant of Royal hence Mont-Royal or "Mont Real" which is now Montreal! 
Also, keep in mind that Montreal is actually an island. 
2// Visit Downtown Montreal
From Mount Royal, I would go to Downtown Montreal which is located about 10-15 minutes away.
I love downtown Montreal, if you have some time in your schedule, I highly recommend you do a little tour around the downtown core to fully enjoy and take in the culture. 
Downtown Montreal is located about 25 minutes from Old Montreal (another place to add to your places to visit while in Montreal).
It is a busy place but you will fit right in with the people of Montreal.
Don't be shy!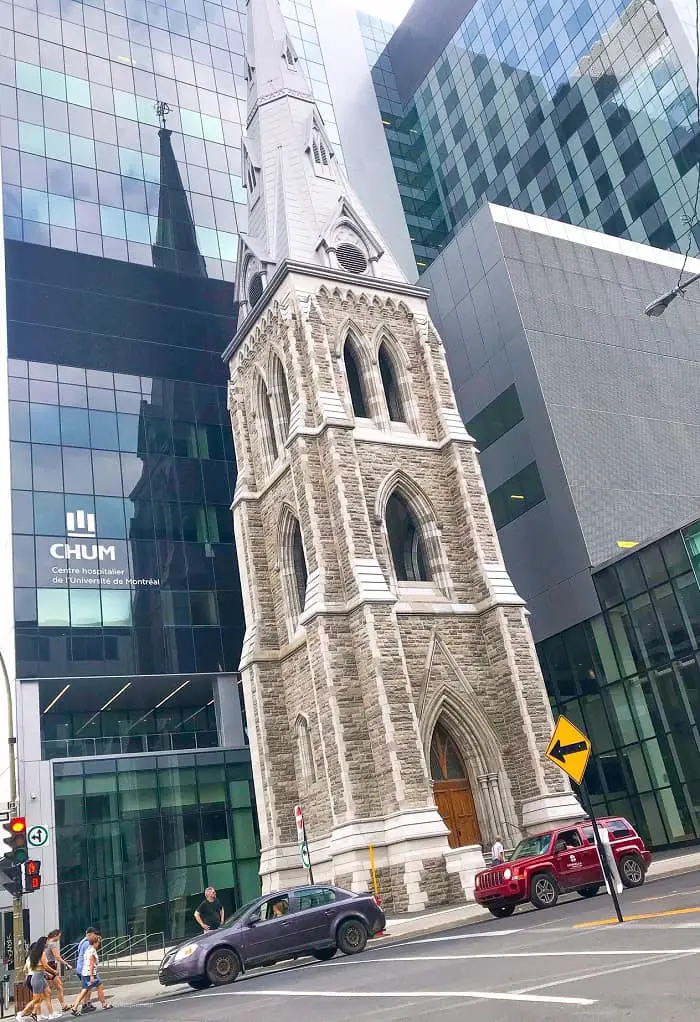 Downtown Montreal
3// Shop in the Underground City Montreal
Underneath the City lies another city all interconnected with sprawling tunnels with some of the best shopping to be had.
It's a great way to move around and visit shopping malls that then connect to restaurants then take the next passageway to downtown attractions.
If there is one place I truly and highly recommend you do your shopping, it is in Montreal! 
Montreal is home to some of the best fashions, they enjoy the culture and if you want to look great and unique, shop in Montreal.
Find out more about the Underground City Montreal here. 
4// Visit Old Montreal / Vieux Port Montreal in a day 
After your fun in the Downtown core, I would go for lunch and spend the first half of your afternoon at Vieux Port!
Honestly, if you have little time to spend in Montreal, I would suggest spending the day just visiting Vieux Port de Montreal.
There is so much typically going on in this side of town, and it would be enough for your trip. 
If you want to delve into the history of the city then wandering the streets of old Montreal is a great place to start.
Here you will find a handful of museums, some of the finest dining in the city and it looks out onto the St. Lawrence River.
With its stunning architecture and cobblestone streets, you'll feel like you've gone back in time and love every minute of it.
Vieux Port is full of amazing restaurants, activities for everyone to do such as the La Grande Roue and it's just a fun place to be in Montreal. 
And if you want to stop for lunch, I suggest Poutine!!! 
I love me some good Poutine and you will definitely find some of the best Poutine in Montreal!
If you have more time and you are up to it, I will make time for points 5, 6, 7 and 8 below!
5// Street Markets
All year round Montreal is home to some of the finest street markets around.
Meet the locals, enjoy the food, listen to the music and dive right into the experience of the famous street markets. 
 We stopped at the market for some hot coffee and warm croissant. 
6// Check out the Montreal Biodome
This spectacular venue was originally built for judo and cycling events for the 1976 Olympics, but it has been transformed into a wondrous zoo and aquarium with thousands of animals to be seen.
Make sure to check out the tropical rain forest or the penguin enclosure that's unique to Canada.
Get more information about the Montreal Biodeme right here. 
7// Montreal Museum of Fine Arts
If art is more your thing then make sure to make a stop at Montreal's Museum of Fine Arts and you can even skip the line at the Museum if you are tight on time.
It has an outstanding collection of art and artifacts from around the world as well as art from Quebec and Canada itself.
You can even take a tour which is held daily in both French and English so you won't be missing out. 
8// Cirque-du-Soleil
If you are visiting between mid-spring and mid-summer, make sure to check out the famous, world-touring Cirque-du-Soleil.
What started off as a tiny troupe of street performers back in the '70s has grown to an awe-inspiring show including acrobatics, comedy, and storytelling.
The Montreal-based circus company is a sight to see. 
9// Enjoy The Night-life in Montreal
When the sun goes down the party really starts to get going.
The night-life in Montreal is known for being incredible throughout the whole week and doesn't stop till 3 am unlike in Ottawa.
As I mentioned, Montreal is big on culture and fashion, so the party is off the hook. If you are looking for great nightlife, Montreal won't disappoint. 
So if you fancy ending your day with some heart-pumping music and a good dance then visit some of the cities most popular bars and nightclubs like the Soubois or the Mayfair Cocktail Bar.
These are only a few of the many attractions and sites that you can see while visiting Montreal for a limited time.
Just wandering the city will leave you inspired to come back and spend more time here and the locals are some of the friendliest people you will ever meet. 
Other things to do in Montreal in A Day
If you happen to be visiting Montreal during festival season (which Montreal is very well known for), I will suggest attending at least one festival. 
I visit Montreal pretty frequently and on one of my day trips, there was a Carifiesta Carnival which my family and I ended up enjoying!
If you are a foodie, then definitely take advantage of this Montreal food tour! 
Here are more tours to enjoy in Montreal:
And if you are having a much longer trip, be sure to visit the surrounding towns such as Ottawa which is two hours away (my home town), you can go to Quebec City which I love. 
Best Time To Visit Montreal 
You definitely want to get the best of Montreal on your short visit. And depending on what you really want to do I would suggest coming during the summer months. 
Here are the best times to visit Montreal in a day: 
May to August – I find April to be a bit chilly still, but May it really starts to warm up. Remember warmer months mean very busy and you will see a lot of people and tourists hitting up Montreal. 
September to Early November – This is more of the off season so things like hotels are a lot cheaper. Weather-wise you can expect a fall feel which is just as beautiful! 
Ideally, the best time to visit Montreal will be the beginning of October in my honest opinion. 
Getting Around Montreal for Your Day Trip
If you are coming from out of the country or you are flying in, you are most likely going to land at the super busy Pierre Elliott Trudeau International Airport.
You can find amazing flight booking fares here with OneTravel. 
If you are planning on only spending a day in Montreal, I would suggest you take an Uber (here is a discount code) from the airport, a local taxi or public transportation. 
You can also pre-book and rent a car from any major car rental.
I personally like to use Budget or Enterprise. But you can go with any car rental company. 
Montreal Shuttle Service
You can also take a public shuttle bus that runs between Downtown Montreal and the airport. 
The 747 shuttle service runs 24 hours a day, 7 days a week, between YUL Montréal-Trudeau airport and downtown.
The shuttle bus is line 747!
It should take you just over an hour to get to downtown (Stop is at hotels on boul. René-Lévesque)! 
It will cost you $10 which is cheaper than a rental or an Uber! 
Getting around Montreal by foot 
If you are spending a day in Montreal, I would highly suggest you discover the city on foot.
Montreal is known as a walkable city and it is so easy to get to and from most major attractions on foot. 
Using Public Transportation in Montreal
Using the public transportation system in Montreal is the most affordable way to travel around Montreal.
You are more than welcome to also use the Metro (subway) or the public transit network which is really easy to use. 
The public transit just has four lines connecting the downtown center to major tourist sites, bus stops, and train stations. 
The metro operates daily from 5:30 a.m. to 1 a.m. (1:30 a.m. on Saturdays). The average wait time between trains is eight minutes and three minutes during rush hour.
Where to stay in Montreal
If you are only in for the day and are leaving right away, we hope you revisit Montreal soon. 
But if you are visiting Montreal in a day but you are leaving the following morning, I suggest staying here: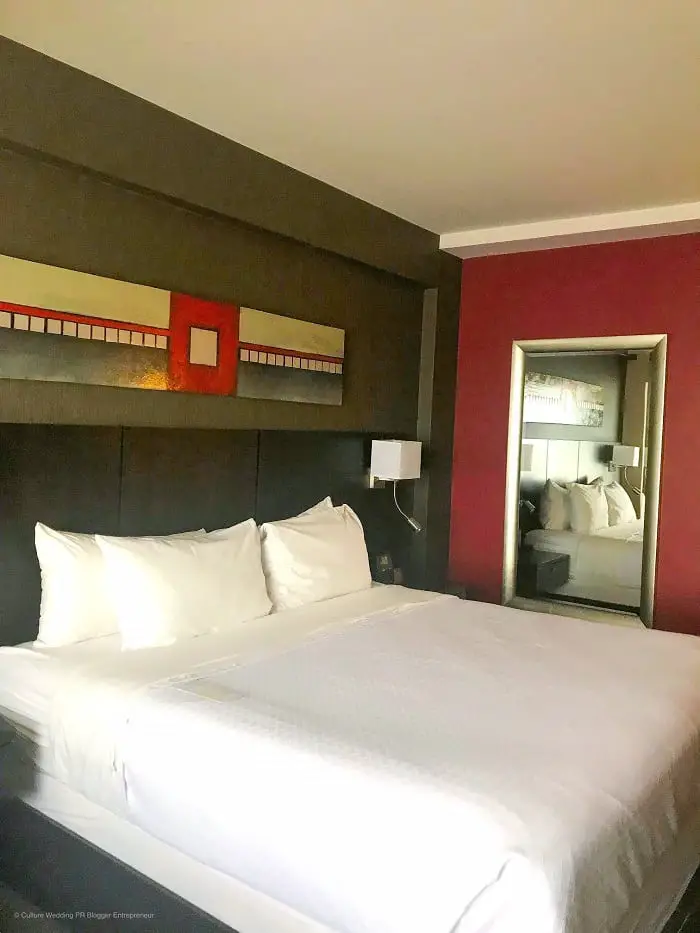 Be sure to check out HotelsCombined.com to find all your accommodation, you can easily compare hotel prices.
You can also use AirBnB for your short term visit to Montreal. 
We hope you enjoyed our tips on how to enjoy Montreal in a day as well as what to do. 
Do you have other tips on how to spend a day in Montreal?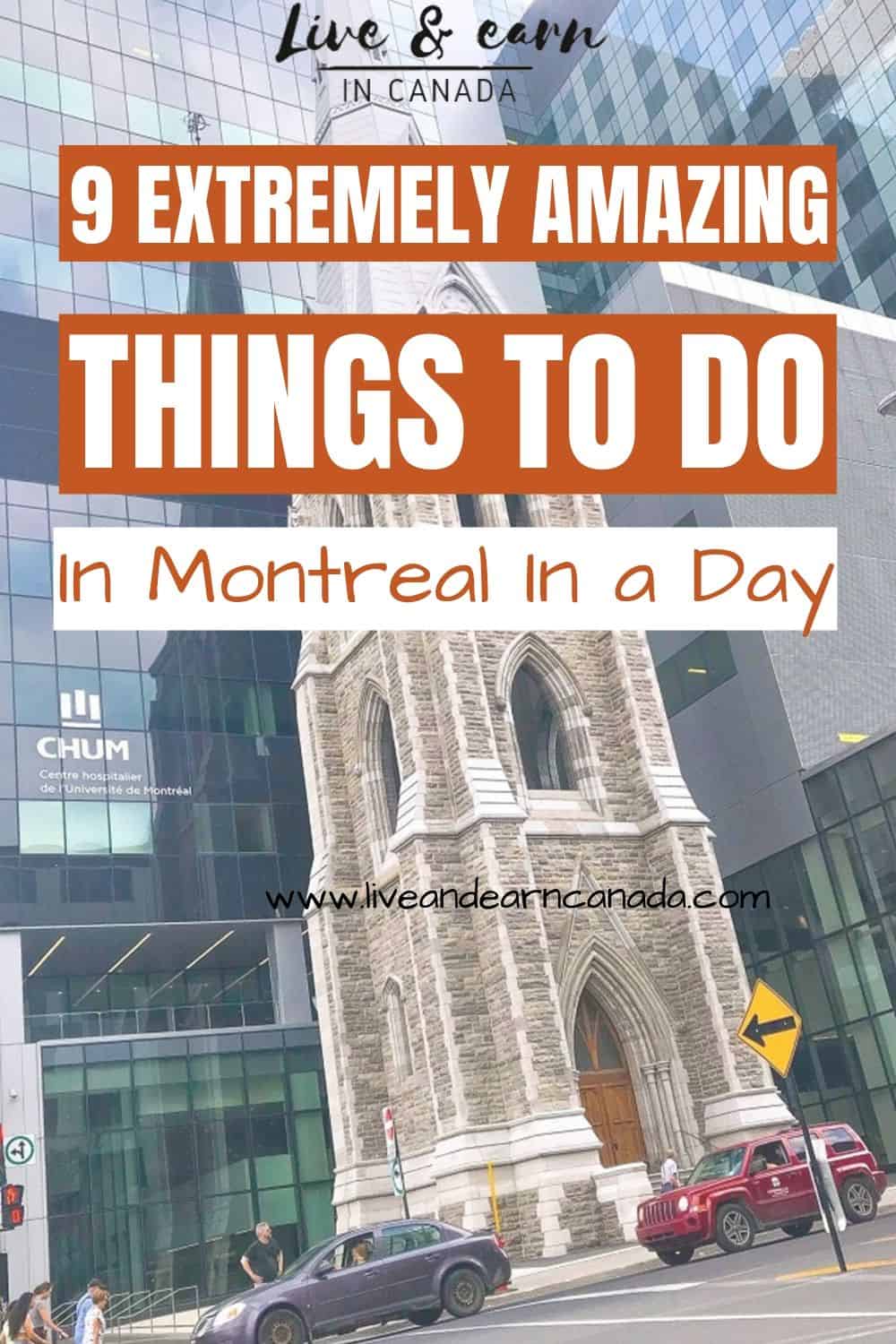 Related: 
15 Free Things To Do In Ottawa This Year 
A Day In Montreal Itinerary – Here Is What To Do For Fun