Free stuff to do in Montreal
Are you looking for free things to do in Montreal?
Finding things to do in Montreal is not hard! I love Montreal, it's only two hours away from me and I go at least once a month!
Montreal is a gorgeous city and I think it's one of the best cities in Montreal! Don't quote me, but I love this town.
I love the culture, the fashion (definitely go shopping in Montreal), the food, nightlife and I go on and on!
If I have to choose the two things I totally love about Montreal – I am going to go with food and fashion.
Montreal is amazing for foodies and if you consider yourself one, go ahead and visit this great city! 
Things To Know About Montreal
I will definitely do another post about everything you need to know about Montreal, for now, I will give a few basic tips.
We want to give you as much information as possible to ensure that you enjoy your trip to Montreal!
From the top of our heads, this is what you need to be aware of before visiting Montreal: 
Montreal is a bilingual City / Mostly French and English are spoken here

Montreal is considered an island 

They are always things happening in Montreal, expect to see a lot of festivals happening

To get around, you might want to use the "Metro" which is actually a subway

You can legally drink at the age of 18, everywhere else it is 19

Don't share this secret, but you can get real Poutine in Montreal

You can buy beer and wine almost everywhere you go in Montreal

All the signs in Montreal are in French

It's Terrasse, not Patio (in case you want to sit out on the Terrasse)

They have good coffee – convinced? We are.
We excited to share our best tips on free things to in Montreal.
We also wanted to answer a few frequently asked questions surrounding Montreal such as:
Is Montreal worth visiting?

What is Montreal famous for?

What is the best time to go to Montreal?

What food is Montreal famous for?

What can you do for free in Montreal exactly?

And the best places to visit in Montreal
If you are excited to visit Montreal this weekend and you are up to trying different things, then this is just the post for you. 
From live music, ice skating, to contemporary art, Montreal is home to it all. 
They are so many wonderful free things to do in Montreal! Start Here!
Before we get started on free things to do in Montreal, we did want you to follow us on Instagram for more tips. 
We also wanted to take the opportunity to let you know that we use Affiliate links on some of our blog posts. This means that we could make a commission if you click on an affiliate link and purchase something. Read our full disclosure and blog policy for more information.
Best Free Things to do in Montreal
There are so many awesome things to do in Montreal!
But, if you are on a tight budget and/or don't want to sit in a cafe or bar, here are some activities you can do around this marvelous city some during the winter and others in the summer.
Whether you choose to spend a day in Montreal or a few days, here are over 15 Free things to do in Montreal this year: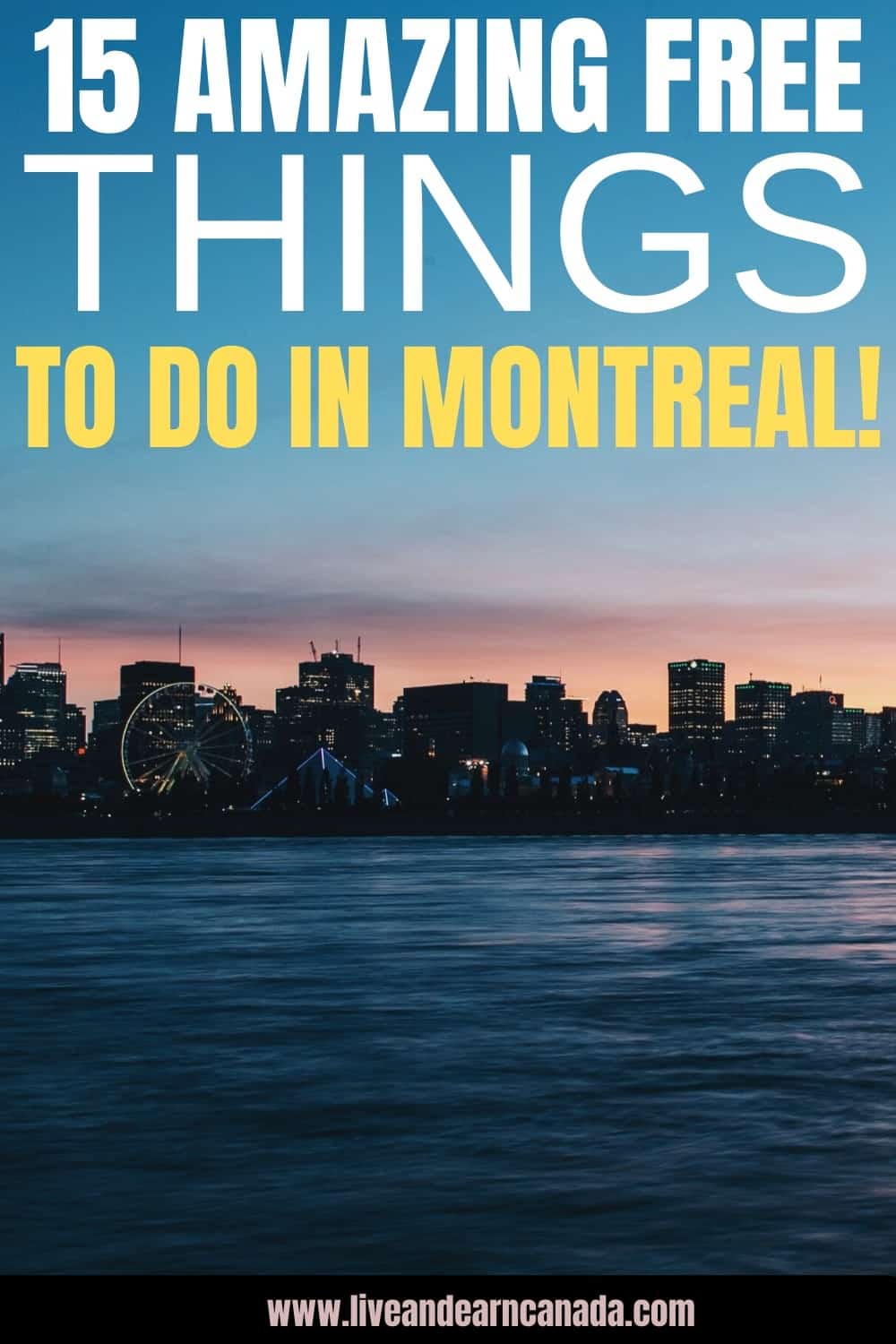 1// Explore Mount Royal
This mini-mountain in the middle of the city offers visitors and locals an escape from city life.
There are numerous hiking trails and sometimes people ride their bikes. In the winter, there are numerous cross-country paths and some sledding opportunities.
The views of the city are amazing from the top as well. At the top, there is also a beautiful cemetery.
Personally, I think it is more enchanting in the winter, but it would be a lot warmer to walk around in the summer.
The last summer activity on Mount Royal is the Tam Tams situated at the base.
Every Sunday of the summer, musicians come out and play with the goal that everyone has a good time.
2// Outdoor Skating in Montreal
This is obviously done in the winter as the ponds around the city need to be frozen.
There are certain areas that are artificially frozen, but they open in December. The ponds at Parc Fontaine and Mount Royal are free as long as you have your own skates.
3// Street Art Scavenger Hunt
There isn't an official scavenger hunt of street art in Montreal because there are so many and it is constantly changing.
There is a festival in the summer that celebrates street art.
St. Laurent, a major street running through an area called Le Plateau, is shut down enabling shops to bring their goods to the street to sell and artists to work without fear of the cars.
Every street has something to offer!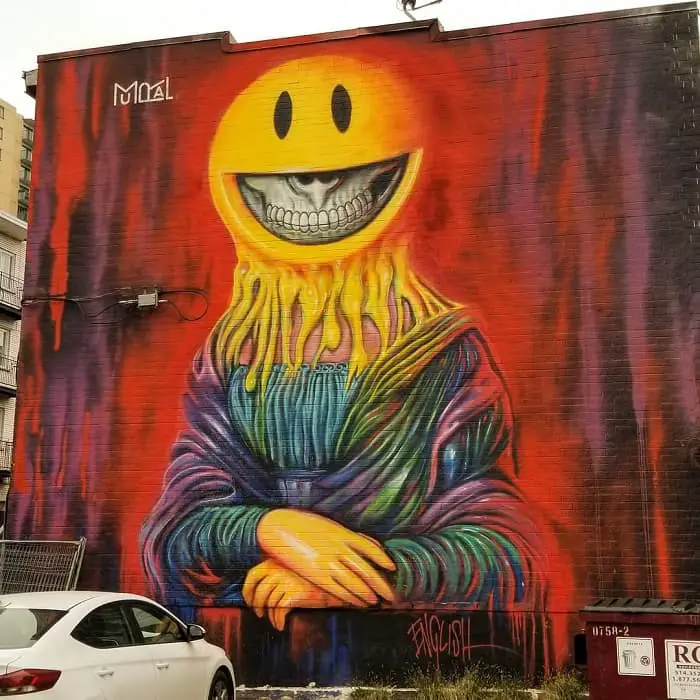 4// Jazz Festival
The Jazz Festival is held every summer and though there are private events that people need to pay to enter, there are also a variety of free outdoor concerts.
A major stadium for free outdoor events is located near the Place des Arts metro station.
5// Circus Festival
Just like the Jazz Festival, the Circus Festival features different acts on the street during the summer.
Mainly performing on St. Denis near an area called the Village, people can watch different tricks for free.
6// Fine Arts Museum / Beaux-Arts Musee
Every Sunday of the month and special occasions such as the Christmas break, the Fine Arts museum is free to the public.
This museum comprises of 4 buildings so there is plenty of artworks to see.
If you do like museums, be sure to check out the other ones!
7// International Fireworks Competition
This summer competition is hosted by La Ronde, Montreal's Six Flags.
But you don't have to watch it from the park, the fireworks can be seen from anywhere in Old Port.
This festival is actually a competition between different countries and for about a month, each Saturday, two countries compete.
Of course, it isn't every country in the world competes, but a few. It also goes with some music, which can be heard outside La Ronde as well.
8// Formula One (F1) in Little Italy
If you are a race car fan, head to Little Italy where cars will be parked and plenty of fanfare will be had in celebration of this biggest car race.
The roads are shut throughout Little Italy allowing pedestrians easy access.

9// International Bicycle Race
If you like wheels, but are not a fan of cars, how about bicycles?
Every year in the early fall, racers from all over the world will come to Quebec City and then to Montreal to race around the city.
The race takes over a few hours so viewers have the chance to go to different viewpoints to watch and cheer on their favorite.
10// St. Joseph's Oratory
This modern church or cathedral is stationed on the other side of Mount Royal from Le Plateau.
It is free to enter and has a nice view of the other side of the mountain.
There is a small portion that is within the mountainside meaning you actually see the rocks and the room is more a cave.
Another room is filled with old crutches and it is said that if you need some you can just take how many you need.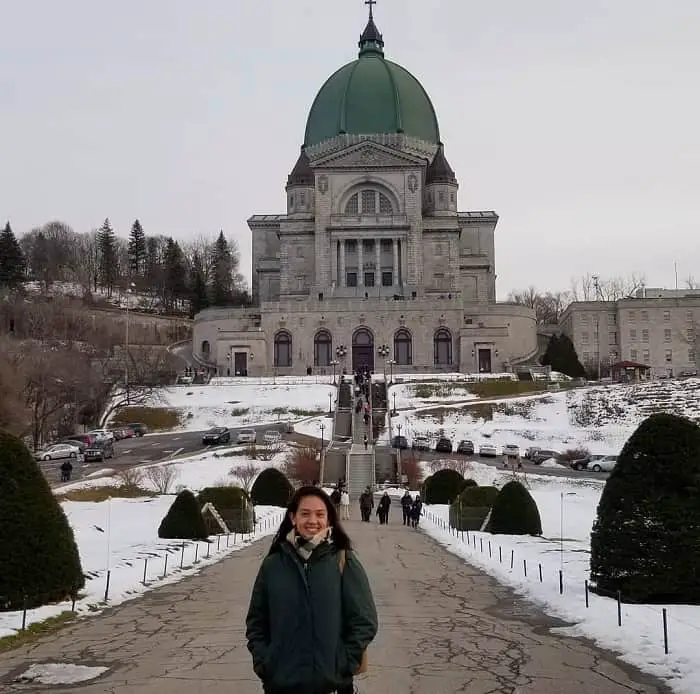 11// Jean-Talon and Atwater Markets
These outdoor markets are a sight.
People can spend some time just walking around and seeing the small stalls and people watching.
12// Olympic Stadium
Fun fact, this stadium was built off tobacco taxes?
It also was built within a year of the Olympic games, which was cutting it so close that the Canadian government had to talk to the Montreal's city government to get the project moving.
Now, it is free to walk around inside.
If you want a proper tour, that is extra, but if you want to see the grounds and the pool area, feel free to stroll!
13// Have a Picnic at Parc Fontaine and or Jarry Park
Drinking alcoholic beverages in parks is legal in Montreal.
Just make sure you have food to accompany it!
Both parks also have sporting areas such as tennis courts, volleyball nets, and sand pits for bocce ball.
They are good locations for picnics, exercise, or lounging with a book under the sun.
14// Lachine Canal / Canal Lachine
The Lachine Canal is a nice place to stroll along the water.
It offers a different view of the city.
If you have your own bike or roller blades or just want to walk, the path leads to the western side of Montreal, which if timed correctly, offers a lovely sunset.

15// Jean Drapeau Island
OK, yes, Montreal is an island, but it has little islands off of it.
Jean Drapeau island houses La Ronde as well as some other museums.
There are often free outdoor activities in the park such as an Orchestra concert. The F1 race is held here too, but when there is no race, the track is used by many cyclists to test their speed.
Because it is off Montreal's main island, it offers a skyline view of the city center.
There you have it, no more wondering what can you do for free in Montreal?
You have a full list of fun activities. 
Did you enjoy our "what to do in Montreal guide?"

"This article was contributed by Marinella Yule of My Open Passport travel blog. She has traveled throughout North America by car, plane, and bicycle, and to over 40 countries. She is currently working on improving her third language (French) and sometimes writes blogs in Spanish as well. You can learn more about her work through her website: marinellayule.com."
Related posts: 
15 Free things to do in Ottawa for fun this year
Valcartier Bora Parc – Indoor Water Park in Quebec
21 FREE Things To Do In Montreal For An AWESOME TIME!