Sell Used Clothes Online for Cash
If you are looking for places to sell clothes online for some quick cash, we are glad that you landed on this post!
We all get to a point in life where we all just have way too many clothes, and some of us even have clothes that we just no longer need.
Believe it or not, I have clothes in my wardrobe that I purchased and that I have never worn out because I either forgot I had, or I just bought them on an impulse.
Not good, I know!
Once a year or every two years, I make it habit to go through my wardrobe and get rid of things that I no longer need.
They don't have to be old, in fact, I personally have fairly new clothing that I do not mind reselling.
Probably you wore it once and then realized that you did not like it anymore, who knows?
Whatever your reasoning, we are going to share our best tips on where you can sell your clothes for money.
Selling clothes online now is so much easier than it was before and all it takes is for you to find the best place to resell clothes and you're are good to go!
For those that are skeptical and you need more information, you will find all your answers on this post! 
We really wanted to dig deep to find the best place to sell clothes for cash so you could have all the right information in one space.
We are definitely going to focus on answering all the questions our readers had such as these top frequently asked questions: 
Can I sell my old clothes? 

Where can I sell my clothes for cash online? 

What is the best site to sell clothes online? 

What can I sell to make money?

What is the best app to sell clothes on?
As you can see, more and more people are interested in not only buying used clothes online, but they are also looking for different ways to make extra money for themselves by selling used clothes!
Whatever your personal finance is, we wanted to share the best tips to sell your clothes and shoes for cash in order to help you out financially! 
By finding the best place to sell used clothes online, you are ensured of making quick cash. 
Online Consignment stores are definitely a thing which means people are spending money on second-hand clothes.
Not only is it a great way to save money, but it's also a great way to find authentic pieces and it is also an amazing way to support each other and local businesses.
With this in mind, we really wanted to share our best tips on where to sell clothes online for money. 
"If you want the best place to sell clothes online, we have plenty of inside tips below. "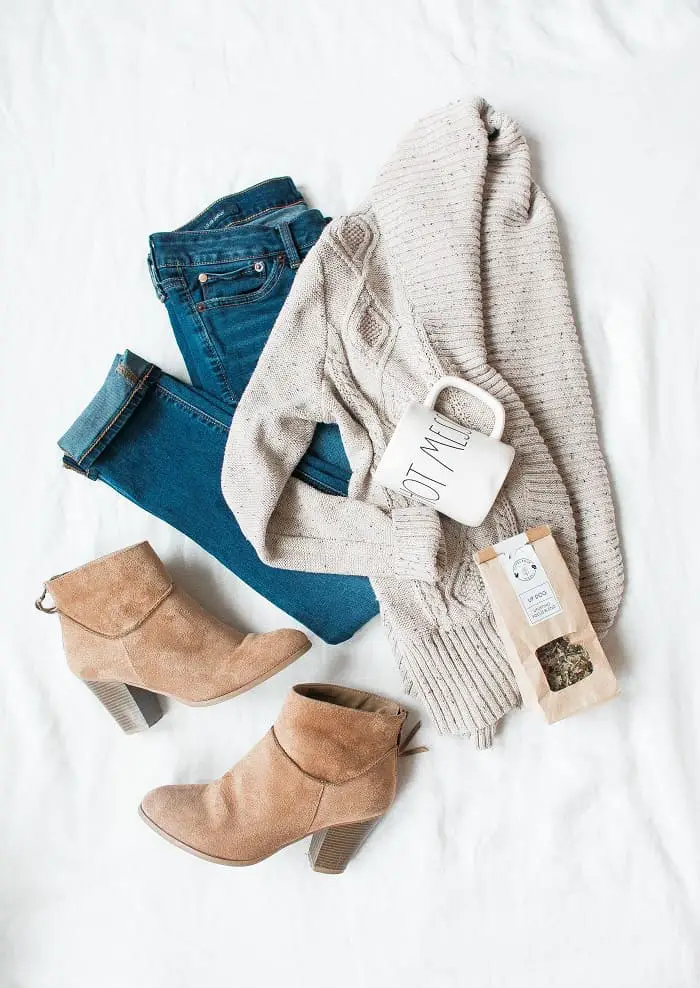 Before we get started on our best tips to sell clothes online for cash, we did want you to follow us on Instagram for more tips. 
We also wanted to take the opportunity to let you know that we use Affiliate links on some of our blog posts. This means that we could make a commission if you click on an affiliate link and purchase something. Read our full disclosure and blog policy for more information.
Want to make serious cash selling clothes? We are going to share some of the best places to sell clothes online for cash today!
Selling clothes and or items you no longer need is the best way to make extra cash especially if you are running low on funds or need the money to pay unexpected expenses. 
I really love this idea as it really helps me not only to de-clutter but it clears space and gets rid of unnecessary baggage.
And the fact that more and more people are appreciating and shopping at second-hand stores, makes this the best place to get rid of your unwanted clothes.
The less unnecessary things I have around me, the less stressed out I feel and the more productive I become.
When it comes to spring cleaning each year, I really try to look around me and get rid of as much extra stuff as I can.
But throwing extra clothes and other things is not an option for me, if I can make quick money from it, as well as save the environment, I will definitely do it.
Otherwise, I am donating, putting it out in the garbage should really not be an option (Don't do this). 
We would rather you make some money and finding the best place to sell used clothing online will get you one step closer to making that extra cash!
Of course any clothes you do not sell, be sure to donate them if in good condition (obviously)!
Here is where to sell used clothes online for cash
Selling clothes online is now much easier than it was years ago thanks to easy internet access and all the amazing apps now available to the public.
As long as you have used clothing that you want to get rid of, you can now just sell them online. 
If you are really serious about selling your clothes online we are glad that you here, we have so much to share.
Ever looked on Instagram and see people posting and pausing with cute clothes?
Well, some of these people are actually making a great profit.
I am not saying you should go out and purchase clothes and resale unless this is something you are interested in doing, simply get rid of what you already have. 
If flipping clothes is something you might be interested in, then I suggest you sign up for this free workshop where you will learn some great strategies on how to make money flipping items such as clothes in as little as 14 days! 
Otherwise, keep reading this post to learn more about where to sell used clothes. 
And remember, finding the best places to sell clothes online can be very profitable which I know can help a lot of you have any financial difficulties.
We are hoping the tips we share today will help you get started on making more money flipping and selling clothes for cash. 
We have a great list of the best place to sell clothes online below: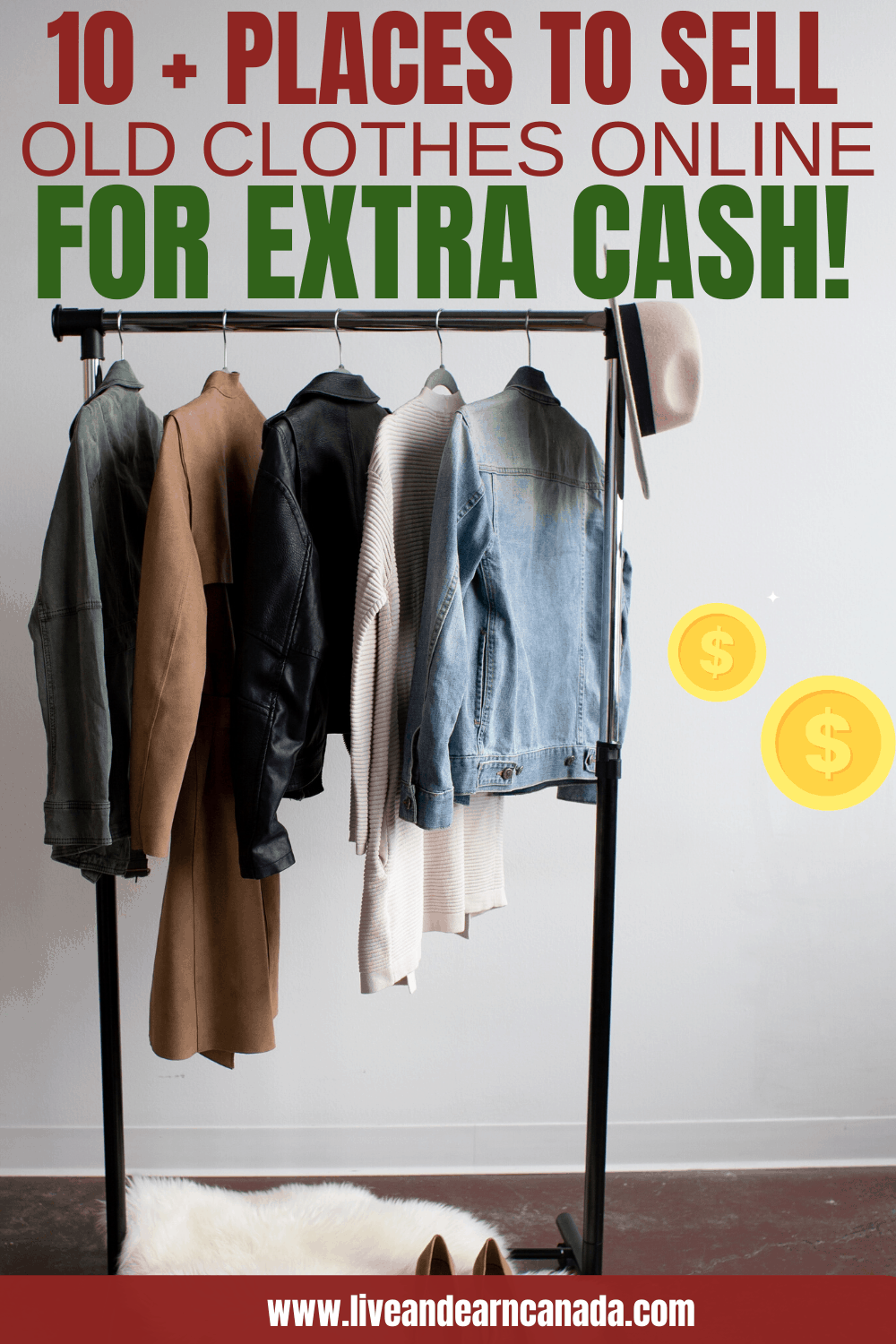 Use any or a few of these trusted platforms below to start selling your used clothes:
1. Etsy
The best place to sell clothes is definitely on Etsy!
I love Etsy and I shop on there very frequently or let me say as much as I can.
This website is big on selling vintage items and specializes in the sales and purchases of handmade items. If handmade items are your thing, you know Etsy is where you want to be to shop.
I have gotten away with buying amazing things for both myself and my daughter on here. 
It is definitely a site you want to explore if you are looking for unique items, as well as a place you can use to support locals and small business owners which I do very often!
It is also one of the best places to sell clothes as it is a huge platform visited by millions every single day. 
You can manage existing orders, keep contact with buyers and buy and print discounted postage for a smooth transaction.
It must be kept in mind, however, that there are processing fees and commissions involved with using this site.
Other than this, we highly recommend selling your used clothes online for cash using Etsy! 
If you are ready to make some money selling clothes with Etsy, simply open a new account on the platform and start selling! 
2. The RealReal
An online shop that picks up your items?
Yes, they pick up the items from you or you can ship it to them or visit one of their luxury offices for a free evaluation.
If you have luxury items to sell, this is the recommended site.
From there, your items will be evaluated, photographed, priced and sold for you. Once sold, you receive up to 85% of the profits.
They definitely cater to top designers on their sites such as Chanel, Louis Vuitton, Christian Louboutin, Burberry, Jimmy Choo, and others.
If you own any of these brands and are looking for an easy place that will help sell your quality clothes that you know longer need, then look no further than using The RealReal!
The RealReal is also available for Canadians! 
3. Kidizen
For mommies who wish to sell kid's clothes, this site is top-rated.
Kidizen is the mobile marketplace to buy and sell pre-loved kids' clothes and accessories. So if you are looking for a great site to sell used clothes online for children, we really recommend Kidizen! 
The only thing you need to do is to set up your shop, promote your stuff and send it off.
This is the perfect platform for those that are looking to buy, sell, and or swap your kid's clothing, gear toys, decor, and or other items.
It is an amazing community that connects moms with other moms through all things mom!
I am totally in love with their re-wear section!
If you are a stay at home mom that is looking for places to sell your clothes online for cash, this one is for you! 
4. Tradesy
It is said that this site takes the hassle out of selling your clothes.
All you need to do is snap a photo and share it on the site and it becomes available worldwide for the world to buy if they like the item.
You can select from a Tradesy USPS priority label, a full shipping kit which is a complete kit with box and shipping label, or you can use your own resources to ship the stuff to the buyer.
Returns are sent back to the Trader and you are still able to keep what was earned in the sale so it's a win-win situation for both parties.
You can start selling your clothes on Tradesy right now! 
5. Poshmark
Not sure where to sell clothes online? Look no further than Poshmark.
With Poshmark, you are provided with a prepaid shipping label which makes it easy for sellers to track the progress of their sales.
Their app comes with a social media feature that allows users to follow friends and sign up what is known as "Posh Parties" where they can sell products quickly.
Many people this app when it comes to selling their clothes online for money.
In fact, if you are reading this and you are ready to use this platform to sell your clothes online, you can read my Poshmark review right here.
PS, they also now available to my Canadian friends. 
6. Rebag
So, as the name suggests, you can sell bags on Rebag.
Rebag is one of the best websites to sell clothes online and you absolutely have to give it a go!
They accept bags from a range of designers and you simply need to check their list and their guidelines and conditions to see if your bag will be accepted.
It is required that a form be filled out to get a quote.
When completing this form, all details need to be included, such as the designer, any wear and tear and photos that need to be included as well so the team can review the item.
Once the review has been done, they will provide you with a price.
As long as you agree to the price provided, then you can send your bag to be reviewed in person.
If they accept the item, you will get your payment immediately.
It is as simple as that and that's why it is one of the best places to sell clothes online for cash especially if you have brand name items!
7. Depop
Another best place to sell clothes for cash is on Depop. 
This app allows you to sell pretty much anything, but as usual, vintage items go faster.
So if you have anything vintage like that you can sell, I would suggest getting on this app right now. 
There is a 10% charge for each sale in addition to PayPal fees.
This app is well known for buying and selling second-hand clothes.
It is somewhat similar to Instagram where you can upload the picture in a square format, provide a caption for it, set the price and select item size.
The uploading process tends to be very simple even for new sellers.
As mentioned earlier, vintage clothes sell very quickly on Depop, also those that were high in demand and have sold out in stores.
Word of advice, this app can become very addictive as it is very similar to Instagram.
8. Zazzle
Using Zazzle is one of our favourite ways to sell your clothes online for that extra money that you absolutely must try out.
I find this app to be perfect for those that are extremely creative, love to design and those that have an eye for great things.
If this is you, you will love Zazzle as much as we do. 
So, find your niche, build a brand and get selling and earning.
By using Zazzle, you can really make some great money when you sell your clothes using the platform. 
The Zazzle app allows you to buy and sell products that you can easily customize. 
They are 3 amazing ways you can make money online with Zazzle. This includes: 
I really like the designing feature the best as an entrepreneur! 
9. Facebook MarketPlace
Ever since Facebook Marketplace was created a few years ago, more and more people are making money on this platform from selling their used clothes. 
Under the marketplace on Facebook, you can use the "Sell Something" tab to start selling your clothes as soon as right now. 
The platform is free to use and it is also very safe to use. 
Just like Kijiji and Craigslist, you will need to meet the buyers to exchange the clothes and cash.
As always, be safe! This platform is not only limited to clothing items.
I have a friend that sold over $400 worth of used furniture when I first introduced it to her last week.
If she can make $400 in one weekend, you can as well! 
10. Material World
I really love the Material World platform for selling clothes online.
Trade-in items you no longer love. Unlike traditional consignment, you get paid upfront.
It is so easy to use them and once you are all set up, you will be making extra money in no time! 
Check your closet and send them items you want to trade in using their Material Kit. From here you can keep an eye out on an email or text with your offer. 
Once you have reviewed the offer, you can either chose to accept the offer or have your items returned. 
You also have the option to use your earnings towards a new Material Box or get paid cash via PayPal.
11. eBay
Not on is this a popular site, but is one of the best places to sell clothes online if you want to make great money.
Even celebrities like the Kardashians have been reported to have made crazy amounts of money selling their old clothes on eBay!
That is insane but totally doable.
As you may know,eBay is one of the largest online marketplaces for DIY sellers and they are clearly showing no sign of slowing down anytime soon.
Here is a bonus for you: Get your first 100 listings for free each month!
This platform is loved due to its low commission rates as you typically get to keep 90% of your selling price.
This is a win, win situation especially for those that are really trying to make great money from selling clothes online. 
12. ThredUp
We couldn't finish this post without including one of the largest online consignment stores there is on the internet. 
ThredUp is the perfect place for those that are looking to sell women or children's clothing.
If you have shoes as well as handbags that you would like to sell, this is your platform.
They have affordable clothing, I bought myself a gorgeous dress for just $7 the other day!!!
Seriously, it felt great. 
ThredUP is the world's largest fashion resale marketplace with over 35K brands—from Gap to Gucci—at up to 90% off retail prices. 
Today, thredUP is the best way to shop and sell women's and kids' clothes with the smallest impact on the planet, your time, and your wallet.
And if you believe in any of these things, you can set yourself and start using not only one of the best places to sell clothes but also the best place to shop!
13. Bonanza
Bonanza is very similar to Amazon. 
In fact, if you look at it, you will think that is is amazon in terms of look. 
They consider themselves one of the "best places to sell online". 
This is because people rated it as one of the best shopper-friendly marketplaces which are very important if you want to have success in selling clothes online!
You can also save 50% on fees vs their competitors!
You can learn more about how Bonanza works here!
And there you have it, a list of amazing websites that allow you to sell your old clothes for cash. 
Selling your clothes online for extra money is that simple! 
So if you are really serious about exploring this option for extra cash, I would suggest starting with any of the apps suggested above.
We listed some of the best places to make money selling used clothes and other things you may have such as shoes and bags!
So get started today.
"What about those that want to buy and sell clothes online in Canada?"
Where can you sell clothes online for cash in Canada? 
We have already mentioned some of the most popular places to sell clothes online for extra cash which you just finished exploring.
And some of these places are clearly available to Canadians as well such as Poshmark Canada, Etsy, and Facebook Marketplace. 
But did you know that they were so many other places you could use to sell clothes online for cash in Canada?
Good places to sell clothes online in Canada are: 
1. Letgo 
If you are looking for a great place to sell used clothes online for cash, then I suggest Letgo.
Letgo has millions of users and it is considered the largest and fastest-growing app for those that are looking to buy and sell locally!
The app is free to use and makes it easy to sell what you don't need as well as to find great deals nearby on what you do need.
Give Letgo a try today! 
2. Facebook Groups
Facebook is available almost worldwide and that is why I highly suggest it. 
I have bought a lot of amazing items in Facebook groups and they were not necessarily all clothes. 
I did buy some used baby toys such as a baby bike from a Facebook group that I am part of.
All you need to do is to find a Facebook group in your area simply by typing a keyword in your search bar. Ask to join and post your items for sale.
Be mindful of the group rules as well as respecting everyone. As always, be safe when meeting individuals. 
3. Bunz
Bunz is an amazing platform where thousands of people meet every day to trade everything from clothing to furniture.
Bunz is active in Canadian cities including Toronto, Vancouver, Ottawa, and Montreal, with new communities starting to grow around the world.
This is a fast-growing platform and because we support our local businesses, we will actively promote them. 
4. The Upside
The Upside is Canada's leading online luxury reseller, providing the widest selection of over 200+ authenticated designer brands.
They really focus on quality labels in 'like-new' condition, current styles at a fraction of the retail price!
They curate the widest selection of coveted high-designers, including Louis Vuitton, Chanel, Gucci, Hermes and Prada, as well as contemporary labels such as A.L.C, Smythe, Alice + Olivia, and rag and bone at approachable prices.
They make reselling simple by providing complimentary home pick-up (in our flagship city, Calgary) or free mail-in service across Canada. 
I love this shop and I am sure you will too! 
5. Eivey
This an amazing site that I found and totally love. 
It is exclusively Canadian and they have free shipping within Canada. It is simple to use and they have amazing clothes to buy if you are interested in.
If you are ready to create your closet on Eivey, be sure to set up an account today! 
Best way to sell clothes for cash effectively
We definitely wanted to share our best tips for selling used clothes online successfully so you can actually make some extra money. 
Picking clothes from your closet and throwing them up online and hoping to make sales is not an ideal way of going about things. 
You want to have a proper strategy that will hopefully make you a lot of cash.
So how exactly can you make money selling clothes online?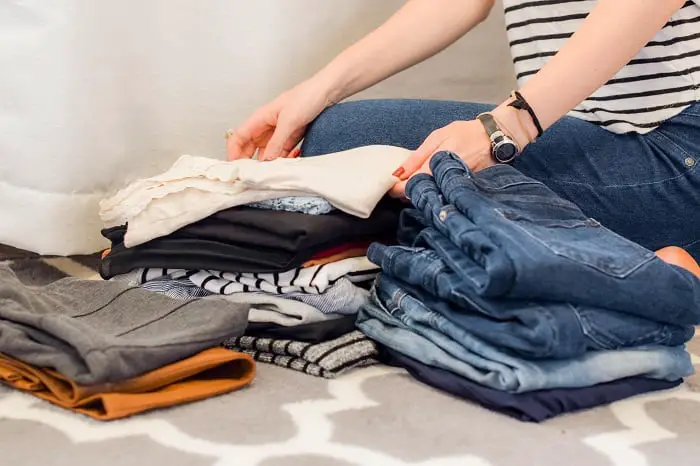 Here are a few tips for selling clothes online: 
We are now going to highlight a few ways on how to sell clothes online for cash so you can be profitable.
I have managed to have huge success in selling clothing, so I will share my best tips. 
I understand that making money is your goal and that is what we want for you as well.
By sharing our hidden tips on the best way to sell clothes online, we are hoping that you will have the same success we did. 
1. Pick the right clothes 
Here is an easy way on how to sell clothing online – pick the right clothes!
Choosing clothes that are out of fashion, really old or probably look like garbage is not the way to go about things.
Definitely pick clothes from your closet that you know you really do not want but you know someone would totally fall in love with.
Yes, people love fashion and good style! 
For example, I have some clothes that still have their tags on that I really loved, but the colour looked really bad on me once they arrived. 
Unfortunately, it was on final sale, no returns and they didn't have anything I could exchange it with.
This could be the perfect item to sell! 
I have a pair of heels I bought and 2 weeks later my doctor told me to stay off heels for 2 years (bad back due to a surgery I had to have)! 
So these were the perfect picks for me. 
They were still in style and relatively new! 
2. Price your items correctly
Depending on which platforms you pick, you might have to adjust your pricing accordingly. 
If the platform I am going to use charges a fee, then I would want to adjust the price accordingly to reflect these fees.
If you want to be really successful in selling your clothes online for cash, I would definitely set prices that are no less than $10.00 per item I am selling.
You can also snoop around and play with the platform.
This gives you the opportunity to check out what others are charging for similar items. 
3. Remember the season
When you decide that your time to sell your clothes online for cash is now, be wary of the season.
Trying to sell your winter clothes in spring is not really ideal as most people are preparing for spring and the summer months coming up ahead.
This does not mean your clothes won't sell, it might not sell as fast, or you might have to really lower your prices.
Definitely consider the season and time of year before clearing out your wardrobe to sell! 
4. Be mindful of Shipping Costs 
Depending on how you are planning to sell your used clothes, you need to be aware of any shipping costs as well as shipping labels that you might need to provide to the buyers. 
For example, if you do decide to open your own online store to sell used clothes, you will be responsible for any shipping costs in order to get things to the buyer.
They are so many websites to sell clothes these days, make sure they work with your needs. 
5. Check other listings first
Make it a habit to check out other listings. 
You may list the same outfit or clothing as someone else. This helps me see if I need to change my photo presentation, prices, also look at the descriptions and sizes. 
I want to ensure my clothes sell fast when I list them, so doing what it takes to make it work is my priority.
6. Collect Reviews
Depending on if you will be selling your clothes online frequently, I would suggest you start getting reviews or asking people to leave reviews. 
This is great to become known, reliable and trustworthy. 
Once people read your reviews, they will keep coming back with little promotion from you. 
Do you know of other great places to sell clothes online for cash?
We would love to hear all about it in the comments below! 
5 Reasons To Sell Your Clothes Online for Cash
We have already mentioned a few amazing reasons why you should sell your clothes online but in case you are not sold on the idea, here they are again. 
You can make fast money to pay for unexpected expenses such as cash to fix your car, pay your student loans and as well as pay other bills 

It is a great way to declutter and get rid of extra things around the home 

It is considered recycling and if you are into saving the environment then do it

Others can really benefit from buying your used items at an affordable price that you don't need (it's cheaper for them)

It creates more space in your life
How to sell your clothes online & make $600
We already shared a few amazing tips and the best ways to sell clothes online. 
But I wanted to share my story.
How I was able to make $682 selling old clothes online. 
Just less than 3 years ago, I had my little girl. As time went by, I found that I was running out of closet space for her. 
This was because I was holding on to all her clothes. 
And if you have babies, you understand that they grow pretty fast. 
I decided that I needed to either donate or consider selling clothes that she no longer needed to fund her other clothes especially winter attires which can be pretty expensive.
After sorting out what I was going to get rid of, I made a list of the best site to sell clothes online for fast money. 
Picking the right platform to sell your clothes is just as important in order to actually make money.
"Where to sell your clothes for a profit" 
We already listed the best places to sell your old clothes, but you need to dig a little deeper than this. 
For me, finding a platform that was extremely easy to use was really important.
I also wanted the platform to be free and easy to use. 
Keeping this in mind, the best place to resell clothes for me ended up being Kijiji and Facebook groups. 
I used Facebook groups targeted to moms and babies because I was getting rid of baby clothes. 
I took the best pictures of my baby clothes, bundled them up for better value (e.g 10 shirts for $20) and posted them up on the site. 
Within an hour, I was making arrangements to meet and exchange the items for cash. 
I had toys, clothes, books, bags and so much. 
I was able to make over $682 selling good quality second-hand clothes online!
I believe choosing the right sites to sell clothes and offering bundle value was the reason for my success in selling clothes online. 
Do you have tips to sell old clothes online? 
Please share them!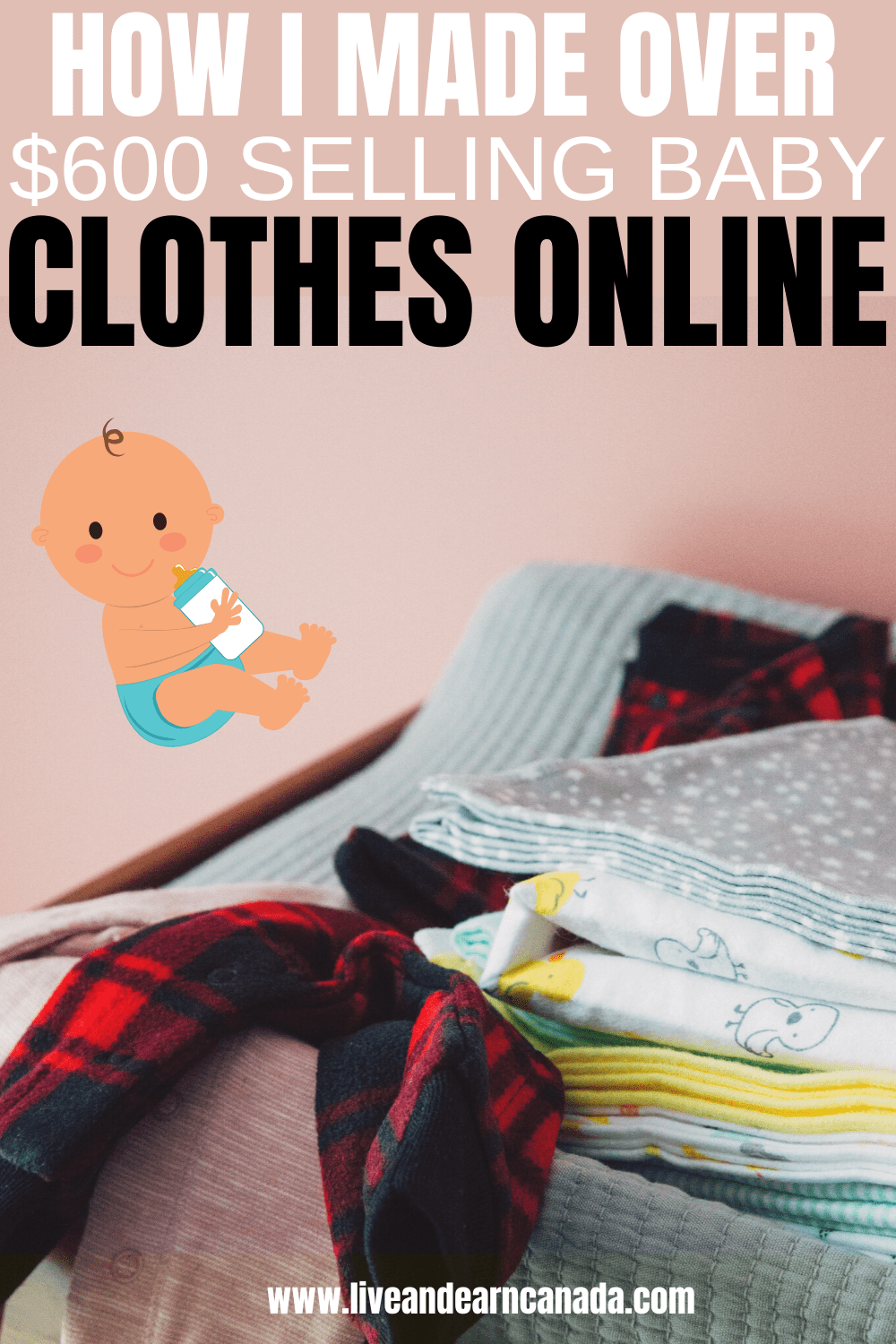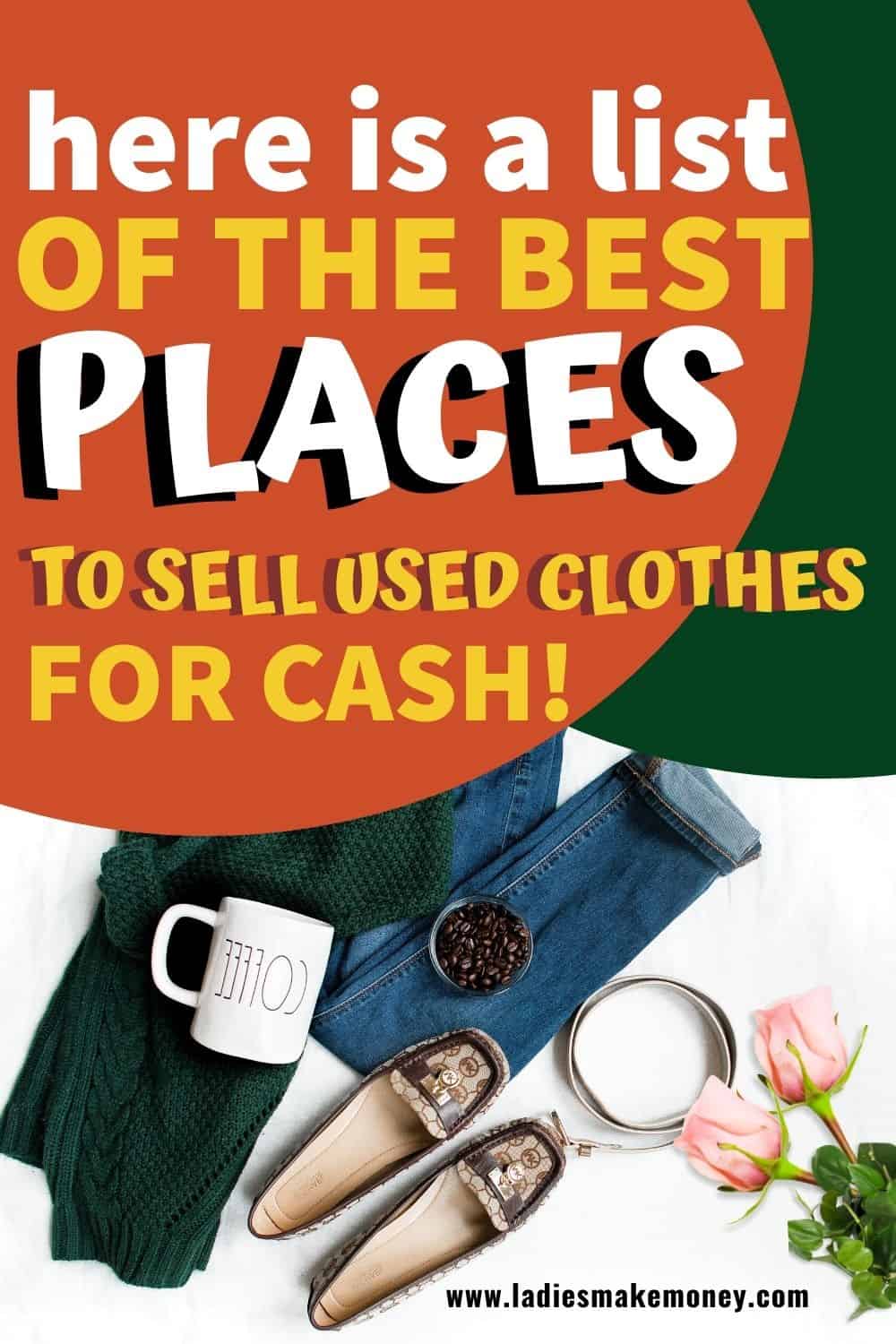 READY TO SELL YOUR OLD CLOTHES ONLINE FOR CASH? 
Related: 
18 Easy Jobs For Lazy People To Do For Cash in Canada
10 + Fantastic Places To Sell Clothes Online For Cash Right Now