Spring Cleaning Tips To Steal
I love spring cleaning and I feel like I am always reading up on what the latest spring cleaning hacks are to make my life easier. 
If you are like us and you like to find the easiest way possible to get things done, these life hacks might just help you out as much as they have helped me.
Ready to get started on some spring cleaning? But before we get to that, when should you start spring cleaning? 
When Should Spring Cleaning Start?
I like to start my spring cleaning late April, early May as soon as I feel that I am over winter.
Spring cleaning gives you the sense of a new season, meaning its time to freshen up. Winter is typically the time that we tend to collect clutter and keep things all over the place. 
When the sun starts shining more and the weather gets warmer, you will start to spend more time outside. 
In order for your home to feel and look as good as the outside, you should consider doing some spring cleaning.
And this is why we are excited to share with you a few of our best spring cleaning hacks from the pros. 
Before we get started on the best spring cleaning hacks, we did want you to follow us on Instagram for more tips. 
We also wanted to take the opportunity to let you know that we use Affiliate links on some of our blog posts. This means that we could make a commission if you click on an affiliate link and purchase something. Read our full disclosure and blog policy for more information.
How Can I Make Spring Cleaning Easier?
Just like any task, in order to make cleaning easier, you need to do it frequently. 
Don't leave things to the last minute or neglect to do it because you have made up your mind about tackling it when the weather gets better. 
Do the cleaning slowly throughout the winter months, focusing on things that are right in front of you, and avoid collecting things that will clutter up your space.
Throw away things that you no longer use as you come across them and clean out anything you can frequently.
This alone will definitely make your spring cleaning much easier. 
One of my all-time favorite spring cleaning hacks is to use a spring cleaning checklist to get through things much quicker! 
Spring Cleaning Checklist
One of the best spring cleaning checklists I found is from Sharing Life's Moments!
With so much to do, you might forget one or two things when you are going through your cleaning efforts!
That is why having a spring cleaning checklist like this one is really helpful!
This spring cleaning checklist is so detailed that it includes some cleaning tools you might need to make your spring cleaning easier! So golden!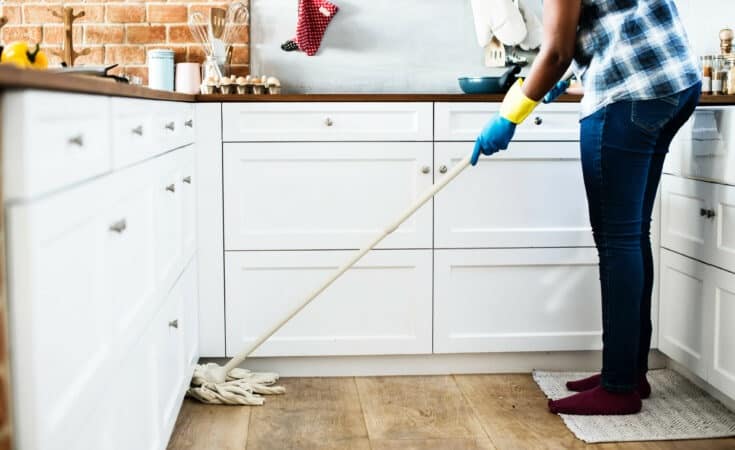 Spring Cleaning Hacks:
Now that you understand that you need to spring clean, use the hacks below to get ahead and get the cleaning going!
There is no point in gathering everything you need or planning your clean out sessions, without actually putting any action to it.
So get to spring cleaning with our amazing hacks! 

1// Sell what you don't want:
This is a perfect time to make a little extra cash.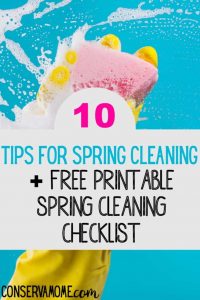 Do you have things that you know you could get a bit of $$ for?
Something you haven't used or was an impulse buy? Use Spring cleaning time to sell them and make back some cash. 
I got this and other amazing spring cleaning tips from Conservamom!
For example, this spring, I sold some of my daughters outgrown clothes, my heels (not wearing them anytime soon) and anything that was taking up too much space in my home.
2// Use Homemade Reusable "Swiffer" Mop Pads
 There is nothing better than clean floors especially when spring is in the air!
If you are into natural cleaning and would like to avoid spending money on new mops every year, these homemade reusable Swiffer mop pads are a lifesaver as well as a money saver!
Aileen Cooks has an amazing tutorial on how to make your own DIY Homemade Swiffer mops that you can use.
Steal the tutorial right here!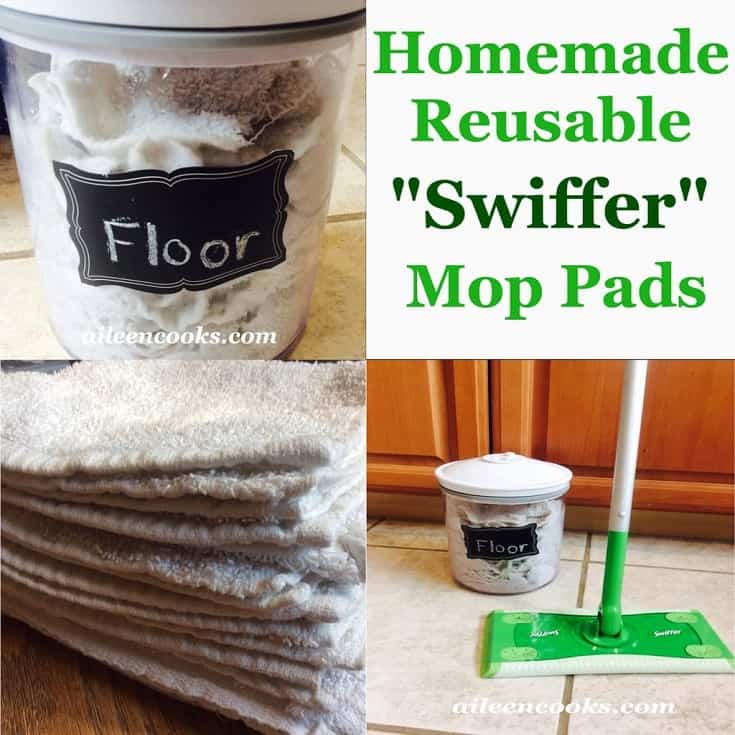 3// Spring into the new season with clean granite tops
One of the best spring cleaning hacks I read was to create your own cleaning products.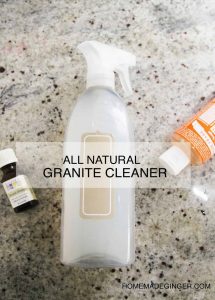 This means you are spending less money.
I liked the sound of that!
DIY Candy has an amazing post on how to make your own all natural DIY Granite cleaner recipe!
They will make your counter tops sparkle and guess what? They work on tiles and other surfaces, too.
This is an all win spring cleaning hack and you must definitely use it! 
4// Clean Your Washing Machine This Spring
Even though your washing machine is used for washing thing, it still needs to be cleaned!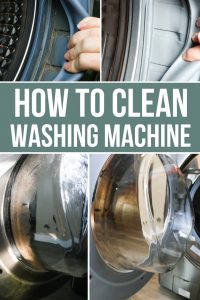 Learn how to clean your washing machine naturally in this easy step by step tutorial.
By following these steps for how to clean your washing machine and you'll be able to say bye to that mold, mildew and gross smells coming from your washer!
It's a good idea to clean your washing machine once in a while. This will ensure that your clothes are cleaned well and they smell good! 
5// Deep Clean Your Windows This Spring
These easy tips to deep clean your windows from Cook, Eat, Go is the perfect way to start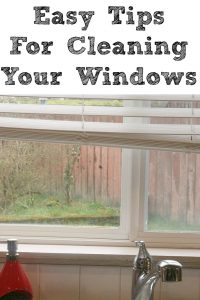 off your deep cleaning any time of the year!
If you live in an area that tends to be moldy, then you will love this spring cleaning tip!
From tracks, to frame, to the window sill, to window treatments, and the window itself, it will brighten up any room in your house!
Don't forget to clean the blinds and the curtains as well!
By following the tutorial you will be able to have perfect windows that are extremely clean! 
6// Clean Your Microwave 
How many people including myself hate cleaning microwaves?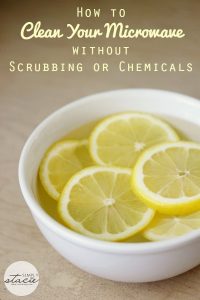 Use these simple cleaning hack to get your microwave clean and fresh.
The best part is that there is NO scrubbing or harsh chemicals required!
I knew I had to try this one out for myself!
I am a busy mom to a 2-year-old and getting things cleaned as fast as I can with little effort is a dream.
If you are wondering how you can quickly clean a microwave with little scrubbing involved, read this amazing post from Simply Stacie!
7// Hacks For Spring Clean In One WEEKEND!
As I mentioned earlier, my time is very limited and I am really busy with my businesses and my daughter.
If I can find spring cleaning hacks that are easy to do, fast and give me the best results, Then I am all in!
No time to dust your refrigerator coils, use this spring cleaning tip to get through!
This amazing post from Love and Renovations focuses on the items that will make an impact, ignore the ones that won't, and high five each other for letting go of unrealistic expectations.
She breaks down the tasks into days. Find out what you will need to do on Friday, then Saturday and finish your cleaning by Sunday! 
8// Removing Mold In The Shower
I hate mold and I am sure you do too!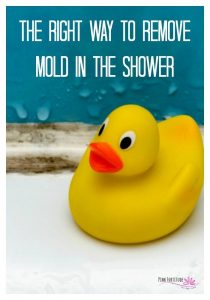 Should you use bleach to remove the mold? What is safe to use? Is there an all-natural method to remove mold?
How do you keep the mold from coming back? Lucky for you, Pink Fortitude has done an amazing job answering all your burning questions.
Mold is not formed from lack of cleaning,  it forms when the eco-system in your bathroom (or home) is both humid and not properly ventilated.
One of my bathrooms has no windows and so when I came across this post, you know I had to take notes!
Spring cleaning hacks like these always make it to the top of my list! 
9// Remove Stubborn Hard Water Stains
This simple cleaning hack will get rid of stubborn hard water stains from around your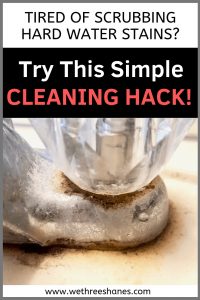 faucets and fixtures with ease.
Don't waste money on harsh chemicals when you can get rid of build up using two basic household products!
If I don't have to spend additional cash, then you bet I am listening to this tip!
Apparently, all you need are two simple ingredients that EVERYONE has.
You will need to read the full post to find out exactly what you will need! 
10// Spring Cleaning With Kids
I liked the sound of this for a few reasons. 
If you have kids, I can bet you that they follow you around because they just can (young kids/ toddlers)!
And if you can get the kids to be involved, boom, you get the kids entertained and the house cleaned at the same time!
But is this really possible?
Sixth Bloom has created a free printable you can use to help with this.
You can divide this list into tasks you feel are age appropriate with your own kids. This is pretty amazing! 

11// Spring Cleaning Products Without Chemicals 
And last but not least, spring clean your home by using safe products!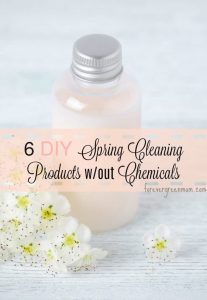 Forever Green Mom shares 6 amazing products that you can DIY without harsh chemicals.
By using natural cleaning products, your home will smell – fresh and clean! And that's why this post was important for me to include!  
By using only 100% pure essential oils in your homemade products you will get better and much safer products for yourself and your family.
If your oils are a hundred percent pure, you've assured no fillers, no preservatives, nothing else added.
Find out what products you can make yourself from home. 
Which of these spring cleaning hacks did you enjoy the most? Tell us in the comments below! 
11 Brilliant Spring Cleaning Hacks To Help Save Time