Amazing Restaurants In Ottawa
Ottawa is truly home to many amazing things and if you are looking for some of the best places to eat in Ottawa then this post should help!
Obviously, if you are downtown or near Elgin street, you will definitely find a look of good restaurants there.
We wanted to focus on the different restaurants you can find in and around Ottawa to truly enjoy a good meal. 
Before we get started on the best places to eat in Ottawa, we did want you to follow us on Instagram for more tips. 
We also wanted to take the opportunity to let you know that we use Affiliate links on some of our blog posts. This means that we could make a commission if you click on an affiliate link and purchase something. Read our full disclosure and blog policy for more information.
Top Places To Eat In Ottawa
We are going to share a bit of everything to do! 
These are some of the best places to eat in Ottawa! You will find some fine dining restaurants, affordable places to eat in Ottawa, restaurants that cater to Canadian taste and so much more! 
Enjoy them while you are in town!
And if you are looking for the best Poutine in town, be sure to visit Montreal if you get a chance!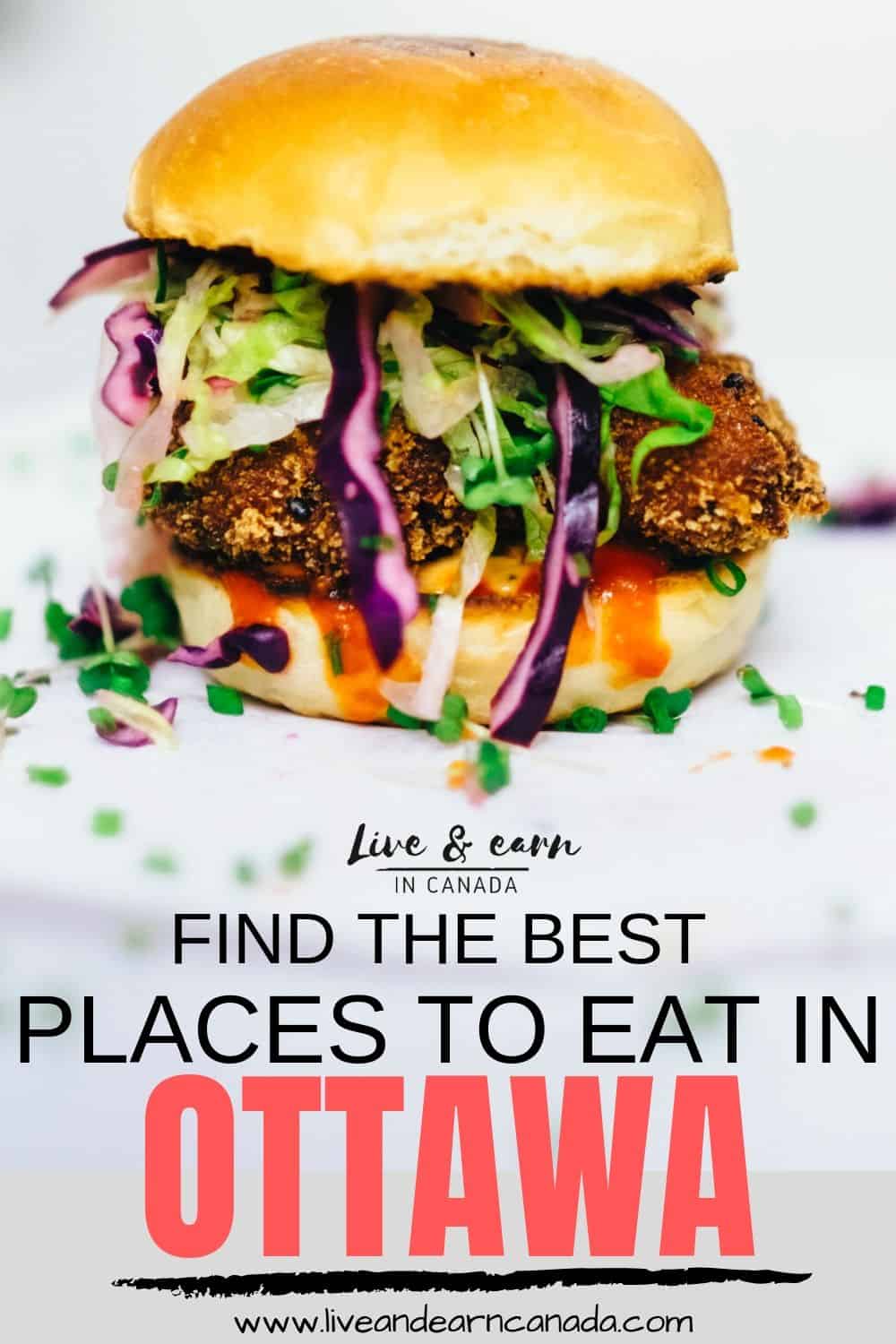 1// Eating In Ottawa's Own Social 
SOCIAL is focused on progressive Canadian cuisine with diverse & innovative wine selections and craft cocktail offerings.
Live Jazz in the courtyard & weekend DJs set the vibe, making SOCIAL one of Ottawa's most vibrant & creative restaurants.
Located in the historic Byward Market in the heart of downtown Ottawa, SOCIAL offers a sumptuous and elegant atmosphere while indulging in our Canadian free-style cuisine.
 

View this post on Instagram

 
2// Restaurant e18hteen
A  contemporary fine dining restaurant established in 2001, e18teen is the restaurant to go to if you are looking for dinning. 
Their cuisine is traditional French with seasonal Canadian influences, backed by an extensive wine selection. 
Enjoy some good steak, seafood, wine, and cocktails here!                   
 

View this post on Instagram

 
3// Milestones Grill and Bar
I personally love Milestones Restaurants. 
They have multiple locations so wherever you are in Canada, you will be able to find something.
There are currently over 40 locations across British Columbia, Newfoundland, and Labrador, Alberta, Saskatchewan, and Ontario.
Whether you go in for a favorite meal or love trying new and trendy dishes, Milestones is all about great food without the pretension.
They are an impromptu meeting place for friends and a cozy spot for date nights. Be sure to check them out!
 

View this post on Instagram

 
4// Meatings Barbecue 
Meatings was born out of a simple tradition. What started as an annual gathering of family, friends, and neighbors turned into an idea for something bigger.
If you are looking for delicious barbecued food, then you need to go to Meatings! 
After all, Canadians do love a good Barbecue! 
 

View this post on Instagram

 
5// The King Eddy 
If you are on a budget or looking for something that is open 24/7, then this is one of the best places to eat in Ottawa! 
The King Eddy restaurant opened on December 15th, 2014.
Located in Ottawa's historic Byward Market, the 'Eddy' is home to Ottawa's best burger and offers up a wide variety of classic 'diner' type fare that is made fresh in house every day with quality ingredients.
 

View this post on Instagram

 
6// Town Restaurant in Ottawa
Modern, seasonal Italian fare served at this intimate bistro with old-country wine & local art.
This amazing restaurant aims to be unique and fun – it opened 4 years ago and you need to go if you haven't been yet!
The food is really tasty! 
 

View this post on Instagram

 
7// NEXT
NEXT was rated as one of the hottest top 100 new restaurants in Canada for 2015 on canadas100best.com and is consistently in the top 5 on TripAdvisor for the Ottawa region.
It is located in the west end (Stittsville) minutes away from The Canadian Tire Centre.
The menu reflects Chef Michael Blackie's best food memories, which span over his 30-year international career.
Next is definitely one of the best places to eat in Ottawa! 
 

View this post on Instagram

 
8// Canal Ritz 
I just ate at this restaurant a few week ago when we were out for our staff retreat! 
They offer a modern Italian cuisine, exceptional service, a warm atmosphere and breathtaking scenery combine to make Canal Ritz a truly unique dining experience in Canada's capital.
With its convenient downtown location and the best views of Ottawa's beautiful and historic Rideau Canal, Canal Ritz has become a favourite destination for tourists and locals alike.
 

View this post on Instagram

 
9// Andaz Ottawa Restaurants 
Sample a variety of innovative culinary flavors at Andaz Ottawa Byward Market, with a restaurant, rooftop lounge, and bar.
Unwind amid the restaurant's wood-paneled interior, dotted with hanging plants, with a vibe that's modern and refreshing.
Take it all in with a sense-of-place cuisine menu, infused with Canadian cuisine specialties.
 

View this post on Instagram

 
10// Edgar Gatineau Restaurant
This amazing restaurant is located in Gatineau! Chef and owner Marysol Foucault is offers delicious brunches, lunches and pâtisseries that you do not want to miss out on! 
From the excellent presentation of the dishes to the way the ingredients come together, everything at Edgar has been carefully considered. 
 

View this post on Instagram

 
11/ Joey's Restaurant – Landsdown 
Joey's has a few locations around Canada! 
Each JOEY restaurant is unique, but they all have plenty in common: great food, lively environments, exceptional dining experiences.

 

View this post on Instagram

 
12// Atelier Ottawa Restaurant 
Atelier is a tasting menu restaurant in Ottawa serving 'New Canadian' food based on hyper modern culinary technique and technology.
They serves a 12-course tasting menu every night, to every guest.
They will make substitutions to any dish for allergies, strong dislikes, and for vegetarians.
The posted menu, as it changes frequently, may have slight variances to some dishes.
 

View this post on Instagram

 
13// Al's Steakhouse Ottawa
Al's Steakhouse opened its doors over 52 years ago, in July of 1967, and made history.
Halim "Al" Saikali, a Lebanese immigrant, opened the restaurant, which rapidly became the must-visit Ottawa dining destination for locals, tourists, and celebrities alike.
Classic steakhouse meals define the cuisine at Al's: certified Angus beef, fresh fish, a variety of delicious appetizers and salads fill the menu.
It's perfectly complemented by classic cocktails, an extensive wine list, and uncompromising service.
So if you are looking for a few places to eat in Ottawa, be sure to visit this one!
 

View this post on Instagram

 
We hope you love some of these places. What are some of the best places to eat in Ottawa that you have personally tried out? We would love to hear all about them!
Read this next:
15 Best Free Things To Do In Ottawa This Year For Fun
Some Of The Best Places To Eat In Ottawa This Summer