Le Nordik Spa Ottawa
Le Nordik Spa is a place for true relaxation.
If you need to get away from the world and find your natural balance within yourself then there is no better place to do this than Le Nordik Spa.
Focusing on traditional relaxation and wellness treatments from Scandinavia you will not regret making that reservation.
Exact Location of the Nordik Spa
Le Nordik Spa is technically located in Gatineau or Chelsea, Quebec which is about 10 to 15-minutes drive from Ottawa, downtown.
Did you know that Le Nordik Spa is Canada's largest day spa? It was also one the first of it's kind to open in the Country.
This epic indoor-outdoor retreat located just 10 minutes from downtown Ottawa is really the place to be if you are looking to relax.
If you are ready to experience this amazing spa, read up on everything you need to know about it.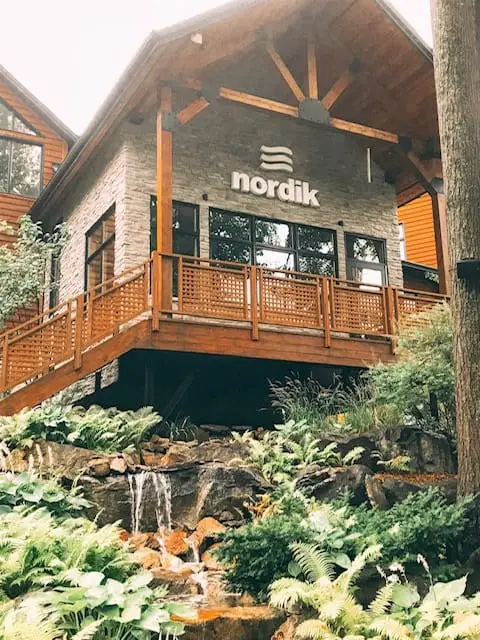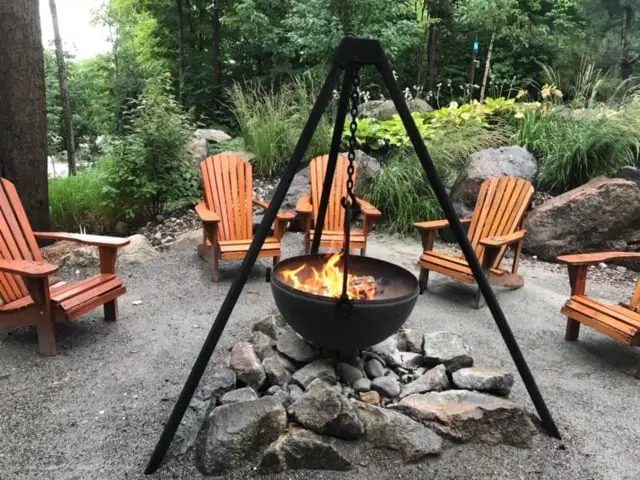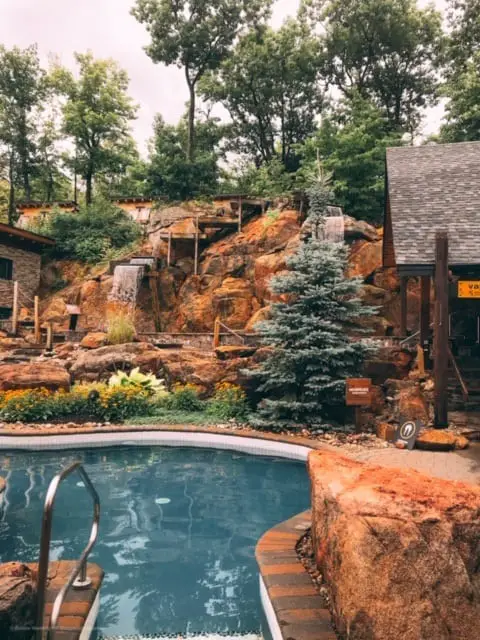 Before we get started on our review for Le Nordik Spa, we did want you to follow us on Instagram for more tips. 
We also wanted to take the opportunity to let you know that we use Affiliate links on some of our blog posts. This means that we could make a commission if you click on an affiliate link and purchase something. Read our full disclosure and blog policy for more information.
Review of Le Nordik in Chelsea
Here is our honest review of Le Nordik Spa in Chelsea and how to have a good time. 
And if you are looking for other places to explore, we have a great list of some of the best spas in Ottawa that you can explore.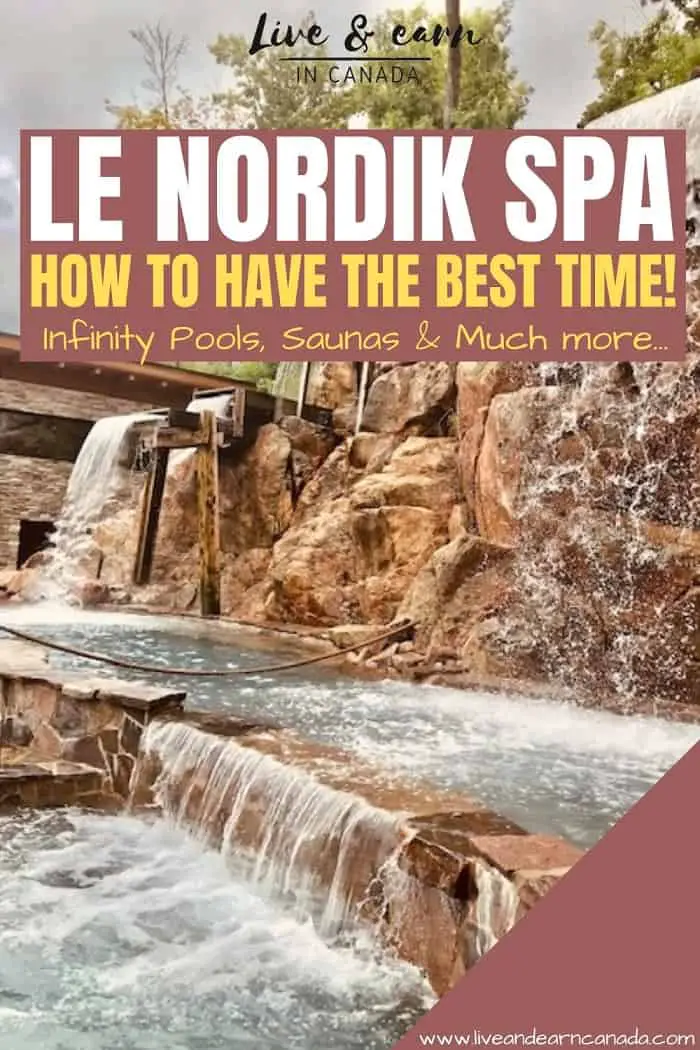 1. Hotels near Le Nordik
The spa itself is nestled into the picturesque village of Old Chelsea on the outskirts of Gatineau Park.
Meaning you will be close to nature during your entire stay, which is really not a bad thing.
The spa is partnered with a number of hotels within the Ottawa Outaouais region to make for a seamless escape.
Come to the hotel by day and let the treatments sink in while you enjoy your night in the wonderful and welcoming region. 
There are also a few cottages available to rent that sit atop Nordik Road allowing for breathtaking views over the Gatineau Park and into the region below.
These cottages are perfect for groups looking to get the most out of their stay at the spa and also take in the thousands of activities that the region has to offer right on your doorstep.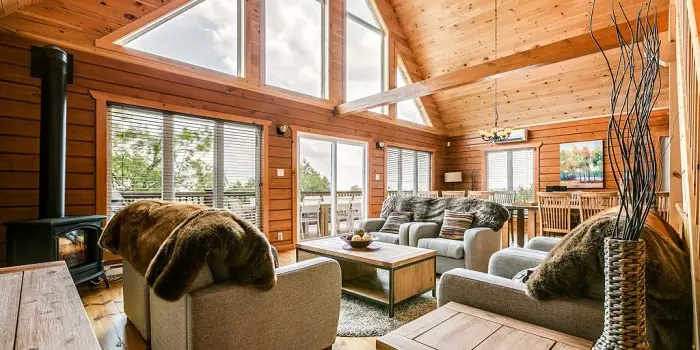 Source: Alpina Le Nordik Spa Cottage
2. The Experience at the Spa
The spa itself is split into 3 unique sections with 3 different experiences to allow for the best possible stay for all of its residents. 
Kasad – the Silent Section 
If you are looking for complete peace and quiet then this section is for you.
Enjoy your treatments or take a relaxing dip in the cristal cold waterfall that comes down from the mountain.
You will feel transported in this sublime setting where silence is enforced.
Borea – Whisper Section
Perfect for couples or friends that have come to take in the treatments and enjoy the peaceful surroundings whilst still being able to speak quietly and maintain the intimate space.
This section also has a range of pools both warm and cold to enjoy at your leisure or as part of the thermal cycle treatment.
Panorama – S

ocial Section
Perfect for groups meeting back together after enjoying a dip in the baths or receiving treatments.
This section is designed for social interaction whilst being able to relax within the pools or the loungers as well.
I personally really enjoy the whisper section. 

The lounge and social area at Le Nordik

Enjoying wine on the Terrace
3. What's included at the Spa
As one of the largest spa in the country, this location has several baths, saunas and other amenities you can enjoy. 
To be exact, they have the following amenities you can enjoy: 
10 baths on-site (A mix of hot, cold and room temperature)

9 unique saunas

1 Infinity pool

You can enjoy outdoor and indoor relaxation areas 

Yoga and meditation rooms which I love

An exfoliation room

3 Restaurants 

A Biërgarden

4 terraces / Patios 
As you can see, for the price and the experience you are going to get, they are offering you a lot at your disposal. 
4. The Treatments at Le Nordik
There is a wide range of both treatments and massages that will suit you and what you are looking to get out of your spa visit.
From classic massages such as Swedish massage to the 1000-year-old rituals that help cleanse the skin, eliminate toxins and boost your immune system.
No matter how in-depth you want to go you will find something that will relax you and make you feel better than you have in a long time. 
A treatment that is favored by many is Thermotherapy.
It is inspired by the 3 step ritual that has been carried out in Nordik regions for more than 2,000 years.
The benefits are long and include both mental and physical health benefits.
The Thermal-cycle works by alternating between hot and cold temperatures followed by a rest period and can be felt to work not only during treatment but long after.
Whether you are visiting solo or with a group, you will love every second you spend at Le Nordik Spa!
The treatments will help you get back to that peaceful state we all want to be in and your overall wellness will be impacted long after your stay.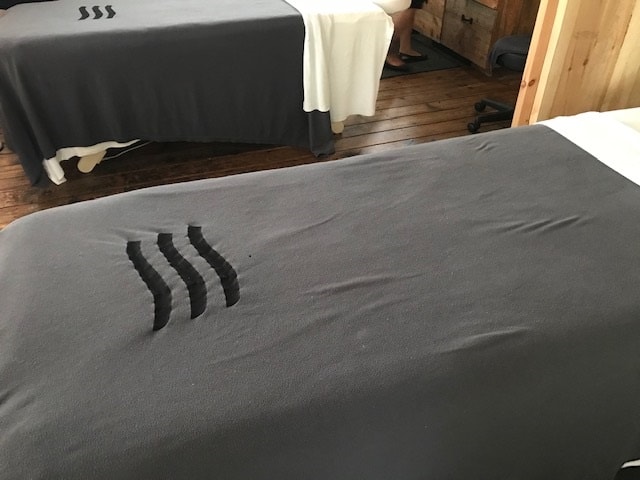 The lovely lady that did my massage (Picture was taken with Permission)
5. The restaurant at Le Nordik
Le Nordik Spa has four amazing restaurants on-site that you can totally enjoy.
Do not bring outside food as it is not allowed and feel free to try out what they have.
The Restö, the Lounge Panorama, the Mëzz | Café, and the Biërgarden are the restaurants you will find there.
During summer, you can enjoy the patio area also known as the terraces (they have 3).
The restaurants are a huge part of the overall relaxation experience that Le Nordik Spa offers and it is not open to the public.
Please note that the food served at these restaurants is mouth-watering and they are all really healthy. 

The Mezz Cafe at Le Nordik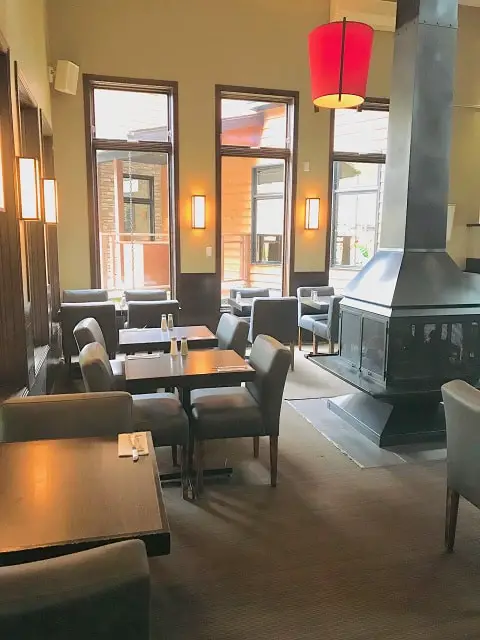 My delicious food at Le Nordik Spa Ottawa
6. Infinity Pool at Le Nordik Spa
Before you leave the spa, be sure to relax and enjoy the infinity pool at Le Nordik. 
The large panoramic pool, is located in the middle area of the social spot at the spa. Here you will be greeted with a stunning view of the Gatineau-Ottawa region.
Get lost in your own thoughts as you look out and enjoy the views. 
The Nordik spa infinity pool is very relaxing. 
7. Enjoy the Fire Place
If you do visit the spa during winter, be sure to check out their cozy fire place section. 
The fireplace definitely has cottage feel to it and sitting around it with your friends or loved ones is a big plus. You can enjoy a glass of wine as you warm up before going for lunch.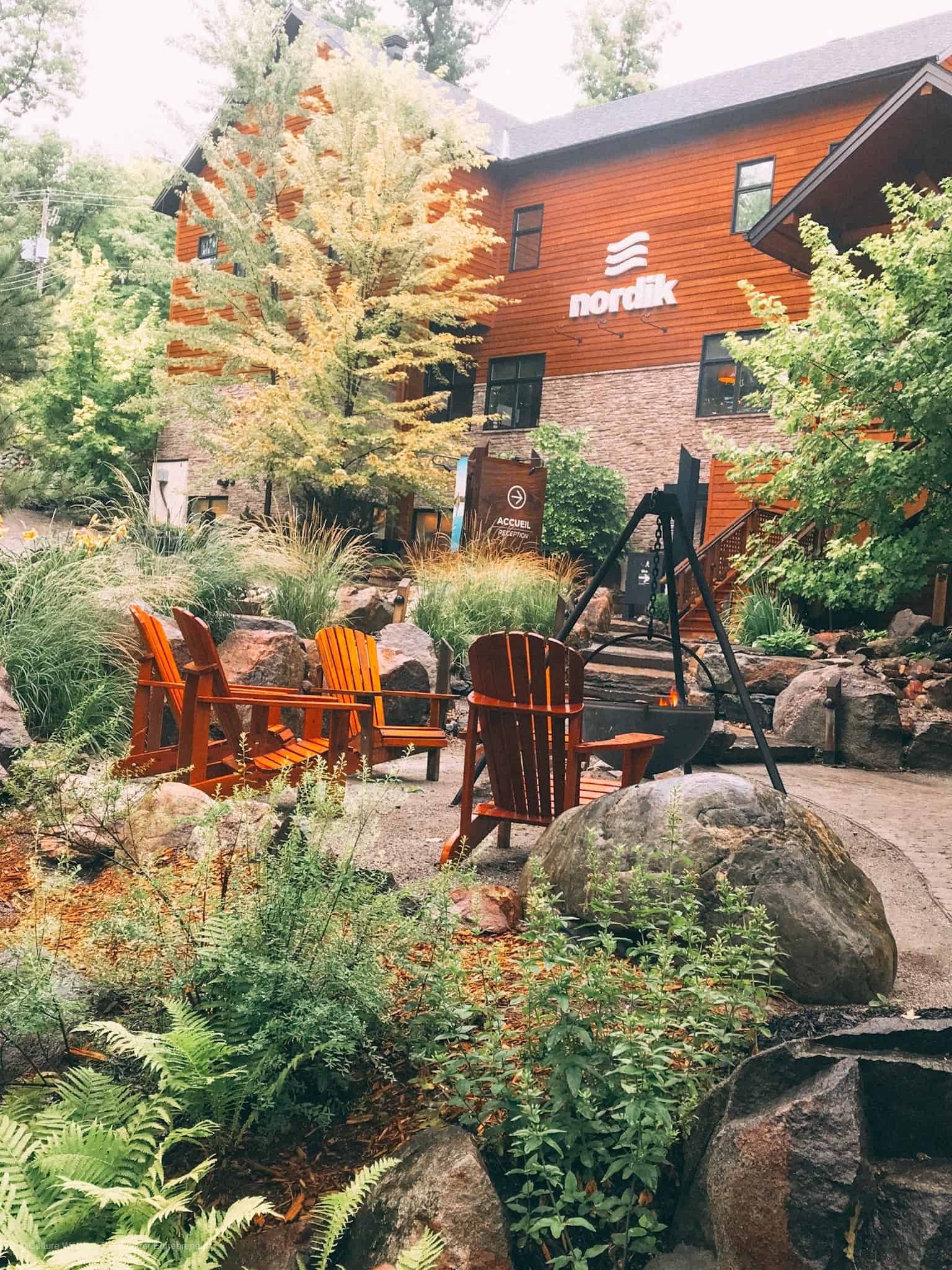 8. Yoga at Nordik
With the opening of the Espace Banyä, you can now enjoy some Yoga at the Nordik! 
The whole point of going to this retreat is to relax. 
Spa lovers can now enhance their relaxation experience with a yoga session led by a professional or practice their own yoga routine in a multipurpose room any yogi would love.
What should I bring to Le Nordik?
Le Nordik Spa in Ottawa really does go above and beyond for its guests. 
I really love the fact that they provide you with a towel (which you can go back and exchange for another as needed) as well as a locker for your belongings.
You also get the option of renting out a bathrobe from their boutiques if you do not have one.  
Ideally, I recommend you bring the following items to the spa:
Towel (Optional as they provide these)

Your water bottle to stay hydrated (They are fountains available for refills)

Definitely your bathing suits

Sandals or Flip Flops
A cute hat like this one for when you visit Le Nordik Spa during summer
Since you are not really allowed to talk (it's quiet and relaxing area zone), I recommend bringing some earphones to listen to some relaxing music or a book.
Some cute sunglasses like this one, sunscreen (for the summer) and some lip balm won't hurt.
I always forget body lotion or body moisturizer for after the fact, so pack some.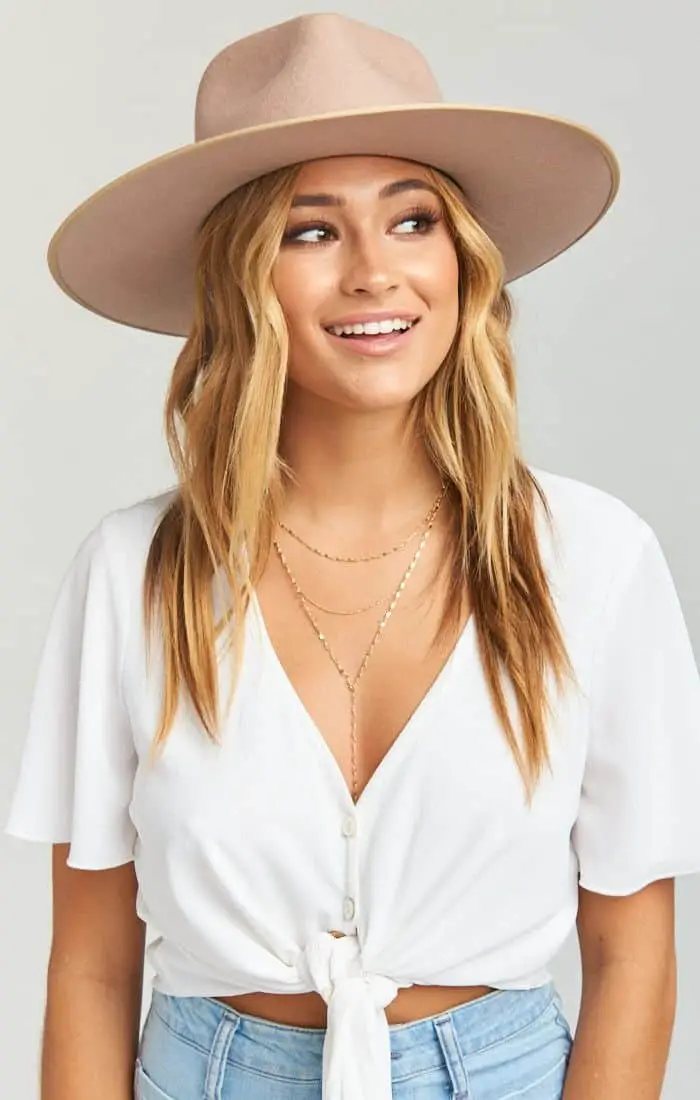 When is the best time to Visit the Nordik Spa?
The best time to visit the Nordik Spa is definitely during the winter. 
I did go visit the spa in July last year, just to see the difference between going in the summer vs the winter times. 
The hot baths and hot weather really do not mix very well.
So if you do get the chance to go and you really want the best experience, go in winter.
The spa is definitely open all year round for those that are visiting this side of the country at all times. 
Spa hours & Pricing information
The day passes to the spa starts at $68.00 and this will give you access to most of the saunas, baths and relaxation areas around the property. 
And additional fees will apply for other services such as the thermal experiences, massages and body treatments. 
I typically book the specialty massage for one hour at least one hour after having lunch. 
Simple massages start at $105 depending on what you are looking for. 
Hours of Spa operation: 
They are opened between 9 a.m. to 11 p.m. from Sunday to Thursday! 
And 9 a.m. to Midnight on Fridays and Saturdays, rain or shine all year-round.
They are however closed on Christmas day, December 25th.
How far is Nordik Spa from Ottawa?
If you are planning to take your first trip to this epic spa, I am really happy for you. 
You will definitely have the time of your life and you will leave feeling completely rejuvenated and feeling great. 
How to get to Nordik Spa from Ottawa
The spa is approximately 15 minutes from Ottawa, the Nations Capital in Chelsea, Quebec, near the Gatineau Park. 
Once you are in the Gatineau, you simply have to jump on the Autoroute 5 North! 
Take exit 12 from Autoroute 5 N which will be on Chemin Old Chelsea and follow the Nordik signs. 
Additional Tips for Nordik Spa
Reservations are required in order to have access to the spa
In order to fully enjoy your time at the Nordik Spa, be sure to arrive early. 
Definitely book your day in winter and ideally during the week as it can really get overcrowded.
I highly recommend bringing a bathrobe otherwise renting one from them could cost $12.00 easily. 
You will be provided with a towel, locker, and a bracelet as soon as you check in which is really nice. 
I typically start the experience with the baths outside before hitting the saunas. And in between these, you can head to the bar to grab a drink, and then go to the waterfall pool. 
We did also check out the fireplace seating area and other places of the spa.
For lunch, if you are a wine drinker, and you are going with a partner or friend, I suggest buying the bottle.
They have amazing food packages that you also go for or just enjoy their delicious table d'hôte menu which I recommend. 
You can go to yoga and the nap rooms if you want, but we opted out of it.
We ended our day by spending time in the infinity pool. 
And there you have it. 
Our complete Le Nordik spa review – thoughts and tips.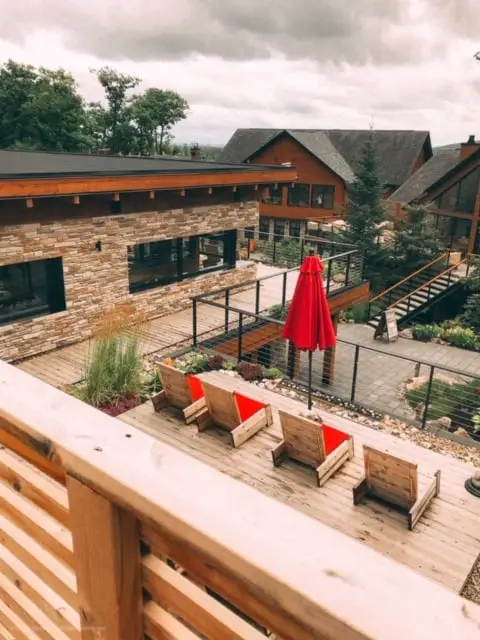 More outdoor space to relax near the yoga rooms
Please note that all photos are mine. No phone or photos are allowed to be taken in the spa. I received special permission for this.
Will you be visiting Le Nordik Spa in Ottawa today?
Read this next:
Here is a list of 20 things you must do before you turn 20
What to do on a Sunday Night to Have A Successful Week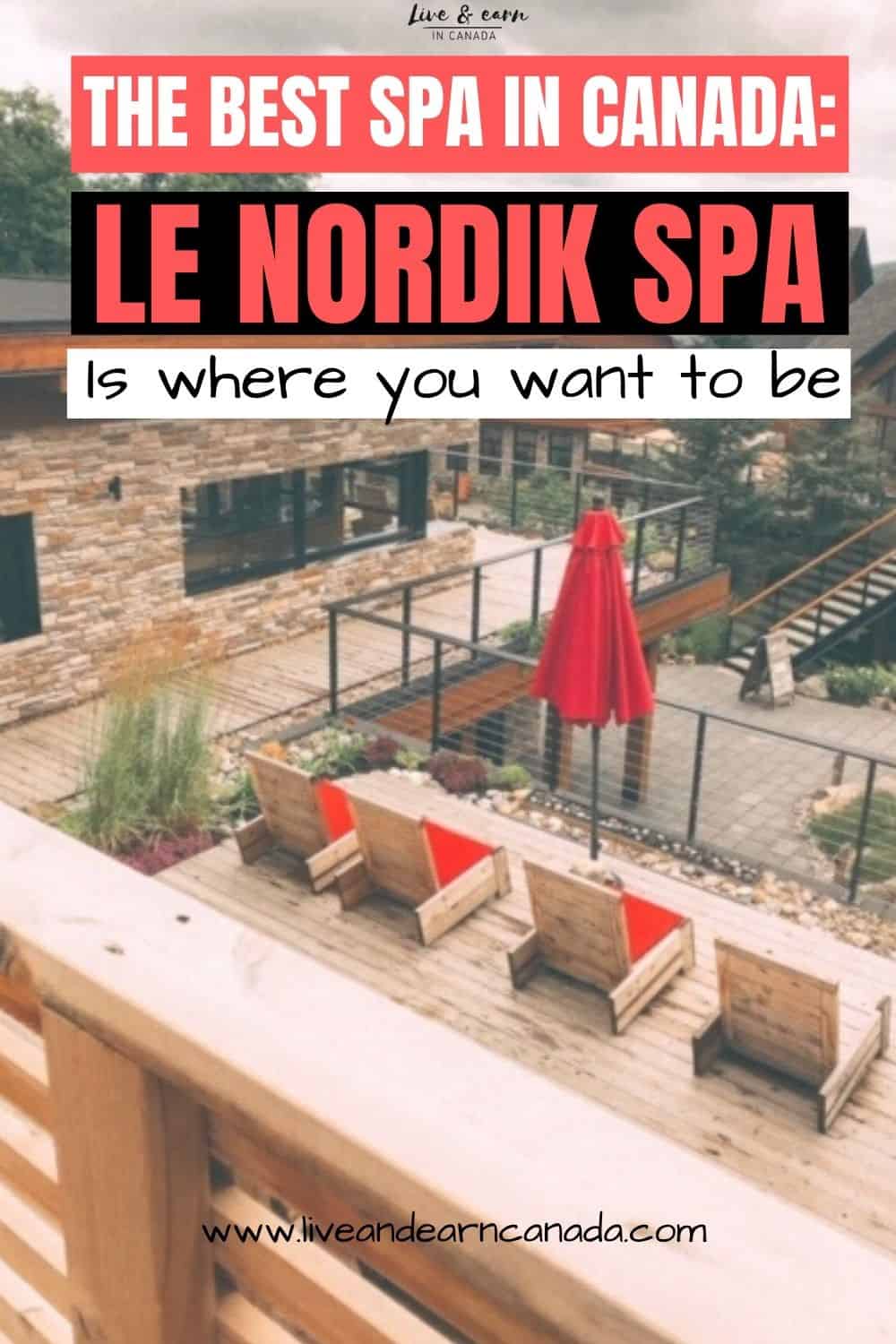 Le Nordik Spa Ottawa Review: How To Have The Best Time