Kids playgroups in Ottawa
If you are looking for fun playgroups in Ottawa, this list is jam-packed with information for you!
I remember when I had my daughter almost 2 years ago, I was fortunate enough to have been part of a prenatal group that included 6 months of playgroups with all the new moms. 
But I didn't know what I was going to do after these 6 months. My daughter was already well accustomed to meeting new babies once a week and at this time I was a stay-at-home mom. 
Luckily for me, after doing a few quick searches, I found some amazing playgroups near me in Ottawa!
I was extremely happy with my results and also very excited! Now I had a list of the perfect places to take my daughter to Ottawa for some fun.
Especially during the winter months! Lucky for me, my daughter got into daycare at 13 months.
But from months 6 to 13 months, I needed to entertain this little one and I made use of the baby and toddler drop-in playgroups quite frequently.
And I feel like this decision made it much easier for her to transition into daycare much easily!
So what are the best Mommy and Me playgroups near me?
Before we get started on playgroups in Ottawa, we did want you to follow us on Instagram for more amazing tips. 
We also wanted to take the opportunity to let you know that we use Affiliate links on some of our blog posts. This means that we could make a commission if you click on an affiliate link and purchase something. Read our full disclosure and blog policy for more information.
What Exactly Are Playgroups? 
Playgroups are a gathering where children and their parents or caregivers can come together once or twice a week to play together, meet new friends, gain new skills, share ideas and learn about sharing! 
Activities at a playgroup can include music circle-time and amazing messy play.
Each playgroup is different as it shapes itself to meet the needs of its members and its community.
Playgroups often meet in churches, schools or community centers; some playgroups meet at members' homes depending on arrangements and organization.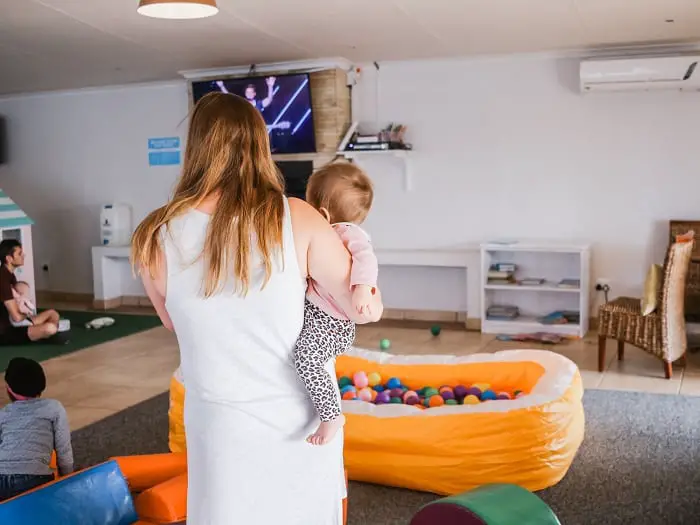 Why are playgroups important? 
In my honest opinion, playgroups did wonders for my daughter's social skills and helped in developing her into wanting to be around others and how to interact with others. 
They are the perfect setting to allow both kids and moms to make friends and socialize with others in the same situation. 
The regular groups also offer support to children's social development, ease the transition to school, and improve overall health!
When my daughter started daycare, the transition was amazing! 
The Best Playgroups in Ottawa
If you want to explore some of the playgroups, I have my list to share with you.
With my family, we tried to diversify where we took our daughter in order for her to meet and be exposed to new things all the time. 
We are big explorers and we enjoy trying new things and we especially want this for our daughter and any future kids we do have.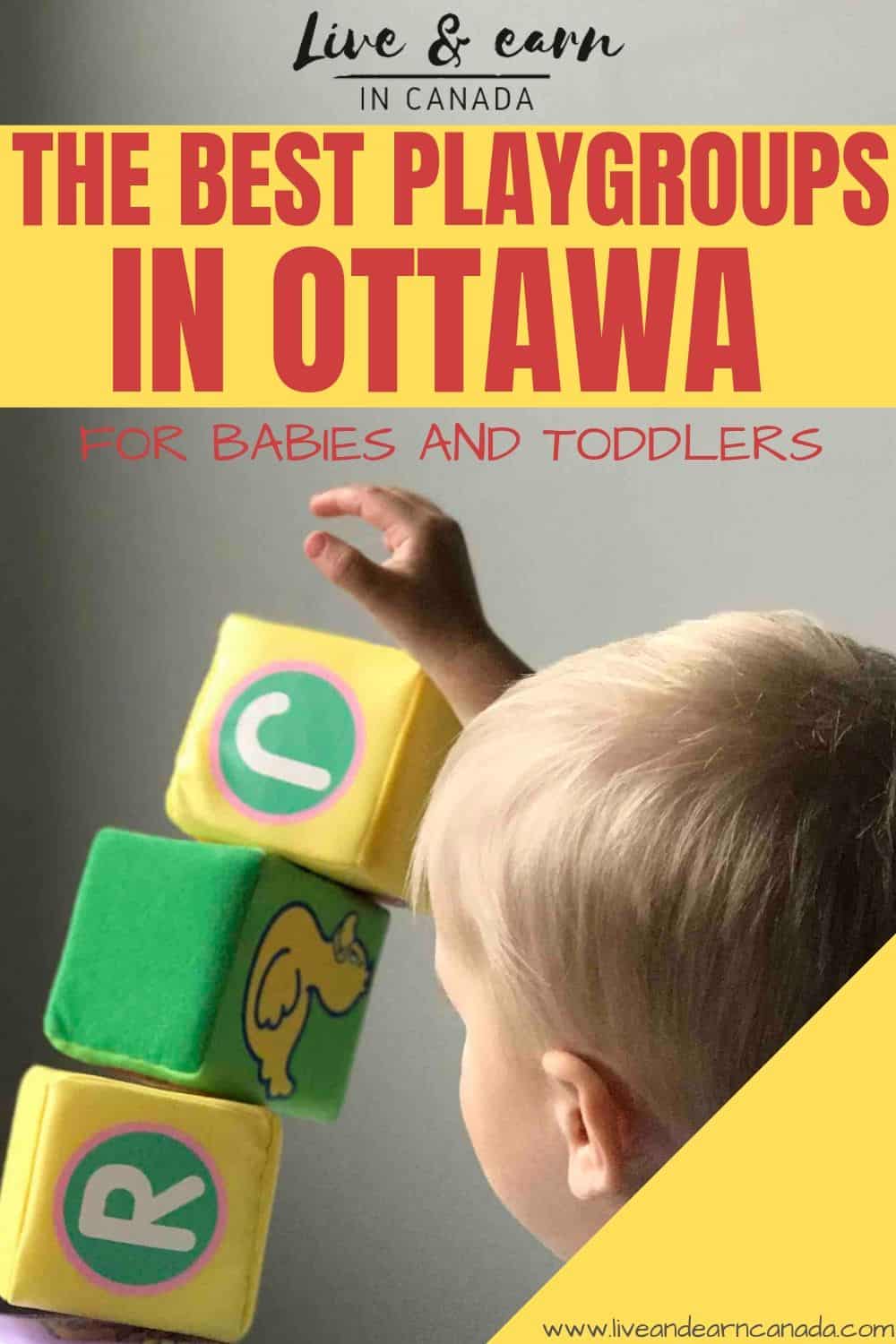 Free Playgroups in Ottawa to Try Out:
1. Early Years Centre Orleans
I am not going to be a bit biased, but I love this one.
But the Orleans Cumberland Community Centre in Orleans has one of the best playgroups in Ottawa.
I mean, the playgroups fill up within half an hour of it opening every morning. They are open from 9-11 on Monday, Tuesday, Thursday, Friday and Saturday.
Definitely call in if you think you are not going to make it after 9:30 am!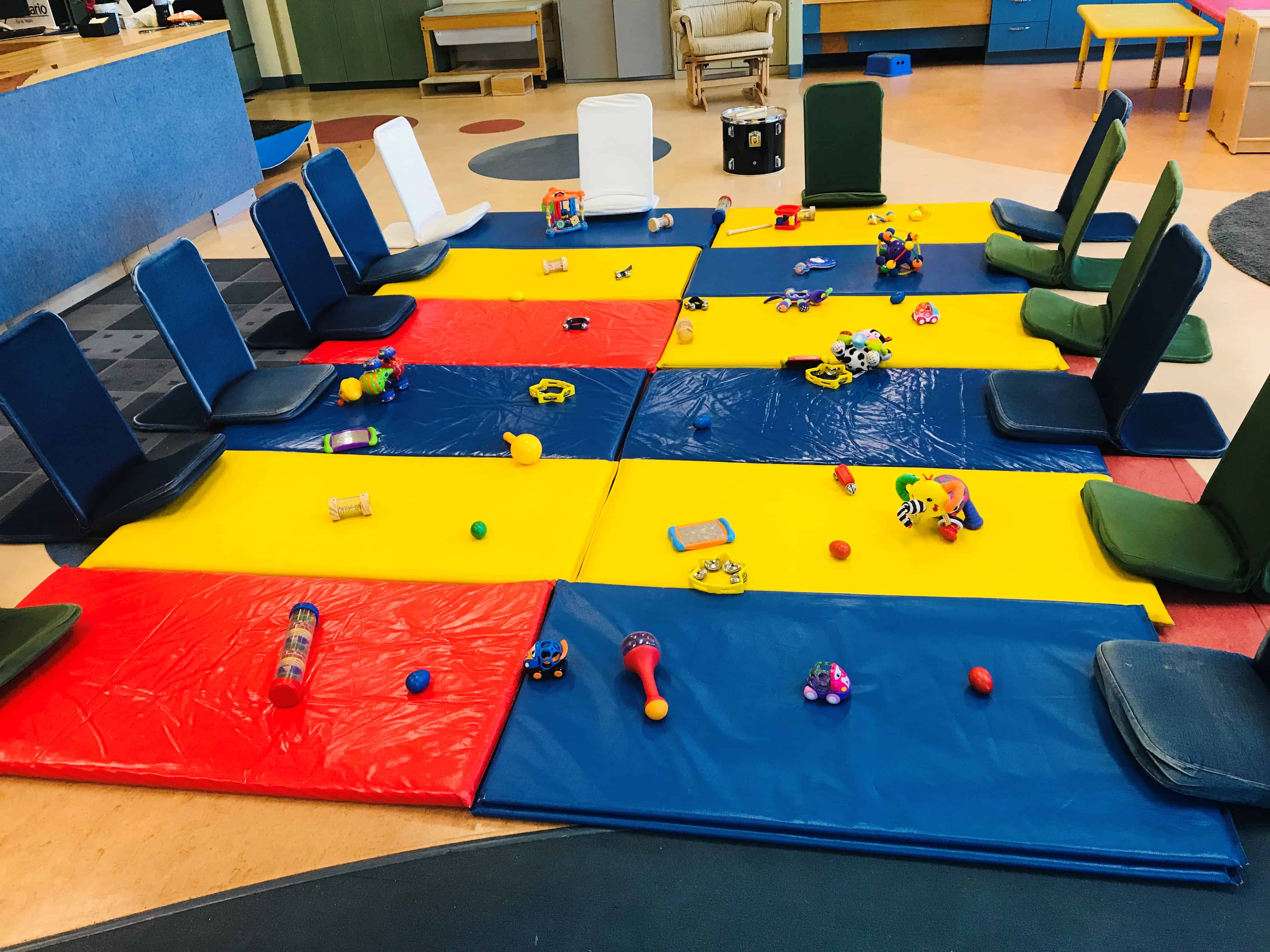 2. Drop-in Playgroups Centrepointe Childcare Services
This is another service that I used frequently while I was pregnant.
They have amazing workshops which I found extremely useful such as the baby CPR, you could join circle time with other parents and ask questions.
They also had food preps for toddlers which I found useful! 
In addition to all the services they offer, they also have Drop-in Playgroups. You always want to check their calendars for the time of operation.
But right now they are open Monday from 9-11 am and Friday from 9-11 am and noon to 2 pm! 
The playgroup is also opened Monday from noon to 2 pm for infant drop-in which is from 0-12 months! 
For more details about the Centrepoint Childcare services, be sure to visit their website! 
3. The Parent Resource Centre Playgroup
This amazing Parent Resource Centre is located in Sandy Hill offers free drop-in playgroups in Ottawa for you to take advantage of. 
The playgroup area is open from Monday to Thursday from 9-11:30 am but different days allow for certain individuals only. 
For example, on Tuesday it is a French-only drop-in session, whereas on Wednesdays it is a drop-in for parents only!
Thursdays they have a session for Mom and Baby from 1:30 to 3 pm only but registration is absolutely required! 
4. The Global Child Care Services
Global childcare services offer pretty much playgroups in several locations.
Experienced Registered Early Childhood Educators and family resource workers from Global's Community Outreach Program create welcoming early learning drop-in environments filled with stimulating activities for infants, toddlers, and preschoolers.
Parents, grandparents, and caregivers enjoy a relaxed atmosphere in which to share and connect.
For more information about our EarlyON Drop-ins, call 613-742-5500 or visit the website.
5. Rideau Rocliffe Community Resource Centre
The ABC123 – Parent-Child Resource Program offers a bilingual playgroup.
They offer free fun-filled playgroups for parents (tutors) and children (0-6 years old).
Activities include crafts, circle/ song time, outings and much more.
All our groups are bilingual.
6. Andrew Fleck Children's Services
This amazing location offers drop-in playgroups for parents, caregivers and their children where early learning activities and networking can take place.
They also have a toy lending library which most facilities also offer. The playgroups are offered 6 days a week and they are for children aged 0-6! 
Their services are available in English and French.
For more information, please visit their website for accurate times! 
7. Western Ottawa Community Resource Centre Playgroup
EarlyON CFC provides a variety of free family drop-ins to Ontario residents where families can play and learn together in a child-friendly space.
Activities and free-play include arts and crafts, dramatic play, sensory play, games, songs and stories.
They allow you to bring a nut-free snack and a pair of indoor shoes or slippers. These services are for kids 0-6 of age! 
Their main location is 2 MacNeil Court, Kanata with several outreach locations such as Memorial Hall in Carp, Stonehaven Manor, Hazeldean Mall and Bethel St. Andrews Church (Fitzroy Harbour).
Specialized drop-ins include Baby & Me, Francophone, Military Families, Caregivers and Multicultural Newcomers.
8. Tiny Hoppers – Several Playgroup Locations in Ottawa
The Tiny Hoppers offers a program called Mommy and Me Play.
They provide parents with a safe, fun and unique play environment where you can spend quality time playing with and teaching your child.
The services are free and they run for 45 minutes. The classes are divided by age to maximize enjoyment & learning.
They also have several playgroup locations around the greater Ottawa area so you can find something near you. 
9.

Children's Village of Ottawa Carleton
The Village Playgroup is open on a drop-in basis to parents and caregivers caring for children from birth to 5 years of age.  
The centre provides a welcoming and comfortable atmosphere where children can join in free play, daily crafts and song time, as well as a nutritious snack.
No registration required – doors close when maximum capacity is reached.
They are open all year round from Monday to Friday mornings and the hours are from 9 am to 11:15 am!
10. Somerset West Community Health Centre
They offer playgroups in two of their locations which are the Dalhousie Community Centre location and the Laroche Park Field House!
This Playgroup and Parenting Support offers interactive, age-appropriate activities including songs, crafts, stories and games for children (birth to age 6) and their parents and caregivers.  
The Playgroups run at several locations in our service area in English and Chinese!
Check the website for more information!
11. Mothercraft – Playgroups in Ottawa
Mothercraft in Ottawa also offers playgroups for families for free! 
Located at Mothercraft Ottawa's Evered Avenue location, the EarlyON Child and Family Centre is one of six EarlyON Child and Family Centres across Ottawa.
All parents and caregivers of children aged 0 to 6 years, residing in Ontario are welcome to attend the playgroup in the area close to you.
A variety of early learning activities and socializing opportunities for parents and/or caregivers of children under the age of six are offered at this location.
12. Ottawa-Carleton District School Board
The Ottawa-Carleton District School Board operates EarlyON Child and Family Centres in eight elementary schools.
The EarlyON Child and Family Centres offer programs for families and their children from birth to age 6 that build positive adult/child relationships, encourage children's exploration through play.
For a list of all the locations to find the playgroups offered by the Ottawa-Carleton District board, visit the website. 
13. Early On Baby Playgroup @ the Library
Your local library often hosts playgroups for toddlers, you just need to check the calendar for scheduling times.
The Baby playgroups are facilitated by Early Childhood Educators with early learning activities for babies and a chance for caregivers to network and share experiences. 
This is a partnership between the Early On Family and Child Centre and the Library the age groups are from 0 to 18 months. 
Baby Playgroups Ottawa
Most if not all the Centres offer baby groups for mom and baby.
The times may just differ from the regular open groups, but I would encourage you to stick to the baby groups if your baby is between 0-6 months or 0-12 months! 
Baby Playgroups provide a welcoming space for new parents and their infants to connect, play and share their stories while receiving support from a Child Development Specialist.
Be sure to take advantage of this!
Playgroups in Kanata
Kanata has a few amazing playgroups that you can attend with your toddlers. Here are the ones we highly recommend: 
Glen Cairn Coop Playgroup

Western Ottawa Community Resource Centre
Paid Playgroups in Ottawa to try out
1. Starr gymnastics drop-in
Starr gymnastics has a few locations around Ottawa and they offer paid drop-in sessions for your toddler to enjoy. The ages for this is from 1-5 years of age!
The playgroups are one hour long and require parent supervision at all times.
They also run a free baby playgroup for children ages 0-12 months during the week. 
2. Gymboree play and music in Ottawa
Our specially designed Gymboree Play & Music classes incorporate new technology with classic learning techniques to engage young minds.
Choose from our wide range of early childhood classes for ages 0-5 years.
Definitely contact them for pricing information should you wish to participate! 
3. Kids Kingdom Playground – Indoor playground Ottawa
Kids Kingdom is Ottawa's premium daycare, play centre, and family entertainment destination!
With locations in both the West and East ends of the city, it's the perfect destination for early childhood education and family fun alike.
The Kids Kingdom playground in the Orleans area has a "parents' Kafe".
It's comfortable, it has free Wi-Fi, and offers a great view of the play area, so you can be relaxed as you keep an eye on your kids, while giving them plenty of room to play independently.
Contact them for pricing and membership options. 
4. Wild Child Coffee Project
Okay, if you know me, you know I love a good coffee! 
If I can have coffee and freely enjoy spending time with my daughter, I am all in one hundred percent! 
Wild Child Coffee Project, a hideaway providing a heightened food, drink and play experience to families with young children. It's more of an upscale location and I will be doing a major review on this soon!
Their whimsical play space is filled with lovely open-ended toys and structures hand-picked to provide your littles with a unique, imagination stimulating experience. 
While they play and learn, kick back and relax. 
Cost for this playgroup in Ottawa: It is free for babies 0-6, $4 for children up to 15 months and $5 for children 15 months to 5 years old! You can also buy a $35 pass!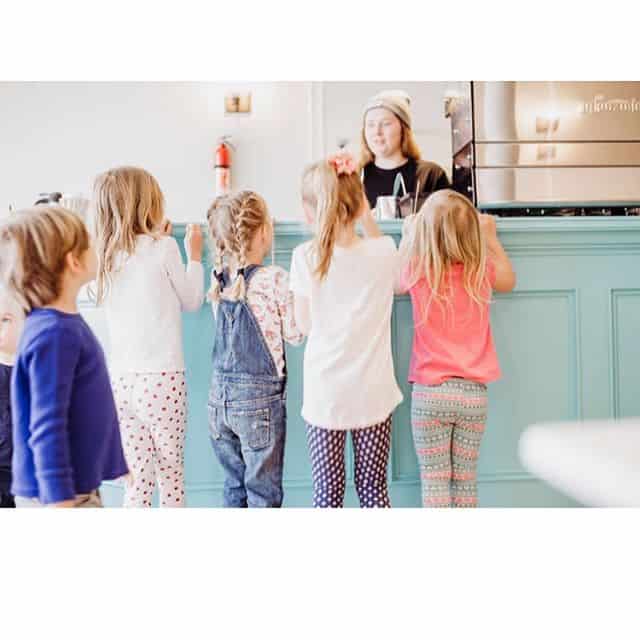 Source: Wild Child Coffee Project
Do you know other amazing playgroups in Ottawa that we should add to our list?
If you attend any of these playgroups, we would love your feedback and feel free to forward this list to those you think might find it useful!
We are going to keep this post updated so keep checking to find local playgroups in Ottawa! 
Read this next:
Playgroups In Ottawa – Fun Drop-In Sessions For Kids in Ottawa