Beautiful beaches in Ontario
If you are looking for the best beaches in Ontario for swimming, you have come to the right place. 
I love beaches and for the most part, I typically leave Canada to explore beaches outside the country. 
Remember that time I visited Mauritius? 
Well, I am here to tell you that you don't need to leave Canada, to enjoy a good time on the beach. 
Believe it all not, Canada is home to some of the best beaches out there. 
Today, we wanted to take the time to explore some of the best beaches in Ontario. 
I am in Ontario myself, and this year, I wanted to go around and visit as many beaches as I could in Ontario. 
My popular post on the best beaches in Ottawa was rocking. 
It definitely inspired me to write another post on the best beaches in Ontario for swimming. 
So grab your travel planner and plan your next mini-vacation today. 
As always, we frequently do our best to answer our readers questions such as:
What is the nicest beach in Ontario?

What is the cleanest beach in Ontario?

Which beach has the best sand?
So whether you are wondering what the best beaches in Ontario for families are or which beach has the warmest water in Ontario, we have you covered today.
So what are the best beaches in Ontario?
Before we get started on the best beaches in Ontario, we did want you to follow us on Instagram for more tips.
We also wanted to take the opportunity to let you know that we use Affiliate links on some of our blog posts. This means that we could make a commission if you click on an affiliate link and purchase something. Read our full disclosure and blog policy for more information.
15 Epic Ontario Beaches: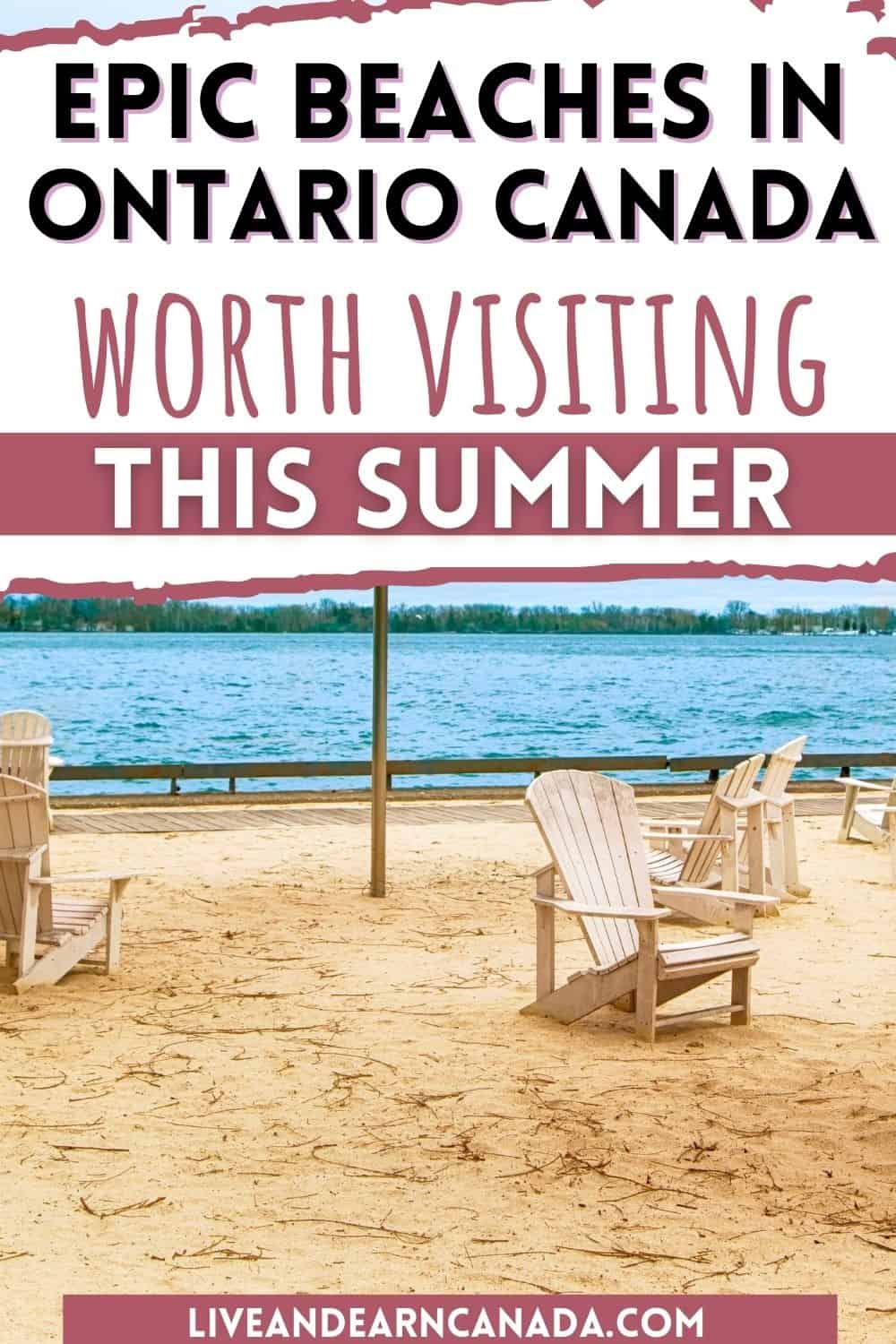 1. Canatara Park Beach
Canatara beach in Sarnia is a city located in Southwestern Ontario (This is 3 hours away from Toronto)!
It is the largest city on Lake Huron and in Lambton County.
This is another Blue Flag Beach with crystal clear waters. 
The waters definitely range between deep blue and turquoise depending on how sunny it is on the day. 
As you will notice once you head to the beach, it is located on Canatara Park which includes amazing walking and biking trails, picnic areas, and many more amazing fun and utilities you can use.
It has plenty of free parking you can take advantage of, a food truck, and water sport rentals (kayaks and stand-up paddleboards).
This beach definitely has plenty of kid-friendly activities to do. 
Fun fact: the beach has rubber mat walkways to make the beach more accessible to people using wheelchairs or strollers and accessible chairs for beach access.
Get more details here!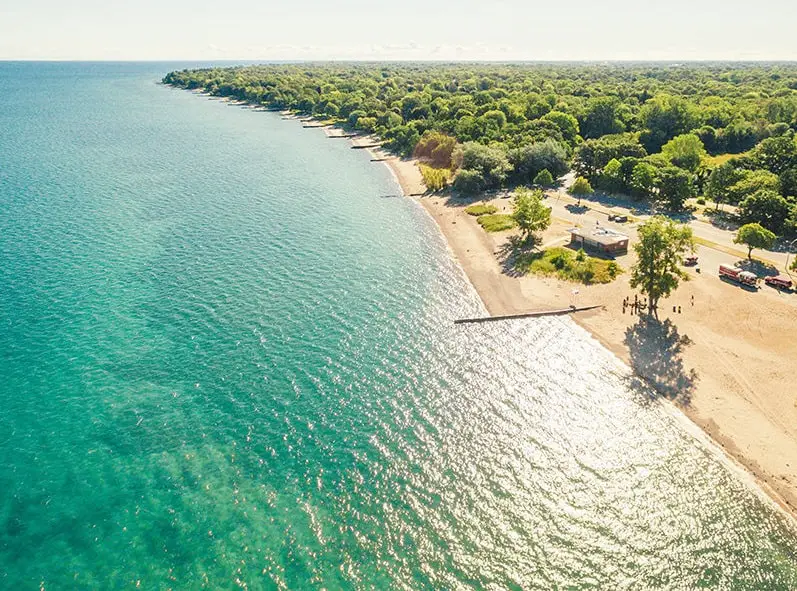 2. Port Stanley Beach in Ontario
In my opinion, one of the most beautiful beaches in Ontario is Port Stanley beach!
Port Stanley's Main Beach is a long beach with amazing sand on Lake Erie's North Shore. 
This beach is definitely family-friendly with warm water temperatures and a sandy bottom that drops off gradually. 
It's definitely one of the best beaches in Ontario for those that love to windsurf and even for sailors.
And if you are looking for something a little smaller, you can always walk down the road to Port Stanley's Little Beach, where you'll find 185 metres of secluded sandy beach and shallow water that's well protected by a berm.
There's definitely something for everyone to enjoy when you visit Port Stanley's beach in Ontario. 
You do need to pay for parking which is usually $20 for the day or $4 per hour.
3.

Wasaga Beach Ontario
Found on the shores of Georgian Bay, Wasaga Beach is actually divided into 6 small beaches. 
It is also one of the best tourist destinations in Ontario and for this reason, it is always busy! 
The white sandy shoreline found at Wasaga stretches across South Georgian Bay and includes panoramic views of the Niagara Escarpment, a UNESCO World Biosphere.
It boasts the longest freshwater beach in the world and is a popular destination known for its near-white sands and holiday atmosphere. 
The Wasaga area is also really known for its party scene due to its popularity. 
As I mentioned earlier, there are 6 beaches in the area: 
The first two beaches are the most popular ones (Party scene -yay)!

The third one is dog-friendly 

And 4 and 5 is more quiet and perfect for family 
For the nature enthusiasts, you will want to explore the trails and sand dunes!
Other fun activities you can experience at Wasaga beach, include hiking trails, cycling routes, parks, and waterfront access all year round.
4. Outlet Beach at Sandbanks Provincial Park
The most popular beach in Sandbanks Provincial Park in Ontario is Outlet Beach.
Sandbanks Provincial Park is located on Lake Ontario and is home to a few amazing beaches in Ontario.
A few that are mostly visited are Dunes Beach, Sandbanks Beach and Outlet Beach!
These three seem to be the most popular great lakes beaches in the park.
Outlet Beach, which is situated on the western shore of Lake Ontario on the East Lake Bar is by far the most popular, and frequently crowded beach at the Provincial Park. 
I love the fact that it has several family-sized picnic shelters which makes it perfect for the day at the beach with kids. 
To visit the Outlet beach or any of the beaches at Sandbanks Provincial parks, you will need a day pass or camp overnight in the Sandbanks Provincial Park.
5. Grand Bend Beach
Grand Bend is literally known as a beach town. 
It's located about 2 and a half hours from Toronto. 
If you haven't been to this beach, I urge you to take the time to visit it at least once. 
And if you were looking for the best beaches in Ontario for families, I definitely recommend Grand Bend Beach.
The South area of the beach is quieter and definitely more family-oriented.
The beach features an amazing splash pad, playground equipment, a boardwalk and easy access to restaurants and shopping which makes it completely family-friendly.
It is also one of the ONLY 27 beaches in Canada to have earned the official Blue Flag status. 
To me, that is absolutely worth visiting. 
Not only are the waters crystal clear, but they also have endless sandy shores that you can explore with the little ones if you have kids. 
For those that want an adult-only party area, the main area of the beach is for you. 
I haven't tried it, but you are able to parasail, do a bit of water skiing, wakeboarding, and tubing. 
6. Sauble Beach Ontario
Sauble beach in Ottawa was rated as Canada's #1 freshwater beach, in fact, it is the second-longest freshwater beach in the WORLD.
Located on the shores of Lake Huron, this amazing beach was originally named by the French explorers for the sandy sable river that empties into the lake at Sauble Falls.
"La Riviere Au Sable" was its original name, which means "River to the Sand".
It was then changed to "Sauble Beach" which when translated means Sand Beach or Beach of Sand.
Sauble Beach has since become an increasingly popular vacation destination over the years.  
It is the perfect spot to swim and build sandcastles, especially during Sandfest! 
You will find over 10 kilometres of beach and a section where you can drive your car onto the sand which is pretty neat.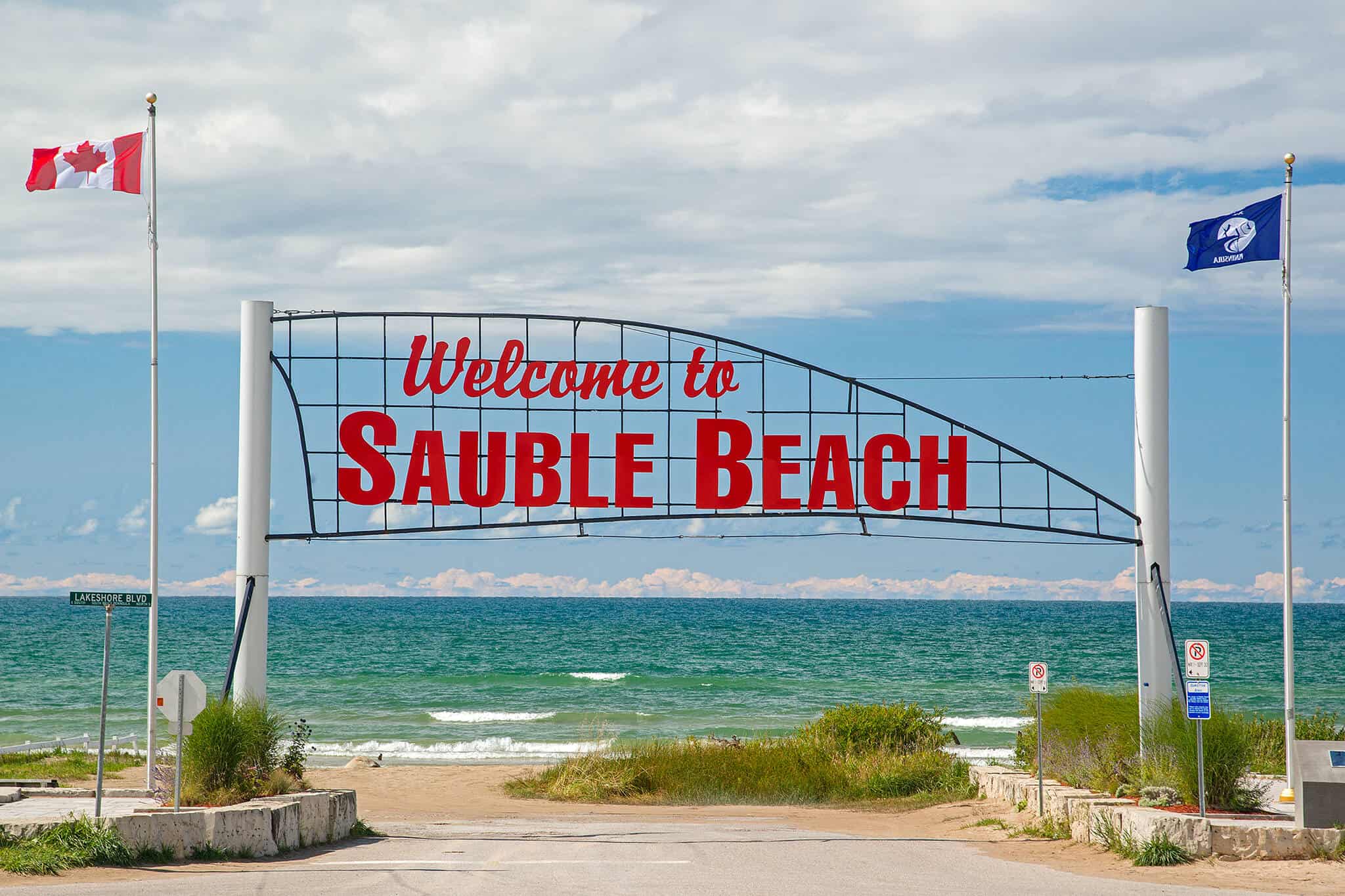 7. Crystal Beach
Crystal Beach also known as Bay Beach is definitely one of the warmest beaches in Ontario.
The beach got its name due to its clear waters, so you know for a fact that I would recommend you visit this beach if you happen to be in Ontario for a vacation.
It is definitely a popular summer destination, located in Fort Erie!
The beach was made popular due to the presence of the Crystal Beach Amusement Park which was a major tourist attraction.
Besides the beach & amusement park, the area was an entertainment hotspot with its:
Grand hotel's

Restaurants

Concerts

Dance halls
To access the beach, beachgoers will be required to present one of three 2021 Bay Beach passes (resident, commercial or day).
Beach is typically on a first-come, first-serve basis, and proof of residency will not be required when entering Bay Beach.
This is mainly due to COVID19!
8. Bayfield Pier Beach
Pier Beach is a Blue Flag Beach, which means in my books, it is one of the best beaches in Ontario. 
Bayfield, Ontario is located on the shores of Lake Huron between Goderich & Grand Bend.
The white sand beach stretches along the village's coast and there are many access points for those looking to enjoy the water.
I love that the beach has soft sand which makes it great to not only walk on but enjoyable if you have little ones. 
They can build castles all day long. 
For this reason and for this reason alone, I vote this as one of the best beaches In Ontario! 
9. Long Beach Ontario
If you are looking for things to do this summer, consider taking a trip to Long Beach Conservation Area on Lake Erie.
Long Beach Conservation Area is one of Niagara's hidden gems.
The area also comes with over 225 serviced and unserviced campsites that you can enjoy, as well as the beach that you can enjoy this summer. 
The amazing sandy beach, perfect for families looking to swim, relax, fish, boat, or jet ski.
You can absolutely enjoy a picnic while the kids swim or play on the playground. 
To make your stay even more enjoyable, be sure to check out the Long Beach Resort!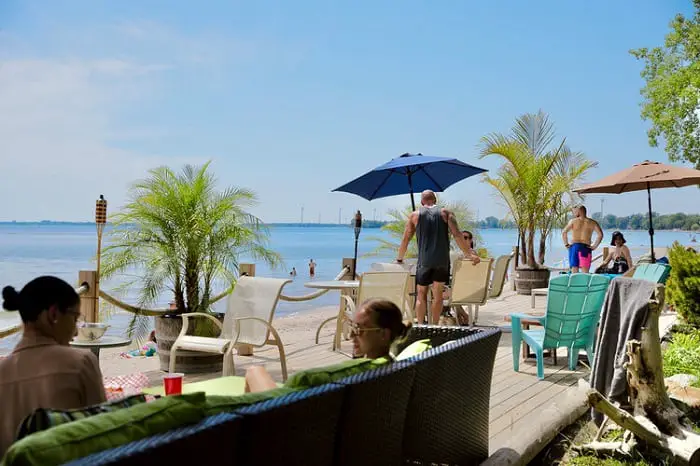 10. North beach provincial park
This beach is a great alternative to Sandbanks especially in the summer times when the other seems extremely busy. 
Located in Prince Edward County, this is one of the most beautiful beaches in Ontario.
When you visit the park, you actually get two options in terms of which beach you want to visit. 
For the price of one, you will get one beach facing Lake Ontario with amazing sand and clear water.
And the other side of the beach is part of North Bay. 
So basically, North Beach offers 1,200 metres of sandy beach facing Lake Ontario and another 800 metres of sand beach on North Bay.
Both are beautiful beaches. 
There is a small canteen where park souvenirs and traditional fast food and beverages can be bought when you visit the area.
11. Katherine Cove Beach Ontario
Katherine cove beach Ontario is located on Lake Superior. 
It's known for its clear waters and fine sand beach which makes it perfect for a summer day.
And just a 15-minute walk from the beach at Katherine Cove you can check out the hidden gem known as Bathtub Island. 
Bathtub Island can be accessed by parking your car at Katherine Cove and following the Coastal Trail south for about a 1/2 kilometre. 
Bathtub Island has a hotspot and is now visited by many. 
 

View this post on Instagram

 
12. Indian Head Cove
There are plenty of breathtaking Ontario beaches worth visiting this summer and one of my favourite areas to go swimming in is the Indian Head Cove. 
Indian Head Cove is a scenic inlet located next to the Grotto (see below). 
This scenic spot is full of crystal-clear turquoise waters that you can have a swim in. 
Both the Indian Head Cove and The Grotto are extremely popular attractions located along the Georgian Bay shoreline in Bruce Peninsula National Park. 
It is easy to reach them by hiking about a half-hour from Cyprus Lake. 
Go here for more information. 
13. Bruce Peninsula National Park 
Why is the Bruce Peninsula a popular beach location in Ontario? 
Probably due to The Grotto!
The Grotto is always a popular destination, with its crystal blue waters and magical cave pool. 
It looks more like an exotic island than rural Ontario.
The Grotto is a limestone cave overlooking Georgian Bay's clear waters.
The clear waters and the rocky beaches are really unique which makes this a great place to visit if you are looking for something unique.
Just look at the colour!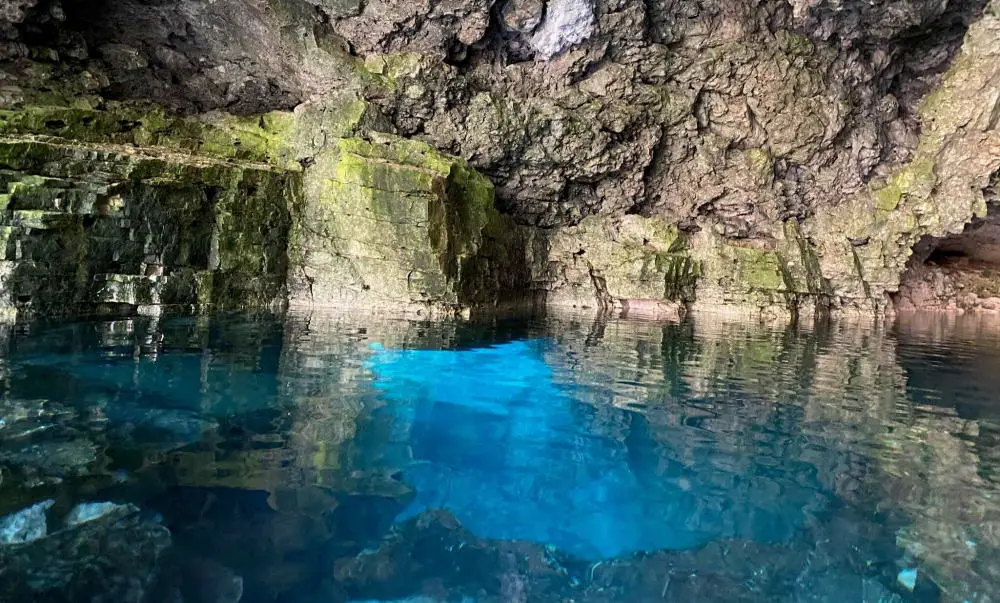 14. Cobourg Beach
Cobourg beach is one of the most beautiful beaches in Ontario that I have ever visited. 
Yes, true story. 
Located just west of Victoria Park, this amazing beach has a mix of pebbles and sand, a naturalized grass area and a boardwalk that runs from Hibernia Street to Ontario Street.
It is completely free other than the parking, but I was extremely impressed with the upkeep and maintenance of this beach itself.
If you want to relax and enjoy the waterfront area you are in for the best time.
It also has a little play structure area (Splash pad) for the kids. 
Please note that this beach does close on the weekend (I know, this is the one downside). 
You can also visit their Twitter or Facebook page before you leave for the beach for real-time updates on the capacity limit. 
15. Sugar Beach Ontario
Sugar Beach is an urban beach park in Toronto. 
Canada's Sugar Beach is a whimsical new park that transformed a surface parking lot in a former industrial area into Toronto's second urban beach at the water's edge.
How cool is that?
I love the park's brightly coloured pink beach umbrellas! 
If you happen to be visiting Toronto this summer, I definitely suggest Sugar beach as one of the things you do check out.
It is only about 10 minutes away from Yorkville.
It is located off of Queens Quay and Lower Jarvis Street.
Sugar Beach Toronto is not a big beach where you could spend a whole day frolicking in the water
But it's a great place to spend a bit of time taking photos and looking at those cute metal pink umbrella stands I mentioned earlier. 
They are there year-round, by the way, so you can even visit them, snow-covered in the winter.
Oh, and it also features a cool Splash Pad!
 

View this post on Instagram

 
And there you have it, a list of the best beaches in Ontario. 
Which one have you visited? 
And which one do you plan on checking out if you have yet visited? 
We definitely want to hear your opinion. 
Other Ontario Beaches to Consider:
Agawa Bay

Victoria Beach

Kew-Balmy

Big sandy bay

Sand Hill Park

Burley beach

Mindemoya lake

Toronto Island Beaches

Tobermory beach
As you can see, you don't need to book a flight to the Caribbean to enjoy a fun vacation on a beach.
If you are in the Ontario area, we have plenty of amazing beaches for you to enjoy right here at home. 
Read:
15 Epic Beaches In Ontario Worth Exploring & Visiting This Year