Elegant And Classy Everyday Looks
Most of us work 5 times out of a full working week and finding ways on how to look elegant and classy everyday of those days can be a bit tricky. 
This is especially more difficult for those that are on a budget, have limited wardrobe options but still wanting to look good to impress their co-workers. 
In some cases, it is specifically required for you to look good in order to work in certain establishments. 
Either way, we are going to share our awesome tips on how to look elegant and classy every day without breaking the bank!
Did you know that adding a bit of elegance and sophistication to your style can help boost your personality?
This will also help boost productivity at work as you will be more confident and willing to do more things during work hours! 
In other words, if you "Look Good", you "Feel Good"!
If you are looking for classy looks for women that are within your budget, keep reading. 
Looking elegant and looking good is always something I strive to achieve!
How To Dress Classy and Elegant
Dressing classy is not as hard and boring as everyone thinks.
I know a lot of people think that you need to spend thousands of dollars to look good each month. 
But having just a few staple outfits in your closet can do the trick just as well. 
You might already have outfits in your wardrobe that just need upgrading. 
You only need a few things to look classy and elegant.
It just means looking appropriate, wearing clothes that fit and choosing an outfit that doesn't stand out too much.
If you are dressing as if you have just walked out of a night club, I wouldn't consider that classy.
Mind you, some people dress classy and sophisticated for a night out dancing. So it all boils down to what you consider classy. 
As long as you look beautiful and you feel great, that's all that counts.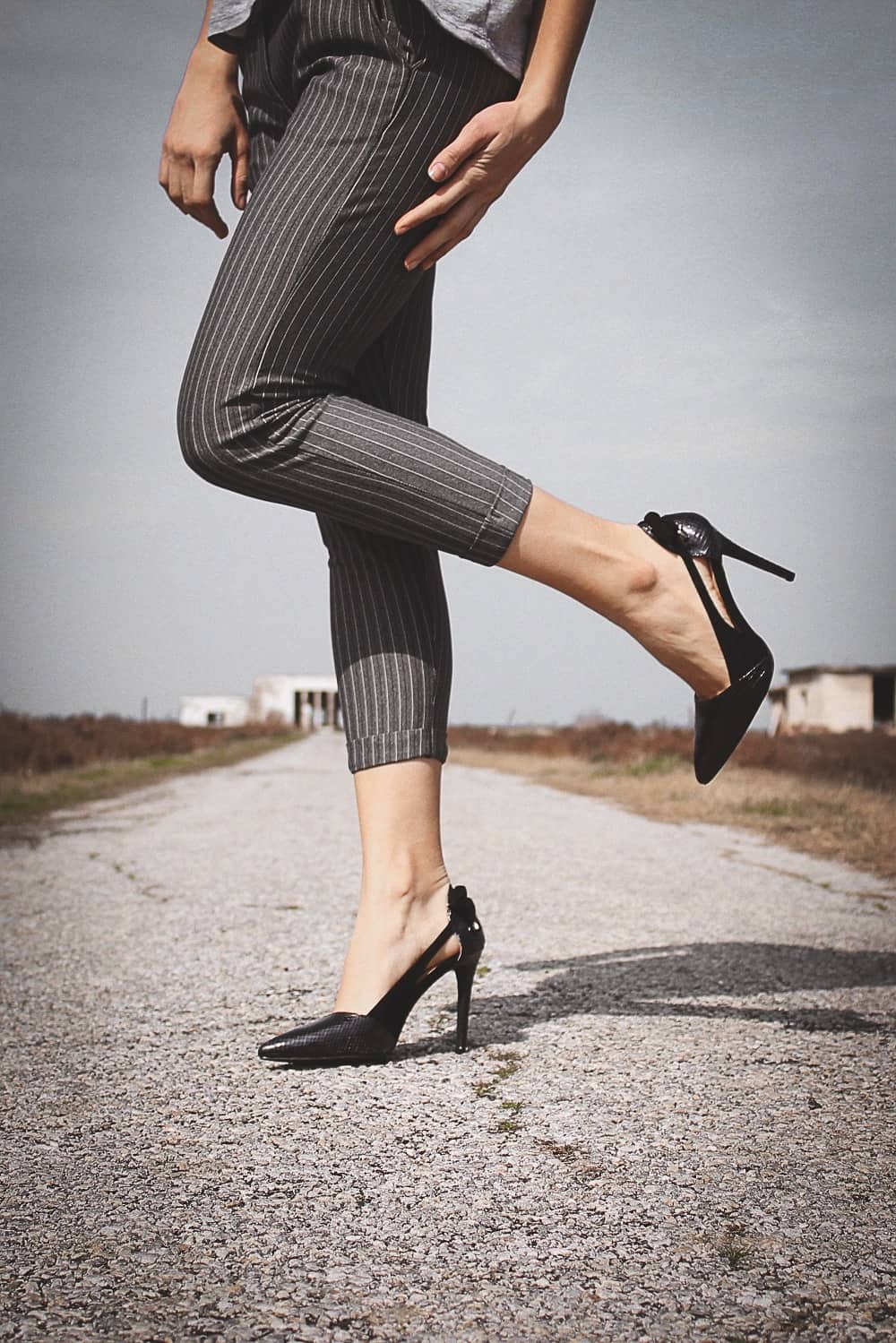 Establishing Your Personal Style for An Elegant Look
Before you head on out to spend all sorts of big money in order to feel good, be sure to reconfirm your work attire with your place of employment. 
For example, where I work, business casual is highly recommended. 
Also, we can not show any cleavage, wearing a small sweater or jacket is always recommended, no jeans (except for lay low Fridays)! 
Also wearing make-up to a bare minimum is highly recommended and respected.
We do not want you to lose your personality while establishing your personal style.
Before I go any further, don't forget to grab this awesome Beauty & Glow Up Planner.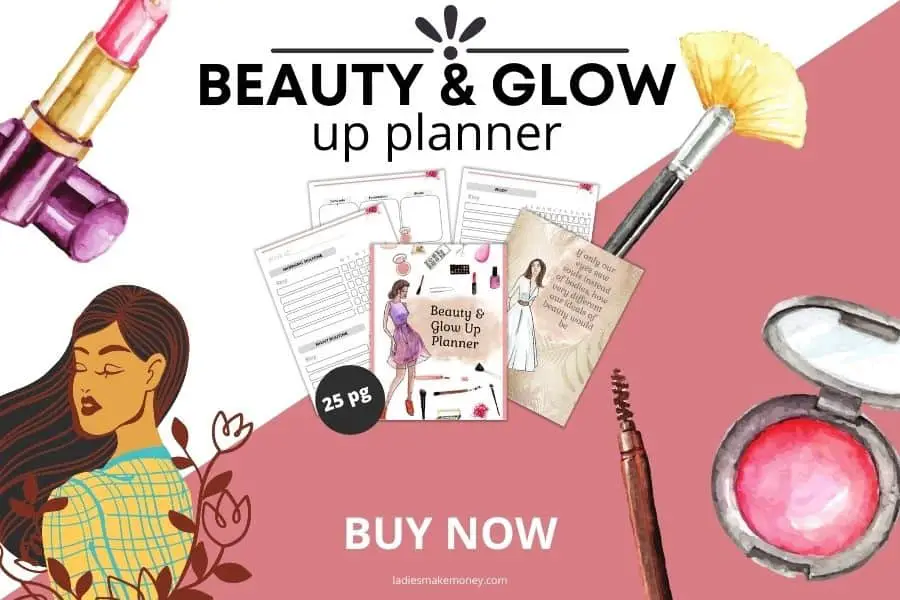 The planner is perfect for anyone that is looking to create a beauty routine, fitness tracker and much more for setting up a Glow Up routine. 
What is a personal style? 
A personal style is wearing clothes and fashion pieces that you can personally relate to. 
We all have our own unique tastes and a personal style that we prefer to stick to.
Ideally, you will be sticking with items and things that you can identify yourself with.
This will showcase your personality more, your mood combined with your inspirations, lifestyle, hobbies, and interest.
For work, less is more but it does not mean plain or boring.
If you are looking for great tips on how to dress elegantly, we have amazing tips for you below. 
Ready to learn more about how to dress classy and elegant?
Before we get started on how to look elegant and classy everyday, we did want you to follow us on Instagram for more tips. 
We also wanted to take the opportunity to let you know that we use Affiliate links on some of our blog posts. This means that we could make a commission if you click on an affiliate link and purchase something. Read our full disclosure and blog policy for more information.
Today we are sharing our amazing tips on looking and feeling elegant on a daily basis. 
A few tips you can expect today are:
How to look classy without spending thousands of dollars 

How to dress elegantly on a daily basis 

How looking elegant requires simple fashion upgrades, here is what you need

And simple tips on how to look elegant and classy all year round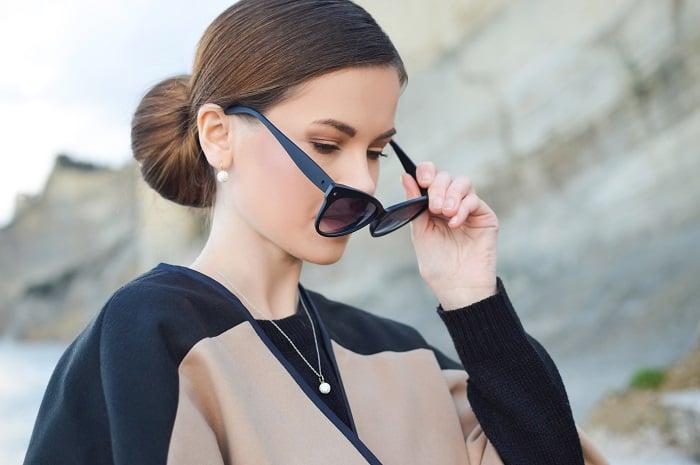 How To Look Elegant And Classy Everyday
Now that we have established a few ground rules, we can now put everything into play in order to create an elegant and classy look you can wear everyday even if on a budget!
If you work that 9-5 and you are expected to be presentable at all times, I hope you find out tips helpful. 
Our goal is to ensure you are successful in everything you do. 
Whether that is helping you find that killer 9-5 or helping you look your best, we have tips for you. 
We are ready to share everything we can about how to be classy and elegant effortlessly. 
Classy and elegant fashion doesn't need to cost you an arm and a leg.
Follow these tips on how to look classy everyday and you be feeling great in no time: 

1. Invest in classy and elegant fashion pieces that never go out of style
In order to stay on budget and still look relatively fashionable, purchase items that never go out of style. 
A lot of women make the mistake of purchasing items that are currently trending because their favourite celebrity is rocking them or a friend is wearing the latest trend.
By doing this, you will need to purchase something new every time that item goes out of style!
Can you imagine the amount of money you will be spending every fashion season? 
I am currently doing a no spend month money challenge so spending money on clothes frequently is not up to discussion. 
A few timeless fashion pieces include black pumps, trench coats, blazers, pencil skirts, high-waist long black pants or a little black dress! 
Loving the pants below:
 

View this post on Instagram

 
2. Use Accessories To Pop A Boring Outfit 
Want to know how to look sophisticated on a budget?
If you have an outfit that just seems a little boring, try to accessorize it!
I always recommend wearing at least one accessory with your outfit!
A classy look doesn't require you to spend thousands of dollars each time. 
Adding an accessory will do just fine. 
A statement accessory can be anything from a great watch, a pair of earrings, a bright-coloured purse or even a necklace! 
Depending on what you chose, this can really make your outfit stand out! 
And don't be afraid to wear them all.
 

View this post on Instagram

 
3. Invest in A Good Pair of Shoes
Classy yet elegant looks are easy to achieve with a good pair of shoes.
If you have a good pair of shoes that can work with every outfit you own then you are golden!
This does not mean that you are stuck with just one pair of shoes. But a good pair that you can reuse multiple times, that speaks volumes will do you great justice.
Remember, when you look good, you feel good and I think a good pair of shoes will give you the confidence you need to look classy yet elegant!
Whoever said owning too many shoes is a crime, no -one. 
I get all my cute shoes from JustFab as I find them extremely affordable. 
 

View this post on Instagram

 
4. Shop At A Thrift Store
Want to find a way to look elegant when on a budget?
Then don't be afraid to go to the thrift store! You will be surprised at what you can get at a good thrift store when you really look around!
Dress well for less using finds from thrift stores. 
It might not be a full outfit you find, but maybe a good coat or blouse that you can use to dress up what you already have at home. 
Consignment stores are the best place to find affordable work items that you can put together to create the perfect look. 
 

View this post on Instagram

 
5.

Add a Coat To Your Wardrobe
A good coat makes all the difference to your outfit.
I know during summer this doesn't always work.
For those that live in an area where we get colder than warm, be sure to invest in a good coat as this is the way to go for an elegant look! 
Have you seen this totally affordable coat from H & M! 
 

View this post on Instagram

 
6. Try Something new
Don't be afraid to try something new especially if you are used to a particular look and style. 
Experimenting can open you up to new things that you might not have thought of.  
To ensure you feel comfortable, pair anything new with old, that way you stay true to yourself. 
The outfit below has pants I would never wear, but I really love them and I like the look of them paired with any plain tank top.
In other words, mix and match an old outfit with a new one can save you extra cash.
And don't forget those shoes from JustFab!
 

View this post on Instagram

 
7. Make Your Lips Your Focal Point
Did you know that you can direct exactly where you want people to look by wearing statement pieces where you want them to focus on? 
You can do this with your lips by wearing BOLD lipstick! 
Just keep in mind your work dress code. Wearing a bold colour on your lips can really change your overall look and it is cheap to do.
Definitely loving the red lipstick on her. 
Dressing well on a budget doesn't need to be complicated. 
As you can see, bold lipsticks can do the trick just as easily.
Try this lipstick!
 

View this post on Instagram

 
8. Style Your Hair Differently
If you are wondering and thinking of a simple way on how to look elegant and classy everyday, you can do this by simply changing up your hairdo!
Something as easy as opting for a high ponytail or curling a normally straight hairstyle can make all the difference in giving you a whole new look! 
Be sure to give it a try today. 
 

View this post on Instagram

 
9. Classy yet elegant without showing logos
Not only is this my pet peeve, but I just completely hate when I see people wearing clothes with huge brand logos.
I am not saying don't wear logos, but the big flashy logos on clothes just comes off as tacky and trying too much. 
If you want to look rich on a budget, flashy logos are not the way to go. 
You can wear a Chanel blouse without it showing its Chanel brand. 
Looking good on a budget just requires you to put the right pieces together without it screaming look at me right now and a huge logo screams look at me in a bad way. 
And there you have it, a

ll the tips you can use to look elegant and classy everyday without spending all your money!  
Classy women's fashion is just that simple. 
I hope you enjoyed our tips for how to look classy on a budget without stressing your bank account. 
Shop around and I am sure you will find affordable classy clothes for ladies at your usual local stores. 
No matter what time or season, there's always a need for stylish clothes.
But don't spend all your savings either. 
Simply get creative with what you have and you will look rich on a budget in no time. 
Get your own Beauty and Glow Planner right now.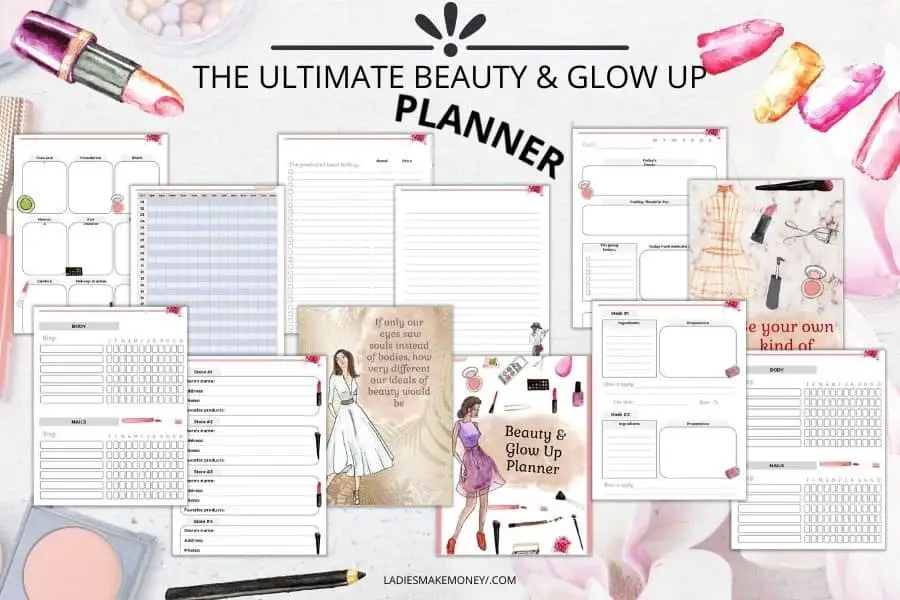 Do you have more tips on how to look elegant everyday? 
Tell us in the comments below!
Popular recommendation from the list on how to look elegant and classy everyday:
Related tips for: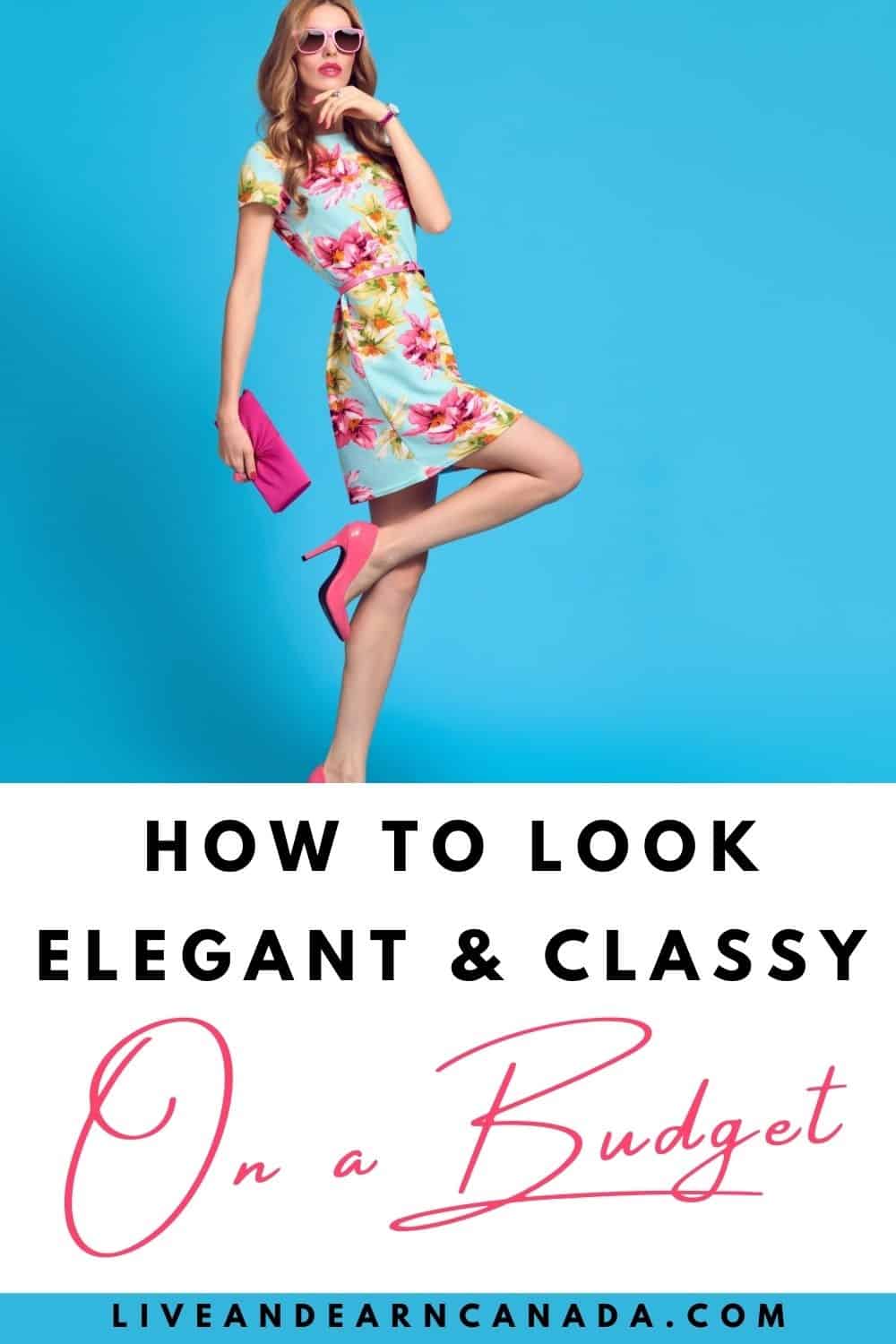 How To Look Elegant And Classy Everyday For Work On A Budget