How to wear a scarf in your hair fashionably
They are so many amazing ways to wear a scarf in your hair, and I am so excited to share my top finds today. 
I am in Canada and over the last few days, we have had heatwaves one after the other like nothing before. 
And my natural styled hair is not taking it too well.
So I decided to do some single braids (not too heavy), to try to manage it and keep it protected.
But the heat at the moment is just so unbearable. 
Wearing my hair in a top ponytail away from the neck area wasn't cutting it any longer. 
I figured that adding some cool accessories wouldn't hurt. 
But wearing my hair with headbands, hair ties and other accessories was getting way overdone. 
So I went on Pinterest, my go-to place for inspiration, and I found some really great ways to wear a scarf in my hair!
So if you want to know how to tie a headscarf fashionably, we are hoping our designs below will inspire you. 
Headscarfs have been a long tradition of my family (I am African and most moms growing up had some form of a headscarf mostly for protective styling and also as a fashion statement.)
So it was only a matter of time before I myself started learning how to wear a scarf in my hair. 
For those that are thinking of wearing a scarf in your hair and have no idea where to start, this post is for you. 
With that in mind, today we will be sharing:
Ideas for wearing a scarf in your hair

Ways to style your hair with a scarf

how to wear a headscarf fashionably

And so much more
We are excited to show you all the different ways to wear a headscarf today!
Before we get started on how to wear a scarf in your hair, we did want you to follow us on Instagram for more tips. 
We also wanted to take the opportunity to let you know that we use Affiliate links on some of our blog posts. This means that we could make a commission if you click on an affiliate link and purchase something. Read our full disclosure and blog policy for more information.
How to wear a scarf in your hair
They are so many amazing ways to wear a scarf in your hair. 
We are going to share some of our favourite styles below. 
Scarves for your hair are perfect especially if you want to have a different stylish look. 
Youtube also has amazing tutorials that you can follow when you do decide to use scarves in your hair.
Otherwise, check out all the different ways to wear a scarf in your hair below: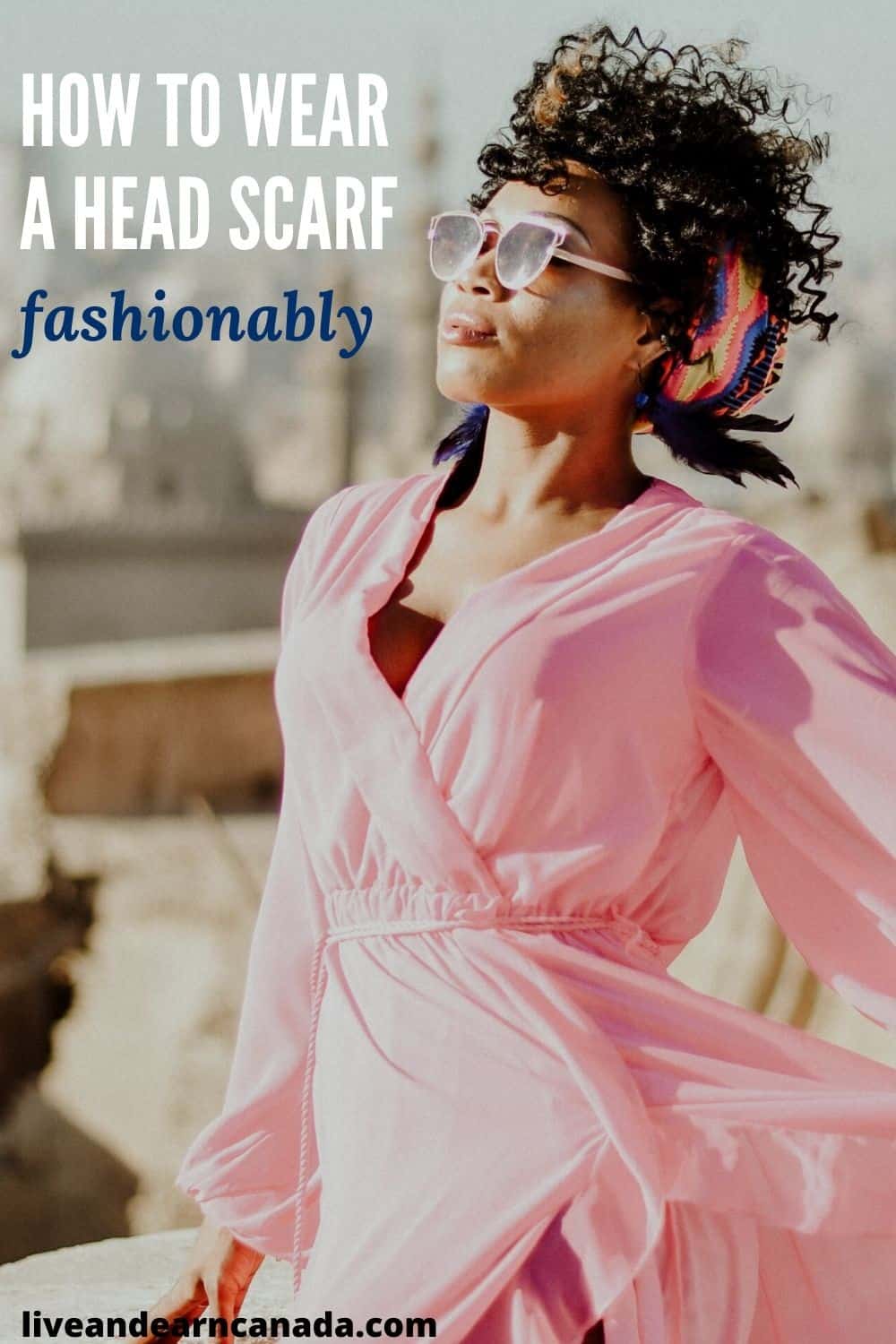 1. High Top Knotted Tie
Not only is this look cute and sophisticated, but it is so simple to do.
I love the fact that it can protect your hair from the harsh sun. I would totally rock this style to the beach, on a picnic or at a day event. 
Not sure how to style your hair for that baby shower event? Do this!
This elegant cap head wrap would do the trick perfectly!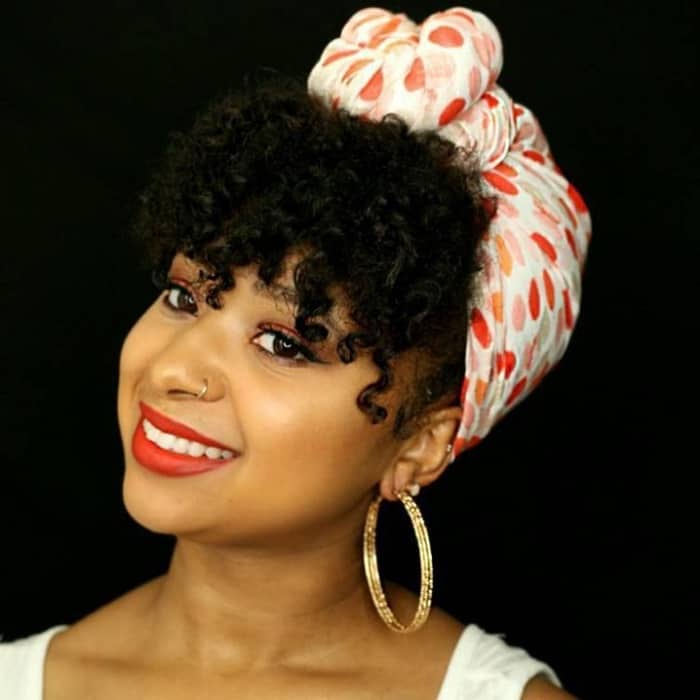 Source: Insta Post
2. Low Bun Hair Scarf Style 
I love this hairstyle so much. 
If you have a long scarf, this hairstyle will do you wonders. 
You can follow the tutorial on YouTube to learn how to wear a long scarf on your head effortlessly. 
And when I found out she used the scarf from my favourite YouTuber, you know I just have to feature it right? 
You can get this head wrap from Melanin Haircare (the company owned by Naptural85 Youtuber).
She is the queen of epic natural hair everything!
You can definitely check out the full tutorial for this look right here.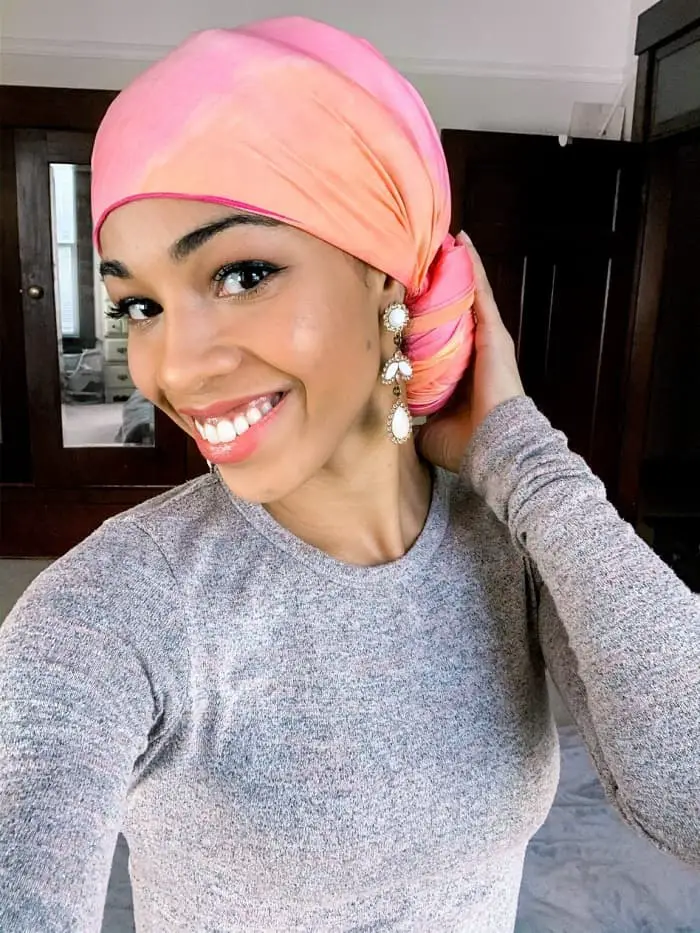 3. The Knotted Ponytail
What do you think of this hairstyle? 
You can also simply tie a loose ponytail and a scarf to the mix. You can check out the whole style here including a tutorial to follow! 
If you want to know how to wear a headscarf fashionably like this, definitely check out the tutorial we linked to above. 
You will love this style just as much as we have come to love the look.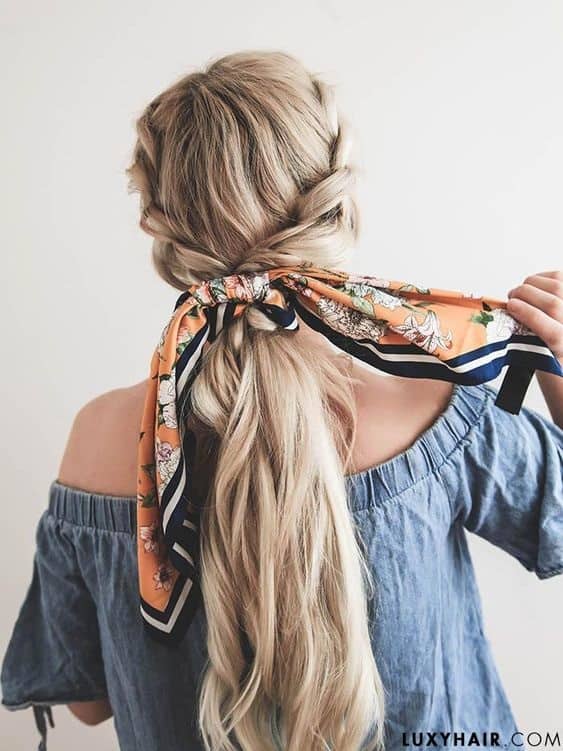 4. Side Bow Hair Scarf Look
Rihanna is known for rocking amazing hairstyles.
I even featured her in my easy natural hairstyles for the beach blog posts because she just has a lot of amazing styles. 
This is hairstyle can be worn on a casual day out. 
I am really loving the side bow look and found a similar look on Amazon. But you can pretty much easily any head scared and just tie a cute bow! 
5. The Hair scarf That Does it All
Wrapping your scarves in creative ways is what will make the whole look stand out. If you are wondering what the best ways on how to use a scarf in your hair, and you want something unique, then this it.
This look is amazingly stunning and can be worn at a wedding or any event for that matter.
Play around with it and make sure the material matches your outfit! For example, I would totally wear this scarf right here!
It will really help in making you look polished and put together.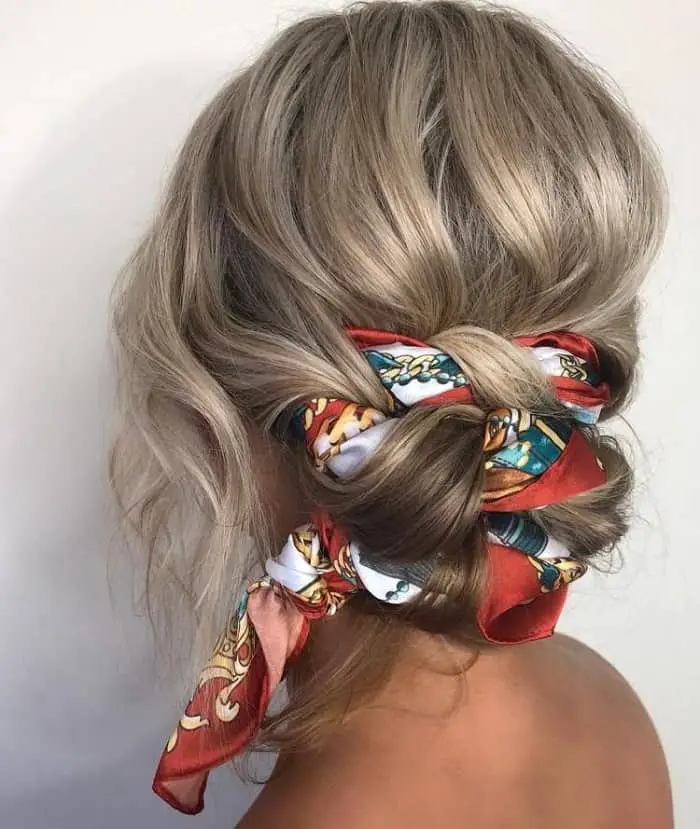 Source: Instagram
6. Yoga Head Bands
I am loving these Yoga Head Bands by Minita Studios!
This amazing store is all about feminine and fun hair accessories that are 100% handmade.
The Headbands, Headwraps, Tie up Headbands, Bandanas are all made by Méli, in the beautiful city of Montreal, Canada.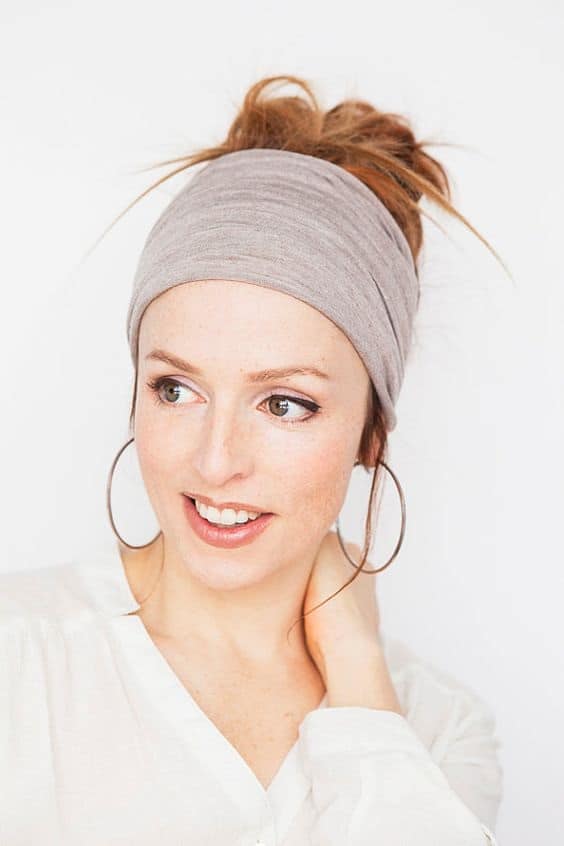 7. Meghan Markle Easy Scarf
I love Meghan Markle, and if you are like me, then you probably follow all her fashion styles.
Summer headscarf styles are everywhere this year and this look by Meghan Markle is just stunning.
If you want to wear a scarf in your hair and you are not sure where to start, I recommend starting with something easy like this one.
There are so many different ways to wear a headscarf and this elegant and classy look is just as beautiful. 
Not only is this simple headscarf style as easy as 1, 2, 3, anyone can do it!
Just get yourself a really amazing scarf that is light in material and you are good to go.
I definitely recommend something like this one.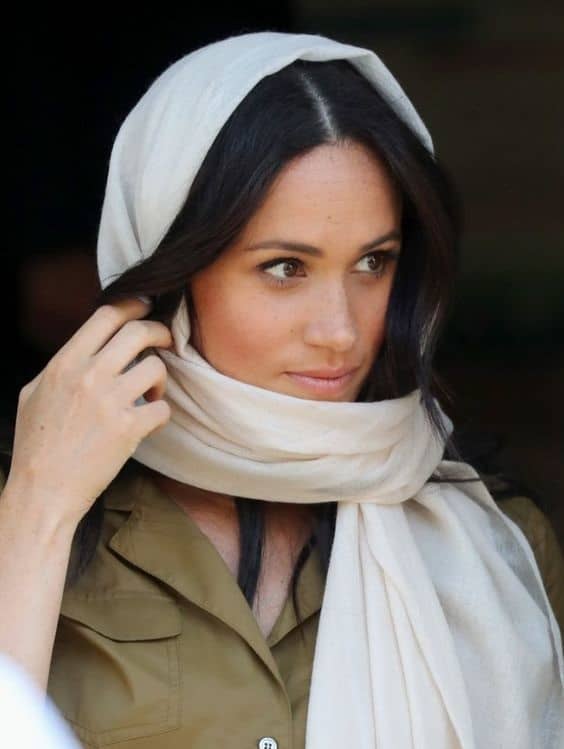 8. Twist Turban Headband
You can twist, flip, and style it into a turban or an extra-wide headband.
I love the look of this. 
Technically, it's not really a headscarf, I consider it more of a headband. 
I just had to feature it though! 
Its versatility and breathable fabric make it a must-have at the gym to catch those sweat beads & keep your hair out of your face.
You can grab one like this one right here! 

9. Bow turban head Scarfs
So many amazing ways to wear a headscarf and this turban look is totally stunning.
What do you think of these bow turban headscarf?
This one, in particular, is bright, lightweight and it makes for the perfect summer hair accessory.
Be sure to grab one for yourself right here!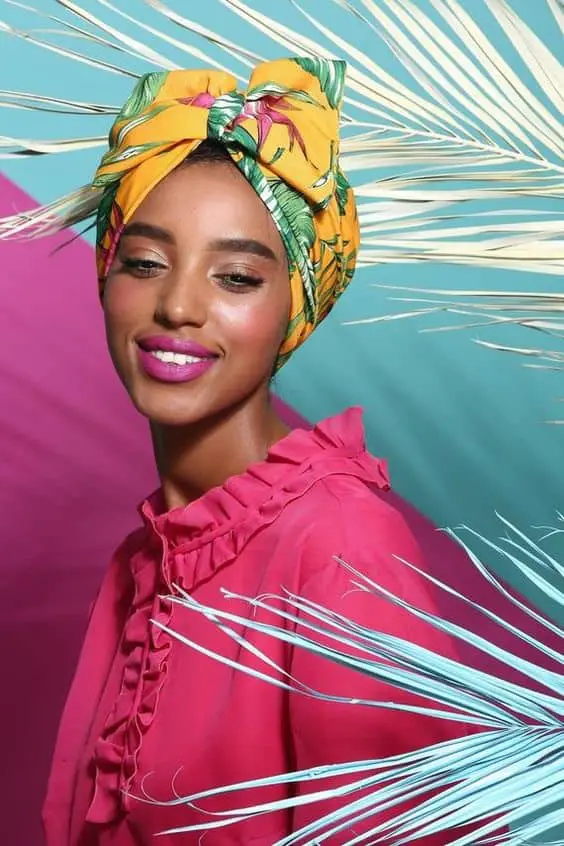 10. Simple Ribbon Tie
This simple ribbon tie is the perfect look for any spring or summer look. 
You can rock it with any outfit in my opinion. To find out more about it, you can check out the full post on Barefoot Blonde's blog!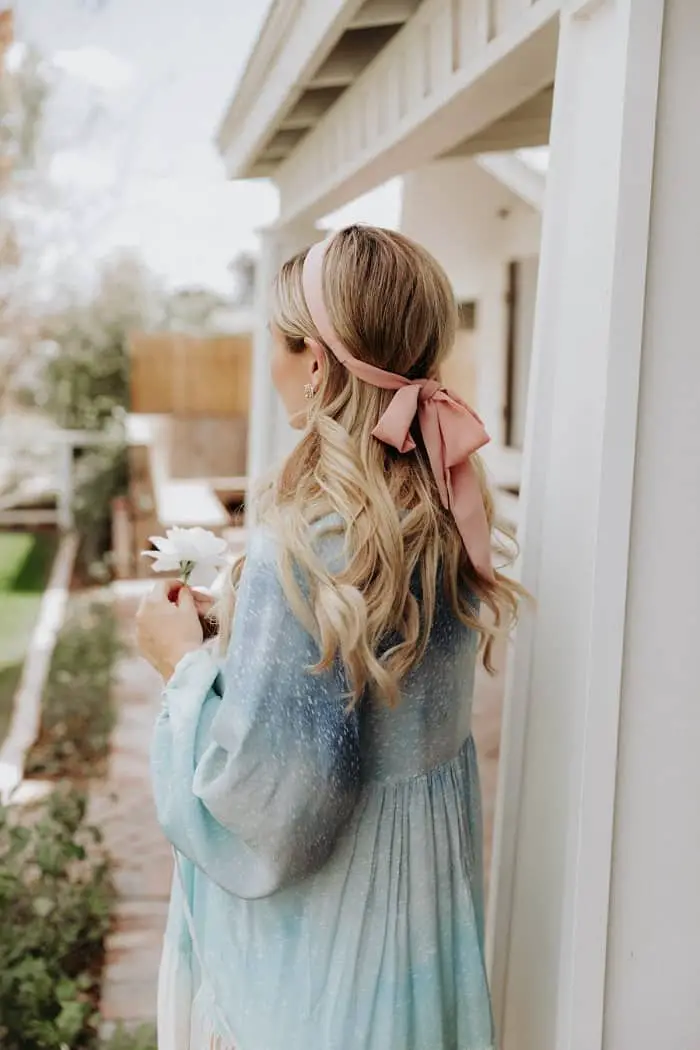 11. Simple Vanilla Cream Lace Headwrap
Be ready for any special occasion with this Garlands of Grace Breathtaking lace coverings.
It's one of the cutest summer headscarf styles I have seen all year.
We highly recommend you grab yourself this head wrap and give this look a try. 
These timeless, delicate lace hair wraps are made in varied laces in rich, versatile colours.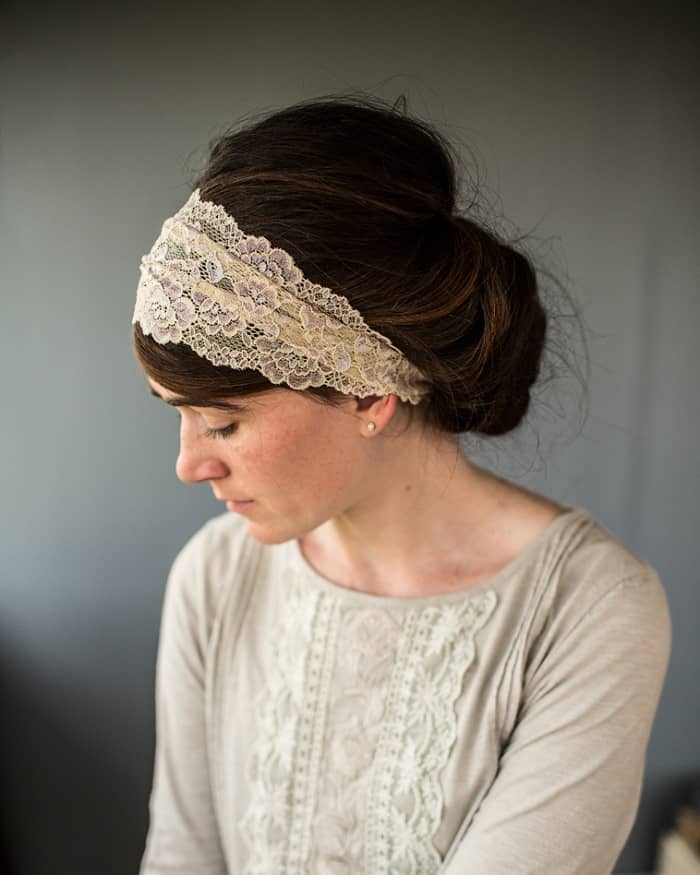 12. Vintage Glam Head Wrap
I love that 50's look a lot. 
And this vintage glam style is perfect for those that also enjoy that era. 
I found the look on Julia's blog. 
You can check out the full vintage glam shoot on her blog right here.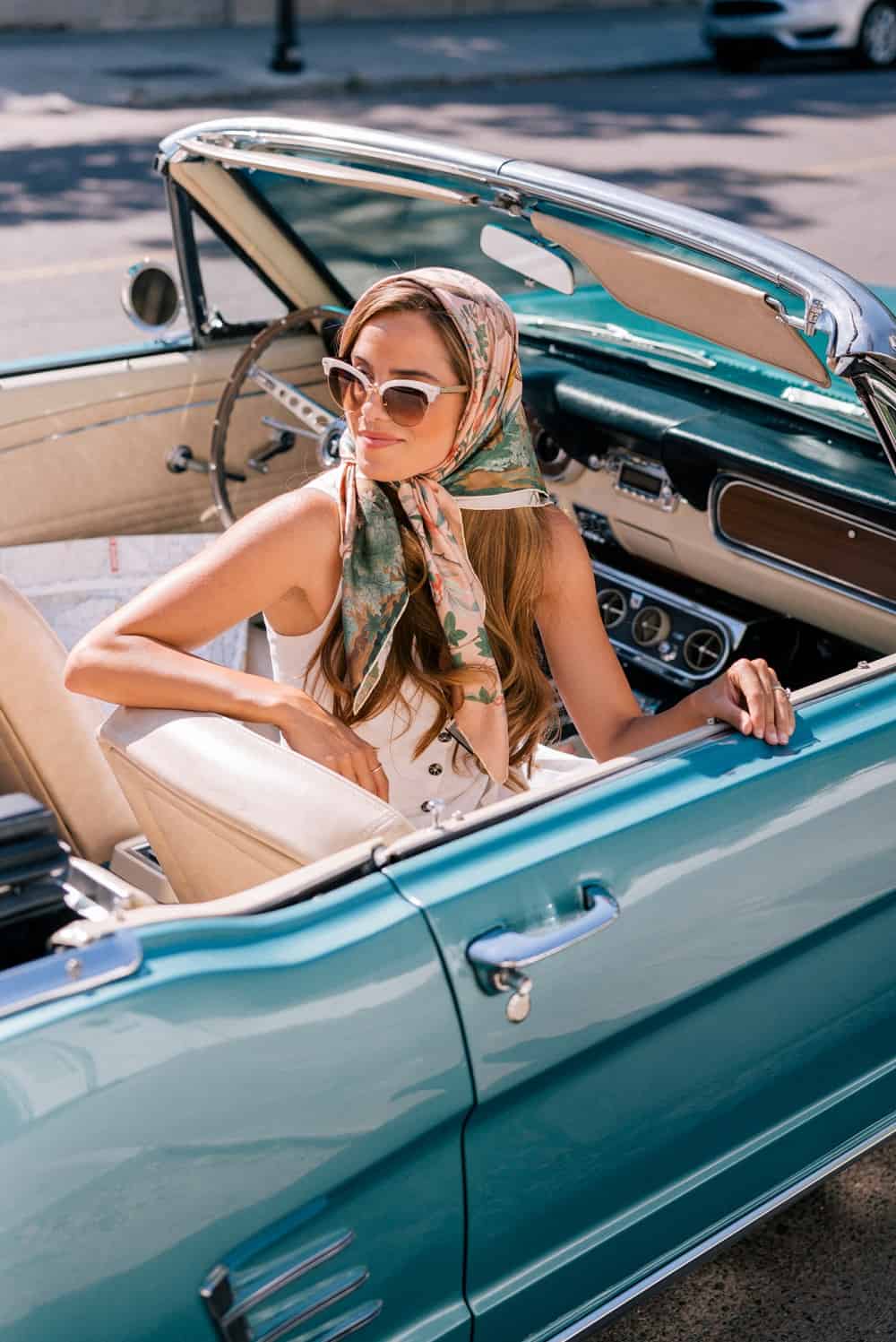 13. Pineapple Twist Head Wrap
This is an easy and quick headwrap style for pineapple puff natural hairstyles (or old crochet braids style). 
The pineapple hair wrap twist is extremely popular and I encourage you to try it out. 
Check out this full video tutorial on how to create the look and where to buy the material. 
For those that would like to wear a scarf in your hair, this is a unique style.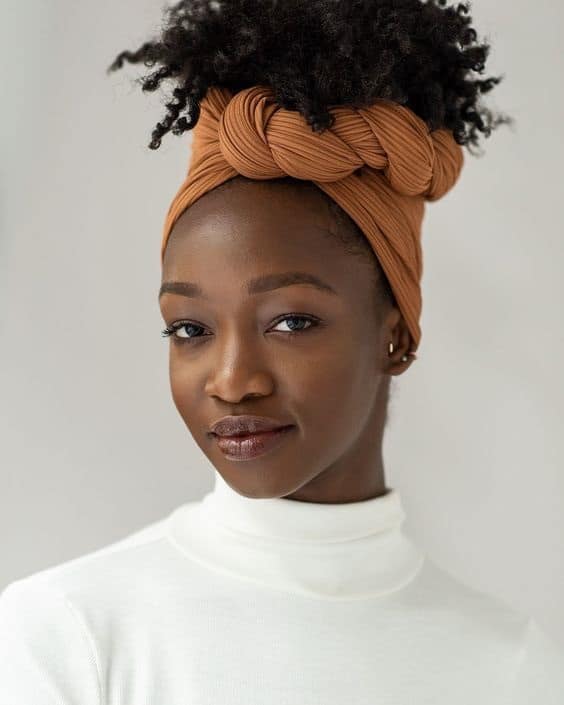 Why wear a headscarf? 
Wearing a headscarf is a great way to cover a bad hair day! 
Whether you have horrible edges, greasy hair, or a look you are not loving, incorporating a beautiful scarf to the mix can turn a bad hair day into an amazing look!
Here is how to tie a scarf in your hair
And there you have it, all the different ways to wear a scarf on your head!
Which of these styles will you try? 
We want to hear from you. 
Read this next: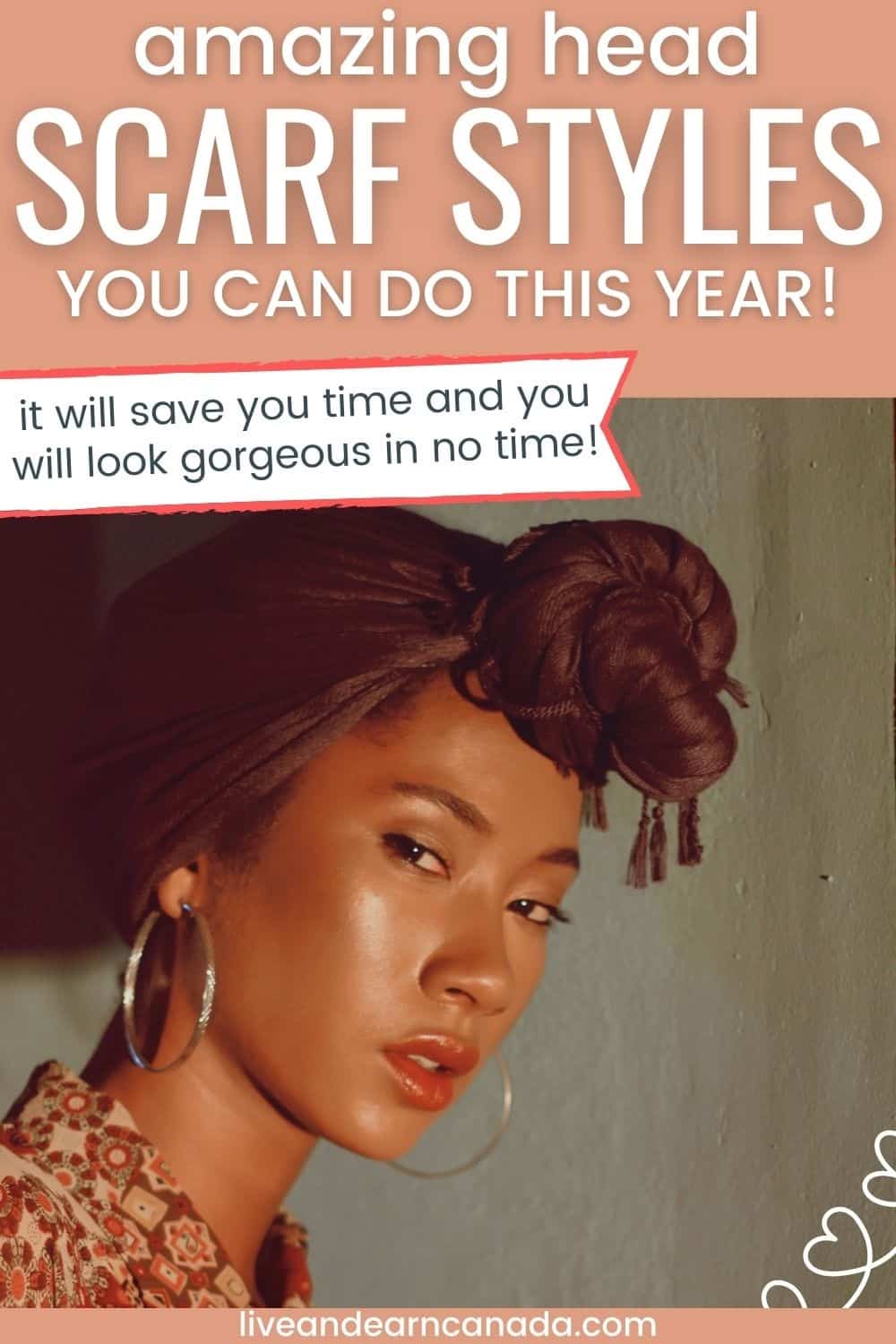 13 Epic Ways to Wear a Scarf In Your Hair This Summer