Shea moisture products
Is Shea Moisture Cruelty-Free?
I have been using this product for a while now, but now that I have a daughter and would like to use it on her, I wanted to know if Shea Moisture was truly cruelty-free. 
My daughter has some really sensitive skin and reacts to almost anything.
The other day, I dressed her in clothes that were 40% polyester and she broke out with rash!
My doctor told me to stick to 100% cotton with her. 
When she got bit by mosquitoes last summer on our trip to Mauritius, her face swelled up so much. To make matters worse, she also suffers from Eczema!
So now I am very cautious of what I use on her skin and hair. 
Her hair scalp is often dry and flaky due to her dandruff. 
So I decided to do some digging around to see if I could use Shea Moisture on her as it has done wonders for my own hair. 
Here were my most pressing questions:
Is Shea Moisture good for your hair?

Is Shea Moisture really organic?

Is Shea moisture vegan?

Does Shea Moisture have harmful chemicals?

Does Shea moisture test on animals?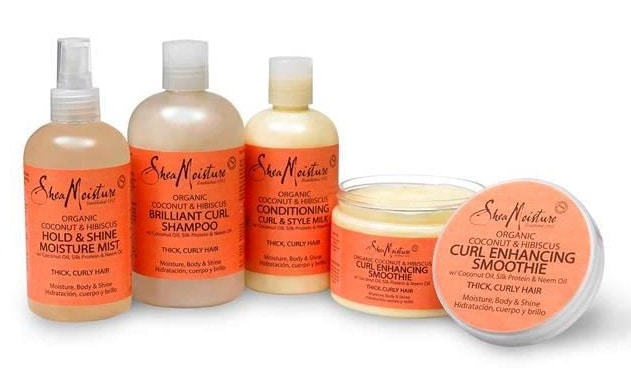 I know that it seems like a lot of questions, but with my daughter's skin sensitivity, I needed to ensure that Shea Moisture was indeed cruelty-free!
Is Shea Moisture Cruelty-free?
Before we get started on finding out if Shea Moisture is Cruelty-Free, we did want you to follow us on Instagram for more tips. 
We also wanted to take the opportunity to let you know that we use Affiliate links on some of our blog posts. This means that we could make a commission if you click on an affiliate link and purchase something. Read our full disclosure and blog policy for more information.
Why use Shea Butter?
First of all, as a black woman, I resonate better with black products and I try to promote companies and brands that support the black industry. 
And as an African, I know real and raw Shea Butter from Africa is authentic and works wonders. 
The Shear Moisture product lines were started by Sofi Tucker back in Sierra Leone in the early 1900s.
She started a small business to support her family by selling Shea Nuts.
From there she grew and got into selling Shea Butter, African Black Soap, and her homemade hair and skin preparations all over the countryside.
Naturally, this is what I will support and it is what I know. 
In Africa, I mostly used Shea Butter and Coconut products to moisturize both my skin and hair. 
So is Shea Butter Cruelty-Free?
To find out exactly if Shea Butter is cruelty-free, we contacted them using their customer service form. 
You can do the same right here, especially if you are concerned about a specific product. 
For me, I just needed reassurance that the ingredients were safe for my daughter and I also found out that applying Shea butter to her skin can help treat eczema. 
This alone was a win in books! 
I also wanted to know the answer to a burning question everyone had, including myself:
Does shea moisture test on animals?
According to the rep that got back to me, their products are animal cruelty-free.
And they do not ABSOLUTELY test on animals and are not affiliated with any companies which test on animals. 
Ingredients not found in Shear Butter
Shea Moisture is also sustainably sourced and produced, plant-based, and non-toxic with:
No Parabens

No Phthalates

No Mineral Oil

No Petroleum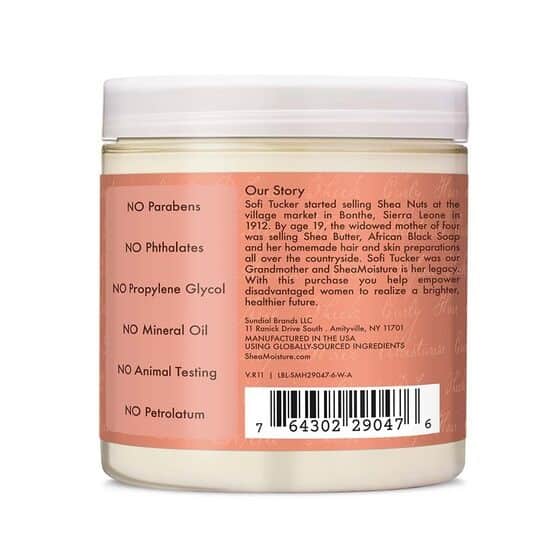 If you want to know exactly what ingredients are used in a specific product, you can view the list here!
And if you are wondering if Shea Moisture is really organic, you should know that all ingredients used in Shea Butter products are certified organic, natural, and fair trade.
Do I recommend Shea Butter Moisture?
Yes, I do. 
First, it hasn't irritated my daughter's skin or scalp which is a plus in my books. 
And together with another product, it has eased my daughter's eczema breakouts. 
Shea Moisture is very moisturizing for the hair and scalp.
People with curly and coarse hair textures like mine and my daughter's hair type can benefit from using Shear Moisture as a sealant to keep moisture in their hair and increase softness. 
For all my easy natural hairstyles, I first apply some Shea Moisture products before doing any protective styling. 
Shea Moisture Products I Highly Recommend
This will really depend on what you want to get out of your hair and also what your hair type is.
I have used the Shea Moisture Strengthen & Restore Leave-In Conditioner for years to keep my hair conditioned though out the day.
For my hair treatment, I seem to always turn to these three:
The last one I often use if my hair seems damaged. 
If your hair is completely dry, which happens to my hair the most during the harsh winter months in Ottawa,  I recommend doing the L.O.C treatment for rehydration during that time. 
LOC is the acronym for Liquid Oil Cream Method!
This is a popular technique for moisturizing natural hair.
It consists of hydrating your hair with water or a water-based product which is your liquid, sealing it with moisture which is typically your oil, and then applying a cream product to close the hair cuticle which prevents moisture loss.
Shea Moisture Kids Hair Care Combination:
I grabbed this pack for my daughter and I love it. 
Will you be using the Shea Moisture Product line? 
Tell us in the comments below.
Read this next:
Is Shea Moisture Cruelty-Free? Here is the honest truth…