Powerful affirmations for beauty and confidence
If you are feeling down or unsure about the way you look and feel, these beauty affirmations will do the trick to help with your self-confidence. 
I am not sure if you read our blog regularly, but I am a big believer in affirmations. 
They work and have worked for me for years. 
If you love affirmations as much as I do, then I am so glad you are here. 
The world is an ugly place these days, and if you have ever felt negative about the way you look because I know those days do exist, saying these beauty affirmations will help build you back up. 
Whether you are looking for affirmations for beautiful skin or affirmations for beauty and confidence, we have a little of everything below. 
Do beauty affirmations work?
Basically, affirmations are the action or process of affirming something or being affirmed.
So when you say something and believe it, you will slowly shift your mindset into believing your words. 
I have used affirmations to attract money by using these positive money mindset affirmations. 
I have used them to grow my business, save my relationships and manifest good in my life. 
And beauty is no different. 
Beauty affirmations will help you think more beautifully.
By using positive affirmations for beauty, you will start to feel and look more confident and even feel beautiful. 
If you feel not worthy, stressed and unsure about yourself, then you need to practice self-love today. 
Practicing self-love is definitely important. 
Only you can make yourself feel beautiful. 
It doesn't matter what everyone else thinks, it's what you think about yourself that truly matters. 
There are plenty of beautiful affirmations that can help you have a positive mindset about what you feel about yourself. 
Lucky for you, I will be sharing my top ones below. 
So if you ever feel down or discouraged, look to these beauty manifestation affirmations to help boost your confidence back up!
This post is perfect for those:
Looking for "I am beautiful affirmations" that work

Looking for affirmations about beauty for self-confidence

Looking for beauty manifestation affirmations you can use daily

Looking for powerful beauty affirmations that will make a difference
If this is you, then keep reading. 
We have a lot to say about how to manifest beauty affirmations!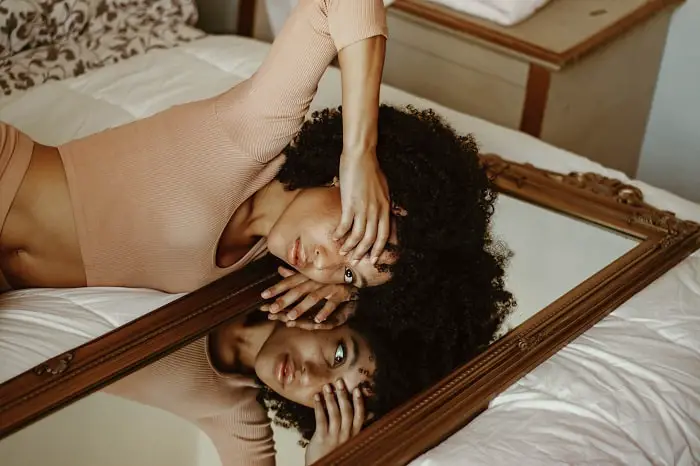 So what are the best beauty and confidence affirmations?
Before we get started on the best beauty affirmations that can help boost self-esteem, we did want you to follow us on Instagram for more tips. 
We also wanted to take the opportunity to let you know that we use Affiliate links on some of our blog posts. This means that we could make a commission if you click on an affiliate link and purchase something. Read our full disclosure and blog policy for more information.
What does beauty mean to you?
Beauty means different things to different people and hence why you will always hear this saying:
"Beauty is in the eye of the beholder!"
That's because everyone will look at something and feel like it's beautiful to them and it might not be to someone else.
What is important is knowing that you are beautiful.
The attitude you have towards how you look plays a huge role in everything else. 
I urge you to be positive and live life the best you can. 
And by using affirmations for inner beauty, you will absolutely feel more rejuvenated. 
Beautiful could mean:
Having self-confidence

A good positive vibe

Your laugh can make you beautiful

The way you carry yourself makes you beautiful and admirable 
At the end of the day, beauty is ultimately feeling truly comfortable in your own skin and loving all your imperfections.
When you feel good, you feel beautiful.
Whether you work out daily, wear makeup, or wear the best outfits, you want to ensure you feel beautiful from within.
By grasping that, it won't matter what everyone else feels.
Law of attraction affirmations for beauty should be used to make you feel good about yourself. 
Before I go any further, don't forget to grab this awesome Beauty & Glow Up Planner.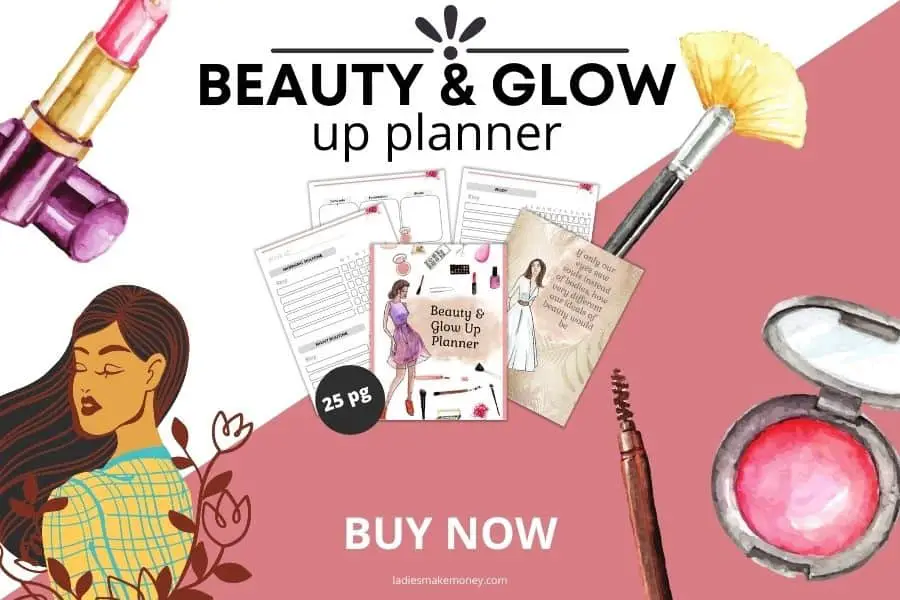 The planner is perfect for anyone that is looking to create a beauty routine, fitness tracker and much more for setting up a Glow Up routine. 
You can use it alongside the beauty and confidence quotes below to boost your self-esteem even more. 
40 positive beauty affirmations
Here is a list of beautiful affirmations you can use daily to make yourself feel good about yourself.
By using and saying them daily will ensure that you start believing and feeling beautiful. 
Trust me, it works. 
The goal is to truly believe in yourself while affirming. 
And I found that these affirmations about beauty are really powerful and can do a lot for your self-esteem. 
I hope you find them as awesome as I did.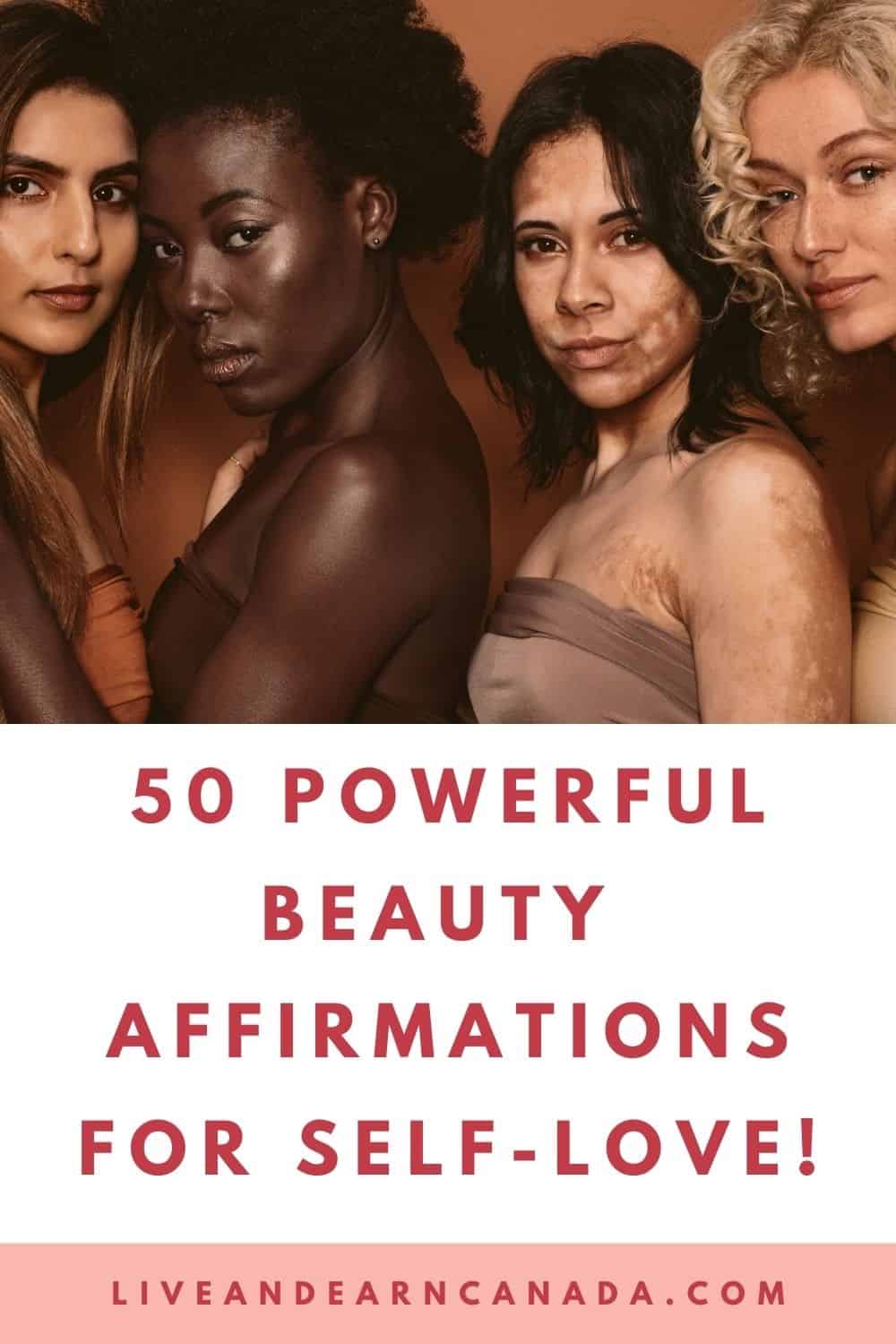 Here is an awesome list of positive affirmations for beauty:
1. I am a beautiful woman
2. I love my hair
3. My beauty is the greatest gift
4. The more I love myself, the more beautiful I become
5. My body is sexy and gorgeous
6. I have a great sense of style and it shows in what I wear and how I present myself
7. I choose to laugh and enjoy life because it's what truly makes me beautiful
8. I am extremely attractive
9. I am beautiful inside out
10. I am comfortable in my own skin and I exude confidence
11. My radiant smile highlights my natural beauty
12. My body is sexy and gorgeous
13. My inner beauty shines brightly
14. I have a positive self-image
15. I accept myself unconditionally
16. My imperfections make me unique
17. I am beautiful in body, mind, and spirit
18. I'm bold, beautiful, and brilliant
19. My body is fit, tone, and shape
20. I am satisfied with how I look
21. I love to exercise and eat healthily
22. I carry positive thoughts that make me appear gorgeous
23. Every day in every way I am getting more and more beautiful
24. My body shape is perfect in the way it's intended to be
25. I wouldn't want to be anyone else, I love me
26.  I choose to make my curses my blessings
27. I look beautiful, I dress beautiful and I speak beautifully
28. I am turning into someone who sees themselves as beautiful
29. I find beauty in everything I see
30. I walk gracefully and carry myself elegantly
31. I am perfect and complete just the way I am
32. No one has the power to make me feel bad about myself without my permission
33. Accepting myself as I am right now is the first step in growing and evolving
34. I possess beauty and intelligence
35. Beauty starts in your head, not in your mirror
36. The more positive I am the more beautiful I become
37. Everyone around me is as beautiful as I am
38. My beauty is worth seeing and appreciating 
39. I choose to love myself every day 
40. I let go of all reasons and excuses for not looking and feeling beautiful
I hope you enjoyed our list of self-love and beauty affirmations!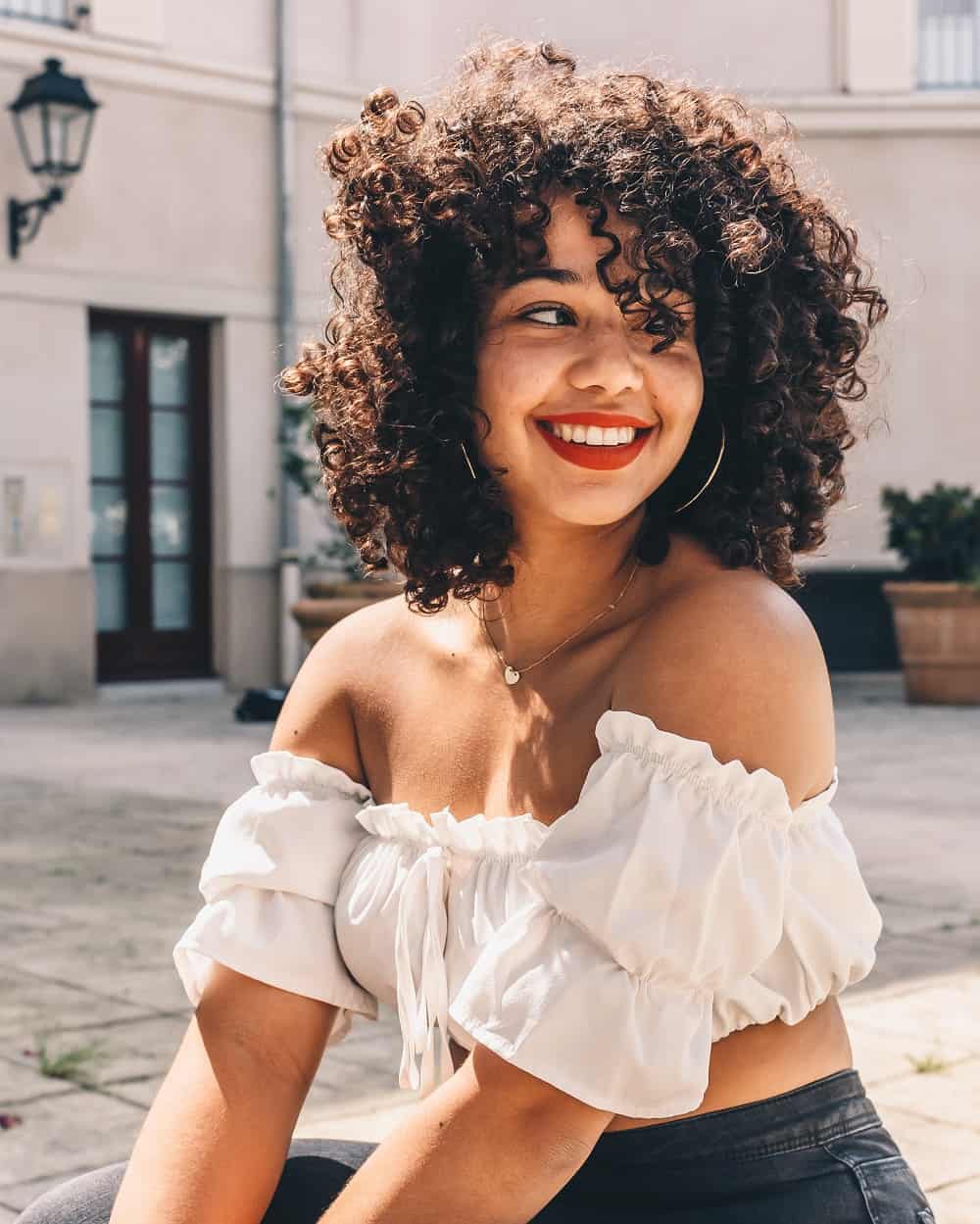 Which of these affirmations for beauty did you relate with the most?
We would love to hear from you below. 
As I have mentioned over and over self-love and beauty affirmations are important to help build confidence. 
Use them as much as you would like. 
If you have more ideas, we would love to add them to our beauty affirmations list! Just share it below. 
All of you me by John Legend
Other songs that will uplift and make you feel good:
Roar by Katie Perry

Shake it off – Taylor Swift 

Just the way you are – Bruno Mars

What makes you beautiful – One Direction

Happy – Pharrell Williams 

Pretty Hurts – Beyonce

Fight Song – Rachel Platten

Little Things – One Direction

Perfect – P!nk
I hope these beauty affirmations help you to become more self-confident, improve self-love and make you a better person. 
No one is more important in this world than you are! 
Using affirmations to feel beautiful will help in so many different ways and it's usually for the best. 
Let's chat in the comment section. 
Get your own Beauty and Glow Planner right now.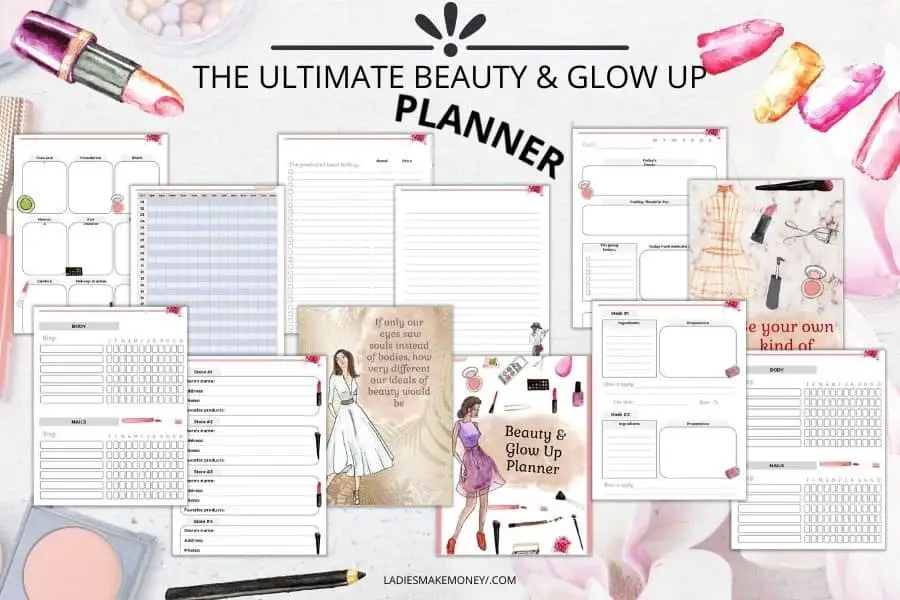 Read next: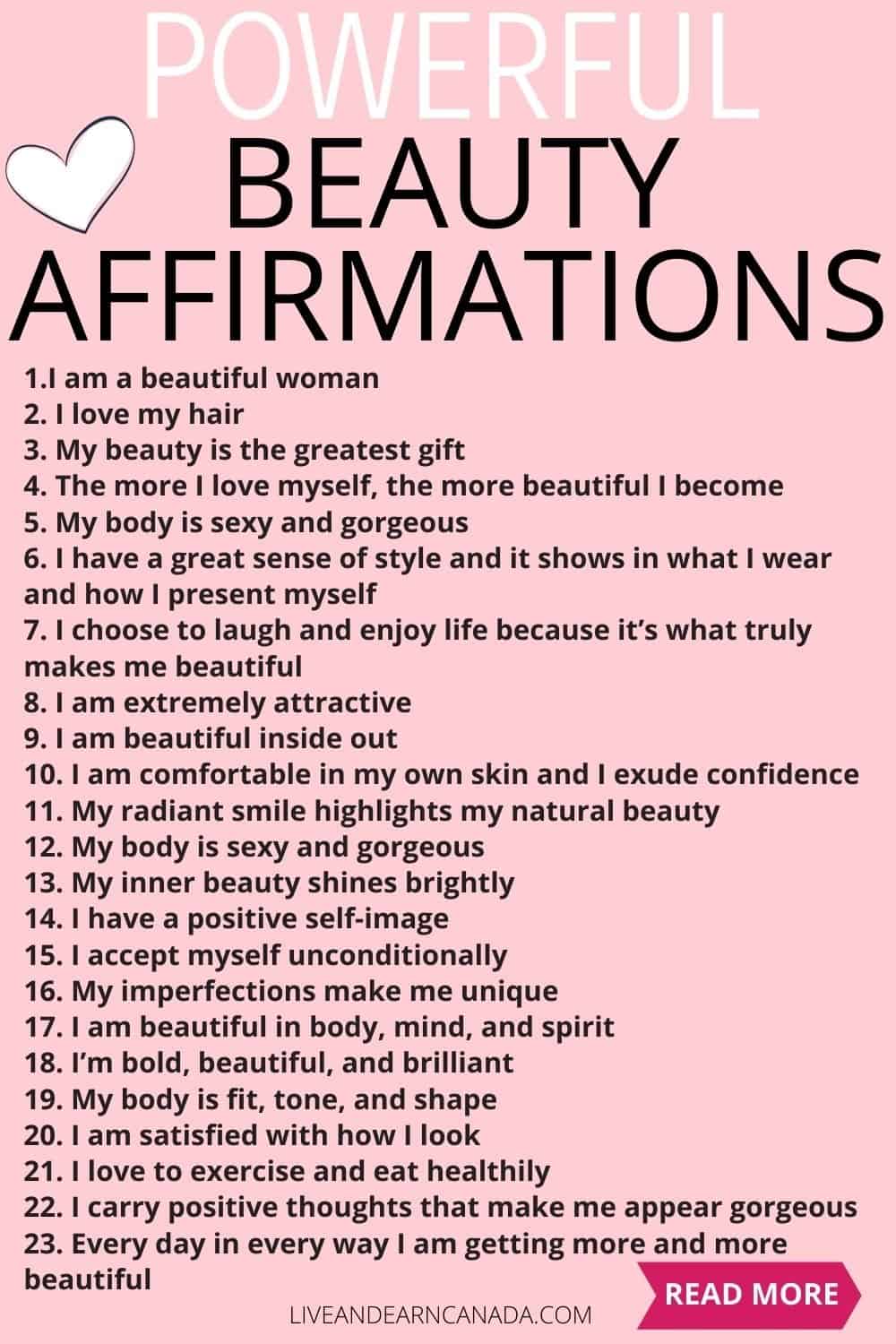 40 Positive Beauty Affirmations For Self-Assurance and Self-Confidence