Journal Prompts For Self Love
We are living in crazy times these days, and the best way to get through it is to use self love journal prompts to keep your days moving. 
I am constantly running around, barely giving my 3-year old any time or attention and my poor new husband is getting little love from me. 
I decided right there and then, it was time to practice some self love, take it easy and show the people around me how much I loved them. 
But guess what?
You can't give love if you are not loving yourself or you have no clue how to love yourself. 
If what other people say about you has the power to make you feel a certain type of way, would what you say about yourself have the same power? I think so! 
By self-loving and reassuring yourself, you will soon feel empowered, worthy, and loved in no time. 
Journaling for self love is crucial for the health of your mental health, so take time to practice some self-love. 
Here is what I will be sharing today:
The benefit of journaling for self love

How to start a self love journal

Love journal ideas to you more

And love writing prompts you can use
But what is self-love?
Before you can think of using journal prompts for self love, you first need to understand what self-love is in the first place. 
This way, you will know how to properly use them. 
According to the Oxford Diction, self-love means regard for one's own well-being and happiness (chiefly considered as a desirable rather than narcissistic characteristic).
By saying or writing down loving things about yourself will help make you feel more loved as you start to believe in your words daily.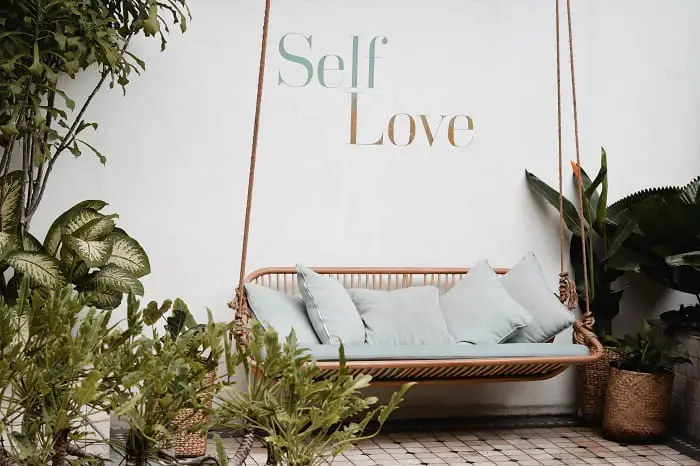 Before we get started on self love journal prompts, we did want you to follow us on Instagram for more tips. 
We also wanted to take the opportunity to let you know that we use Affiliate links on some of our blog posts. This means that we could make a commission if you click on an affiliate link and purchase something. Read our full disclosure and blog policy for more information.
Self love journal Notebooks
If you are feeling stressed, sad, or down using a journal is a great way to write down loving thoughts about yourself that you can read when days seem a bit gloomy.
This will help uplift your spirit and make your days a little more bearable. 
You can get a few self-love journals online that way you can be well on your journey to self-love.
Some of the best self love journals can definitely be found online. 
For example, I totally love this Self-love: Bloom Notebook by GISSEL BATRES!
This one is also really cool, a SELF LOVE Notebook by MERRIJ!
This notebook is worthy of your million-dollar ideas, to-do lists, doodles, and super-deep journal entries. It is printed on high-quality 70 lb text paper for minimal bleed through which I totally appreciate.
Get one or a set of three, in lined or unlined options.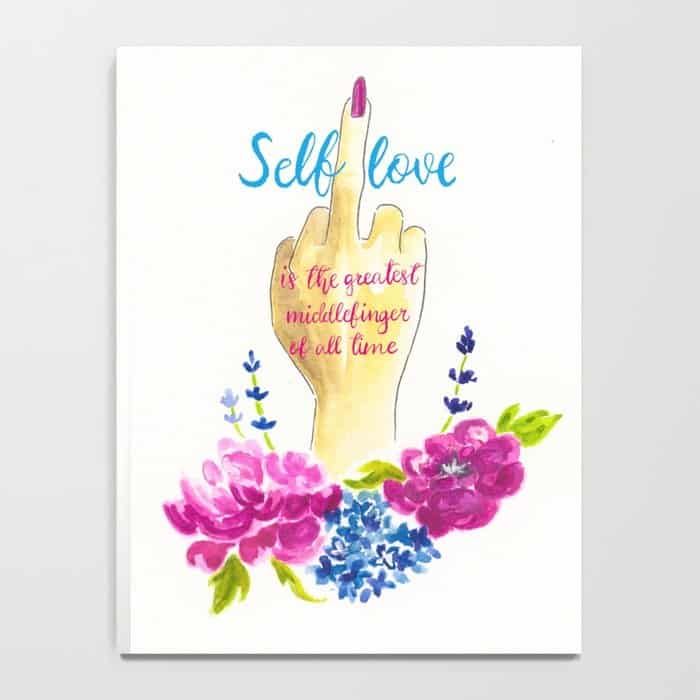 What is the benefit of self love Journaling?
As we mentioned earlier, the stress of the world can take a huge toll on our overall health very easily.
From always trying to look our best, and trying to please people at every chance we get, our brains soon shut down from all the on-going pressures. 
Self-love can easily heal that.
Remember that mental health is real, but if you can take time to care for yourself and find a way to love you more, you will be a much happier person. 
And if you fail just for one day, remember, it is not the end!
Pick yourself up, give yourself a big hug, and carry on. 
Here is what self-love journaling will do for you:
It will definitely increase self-esteem and confidence 

It will help you learn more about yourself and what is important

It will allow you to build better relationships with loving people

It will help you think less negatively about yourself 

It will help you become a better person

And for me personally, less stress means I can better control my blood pressure
For those that have no idea where to start when it comes to finding writing prompts about love, this post will help you. 
I know it has helped so many people. 
Self-love writing exercises are perfect for those wanting to feel more empowered and looking to love themselves daily. 
What I love about "you" prompts is that you get to rediscover yourself and you get to learn to love yourself more. 
So if you are looking for creative self love journaling prompts to grow, look no further than the list below. 
50 Journal Prompts For Self Love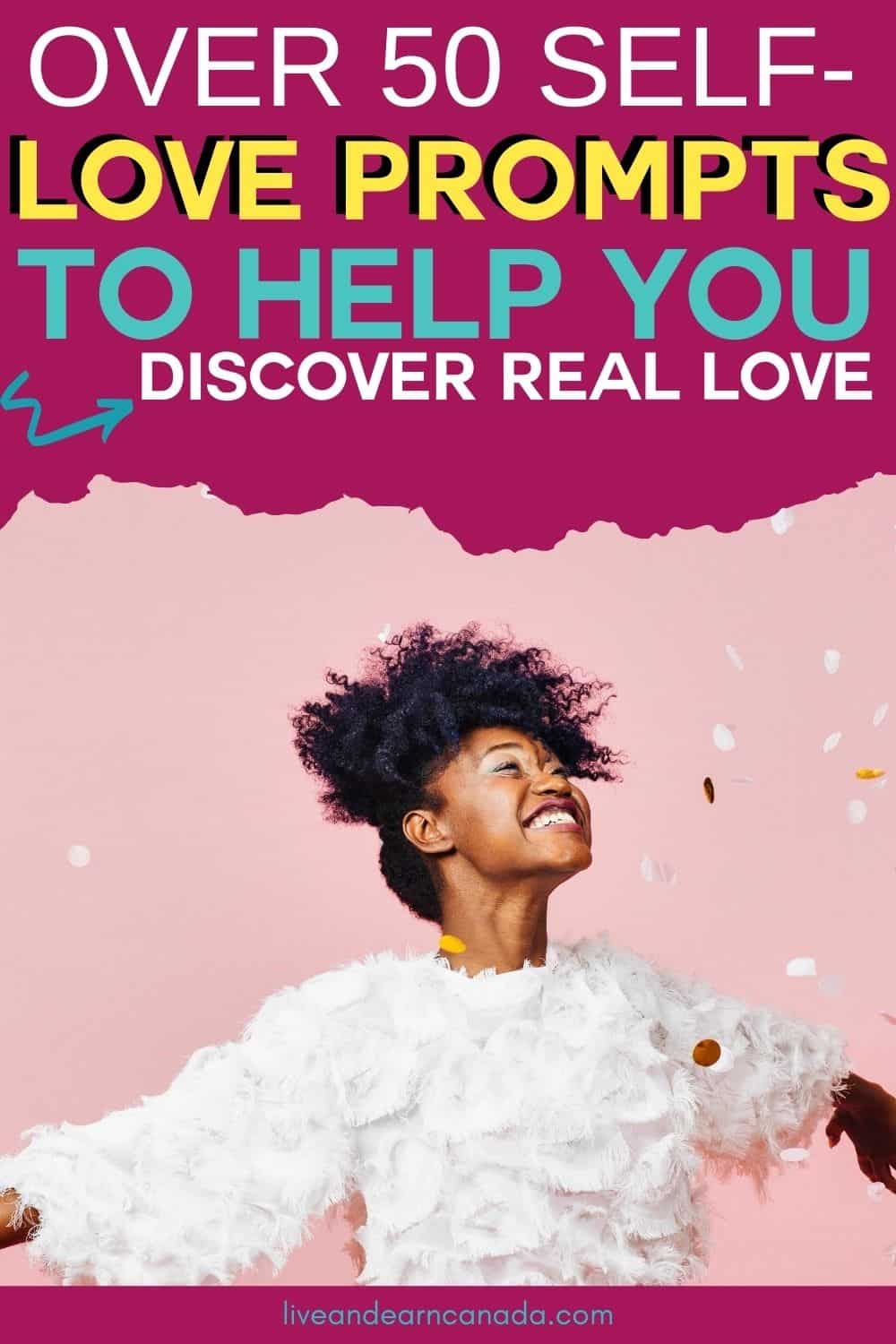 What does self love mean to you personally?

How can you bring more joy into your life?

I am happiest when…

What is your favorite thing about your personality?

Do you think you're beautiful?

What makes you feel strong?

What have you achieved that you are proud of?

What parts of your life are you happy with?

List 3 physical features that you love about yourself and why

Name 3 things you did right today, no matter how small or seemingly insignificant.

Write a thank you letter to your mind and/or body.

Write down your favorite confidence and self-esteem quotes from the internet as a reference page when you need motivation.

What makes you the happiest in the morning, during the day, and at night

Where do you go when you want to feel safe? Why does that place make you safe? Are you happy there and why?

What habit do you want to start for self love?

What memories make you feel loved?

What does your dream life look like?

Describe what your perfect day would look like?

Do you care what people think about you and why?

Do you struggle with loving yourself? Why is that?

What things make you feel happy to be alive? 

What brings you peace?

Give yourself 2 loving compliments

List your top favourite movies from your childhood – watch them 

Write a funny story that cracks you up every time. 

Describe the most loving thing you have ever done for yourself? How did you feel?

Write out 5 positive affirmations for self-love

Where would you like to live? And why?

If you had to spend the perfect day on your own, how would you spend it?

Write 10 ideas that will help increase your self-love

What regrets do you have in life – Only 3

Write yourself an apology letter

If you had to let go of one regret, what will it be and why?

What would be your ideal best life?

Tell yourself how much you love yourself in 100 words or more

Where do you see yourself in 5 years?

What is your ideal loving relationship?

Write 10 words that describe how loving you feel today

If you had to share platonic love with 5 people who would they be?

I am worthy of…

Here is what love means to me…

Why do you deserve to be loved?

What loving things would you want people to say about you? 

If you had 24 hours to be happy, what would you do?

Name 5 ways to increase love in your life

Who is your role model and how can you be more like them?

How can you show someone else love today?

Where in the world would you go if it meant you would be happy all the time?

Write down your top 5 happy and loving memories

What have you learned from this journaling experience?
There you have it, an epic list of Self-Love Journal Prompts you can use for your journal. 
Tips on Using Self-Love Journal Prompts
I encourage everyone to give self-love journaling a try even if it's once in your life!
The first step for using self-love journaling is to actually get yourself an epic journal like this one. Read through the prompts first so you are familiar with it. 
Then you can either go through it day by day as you wish or write on the self love prompts that resonate with you the most.
When it comes to writing, write down whatever comes to mind without stressing. 
You do not want to be perfect, just write down your feelings about the question. 
Think of it as your own personal journey that you can either keep to yourself or share with a friend or two.
Either way, it is yours and it is private, so the answers you provide in your journal does not need to be perfect. 
The journal also has blank sections that you can use to write down your own self-love prompts. 
Best books for self love and confidence
If your goal is to really find self-love, I will recommend you grab some awesome books to help you get started. 
Self love journaling prompts are a start but for more love journal ideas, books will take you further. 
Some of the best books I have personally read on self-love include:
You are a badass – How to stop doubting your greatness and start living an awesome life by Jen Sincero!
You can also check out, You are an awesome woman: Affirmations and inspired ideas for self-care, success, and truly happy life!
The Self-Love Experiment is also epic and you should totally give it a try! 
Don't forget to grab this self-love Journal book to help you get started on your journey to self-rediscovery!
I truly hope you enjoyed our love writing prompts and you will be using them. 
You can find more books below:

Read this next: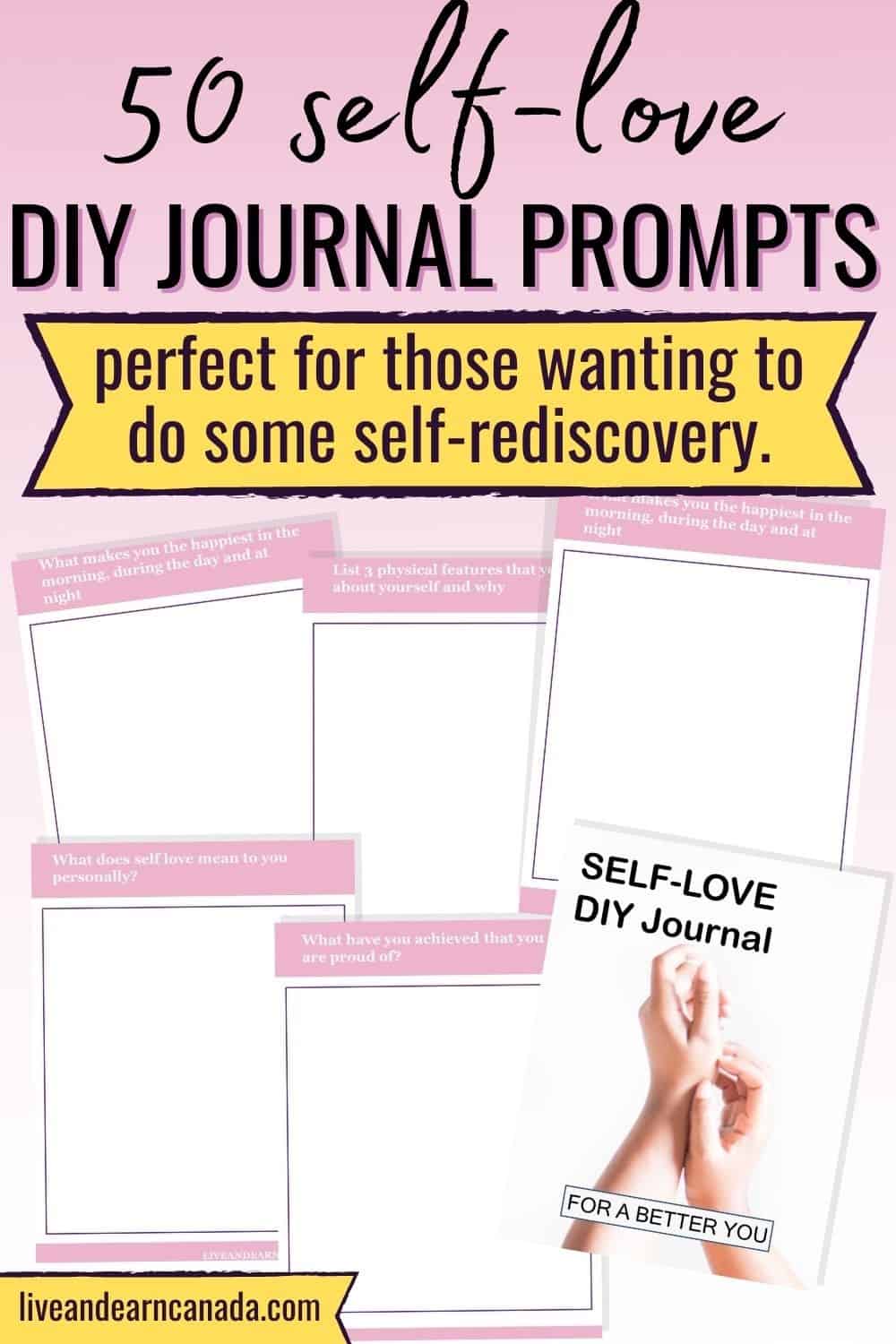 50 Self Love Journal Prompts You Can Use Daily to Feel More Empowered!