Visit Paris in 3 Days 
Are you looking for the perfect 3 days Paris itinerary?
Then you have absolutely come to the right place.
If you are visiting Paris for the first time, we have created an action-packed detailed itinerary for you to create great memories in the beautiful city.
We recently asked one of our travel buddies to share with us exactly how to spend three days in Paris and she did a fantastic job.
So if you are for some of the best places to visit in Paris in 3 days or what to see, this post has it all for you.
A 3 day trip to Paris may not seem like enough time, but with the perfect itinerary, I believe you can totally enjoy Paris in three days.

They are so many amazing things to do in Paris! 
Get ready for the ultimate Paris 3 Day Itinerary that will blog your mind!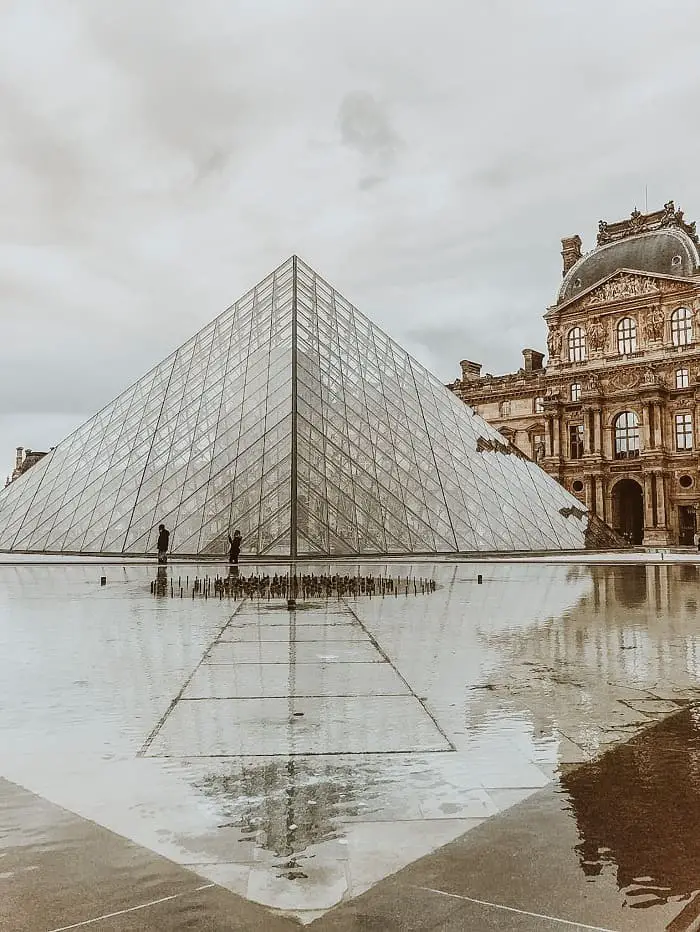 But first, let's talk about Paris for a second. 
The most romantic city in the world, or so some say, is a city at the top of many people's bucket lists. It has been a capital for tourism for centuries and it is not hard to see why.
From the relaxing café culture to the stunning historical buildings there is so much so see and do in Paris.
Paris is a huge city and it can become very overwhelming when trying to plan your trip and make the most of your time.
As you may know, Paris is definitely one of the best cities to visit in France and the most visited cities in the World. 
It is France's capital, and it is a major European city and a global center for art, fashion, and culture.
So yes, if you are able to visit Paris, go ahead and do that even if it for only 3 days. 
In today's post, we are going to help with planning your best stay ever in this beautiful city! We're going to share with you everything you need to know about how to spend three days in Paris in order to fully enjoy your experience. 
Can you do Paris in 3 days?
We are going to be sharing a few interesting things for your trip such as: 
What to see in Paris in 3 days

What to do in Paris in 3 days

The best way to see Paris in 3 days

The Perfect 3 days itinerary in Paris
And a lot more cool tips. 
To make your planning a little bit easier I have created a 3-day Itinerary of the top things you must see when you are in Paris.
"Are you ready for your 3 days trip to Paris?"
Before we get started on the perfect 3 days Paris itinerary, we did want you to follow us on Instagram for more tips. 
We also wanted to take the opportunity to let you know that we use Affiliate links on some of our blog posts. This means that we could make a commission if you click on an affiliate link and purchase something. Read our full disclosure and blog policy for more information.
Three Perfect Days in Paris
Paris itineraries are all over the internet. Trust us! 
Do a simple Google search and you will be greeted with all sorts of amazing itineraries. 
For those that have little time to spare in Paris, we really wanted to cut through the noise and deliver one of the best itineraries for those with only three days in Paris.
With such little time, you might feel overwhelmed, stressed and possibly missing out on the best Paris has to offer.
If this is your first time in Paris we hope our "3 days Paris itinerary" will help you enjoy the city even more and make your time memorable. 
Ready to find places to visit in Paris in 3 days?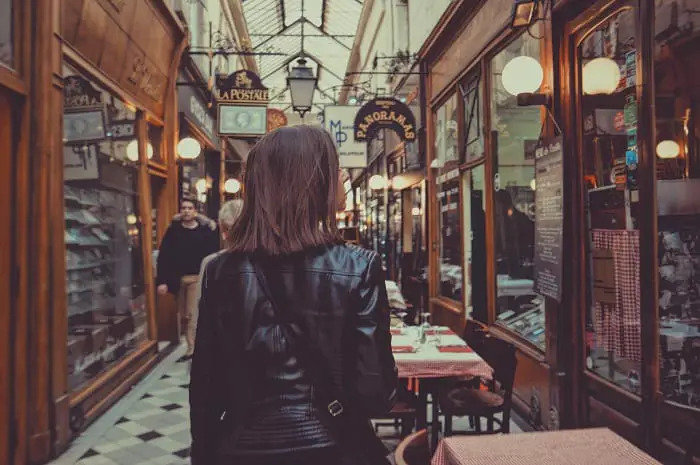 Getting Around Paris
Paris is set out in a spiral and separated into areas called Arrondissements.
This is what they call districts. 
The 1st arrondissement is in the very center of Paris and there are 20 in total. This formation of Paris has been in existence since the French Revolution. 
When you are researching Paris and places to stay people will often refer to certain arrondissements rather than neighbourhoods.
Keep in mind the lower the number the more central the location, i.e 1st is in the centre of Paris whilst the 20th arrondissement is on the outskirts of central Paris.
Although Paris is a very large city, much of the city is quite easy to walk and much of the area is fairly flat.
I believe that is the best way to see Paris in 3 days if you want the true experience. 
However, if you would rather take public transport the Metro is easy to navigate and pretty cheap. 
Most of the places to see will be located within walking distance of a metro station where you can get the metro to another station close to another attraction.
It is best to buy passes for the metro rather than pay for each journey.
Of course, there are also Uber or cabs available that you can hail in the streets if time is short. 
Another popular way to get around Paris is to hire a bike.
There are stores that hire bikes or you could use a company such as Velib.
Velib has many bike "stations" around the city and you can rent these bikes using their app.
Your first half-hour of hire is free as long as you return your bike to a station within that half-hour. 
You do not need to return your bike to the same station you picked up your bike. The city of Paris really makes it easy for you to visit. 
Now that you know how to get around Paris, let your three days in Paris begin!
3 Days In Paris
Check out our ultimate list packed with action-jammed things to do!
In this three day Paris itinerary, we will ensure you visit some of the best sites and attractions in the city so that you really get the full experience of visiting Paris.
Before visiting any of attractions suggested be sure to check out their respective site for opening hours of operation. 
It is the perfect 3 days Paris itinerary full of amazing things to do, see and visit on your short trip to Paris.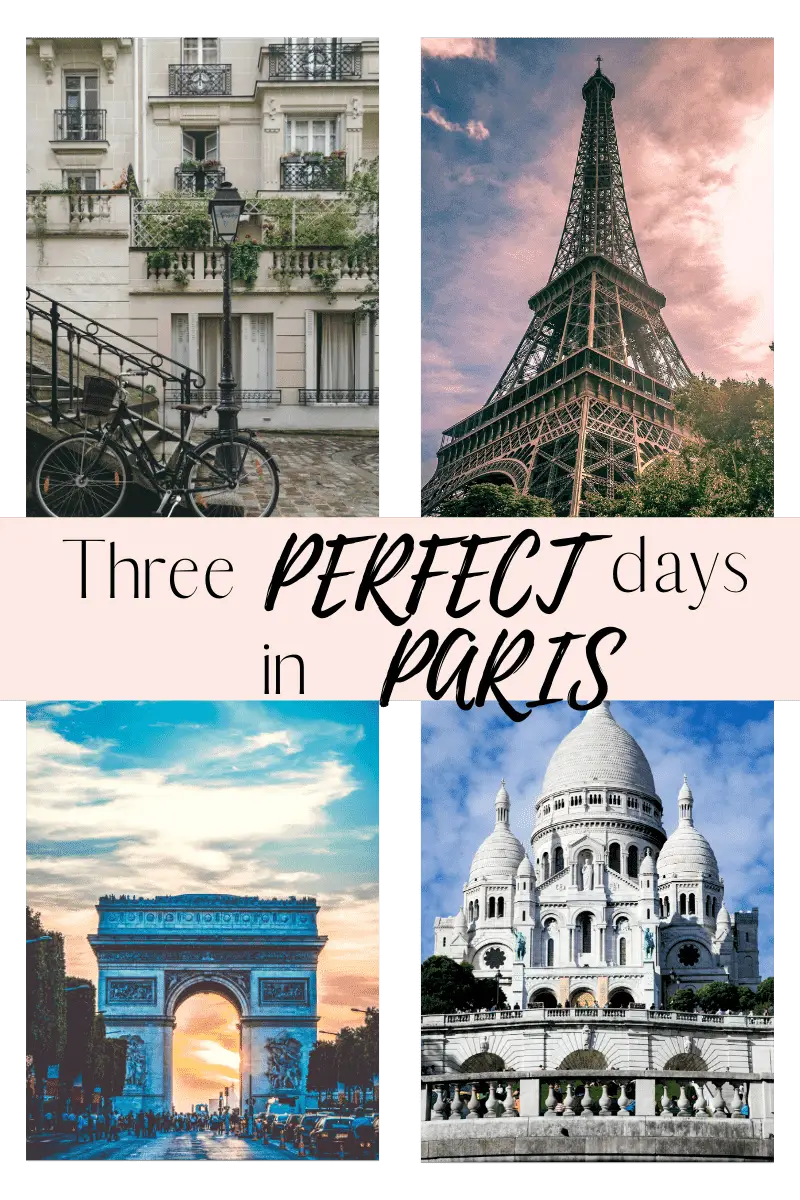 3 days in Paris Itinerary – Day 1
The Paris Essentials
If you are like me, when you get to Paris you are going to want to go straight to some of the most "iconic" places such as the Eiffel Tower, the Arc de Triomphe, the Notre Dame etc.
And why not, they are some of the most popular places to visit in Paris. 
Luckily, most of these places are easily accessible by walking.
Of course, along the way you are going to see the beautiful streets of Paris and the amazing cafes and little cute cake shops.
Notre Dame
The construction of the Notre Dame, a magnificent building took nearly two hundred years to be completed.
It was fully completed in 1345.
Sadly, the Notre Dame was badly damaged by a fire on the 15th of April, 2019.
Whilst you cannot go into the Cathedral at the moment you can see the outside of this beautiful building and I believe it is still well worth a visit.
It sits right on the Seine River and it is a gorgeous example of a French Gothic Building.
Lucky for me, I was able to visit it back in 2015 before the fire. 
As of right now the cathedral will be closed for the foreseeable future as a result of this tragic incident.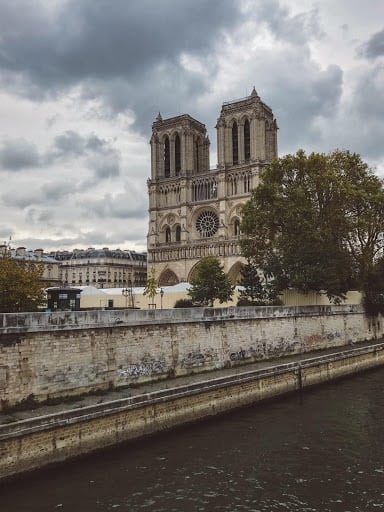 Notre Dame is home to one of the world's largest organs and its famous large church bells.
Inside the Church is an amazing rose-coloured stained-glass window and is arguably one of the most famous Cathedrals in the world. 
Bouquinistes 
If you are wondering what to see in Paris in 3 days, be sure you visit some Bouquinistes.
The Notre Dame is located on the River Seine and along the river, there are many small stalls known as Bouquinistes.
These stalls sell everything from antique books to paintings to comic books, you definitely want to visit some.
When you are at the Notre Dame have a walk along the river and check out these stalls.
They're also a great place to test out your French skills!
Palais Royal
The Palais Royal is often confused as the Louvre, however, it is the building right next to the Louvre.
The Palais provides a beautiful photo opportunity and another example of the amazing architecture in Paris.
If you are looking for that "perfect" photo opportunity you will need to have some patience or get there early in the day, or later, to avoid the busy crowds.
The Louvre
This 3 days in Paris Itinerary is packed with amazing things to see while you are in the city of love.
And seeing The Louvre should definitely be on that agenda.
The Louvre (also known as the Musee D'Orsay) is home to the famous Leonardo da Vinci painting of the Mona Lisa.
It the largest and most visited art museum in the world. It is also an iconic attraction for visitors in Paris and not just for art lovers.  
The Louvre is a HUGE museum and has many different exhibitions and it is very easy to get lost.
You can download the Louvre App to help you create a game plan for your visit.
If you want to see everything the Louvre has to offer you are best to visit over a couple of days.
If, like us, you are happy to see the Mona Lisa and a few other exhibitions you will want to dedicate a couple of hours of your day to truly enjoy yourself. 
Note: There is always a big line to see the Mona Lisa and you are provided with one minute to see the piece of art and take a quick photo before you are moved on. If you are pressed for time and seeing the Mona Lisa is on top of your priorities I suggest you find her first and go early in the day.
The Louvre is closed on Tuesdays and open from 9 am – 6 pm every other day. Except for Wednesday and Friday when it is open until 9:45 pm.
Tuileries Garden
On your walk from The Louvre to the Champs Elysees, you will walk through the beautiful Tuileries Gardens.
If you pick up a baguette or even a picnic and a bottle of wine this is a great place to sit and enjoy the tranquillity of the garden. 
A favourite pastime of many Parisians or visitors is, people watching!
This is a great place to do some people watching as you will see many locals and tourists running, walking or picnicking in the gardens. 
When I was in Paris, I think I had wine and cheese almost every day! 
Champs Elysées
One of the most famous shopping streets in the world is the Champ Elysees.
It is home to many high-end shops (such as Louis Vuitton's flagship store!) as well as some more affordable shops and restaurants. 
Even if you are not into shopping it is a nice street to walk down and at the end of the street, you can see your next stop – Arc de Triomphe.
There is a popular old song about Champs Elysées by Joe Dassin that I discovered while in Paris.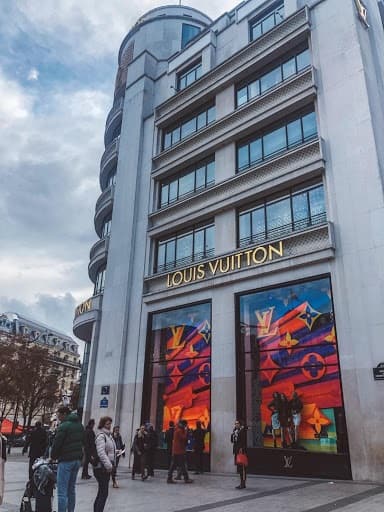 Arc de Triomphe
The Arc de Triomphe was constructed to remember the soldiers who lost their lives during the French Revolution and fighting in wars under Napoleon.
It is also home to the Tomb of the Unknown Soldier from WWI.
The Arc De Triomphe is located in the middle of a very busy roundabout so use the stairs to walk down into a tunnel under the road to the base of the Arc de Triomphe. 
It is free to access the roundabout and to walk around the base but if you would like to climb the stairs to the top of the Arc de Triomphe you do need to purchase a ticket which is 13€.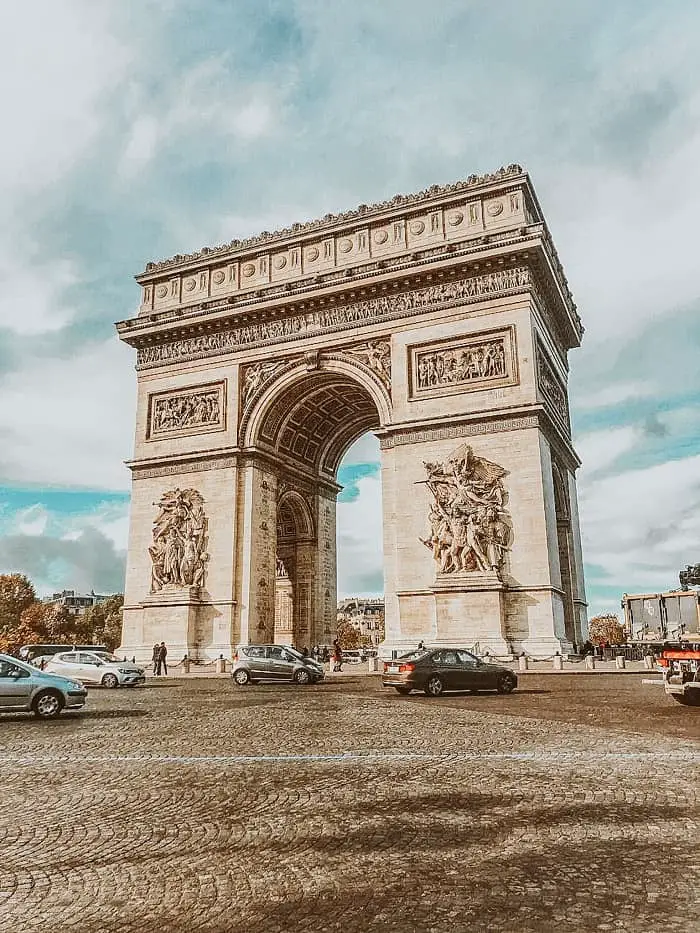 The Eiffel Tower
With only 3 days in Paris, we really recommend at least visiting the famous Eiffel Tower.
The Eiffel Tower was never intended to be a permanent structure in Paris.
It was built in 1889 for the World Fair. It was hated by locals initially but has since become one of the most iconic sites in Paris.
Meaning, if you only have three days in Paris to see everything, make sure you at least get to see the Eiffel Towel!
Even if it is one time in your life type of situation. 
They are few ways that you can enjoy this amazing iconic site. 
When I was in Paris the first time, we got close to it and took gorgeous pictures from the ground. The lines to enter were just too long and we had limited time.
And if you only have three perfect days in Paris, you do not want to ruin this with long wait times in line.
We were told the lines could take 2 to 3 hours. 
The other way of enjoying the Eiffel Towel on your 3 day trip to Paris is to go up. 
When visiting the Eiffel Tower be prepared for the security measures that have been put in place over the last few years.
You will need to have your bags scanned and go through a body scanner. 
You have two options for reaching the top of the tower, you can take the lift from the ground floor up to the top floor or you can walk to the second floor and then take the lift up to the top floor.
If you do choose to walk you will need to be reasonably fit as there are over 600 stairs but it definitely is able.
It is pretty cool to be able to say that you have climbed the Eiffel Tower. 
On the second floor, there are cafes and shops that you can relax in and on the top floor, you can buy a glass of real champagne to sip while you admire the incredible views.
Or you can simply take Insta-perfect photos from the grounds. 
It is a very crowded place, so be warned.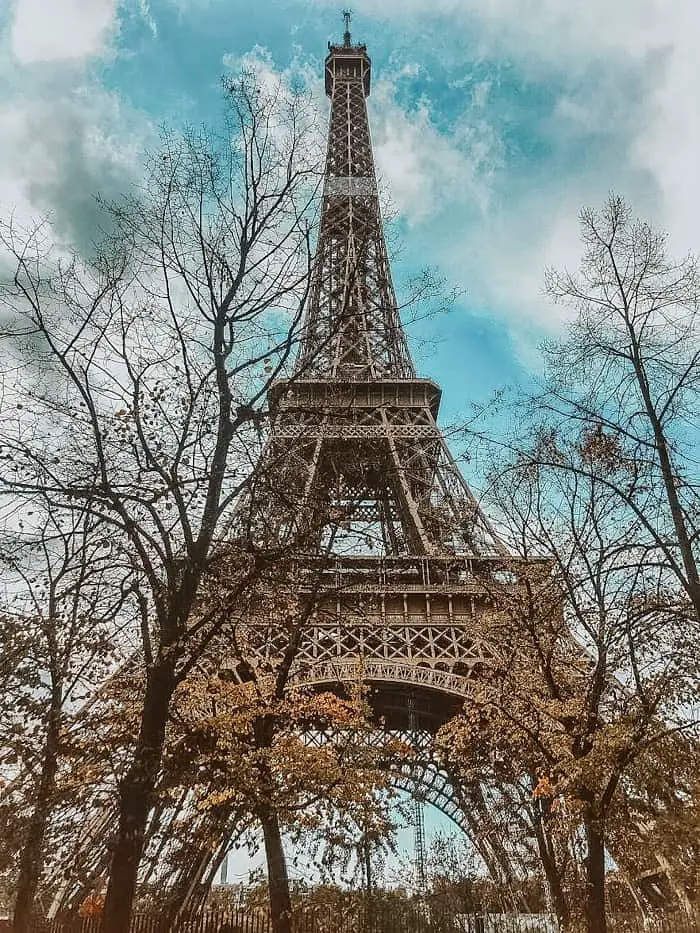 Sunset Cruise on the River Seine
A Paris three day itinerary is perfect for those with little time and that is why we are sharing only the must-see attractions. 
An absolute must when you are in Paris is to take a boat down the river Seine.
You can enjoy Seine River Cruise which I was lucky enough to do. 
You will go passed many of the sites that you have seen during the day. It is a beautiful way to end the day, especially at sunset. 
There are many different types of cruises you can do when visiting Paris, some include drinks, dinner or just a basic boat cruise.
They typically start for as little as 10€ and go every half hour or hour, usually lasting for about 60-90 minutes.
Most of the cruises have a running commentary in a few different languages that give you the history of Paris and the sites that you are going past. 
If you take the cruise on a winter night as we did, make sure you wear plenty of layers because it is much nicer to sit outside on the boat.
But, seeing the Eiffel Tower's lights twinkling in the night sky more than makes up for the cold.
3 days in Paris Itinerary – Day 2
Le Marais and Montmartre 
Paris is full of beautiful and "must-see" neighbourhoods.
Everyone you talk to will have a different neighbourhood that you have to see or that they think is the most beautiful neighbourhood in Paris.
However, my two favourite neighbourhoods are Montmartre and Le Marais.
Le Marais is located in 3rd and 4th arrondissements and is full of museums and gorgeous architecture, whilst Montmartre is located in the 18th arrondissement and is home to Sacré-Coeur and the artist's corner.
If you have more time, we definitely recommend visiting a few neighbourhoods in Paris. 
Le Marais
One of the things that I first noticed and loved about Le Marais is that it appears different from other parts of Paris.
The reason for this is that a lot of Paris was reconstructed in the 1800s but Le Marais was not. 
This neighbourhood is a perfect place to just wander around and explore the streets.
It is full of local bistros, cafes and shops.
You could easily spend half a day just exploring the area and stopping to people-watch outside a café or picking up some local produce. 
It is also home to Hotel de Ville, the Paris City Hall, this is a beautiful building to explore both inside and out.
There is also a carousel outside the City Hall for you to ride because we are never too old for carousels. 
Another reason why Le Marais is a well-known neighbour is for museums such as the Pompidou Centre and Place des Vosges.
If shopping is your thing there is also a huge department store: BVH.
Having three days in Paris to shop sounds like the perfect dream in my opinion!
Montmartre 
Montmartre is set up on a hill and gives stunning views of Paris.
We were lucky to be staying in Montmartre so we could enjoy the views of Paris in the morning and the evening and I would recommend this for you too!
One of the best viewing points in Montmartre is from Sacré-Coeur where you can see for miles and get a great view of the Eiffel Tower. 
Montmartre is filled with cobbled stone streets, cafes, shops and in the middle sits artists square.
Many local artists gather in Artists square to paint or draw and then sell their artwork.
I recommend stopping by one of the cafes on the outside of the square and watch the artists at work. 
This neighbour is very popular with tourists and can get very busy.
It is a great place to take some of those "typical Paris" photos, so I suggest you get there early in the morning or later in the day to avoid the crowds.
Moulin Rouge
Located in Montmartre is the world-famous Moulin Rouge.
Spending a night at the Moulin Rouge is an absolute must. It took me three visits to Paris to make it to the Moulin Rouge and my only regret is that I didn't go sooner.
The Moulin Rouge is home to one of the most famous Cabaret shows in the world.
You absolutely can not spend three days in Paris without going to Moulin Rouge! 
It is a show full of glitz, glamour and at times, very little clothing.
There are several shows each day and they sell out in advance so book your tickets before you get to Paris. 
There are two shows during the day, one at 1 pm and one again at 2:45 pm.
For the evening shows you have the choice of dinner and show, champagne and show or just the show.
If you choose the dinner option you arrive at the Moulin Rouge and are served dinner before the show.
We chose the Champagne and show option, on arrival we were seated at our table and served a bottle of champagne.
I recommend this option as it is very pricey to have dinner and a show but it is lovely to have some champagne as you watch the show.
They are a few must see in Paris in 3 days recommendations, and this one is definitely one not to be missed. 
3 days in Paris Itinerary – Day 2
 A Day Trip to Versailles – The Palace of Versailles
Your 3 days Paris itinerary would not be complete if you did not visit The Palace of Versailles.
I love French history and this is a must-visit if you love History too. 
The Palace of Versailles is located in Versailles which is 20km from the centre of Paris.
It is easily accessed by train but will be a full day trip (unless you would prefer to stay in Versailles) as there is a lot to see at the Palace and the surrounding gardens.
This is a very popular place for tourists to visit as it was the residence of the French Royal family from 1682 until the French Revolution.
It was home to Marie Antoinette and you can still visit her cottage.
Make sure you visit the Hall of Mirrors, the Royal Opera and of course the amazing gardens. 
The Palace of Versailles is very busy on Tuesdays and weekends, so it is recommended to avoid these days and if possible to arrive early in the morning.
As with many sites these days it is recommended that you book your tickets in advance to avoid the long lines.
You will notice that we have mentioned certain dates and times to avoid when visiting any of the attractions. 
So when planning out your 3 days Paris itinerary, be sure to factor these in. 
Versailles
When most people think of Versailles they immediately think of the Palace and don't realize that Versailles is a town, albeit a small town.
If you have some time it is worth looking around Versailles or even having some dinner before heading back to Paris.
There are plenty of things to do and see in Versailles such as visiting the Cathedral, the Notre-Dame of Versailles, Petit Trianon and the Versailles Market.
And there you have it, the perfect Paris in three day Itinerary! 
Where will you go first?
Best Time to Visit Paris
With your 3 day trip to Paris, we recommend visiting the city when the weather is at its best. 
I find that Europe seems to have a lot of rain and I would hate for you not to fully enjoy Paris especially with limited time on your hands. 
The high season for visiting Paris seems to be April to about October (not including holidays such as Christmas, New Year's eve, and other special holidays). 
When I last visited Paris, we went in May (my birthday), however, we bought the tickets early enough. 
The weather at the end of May and I believe until mid-November are typically amazing. 
I know when I was there in May it was great and I do not believe it rained once.
We have typically heard that the best time to visit Paris is from October to about the end of November (PS my hubby is from France – raised in Paris before moving to Ottawa, Canada).
So if you only have 3 days in Paris, be sure to pick the perfect time and consider your budget as well. 
Where to Stay in Paris for 3 Days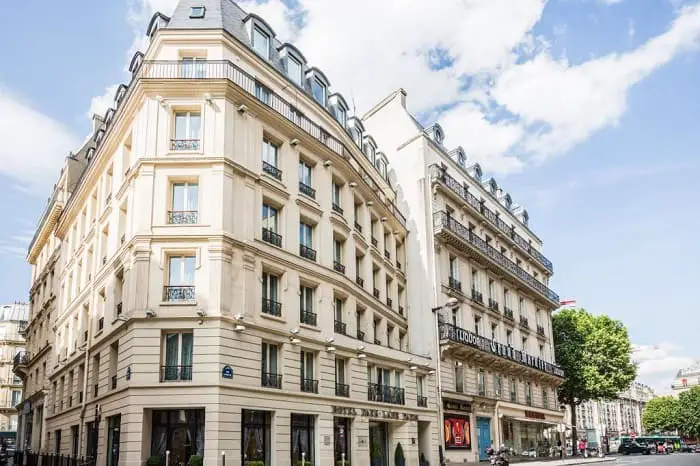 Paris a gorgeous place.
Depending on your budget, you can stay close to everything or slightly out of the city to ensure you are within budget. 
Using the metro and the trains is really easy.
I find the transportation system in Paris and France as a whole to be great compared to other places. 
Here are a few places I suggest staying at on your three day trip to Paris: 
Hôtel Park Lane Paris  – This hotel was recently renovated throughout, is located right in the heart of the City of Light. Depend on where you go, the prices are not to shabby! 
Les Ateliers de Montmartre – This is a really cute guest house which I promise you will love. 
Hôtel Relais des Halles Paris – Located right in the middle of the Parisian life, you can enjoy a good stay here! 
You can also check out a few listings for Paris on booking.com and even HotelsCombined.com where you can compare for pricing! 
You can also use AirBnB for your short term 3 day trip to Paris. 
We hope you enjoyed our 3 Day Paris Itinerary suggestions!
If we missed anything out, don't hesitate to comment below, we would love to hear from you.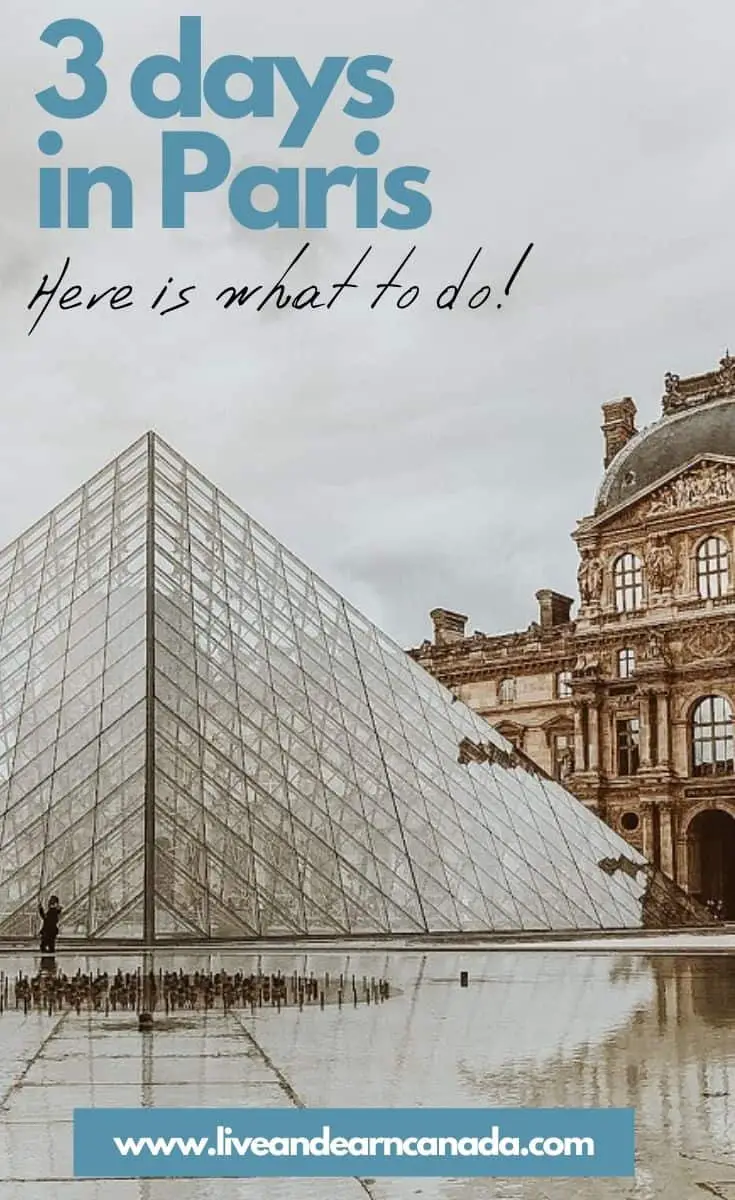 Read this next: 
Best Cities to Travel Alone As A Woman – 10 Amazing Cities to Explore
Travelling Alone: Pros and Cons For Enjoying A Solo Trip
3 Days Paris Itinerary – How to Spend Three Perfect Days in Paris (Like A Local)