How Do You Glow Up
Ready to learn more about how to glow up naturally in 2021? 
Then you have come to the right place as I have plenty of glow up tips lined up below. 
So if you want to grab your favourite beverage and get more into how to have a glow up, do that now. 
I am getting ready for the challenge myself and hence why I wanted to write this post to share exactly how I am going to do it. 
If you don't know by now, "Glow up" is a new and upcoming trend that has slowly taken over the world.
And I think it's here to stay. 
If you want to feel beautiful naturally, Glowing Up is the answer. 
Be prepared to feel the Glow from within by trying out this "Glow up beauty routine" today. 
I have a few amazing tips on how to get a glow up naturally, be sure to take note.
You are here today because you want to learn:
How to Glow Up in a month

How to Glow Up fast

How to create a Glow Up routine

How to glow up naturally?

And Glow up tips that work instantly
If that's the case, you are in the right place, as I will take you through the whole process. 
So grab that drink and keep reading as I have a lot of goodies to share. 
What does it mean to Glow Up?
Before we get started, you need to know the basic glow up meaning so you can properly proceed in your own glow up challenge. 
The Glow Up process really focuses on the improvement of physical appearance, individual style, overall attractiveness and talent. 
You are basically up-leveling yourself to become the best version of who you currently are. 
To me, it's much more than the physical appearance because anyone can change a hairstyle, or put on makeup to look good. 
You want the Glow to come from within. 
Here is the official Glow Up definition from the Urban dictionary. 
A Glow Up is a mental, physical, and emotional transformation for the better. Glow Ups can be both natural or planned. As well as being gradual and permanent, or fast and temporary.
So How Do You Glow Up?
Before we get started on our best tips for how to Glow up, we did want you to follow us on Instagram for more tips. 
We also wanted to take the opportunity to let you know that we use Affiliate links on some of our blog posts. This means that we could make a commission if you click on an affiliate link and purchase something. Read our full disclosure and blog policy for more information.
Is it too late to Glow up?
You can choose to Glow up at any time.
For example, if you are feeling low, depressed or you just need to feel good about yourself.
I am writing this post just around Valentine's Day and even though I feel the love from those around me, it is also winter and -30 outside. 
So yeah, it's a bit depressing right about now. 
I wanted to take the time to start a one-month Glow Up challenge to get ready for spring. 
It's the perfect time to practice self-love and to go through a self-care routine. 
With that in mind, I will share a few glow up tips that work wonders for your mind and physical appearance. 
Why should you Glow up?
Glowing up can have an empowering transformation of who you are by making you the best version of yourself.
Here are my reasons for wanting to Glow up:
To feel physically better and healthier

Get into better habits 

Become more confident 

Lose weight 

Encourage natural beauty

Develop better skills 

To flourish 
Glowing up is also my way of practicing much-needed self-care. 
Does this make you want to learn more about how to glow up naturally?
Before we get started, don't forget to grab this awesome Beauty & Glow Up Planner. 
It includes the perfect glow up list you can use during your challenge.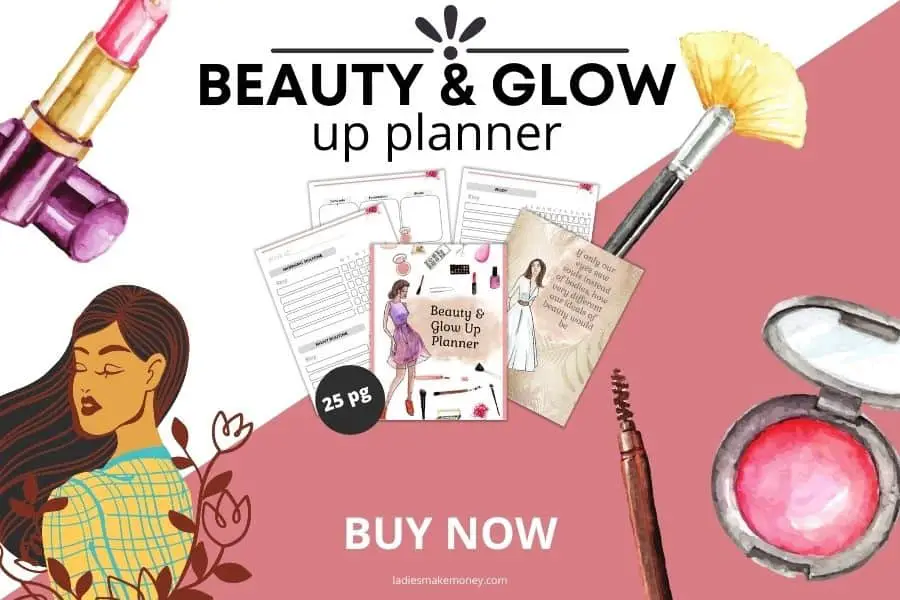 The planner is perfect for anyone that is looking to create a beauty routine, fitness tracker and much more for setting up a Glow Up routine. 
This simple planner is packed with amazing pages that will help you track your beauty and glow up needs. 
Go ahead and check it out right here.
It's a 27-page planner packed with pages to simplify your beauty and glow up routine.
I have used it several times to create my own glow up plan!
How to physically glow up
If you are looking for that glow up transformation, we have amazing tips below. 
It is no secret that when you look good, you feel good.
And when you feel good, it shows in your appearance.
It's time to start working on making yourself beautiful inside and out!
This post will show you exactly how to physically glow up with a few simple tricks.
Go ahead and follow these steps to glow up and you will be looking and feeling great in no time. 
Here are a few creative ways to glow up:
1. Drink More Water To Glow
If you want that natural glow, you need to drink up! 
Water is essential for flushing away toxins in your body and it also helps make your skin look plumper and more revived. 
This is usually how you achieve that Glow Up look. 
It also helps keep all those wrinkles away, trust me.
Get into the habit of carrying a refillable water bottle around with you to make sure you get your daily 2 litres of water.
Water is the secret weapon I use to get glowing skin naturally as my skin tends to be very dry especially during the winter.
I really wanted to share my tips on how to glow up naturally and I think water does the trick. 
Drink up my friends, it is just as simple as that!
Ge yourself an amazing water bottle from Amazon and stock up.
You can also check out this one which was my second option.
It's a great way to stay accountable especially if you are doing a glow-up challenge and you need to stay on track!
2. Eat Healthy Meals To Glow Up Fast
I am not a big believer in dieting, instead focus on eating healthy meals.
No pop or junk foods, watch the carbs, cut sugar and salt.
Eating healthy will definitely help when you are doing your Glow Up Challenge. 
I personally follow the DASH diet as a lifestyle choice because I suffer from chronic high blood pressure. 
No, I am not old, but I got diagnosed when I got pregnant with my daughter. 
And once I got diagnosed, I instantly started watching my diet. 
You can read this post to find out how I lost 10 pounds in one month. 
Juicing can also help. 
I juice when I feel really bloated and I need to get rid of toxins and detox for a while. 
My favourite juicing ingredient to help with bloating is this Green Power recipe: 
2 Lacinato Kale leaves

A handful of spinach

A handful of kale

2 stalks of celery

A small handful of parsley

1 apple

½ pear

8 raspberries

Juice of 1 lime
Preparation: Pass all the ingredients through the juicer, except the lemon juice, stirring it in at the end.
This is the juicer I use.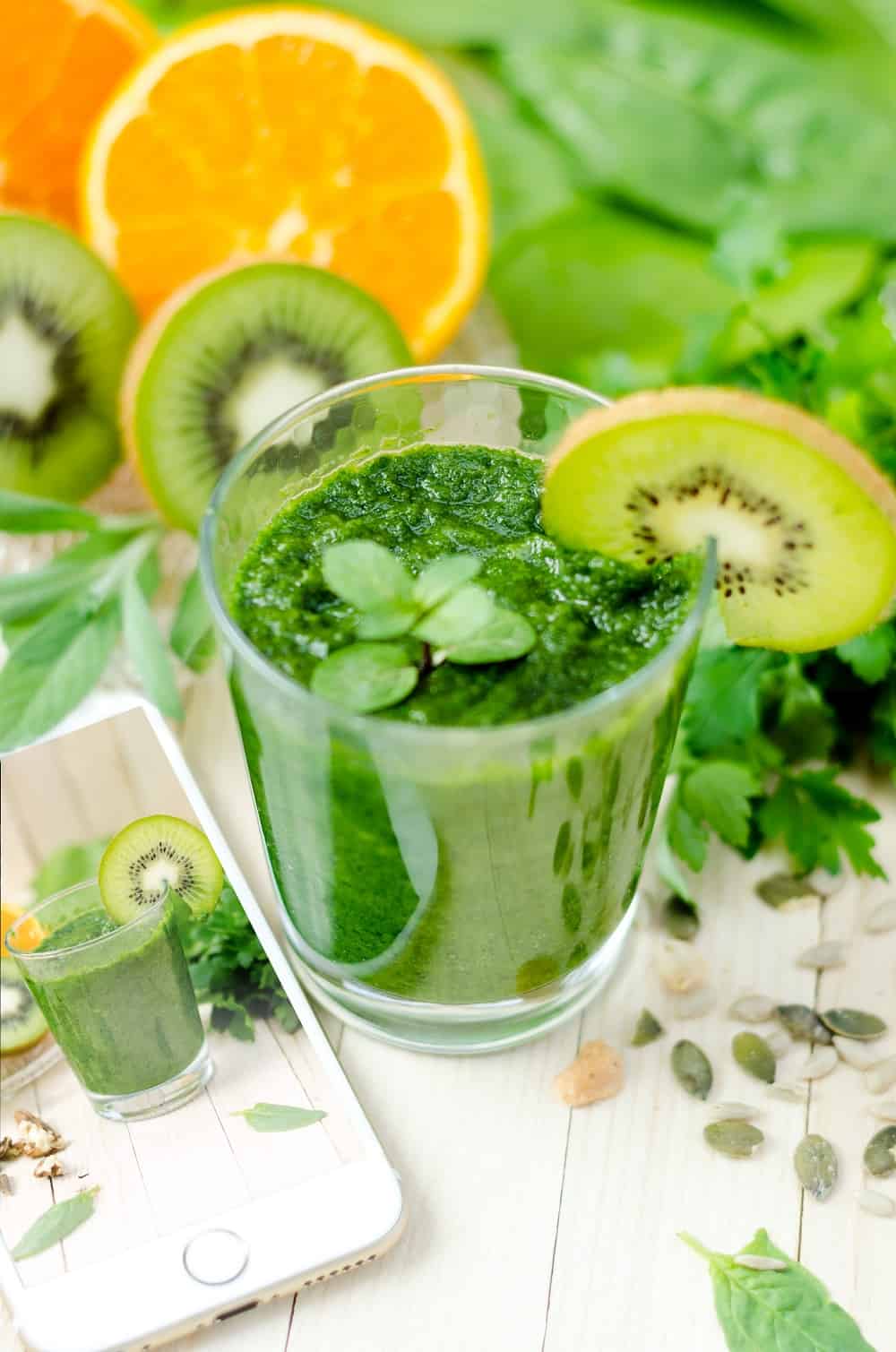 3. Glow up workout routine 
Get moving my friends. 
Even if you have to break up your workout, it's time to get your work out on especially if you want to feel good about yourself.
It doesn't have to be a long workout, just enough to get your blood flowing and to feel good.
By the time you are done, you'll have a solid routine in place.
Trust me!
If you want to achieve that glow up look, look good in various types of clothing, and feel confident anywhere you go, then you need to get moving right now. 
You want to be lean and toned.
You don't have to be super thin but the goal is to achieve balanced proportions, get healthy and look good while you do it.
You can grab your own fitness tracker included in this awesome Beauty & Glow Up Planner. 
4. Sleep More To Glow More
Glow up tips that I recommend are things that can easily be done without the help of added enhancements. 
This means sleeping more. 
I am not saying get lazy, I am just saying getting enough sleep every night. 
A good's night sleep is the perfect way to get that Glow Up feel with little effort.
Having dark circles under your eyes is not cute. 
If you can't get that good night's sleep, and you have dark circles (because I know things happen), then I recommend this amazing eye balm that will have you looking beautiful naturally in an instant. 
Tula's probiotic and super-food-packed Glow & Get It Cooling & Brightening Eye Balm instantly cools, hydrates, and brightens the look of under-eye dark circles.
5. Smile More
There are so many simple ways to glow up that require little to no effort.
And one of those ways is to simply smile.
To have a complete Glow Up look you need to look after your teeth. 
Visit the dentist every 6 months and follow the regular routine of brushing at least twice a day.
Flossing should also be done on a regular basis.
Trust me, the sooner you start to look after your teeth, the more your bank account will thank you. 
I have also used the Whitestrips crest to achieve a brighter smile. 
The 1 Hour Express Whitening Kit included in the packet does wonder for my teeth.
Whiting my teeth is a frequent daily glow up routine due to all the coffee I drink. 
6. Ways To Glow Up Your Nails
Doing little things like getting your nails done can make a huge difference if you want to look beautiful every day. 
It would definitely be too expensive to get a manicure and pedicure weekly especially if your goal is to look beautiful daily. 
We don't want you going broke. 
But you do need to learn how to glow up at home to save some money. 
To take care of your nails at home with the same excellent results that you can get from a professional salon visit, I use this nail starter kit.
To look beautiful all the time, you simply need to ensure your nails are always clean and well-trimmed.
7. Wear Clothes That Accentuate Your Features
I shared a lot of amazing tips in the past on how to look polished and put together!
In order to look good, you need to wear clothing that makes you look and feel great.
There is nothing worse than wearing clothes that don't fit well or flatter you. 
You can literally go from looking drab to looking fab in a minute just wearing clothes that accentuate your features. 
Plenty of people have difficulties finding ways to look great. 
If you want to know my secret for how to make yourself "Glow Up" with little effort, I am definitely going to be looking at how you dress. 
For example, this polka dot top is perfect.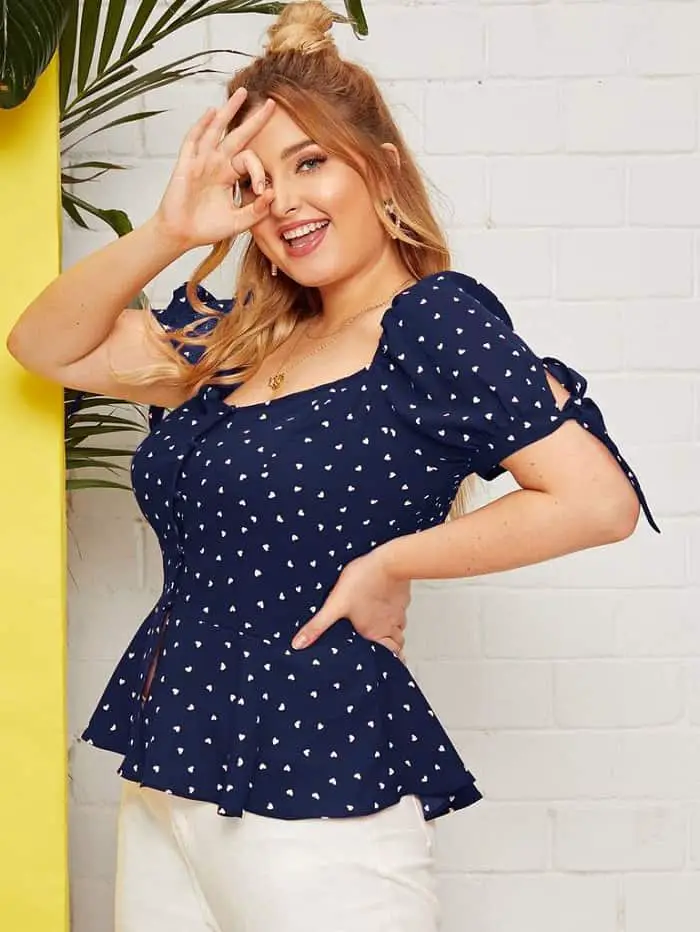 8. Don't Forget Your Shoes
Having a great pair of shoes can give you the confidence you need to carry yourself throughout your day.
If you have a good pair of shoes that can work with every outfit you own then you have a winning pair!
You do not need to stick to one, but maybe one or two that can easily work with multiple items.
Trust me when I say, when you look good, you feel good and I think a good pair of shoes will give you the confidence you need to look classy and elegant!
I love shoes and so I own several pairs, but you just need to find a few that works well for you. 
One that gives you a little bounce when you put them on. 
I get all my cute shoes from JustFab as I find them extremely affordable. 
How to glow up without makeup or little makeup
If you are looking for ways to glow up with no makeup, then this section is for you.
I am not a makeup person and there is nothing wrong with that. 
I definitely practice minimalist makeup routines but how can I naturally Glow up?
You need to create a daily routine for your face to improve that natural Glow. 

1. Exfoliate your Face
Glow up your face. 
Start by cleansing your skin with warm water which will help open up your pores.
If you are drinking the right amount of water, you shouldn't have toxins. 
In the old days, exfoliating your face was about as delicate a process as resurfacing your floors – say ouch.
Things have changed and the newest generation of products lets you achieve clear, smooth skin without rubbing it raw.
Exfoliate with a gentle exfoliator.
Exfoliating off your dead skin once or twice a week will give you that instant glow you need.
Here is what I use:
2. Gentle Face Massages Works Wonders
We have already shared a lot of amazing glow up ideas, but this one is my personal favourite.
Facial massages are awesome treatments you can do with a practitioner or on your own.
The technique involves stimulating pressure points on the face, neck, and shoulders.
Facial massage helps promote healthy skin while relaxing your facial muscles. It has a relaxing and rejuvenating effect, helping you look, feel better, and get that Glow Up feel you want to achieve.
When you are doing your monthly self-care routine, incorporate a gentle massage on there.
Facial massage is the one thing you should be doing if you want bright, glowing skin.
3. Natural Facemasks Are Awesome
After your massage why not apply a face mask made with fresh, natural ingredients?
There's nothing quite like a face mask to step up your skincare routine. 
Canada is a cold country and during winter, my skin can get totally dry. 
For that reason, I rely on Facemasks to give me that natural glow. 
Just like a serum or moisturizer, a face mask is a skincare process that you should practice at least once a month.
It delivers highly concentrated actives, vitamins and nutrients to the skin to improve its overall health.
Face masks when used the right way can give your skin an instant boost.
Depending on what your skin needs, there is a mask that can do one (or a combination) of a few things such as hydrate and moisturize dry skin, enhance elasticity, absorb excess oil and dirt as well as improve skin texture!
I use this Facemask myself.
4. Steam Your Face Once In A While
Facial Steamer not only cleanses the skin but hydrates it at the same time. 
The steam opens up your pores and helps loosen any buildup of dirt for a deeper cleanse.
Opening up your pores also softens blackheads, making them easier to remove.
Do not use the steamer too often, but at least once a month will do the trick just as easily. 
And no, you do not need a fancy face steamer. 
Even a simple face steamer like this is awesome for getting rid of skin impurities, blackheads and anything that your face might get from being outside in the harsh weather is great.
5. Don't forget the moisturizer
So many have asked me of late for my secret of how to have a glow up quickly and honestly, taking your vitamins, drinking water, having a good night's sleep can really help. 
But moisturizer is one thing I take seriously. 
I love well-moisturized skin. 
It feels good and it looks good!
Moisturizing is all about trapping and sealing in moisture to build the skin's protective barrier, prevent water loss and keep the skin hydrated. 
Water plays a big role in making sure your skin stays healthy, smooth and radiant,
It only makes sense that every skincare product has ingredients that help keeps the skin hydrated. 
You will find a lot of great products that promise to hydrate and moisturize skin at any drugstore. 
Drinking plenty of water as we mentioned, is still the easiest way to hydrate your skin,
But if you have dehydrated skin, you may want to supplement with a topical hydrator that binds and draws water into the cells.
Look out for products that contain hyaluronic acid, aloe, honey, alpha hydroxy acids and marine extracts.
And If you do wear makeup, make sure you clean it off well before bed. 
How to glow up your hair
Start by doing a deep conditioner to bring life back to your hair, especially if it is dry. 
Use a pre-shampoo conditioning treatment once to twice a week. This will help to restore elasticity to brittle hair, making it more resilient and less likely to break and split at the ends.
I would also recommend you trim your hair if you have split ends. 
Regular deep conditioning can restore the moisture levels you need and give you the glow. 
Treat yourself to a highly rated hair mask and apply it once a week. 
To keep things healthy, drink more water and eat healthy foods.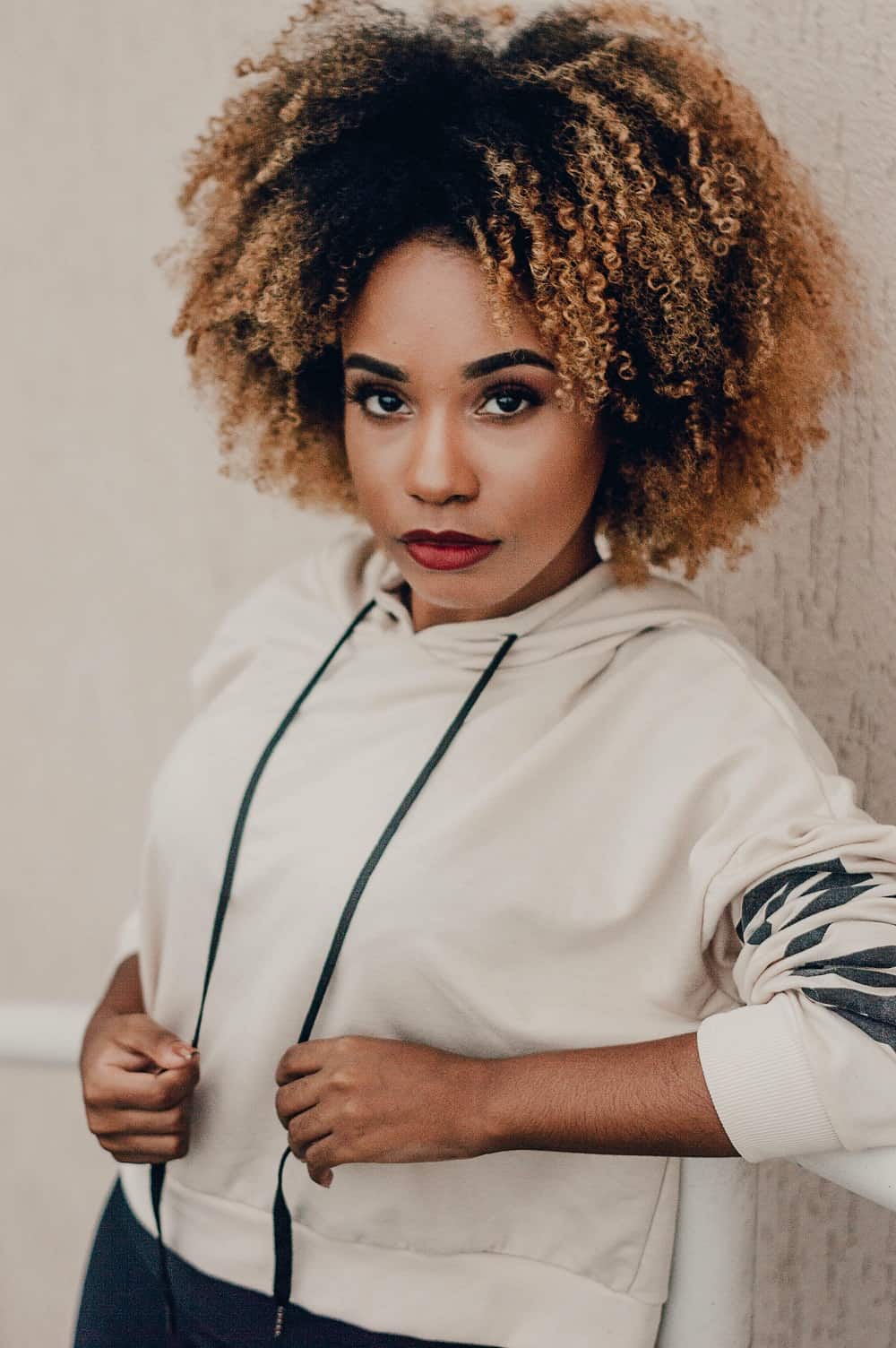 How to Glow Up & Have A Positive Mindset
Think positively with everything you do. 
If you want to have a good career, come up with a career plan like this one.
How can I glow up and become a better me? 
Organize your finances and make a saving plan. 
I am a big believer in affirmations and having a positive money mindset will only help you grow and become better in areas that matter the most which are your wealth. 
If something is not working out for you, use the glow up tips provided on this post to change it. 
Set up Glow Up goals
I work with goals and strategies.
So if you are embarking on the Glow up Challenge, I suggest you set up achievable goals to transform your life.
Setting up simple glow up goals is the best way to know what you want, what to plan and know exactly where you want to end up!
Your plan should also include strategies on how you going to get there.
I made a list of my 2021 life goals right here that you can check out. 
So go ahead and set up your glow goals today.
You can use this goal and money planner I used to not only plan my career goals but it helped with meeting my financial goals and mapping out what needs to be done to move to the next level.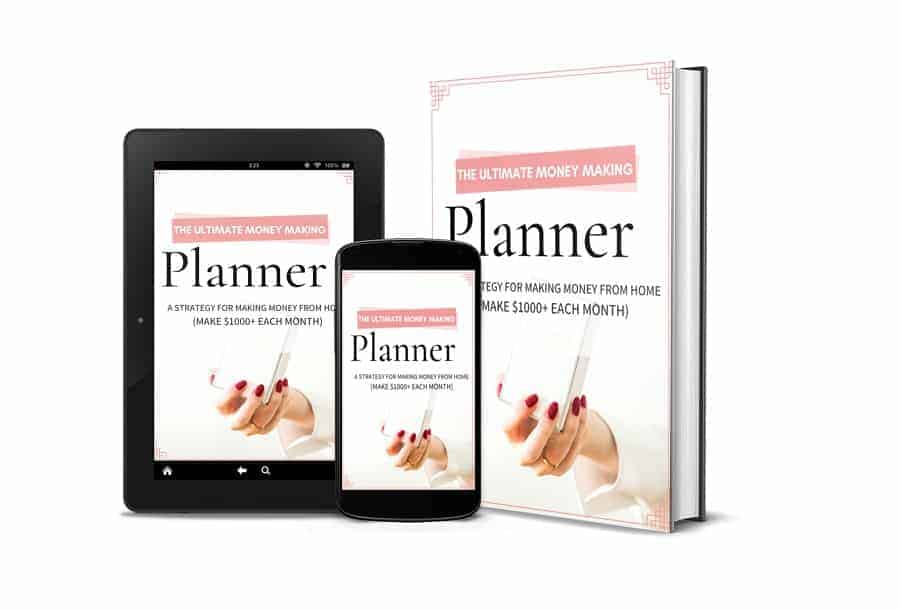 And there you have it, my best tip on how to glow up at home effortlessly.
I hope you enjoyed our tips on Glowing up!
We have honestly given you epic ways to glow up!
Get your own Beauty and Glow Planner right now.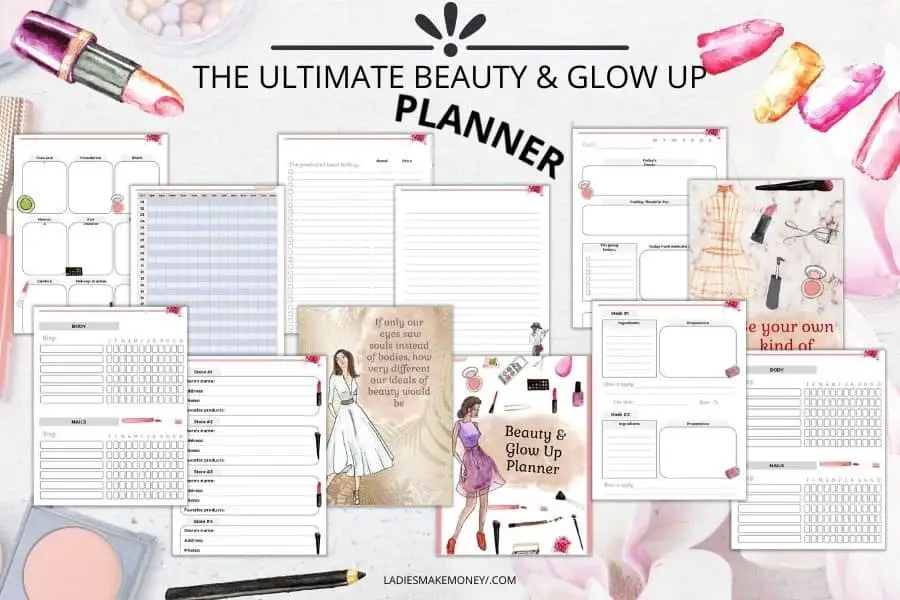 How long does it take to Glow Up?
Your Glow Up process should definitely be natural so you should not rush things.
Your glow-up time should also include things such as finding out what you want to do in life, get skills that will help you become good at your job and sharpen your talents. 
If you have negativity in your life, it's time to get rid of that.
So although you can glow up in a day or even a week, other parts of the process can take a bit longer.
Definitely take your time. 
A Glow Up transformation will work if you put your mind and energy into it. 
If your goal is to glow up and you are truly want to know how to glow up naturally, everything on this post should help!
Read next: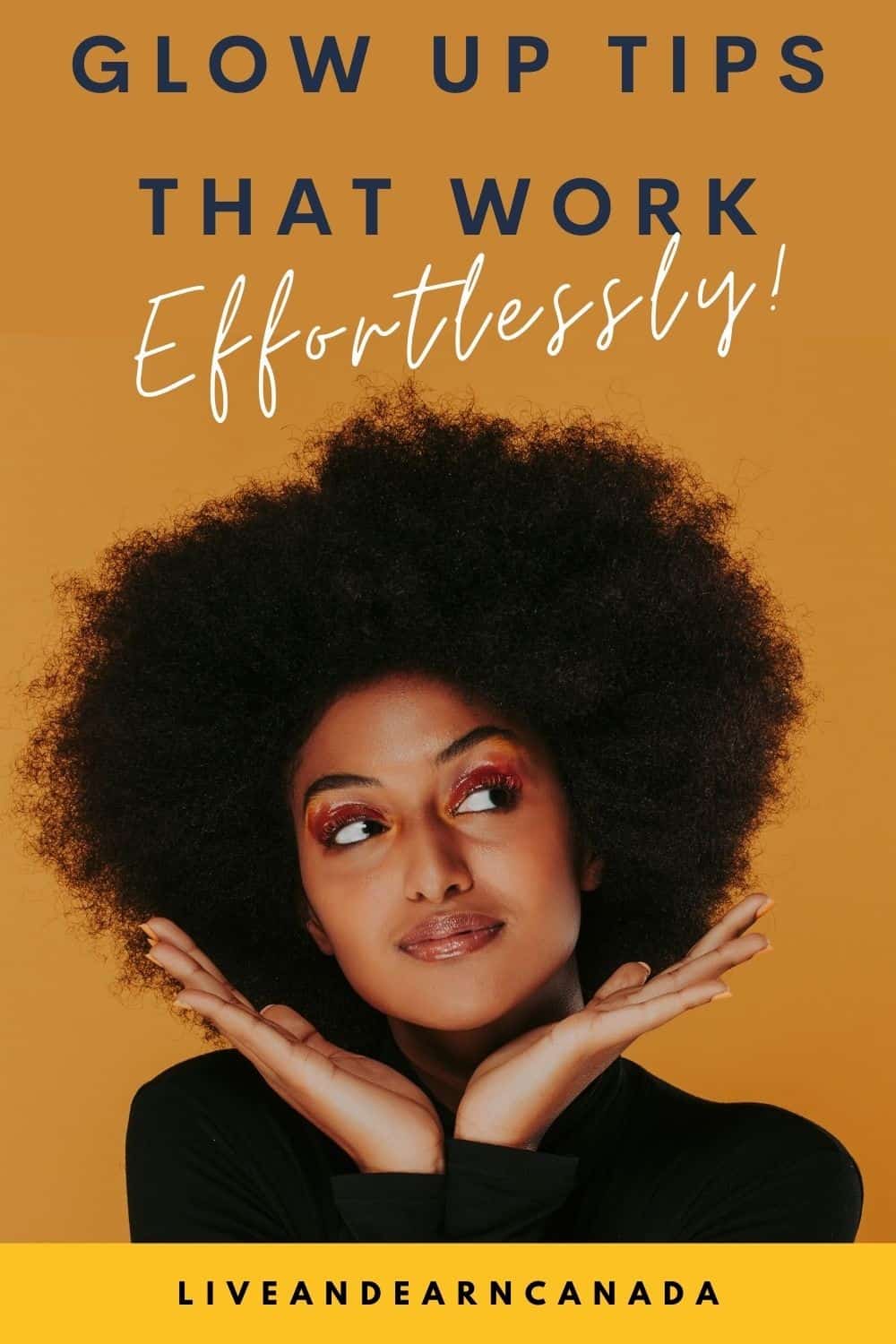 How To Glow Up Naturally And Be Confident, Positive & Beautiful