Valentine's nail designs 2021
If you are looking for cute Valentine's day nails that you can recreate yourself, then you have come to the right place. We are going to feature simple heart nail designs you can do for VDay.
I love Valentine's day and dressing up for it makes it even more awesome.
But most people forget to do their nails.
Having your hair and nails done up is just as important as dressing up for the occasion. 
When I want to go all out looking elegant and classy for Valentine's day date, you bet I am getting my nails done as well. 
That's why we wanted to take the time to share case beautiful Valentine's nail ideas you can use on your own nails!
Heart nail art designs are super trendy this year, so look at a few ideas below and decide which one you love the most. 
Here is a list of simple Valentine's Day nail designs you can try this year!
Before we get started sharing simple heart nail designs, we did want you to follow us on Instagram for more tips. 
We also wanted to take the opportunity to let you know that we use Affiliate links on some of our blog posts. This means that we could make a commission if you click on an affiliate link and purchase something. Read our full disclosure and blog policy for more information.
The best nail designs with hearts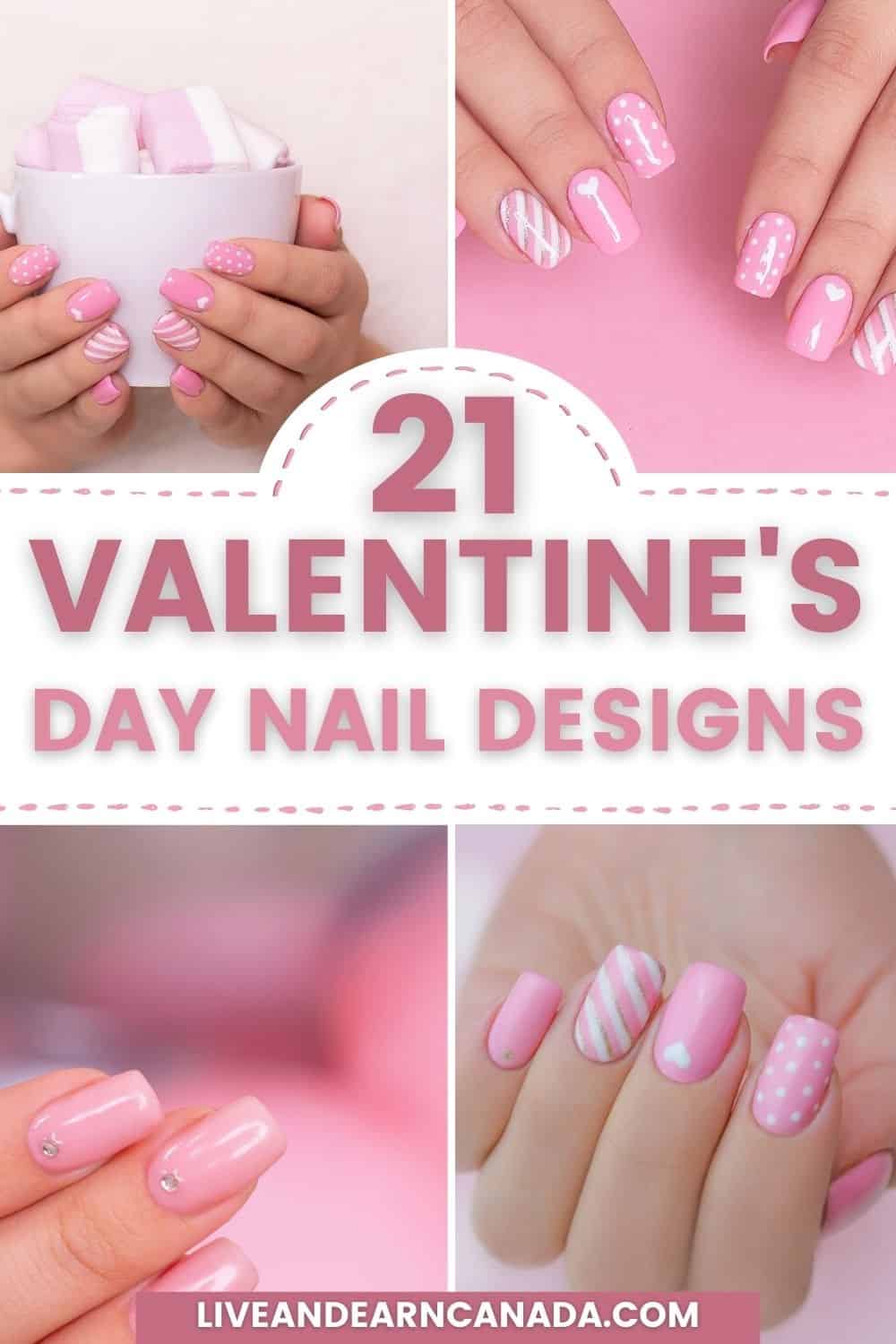 1. Black Sweetheart Nails For Valentine's Day
If you are into black, these black Valentine's Day nails are absolutely cute. 
The heart shape design almost reminds me of Mickey Mouse themes but the red glitter completes this set perfectly.

Source: Found here!
2. XO Mani With Red Hearts
Nails with heart designs are super trendy this year and there is nothing cuter than a simple XO mani with red hearts. 
The design is simple yet extremely elegant. 
It's one design I am looking forward to getting myself.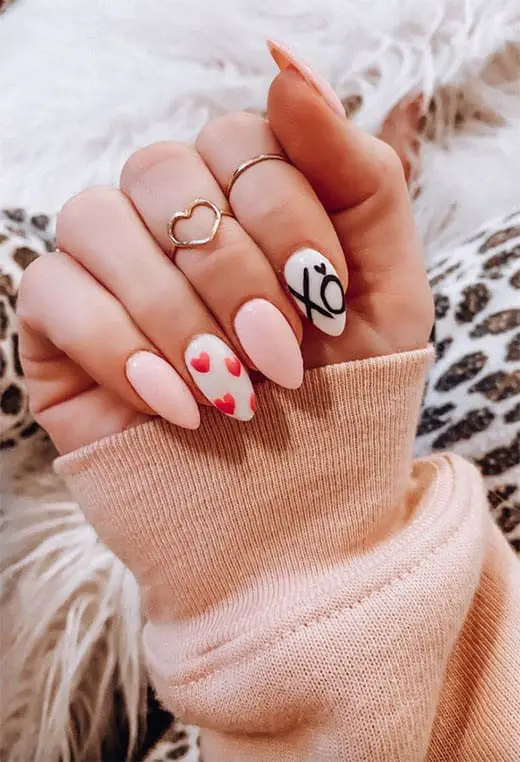 Source: purposeandpassionblog
3. Pink Hearts Matte Black Nail Design
Black nail designs are really trending this year. 
I love the simplicity of this design. 
Just little pink hearts on each nail to give it that Valentine's Day feeling. 
If you are looking for a simple hearts on nails design, this one is it!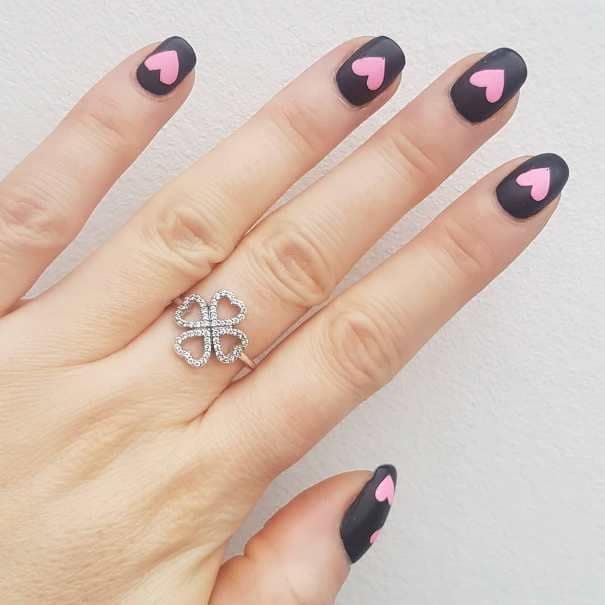 Source: Found here
4.Patterned Nail Design With Hearts
I love how unique each pattern is. 
Combining multiple simple patterns makes this look more cohesive. 
It's definitely more simple, clean, and feminine.
Perfect for Valentine's Day.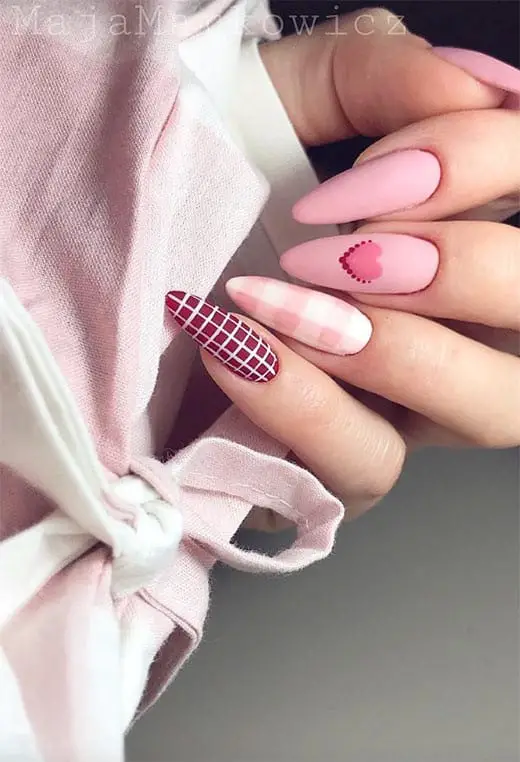 Source: Right here
5. Cute Black Heart Nail Design
Pink valentine nails with tiny black hearts. 
How cute are these nails? 
I love the rings too as they complete the look perfectly. 
And don't forget the tiny diamond studs for each nail.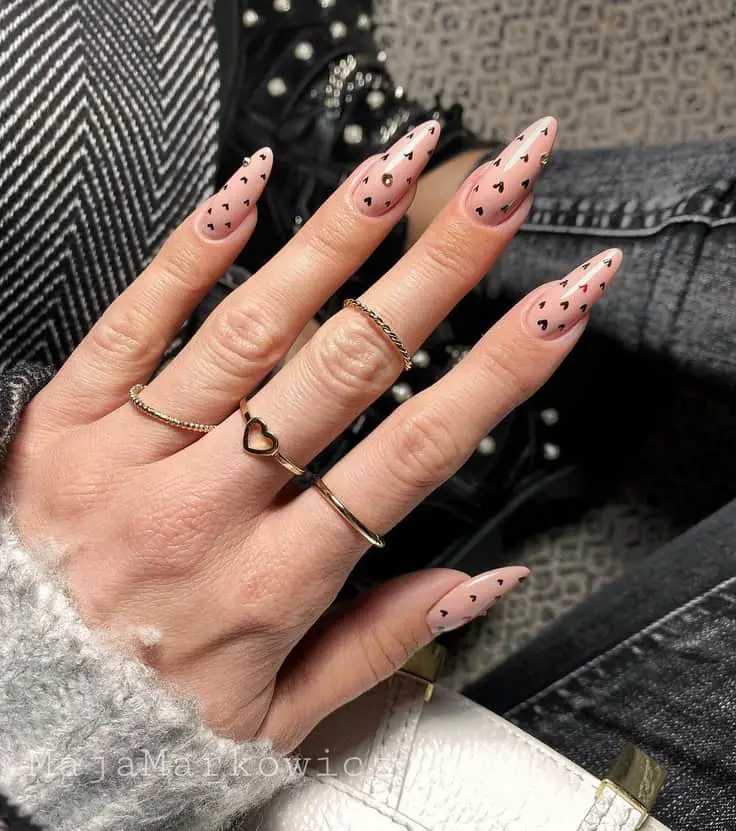 Source: Right here
6. Cute heart nail designs
I love this nail art. 
If you are into really pointy nails, these will look gorgeous on you. 
Don't forget the heart designs for Valentine's Day.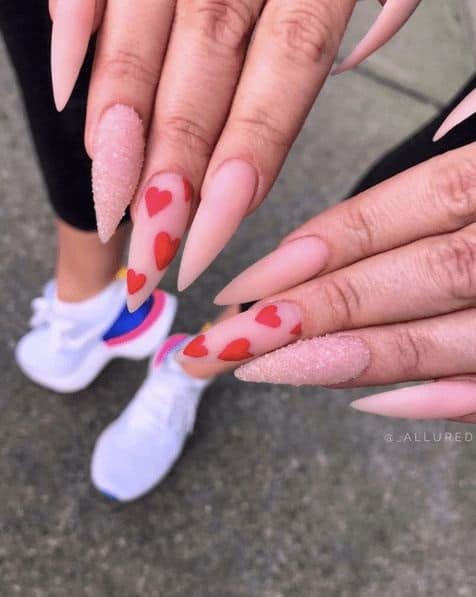 Source:_Allured
7. Broken Heart Nail Design
Did someone break your heart this VDay? 
Feel empowered again with this simple nail art design.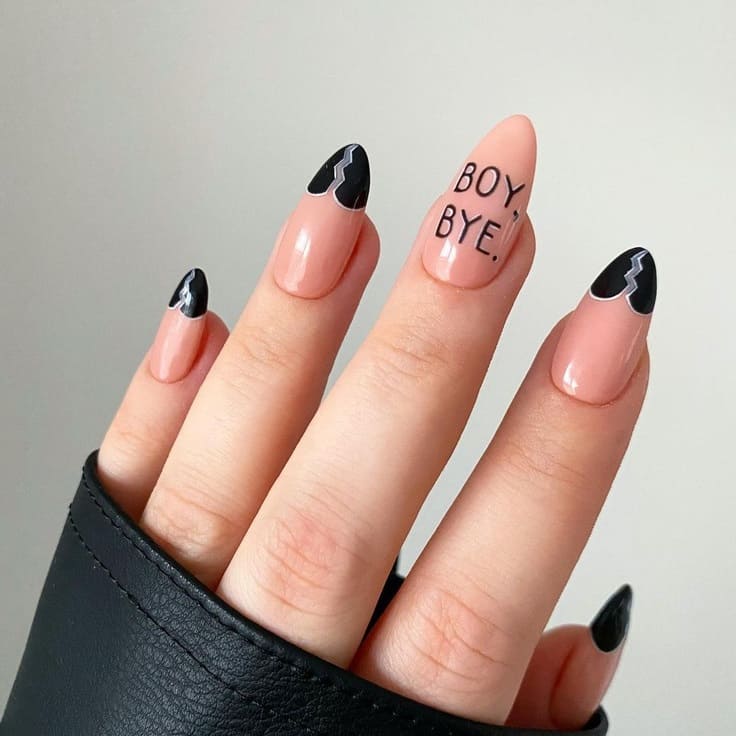 Source: Found here
8. Put Your Heart In My Hand
I love this design so much. 
It totally stands out. 
The hands seem a little hard for one to create, so I would probably have someone that is good with art do this.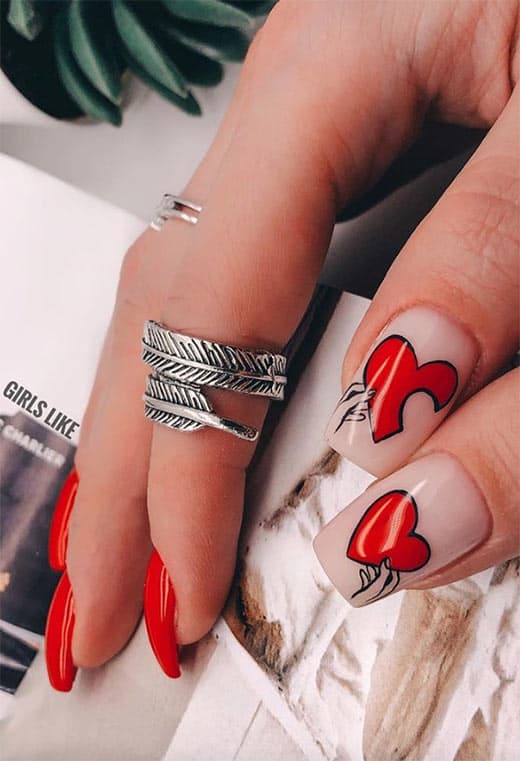 Source: Found here 
9. Dominoes Heart Nail Designs
Anyone else plays Dominoes? 
I love this design as it reminds me of a dominoes game.
The little hearts are just so cute.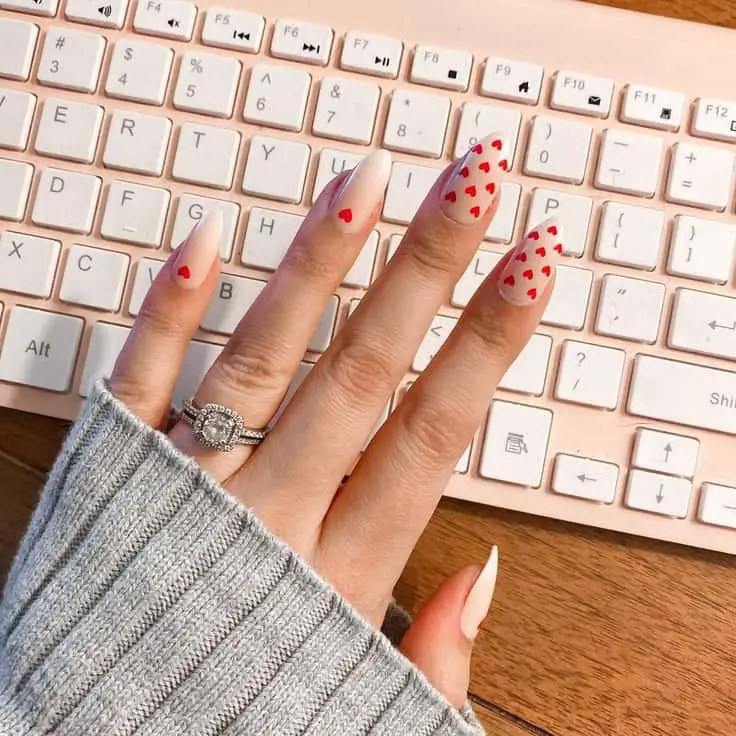 Source: Found right here
10. Simple Mini Hearts
For those looking for heart nail designs for short nails, check this one out. 
These nude nail art with tiny heart stamp-placed in a different spot on each nail look absolutely gorgeous.
If you are looking for something simple that is still romantic, then this simple heart nail design is a design you need to try out.
Don't forget to add a quote of gloss shine to finish up the look.
It is an amazingly simple nail design for short nails.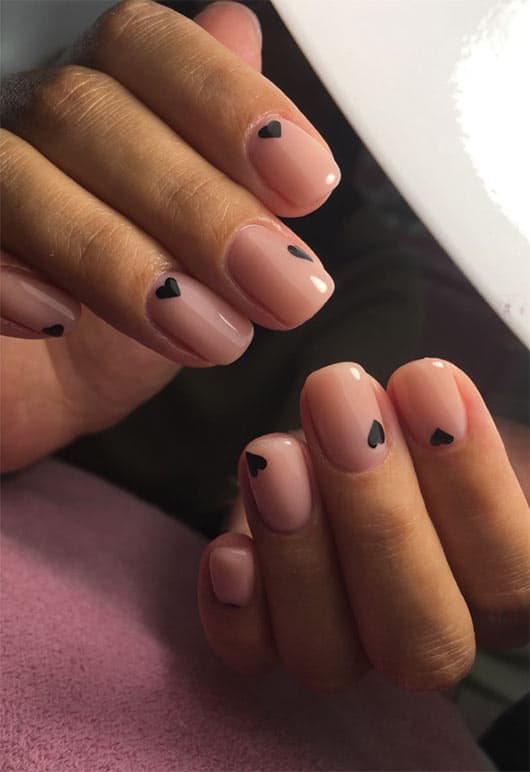 Source: @nailkaterina
11. Heart Details
Love heart nail art is totally in this year.
And I am loving the minimalist look of this fun and cute art design.
The small jewel makes it stand out even more for those that love bling. 
This heart design is totally romantic and will match your valentine's day outfit perfectly.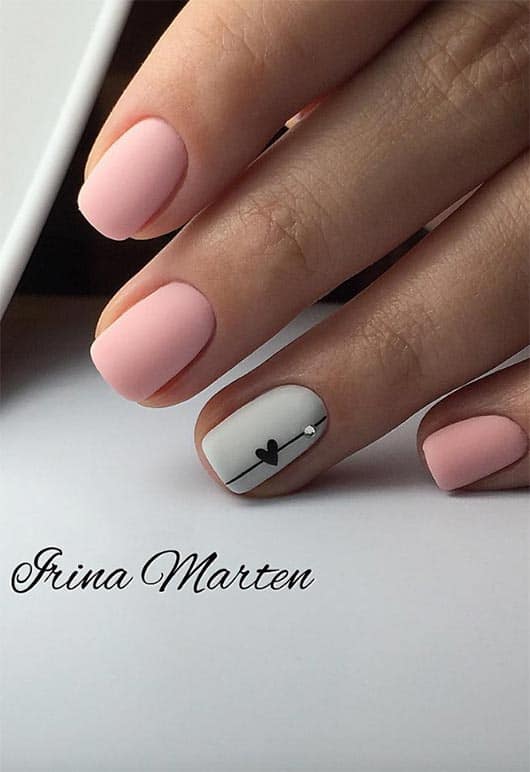 Source: @nails_irinamarten
12. Romantic Nail Art
These romantic nail designs won't fail you but satisfy you with their amazing colours and patterns. 
It is so simple yet it's packed with a lot of amazing designs that tie in beautifully. 
If you enjoy details then these simple nail designs for short nails will look good on you. 
They are simply so cute.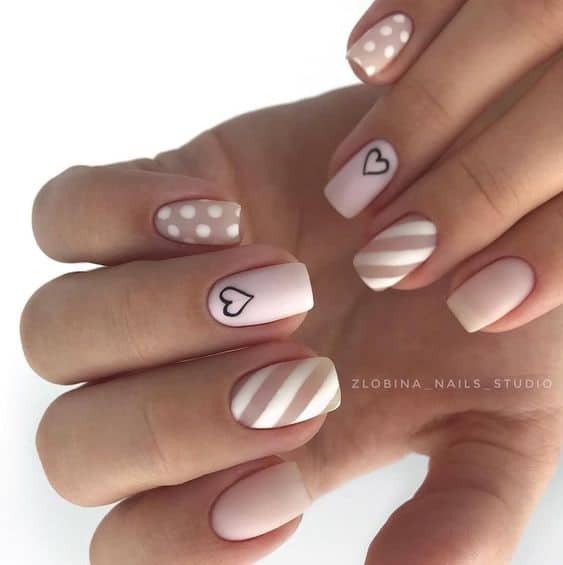 Source: Zlobina nail studio
13. XO Heart Art 
 Get inspired with these simple XO heart nail designs! 
The design has a mix of XOs, hearts and one nail that is completely different from the rest which gives the whole design more depth. 
You won't be bored with this one.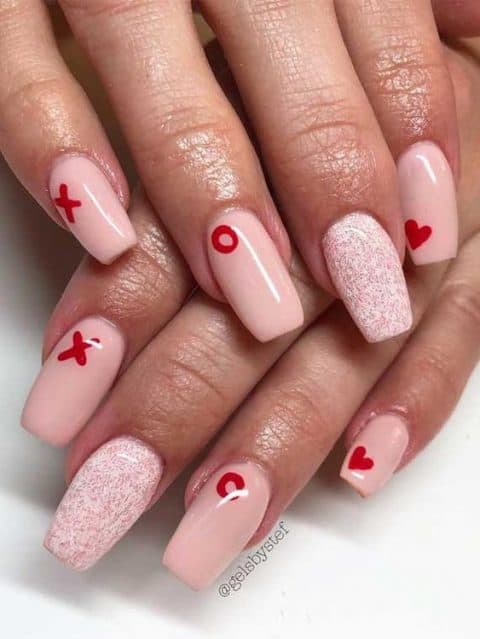 Source: GelsByStef
14. Black Hearts Rock 
Honestly, people are loving the black hearts this year. 
No wonder they are trending. 
I really love the baby pink nail polish in contrast with the black dotes and black hearts. 
If you are looking for a simple design to do, then these easy heart nail designs could work for you.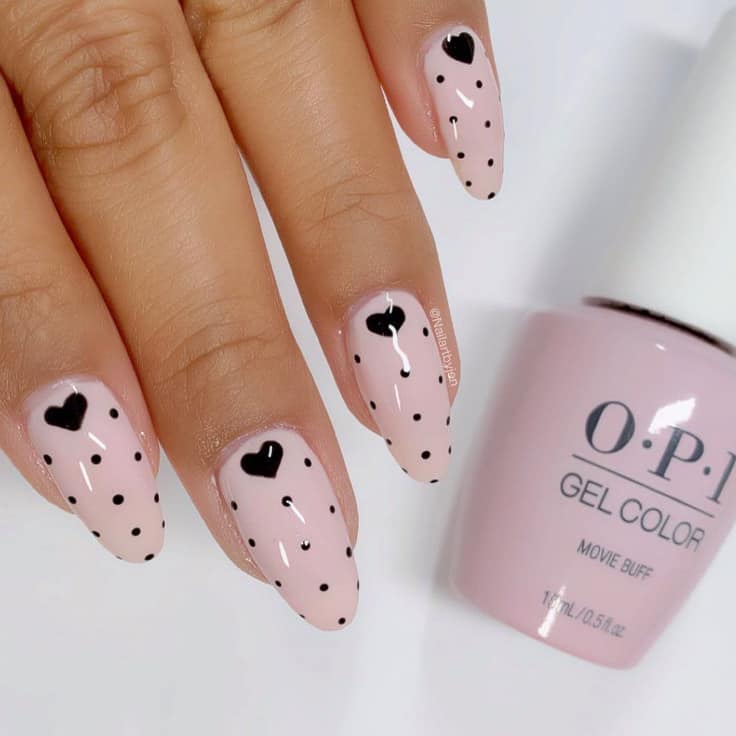 Source: Nailartbyjen
15. It's All About Love
Valentine's Day is all about love with your significant other.
We love the trailing message on this one that even includes a little heart!
The red on the velvet matt base colour gives it the boost it needs to make it the wow factor.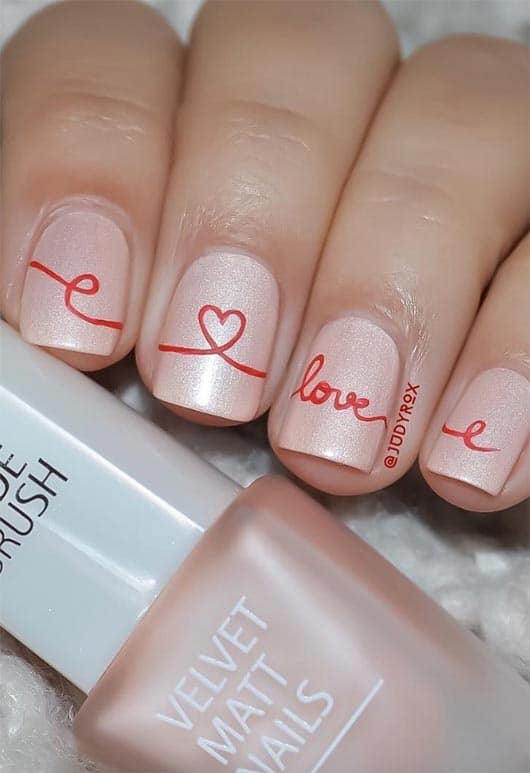 Source: @judyrox
16. Candy Hearts & Stripes Nail Designs
So if you're still looking for the perfect nail art design to tie your new outfit with, this hearts and stripes design might be one you can do.
Not only is this design totally feminine but I love her simple and unique it is.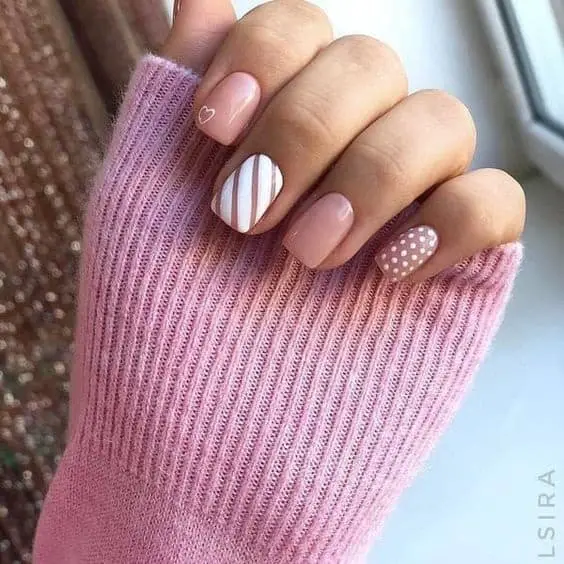 17. Cotton Candy Nails
When I saw this amazing nail design, I was instantly reminded of cotton candy. 
It's the perfect nail art for Valentine's day especially if this is your style.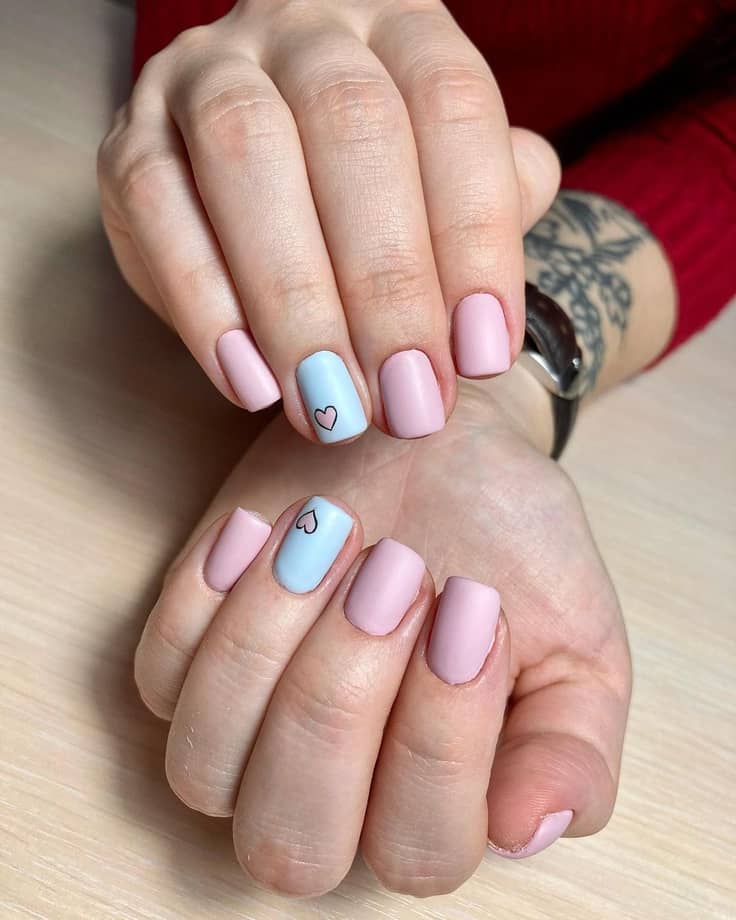 Source: Mdnails.che
18. Gold Nails Art 
Out of all the simple Valentine's Day nails on this list, this is one I would probably really go for. 
Why?
I love gold and this simple nail design speaks to me. 
It's so elegant and classy which is what I am 🙂
So if you want to look beautiful in your valentine's Day Gold outfit, then you should totally do this nail art design.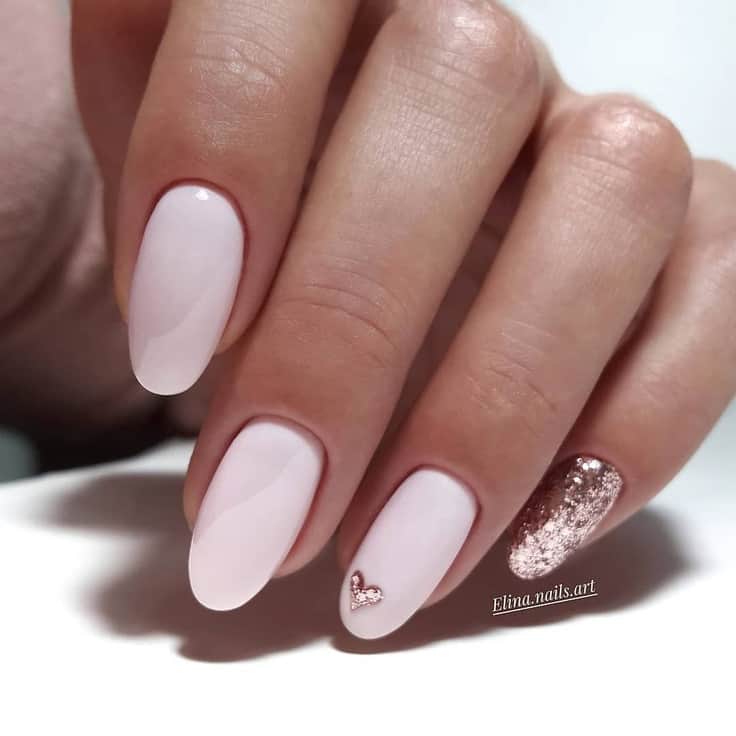 So Source: elina.nails.art via Instagram
19. Colourful Heart Nail Designs
If you want to stand out this Valentine's Day this super cute nail art design will do the trick easily. 
It is so colourful and super chic!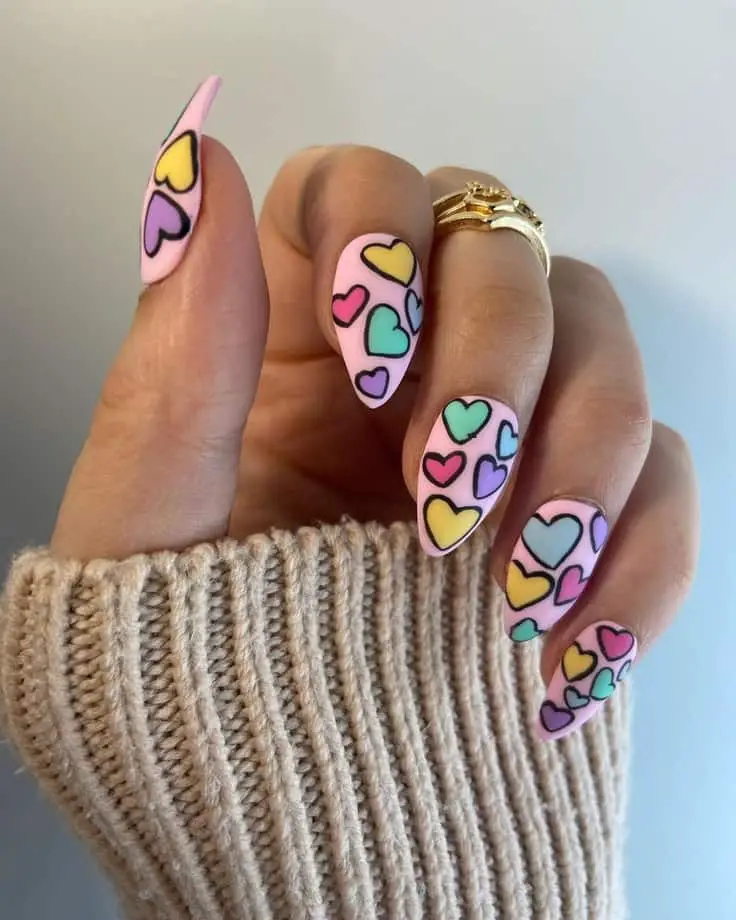 Source: @prosperpresson
20. Shooting Hearts Nail Designs
I know that shooting stars are romantic, but what about shooting hearts?
Even more romantic, am I right?
I love the pink and the red contrast which makes it even more perfect for Valentine's Day.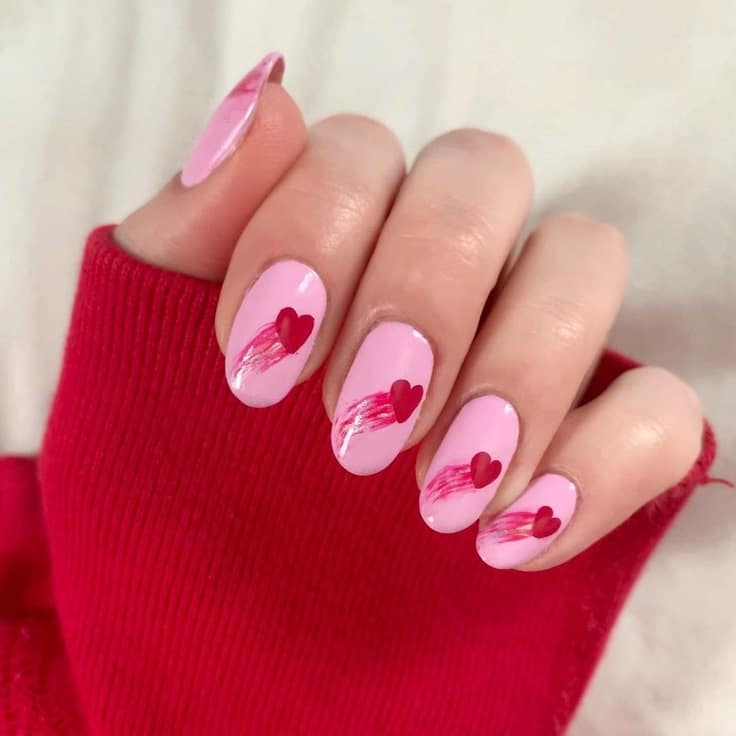 Source: @sammismanis
21. Teddy Bear Valentine's Day Nail Art
How cute is the teddy bear on this cute valentines day nail design?
This cute nail design also features a few stars and hearts here and there, which completes this romantic design perfectly.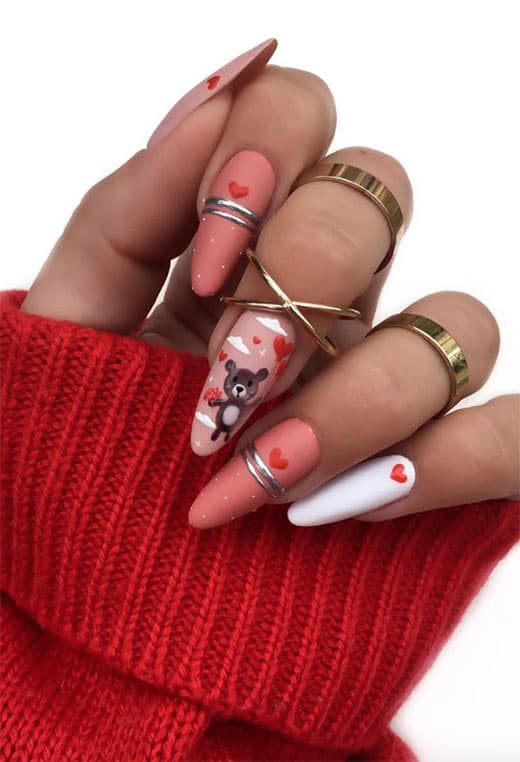 And there you have it, the ultimate list of 21 simple heart nail Designs!
Which of these nails with a heart design will you choose to go with this Valentine's Day?
Whichever nail design you go with, I am sure will be epic. 
Related Posts: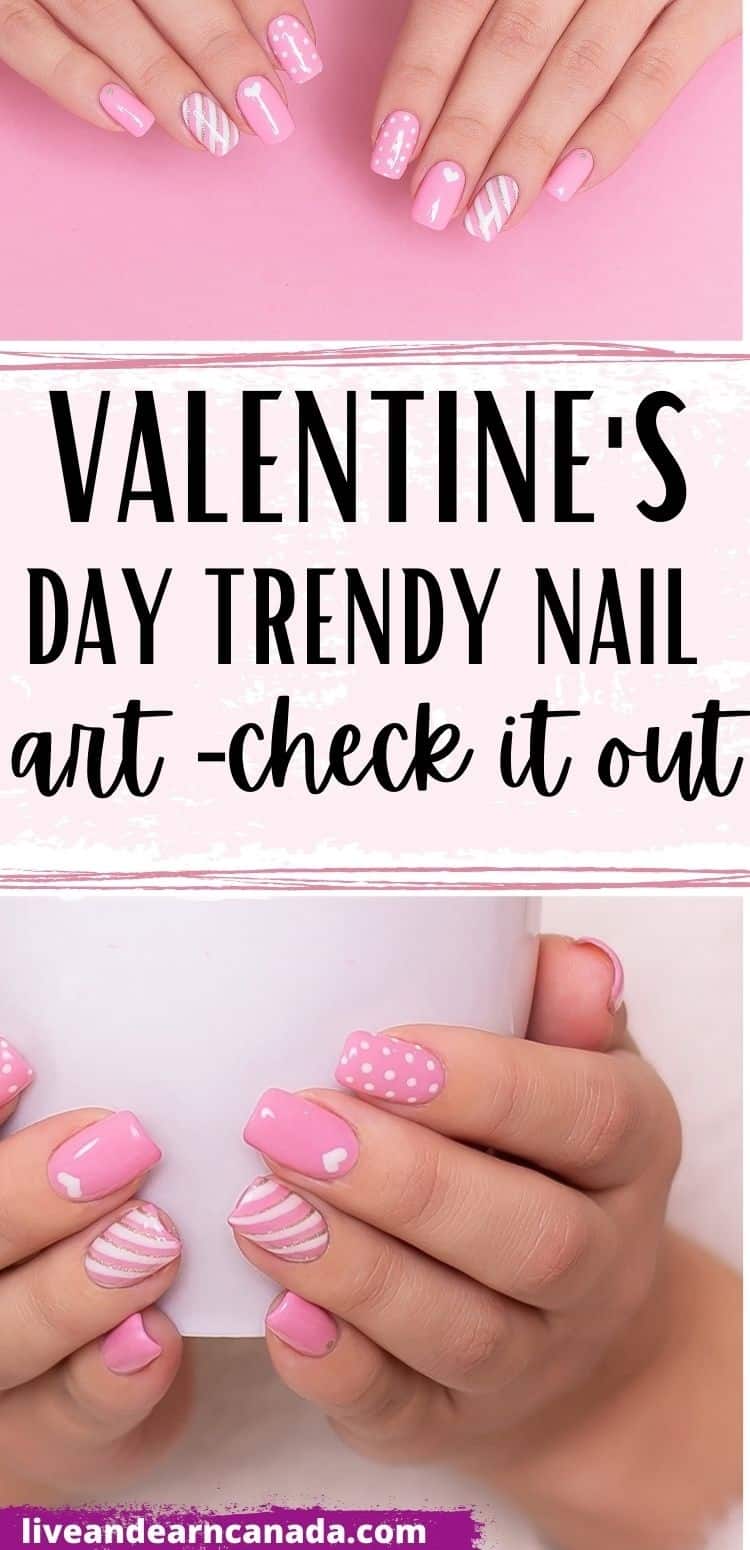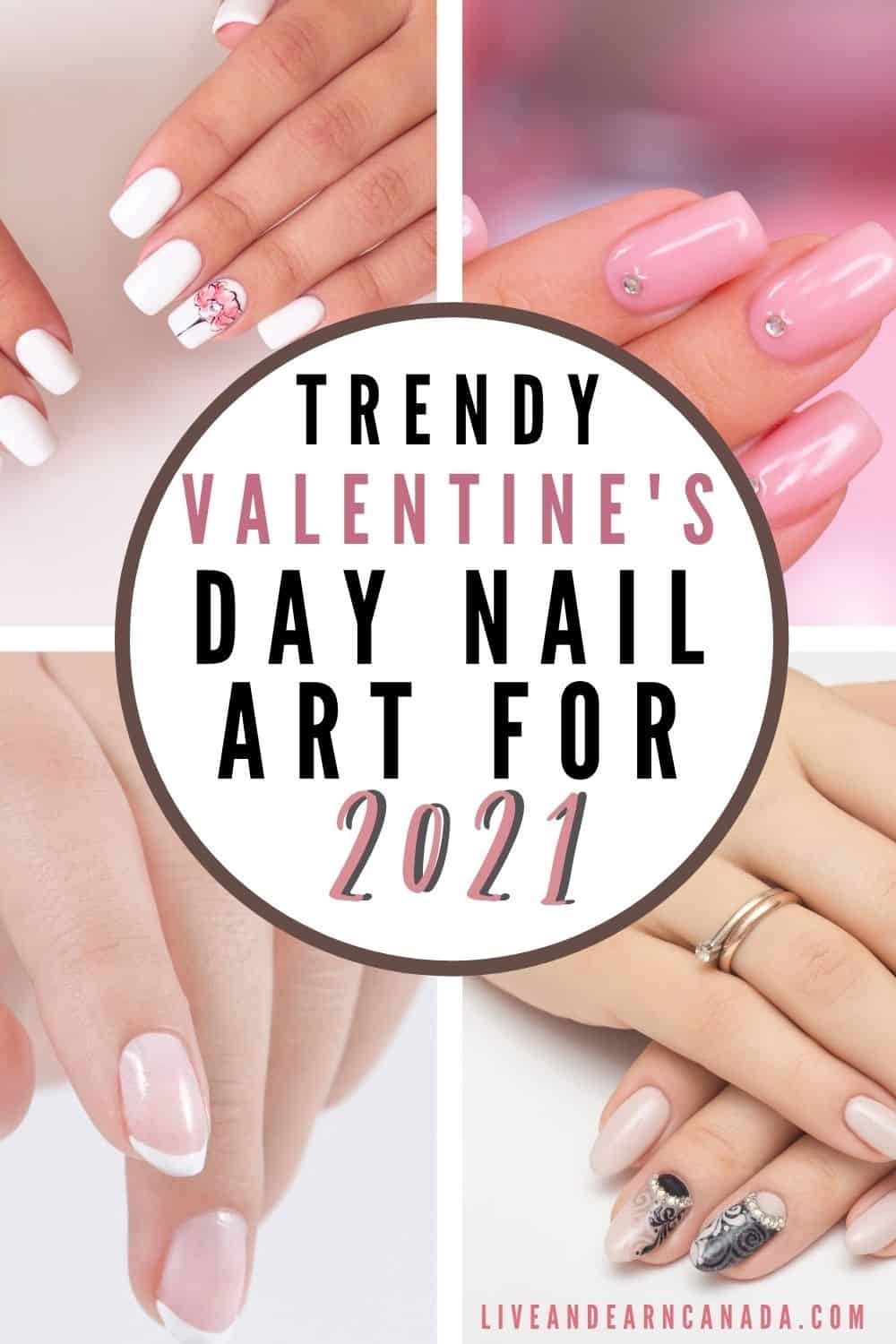 21 Simple Heart Nail Designs For Valentine's Day This Year