30 Something Blog
Are you in search of the best blogs for thirty somethings?
Now that I am in my thirties, I have been looking for the perfect blogs to inspire me and motivate me to be the best that I can be. 
Lucky for you, this post covers everything you need to keep growing as a young woman. 
Now that I am nearing my mid-thirties, I thought it was about time that I found new blogs to follow and learn from. 
Whether you are looking for 30 something therapy blog tips or looking for inspiration on how to live the best life in your 30s, these bloggers will help you out one way or the other. 
I was once scared of turning 30 and then I wasn't. 
We go through several different phases in life, starting from birth, then getting to the toddler stage, then early childhood. We then snowball into teenagers and then finally become adults.
As adults, we also go through different stages.
We tend to settle down and start getting serious about life when we are in our thirties, which affects the decisions that we make and the stuff that we find interesting.
If you are looking for the best blogs for 30 year old woman, then you have come to the right place. 
So what can you learn from thirty something bloggers?
First, you need to trust me when I say life gets better at thirty. 
What? 
Seriously?
In my opinion, yes it does. 
I got married (yes finally) and when I was 33 and travelling, I found out I was pregnant (damn)! 
But as a thirty-year-old, I embraced it and challenged my thirty-year-old self. 
Bring it on. 
No, I am not telling you to get married or to go get pregnant, I am just saying you can just live your life the way you SEE FIT. 
And if you are not sure how to go about that, these blogs for thirty somethings are dedicated to you. 
You can also read this post I wrote about the 100 life goals I wish to achieve before I am 45!
 I am trying to get through them one day at a time. 
So what are the best lifestyle blogs for 30-somethings?
Before we get started on the best blogs for thirty somethings, we did want you to follow us on Instagram for more tips. 
We also wanted to take the opportunity to let you know that we use Affiliate links on some of our blog posts. This means that we could make a commission if you click on an affiliate link and purchase something. Read our full disclosure and blog policy for more information.
Here is a list of over 30 blogs for 30 somethings you need to follow!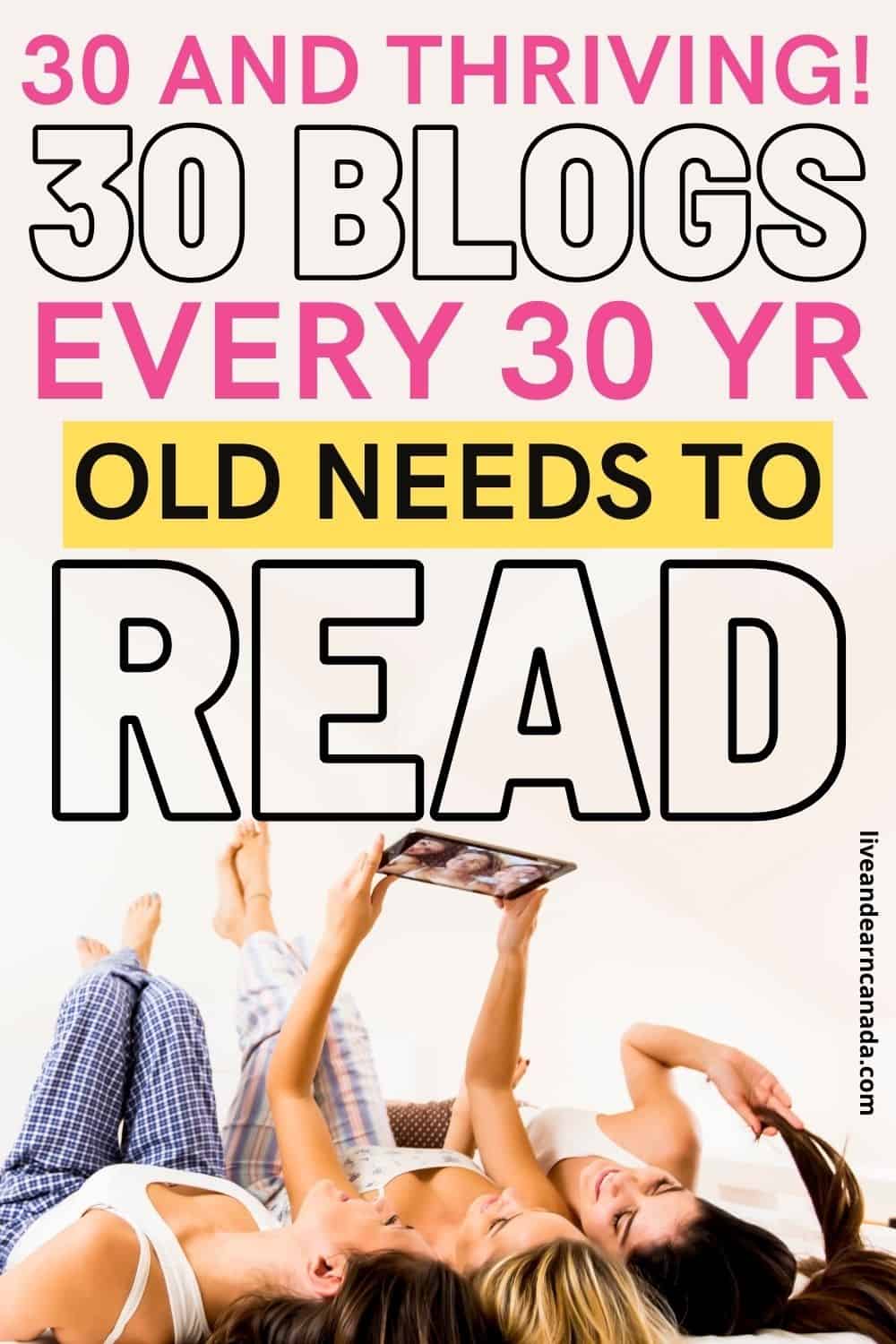 1. Advice from A Thirty Something
If you are looking for the best online destination for thirty-somethings that doesn't assume you're married with kids (and if you are, that's great too!).
Advice from a 30 Something is a warm and welcoming place where you can get honest, down-to-earth advice on all aspects of your life — without the added bullsh*t. 
Here you will learn all about:
Self-care tips

Adulting 

Relationships

Fashion

And more
Advice from a 30 Something proudly welcomes you to their blog. 
2. 30 Something Urban Girl
This fashion blog should inspire you to be the best that you can be.
I love the colour analysis that is offered on the blog. 
The 30 Something Urban Girl is a place where they will help you come up with your best colours, and your seasonal colour palates so you can dress and feel good about yourself at 30.
You will also get fashion tips and inspiration to be colourful, confident and happy.
If you are known to only wear one or two colour palates, then this blog is for you.
Learn how to wear bold colours that suit your skin complexion beautifully. 
Get your colour analysis today from the 30 Something Urban Girl. 
3. Ladies Make Money Online
If you are looking for money blogs for 30 somethings, then Ladies Make Money Online is for you. 
This is my personal blog and we cater to career tips for women, how to handle money and general lifestyle tips for 30 year old women. 
If you are in search of something new, you will find the tips we offer extremely refreshing. 
This is a blog for women by women!
If you are interested in learning more about Career tips, Financial tips, Travel and other lifestyle tips, then you want to stick around as we have so much to share!
I definitely offer some of the best career advice for 30 somethings on that blog. 
We are constantly motivating women to take action and become the best version of themselves. 
If you want more finance tips, I suggest you start here. 
And if you are thinking of starting your own successful blog, this will help!
Don't forget to sign up to get 15 days worth of career tips that will up-level you and make you more money this year!
4. The Modern Savvy
This blog gives great fashion advice and targets people in their thirties.
This is an excellent place for thirty-something year-old to get great fashion tips and to feel good about themselves.
The Modern Savvy was started by Alyson back in 2012 and it focuses on things she would discuss normally discuss with her girlfriends. 
Alyson has been passionate about sharing all the things: personal style, motivation, family, health and the honest realities of a chaotic life, all in a relatable, inspiring way.
Ready to be BFFs? 
Then be sure to check out the Modern Savvy today! 
5. Man Repeller 
This blog is specifically for ladies and aims to provide an escape from the routine things, allowing ladies in their 30's an avenue to enjoy something that they can genuinely relate to.
Repeller (née Man Repeller) was founded in 2010 as a blog about style trends women love and men hate.
It has evolved a lot in the decade since, growing into a unique media brand with an approach to storytelling that transforms online interaction into something less fleeting and more genuine.
Personally, I love this blog and I find it really trendy.
Check it out here. 
6. Barefoot Blonde (AKA barefootblonde.com)
I really love the Barefoot Blonde. 
If you are looking for another lifestyle blog to follow this one has got to be on your list. 
Amber Fillerup Clark is the creative director behind this amazing lifestyle blog.
It is one of the best blogs for thirty somethings!
Not only is this blog full of amazing positive energy, but they share amazing daily thoughts, hair tutorials, travel tips, and style tips that you might just relate to as a 30 something year old.
If you enjoy reading about interior design as much as I do or even travelling, beauty, or fashion, you will find everything on this epic blog. 
Amber is an amazing mom of three so her blog focuses a lot on beauty, fashion, and hair to one that includes decor and parenting, making it a true lifestyle blog you will enjoy!
Check out the blog right here.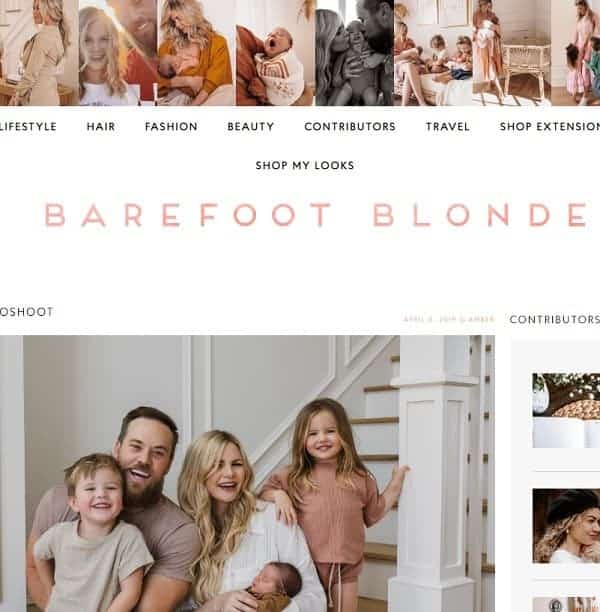 7. Trials of a 30-something
 A lifestyle blog created by Christina, a 30-something learning to navigate the world of adulthood.
Christina is a lawyer by day and a wine lover by night. Family is everything and so is food.
She strives on sharing only the best tips on how she's earning to make adulting a little more delightful, one blog post at a time.
You can read more about the trials of a 30-Something right here. 
8. The Every Girl
The Every Girl provides a wide array of topics, ranging from tech advice, fashion, wellness, education, and culture.
There is something there for every 30 something-year-old to enjoy and be inspired.
Whether you are looking for your dream job, a new city to call home; or saving for a down payment or a ticket to travel, the Every Girl has you covered.
It definitely provides guidance for those looking to be inspired while navigating their 30-year old self. 
If you are looking for the best blogs for 30 somethings, then I am going to have to say this is the one. 
9. The 30 Something Fashion
If you are looking for fashion bloggers over 30 to follow, this one should be on your list. 
ThirtySomething Fashion is a fashion-focused site with style and outfit inspiration for women of ALL ages with a "thirtysomething" mindset.
Both the business and blog believe in supporting the community around them.
You will absolutely notice a strong focus on shopping "local" and supporting small privately-owned retailers local to the Jersey Shore. You will also notice a strong focus on philanthropy.
The older you get, the more "rules" seem to apply when it comes to fashion.
Thankfully, at ThirtySomething Fashion, you will find all the rules and tips you need for rocking a great style.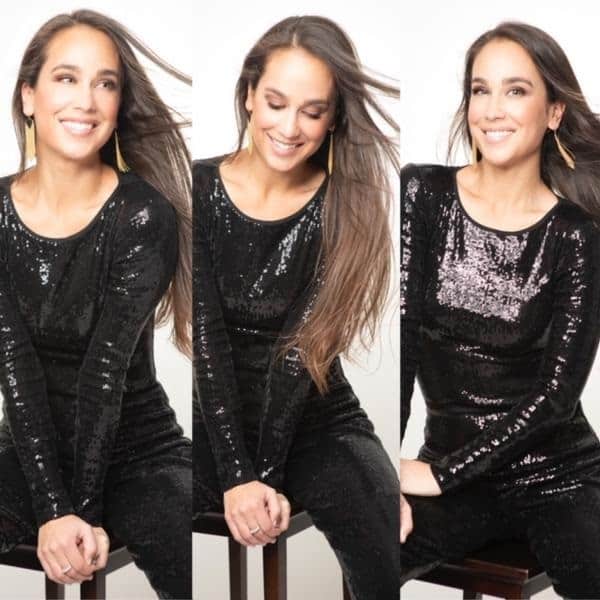 10. Darling Magazine
If you are looking for great blogs for women in their 30s, check out this blog!
Darling Magazine is another great source for 30 something year-old. This blog uploads daily content about one of eight burning topics that are relevant to this age group.
You will find great tips on:
Beauty & Fashion 

Styling 

Creativity 

Culture 

And more
If you are looking for blogs for Thirty somethings, be sure to check out the Darling Magazine today!
11. The Financial Diet 
If you are in your 30s and you are not good with money, then the Financial Diet is a blog for you. 
It has some of the best financial advice for 30 somethings!
Founded by writer Chelsea Fagan in August 2014 as a personal blog to track her budget, The Financial Diet now publishes hundreds of voices on their website and has the largest female-focused personal finance channel on YouTube.
Their mission is to get more women talking openly and honestly about money and to give you the confidence to build a fulfilling life on any budget.
You will find so many amazing articles on their site such as creative ways to grow your income, affordable ideas for meal prep and home decor, to honest, emotional accounts of how money affects people's lives!
Check out the Financial Diet here! 
12. Create and Cultivate 
The create and cultivate blog serves as a great source of motivation for 30 something year-old.
It speaks to topics like entrepreneurship, career advice, and the need for you to take action if you have a burning desire.
Create & Cultivate is an amazing online platform and offline conference for women looking to create & cultivate the career of their dreams.
They gather the next generation of curious creatives, entrepreneurs and CEOs to spark conversation around the topics they are passionate about from building your business to raising money, to the challenges and triumphs of being a modern working woman in today's world whether you are running the show or working your way up the ladder.
Interviews are done with successful 30 something year-old who share their success stories in different ventures.
Their lineup is killer with C&C alumni including:
Jessica Simpson, Eva Mendes, Martha Stewart, Ashley Graham and so many more. 
Check out here. 
13. Lauren Conrad (aka LaurenConrad.com)
If you are looking for lifestyle blogs for 30-somethings, then you need to subscribe to Lauren Conrad's blog.
I am in and around the same age as her and so I totally relate to what she writes and shares on her blog.
LaurenConrad.com is an online lifestyle destination where editor-in-chief Lauren Conrad curates the best in fashion, beauty, food, family, home décor, and so much more.
The hub for all of Lauren's brands and business endeavours, you can find out about upcoming product launches and get a first look at Lauren's latest collections.
Lauren Conrad is a television personality, New York Times bestselling author, fashion designer and philanthropist with over 10 million social media followers.
Honestly, she is an amazing businesswoman. 
And if you are in your 30s and you are looking to spark your own creativity, you need to follow her. 
Learn more about Lauren below:

14. The Glitter Guide
The Glitter Guide is another great place for 30 -year-olds to get valuable information and inspiration.
The site speaks to relevant topics such as home décor, beauty, and wellness, fashion, and creativity. It is the perfect place for hard-working and family-oriented 30 something year-olds.
The Glitter Guide believes that every woman is full of creative energy and that each day gives us a new opportunity to find inspiration and unlock our creative potential.
I love the fact that they are:
Creative

Fun 

Inclusive

And genuine
Founded in 2011, Glitter Guide is a lifestyle website dedicated to inspiring you as a reader to shine brightly in everything you do.
It's definitely one of the best lifestyle blogs for 30 somethings!
15. A Girl In Progress
A Girl in Progress is an online destination for women working on themselves for themselves. 
If this is you, then this blog for a thirty something is perfect for you. 
They believe it's possible to strive to become the best version of yourself while accepting yourself exactly as you are. 
It was created in 2018, to empower, educate and entertain women from all over the world. 
It was originally created as a lifestyle blog, and the purpose behind A Girl In Progress was always to provide an antidote to the polished perfection we often see on the internet.
The blog has since evolved into a broader mission, exploring the co-existence of self-development and acceptance through courses, events, books, coaching and more. 
I really enjoyed this post on their blog:
Six Healthy Habits That Can Boost Your Bank Balance
16. Her Business Cents 
This is one of the best personal finance blogs for 30 somethings. 
Her Business Cents is an online resource that provides quality business and finance advice and tips for women who are looking to make their dreams a reality.
Their mission is to help women take charge of their lives, their businesses, and their finances.
Whether you want to grow or start your business, or learn how to reach your personal financial goals, they are there to help you along the way.
I totally enjoyed her post about 30 financial goals to achieve by 30! 
These are the examples of goals she had:
    Make $100,000 per year.

    Purchase a vacation home in 5 years.

    Have $3 million saved for retirement.

    Pay off the mortgage in 3 years.

    Be completely debt-free
I love financial goals as this is also how I live my life. 
I just finished paying off my car and now I am in the process of planning to make $100, 000 in the next 12 months. 
This is the exact goal and money planner to not only plan career goals but helps with meeting financial goals and mapping out what needs to be done to move to the next level.
17. Into The Gloss
Into The Gloss is a beauty website that explores the routines of inspiring women. 
This lifestyle blog for 30-somethings was created by Emily Weiss in 2010, and the site is known for its profiles, particularly The Top Shelf and Into The Gloss.
This site speaks to the best ways to care for your skin and to keep that youthful glow even when you are well into your thirties.
If you want some tips on how to keep that youthful look, you should check out the gloss blog.
In 2014, the team behind ITG launched Glossier, a modern beauty brand focused on making products inspired by the people who use them.
18. Oh Happy Day
O Happy Day is geared at 30 something year-old who spend a lot of time at home and do not really engage in the party scene anymore.
This is an epic design and lifestyle site that produces & celebrates fun through original design, projects and party ideas. The website gives great tips on DIY for party ideas and many other DIY options, such as creating crafts and meals.
The site is geared towards 30 something year-old with small kids and those who do a lot of hosting at home.
They are definitely on a mission to be the best party resource on the internet. 
19. The Mama Notes
Blogs for Thirty somethings are hard to find, but the ones on this list are absolutely the best. 
The Mama Notes does not only have the perfect name, but it is a fun and exciting blog for moms out there. 
This website not only gives excellent advice on motherhood but also delves into topics such as travel, style, and beauty.
It is an excellent source for 30 something-year-old mothers needing a little sisterly advice.
Caitlin is the creative director behind this epic blog where she has been chronicling her life, style and adventures in motherhood for over 11 years.
So if you are looking for activities for kids, mom hacks and more, be sure to follow them for those tips!
20. The Stripe
The Stripe is a lifestyle blog for stylish bookworms.
Since its first post in 2010, The Stripe has aimed to be a daily source of inspiration for the modern woman.
The Stripe is a little bit of everything: personal style, DIY projects, the best beauty products and books, travel guides, wellness, and so much more
It is one of the best Blogs for Thirty somethings who enjoy the little things in life.
The Fashionista Grace Atwood operates this blog.
She has been sharing her fashion secrets on this blog for a while and now has branched off into other topics such as relationships, staying healthy, and the importance of friendships.
Her blog is very conversational and relatable, and you feel like you are listening to a sister when you visit this blog.
It is a hugely empowering blog for 30 something year-old.
21. Financially Minded Millenial 
This blog is run by a 30-something blogger that just declared mortgage-free before she turned 34!
Financially Minded Millennial offers those struggling with their finances a place to get information, inspiration, and mindful tips on dealing with debt, cutting expenses, saving/making money, frugal living, and more!
If you are interested in dealing with your finances, finding extra ways to earn/save money, and living frugally while still enjoying life, then this is the place for you. 
You don't have to put every penny into debt or financial goals.
Here is what you can expect from Financially Minded Millennial: 
Learn how to have the right financial mindset before you start.

Lots of tips and tools to help you gain control over your finances.

Fun frugal things that you can still enjoy in this super magical process.
It's one of the best blogs for thirty somethings!
22. Mommy Makes Money Online
Mommy Makes Money Online is an online platform for moms looking for ways to make money online, money-saving tips and lifestyle tips to be the best mom they can be. 
Mom makes money online is dedicated to all moms trying to build a better life for themselves and their family.
I am a fun mom to my 3-year-old daughter, and I am looking forward to sharing all my best tips on how I make a great living online. 
I manage several blogs, so you will see me on the internet a lot. 
One of my most popular blogs is the sister blog to this one –Ladies Make Money Online (which I mentioned earlier). 
Steal my mommy morning routine right here, and if you are looking for positive affirmations for moms that work, this here will work great!
Honestly, we have so much to share, so grab your mommy coffee mug and join us as we share our best mommy tips! 
Don't forget to grab that epic mom morning planner that we have available for you over on the Mommy Makes Money Online Blog.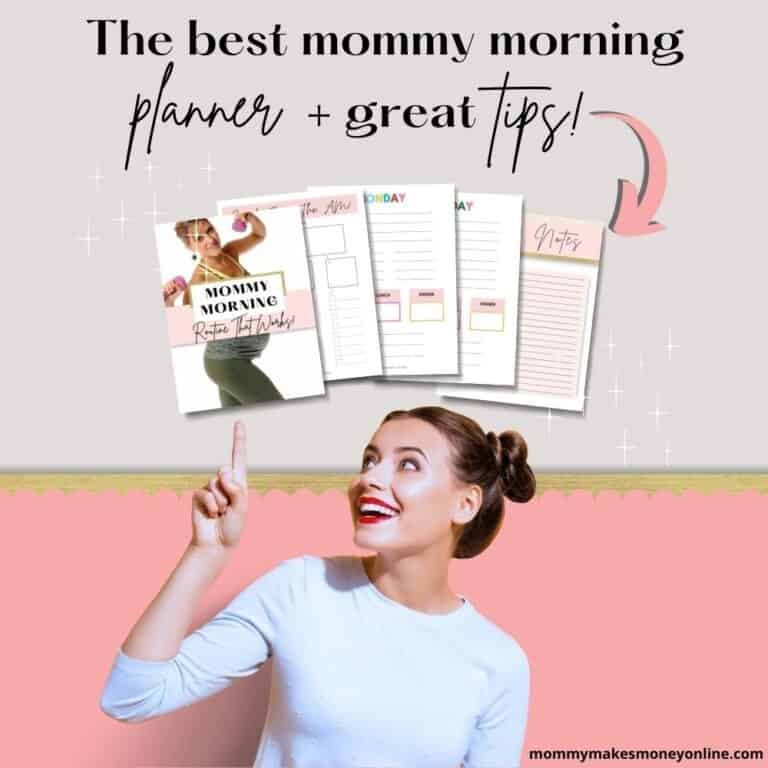 23. Gimme Some Oven
Ali created this little corner of the internet to celebrate life around the table and the favourite recipes that bring us all together.
If you enjoy good food, you will find a lot of that on this blog. 
So what kinds of recipes will you see here on Gimme Some Oven?
Honestly, a little bit of everything.
I love coming up with amazing dishes for my family and if you do the same, I am sure you will enjoy some of the dishes by this lifestyle blogger. 
Food bloggers are the best. 
I really enjoyed making This Chicken Sheet Pan Quesadilla and this Korean Steak Bowl!
You will honestly find amazing recipes on this blog. 
24. Gal Meets Glam 
Blogs for Thirty somethings are really hard to find, but I am totally enjoying reading articles from Gal Meets Glam! 
This amazing blog has turned into a lifestyle brand, bringing together a community of women through its classic, feminine aesthetic.
As a 30-year-old, you would totally enjoy it. 
Julia Engel, founder of Gal Meets Glam and Gal Meets Glam Collection and if you are into fashion, you will love her pieces too.
This beauty has more than a million followers on Instagram alone, has been named one of Forbes' Top Influencers in 2017 and has worked on campaigns with brands including Tory Burch, Tiffany & Co. and Nordstrom.
She finally changed her brand name to just her name, Julia Berolzheimer!
You can view the blog here. 
25. Lili's Travel Plans
This 30 something blogger is who I inspire to be.
She packed her bags one day and travelled to Africa and even started a business there. 
In August 2017 she sold everything she didn't need, packed what was left in a suitcase, and left home with only a one-way ticket to Tanzania.
No plan, no bucket list, no end date. 
Can you do that?
She opened a tour business that organizes safaris, mountain climbs and all kinds of excursions around Moshi in Tanzania, where she currently lives. 
Check out her story here. 
26. A Broken Backpack
Here is a fellow Canadian blogger that is doing it big. 
You can read other blogs from Canadian travel bloggers here. 
Again whether you are in your earlier 20s or even 30s and you are looking for something different to do, travelling might be your best option.
This epic blogger is originally from Quebec, Canada. 
In June 2014, Melissa started her journey around the world at the age of 25.
She started her journey in the Canadian Rockies where she hitch-hiked her way around.
Then, she moved to Australia for two years.
A Broken Backpack offers great travel tips to help you stay on the road longer. She left Canada with less than CAD 2,000 to her name (and a bunch of student debts).
She's living proof that you don't need tons of savings to make your travel dreams come true.
Read her full journey here to get inspired.
If you are in your 30s and you are feeling a bit lost, you need this blog in your life. 
27. This is 30
I love this simple but amazing blog by Cate a 32-year-old Professional Organizer living in the Niagara Region. 
If you are looking for new ways to create a better lifestyle for yourself both physically and emotionally then This Is 30 might be what you need.
Seeing first-hand the enormous benefits of an organized and clutter-free environment inspired Cate to provide the same experience to anyone striving for solutions that fit a multitude of different personalities and lifestyles.
If you are looking to create a stress-free home, you will find lots of amazing tips on this blog. 
Cate is a proud Canadian who loves fashion, decor, and self-improvement. 
Read more right here. 
28. My Thirty Spot
This website is dedicated to women in their 30s and their different journeys.
Erin shares tips and stories on beauty, fashion, anti-ageing, money, motherhood, health, diet, recipes, the occasional deal and LIFE on this blog.
She decided to start this blog because there was nothing out there dedicated to the "Thirty-Something" gal. 
And trust me, I know. 
Looking for great blogs for thirty somethings took me over two months to put together. 
It just goes to show that there are barely any blogs that speak DIRECTLY to this age group. 
My favourite posts from My Thirty Spot are:
29. Classy Career Girl
Classy Career Girl has been online since 2010 and is now one of the leading career blogs in the world, having helped launch more than 2000 successful careers and businesses.
It is the perfect blog for thirty somethings especially if you are trying to get a career change. 
Anna is the founder of Classy Career Girl, named by Forbes as one of the top 35 most influential career sites of 2014.  
She helps millions of women design and launch their dream careers, businesses, and lives through her website, online courses and social media channels.
One of the main topics on Classy Career Girl is career tips, but the blog is a lifestyle blog, covering different topics such as job search, entrepreneurship, health and balance, leadership, fashion, productivity, social media and money.
Explore the Classy Career Girl right here. 
Don't forget to sign up to get 15 days worth of career tips that will up-level you and make you more money this year!

30. Clever Girl Finance
Every girl in her 30s should have her finances put together. 
I will be the first to admit that I am still working on my finances thanks to this epic blog. 
Clever Girl Finance is one of the largest personal finance platforms for women in the U.S. and we have consistently been voted one of the best finance websites for women.
And in my opinion the best blogs for women in their 30s!
Yes, I am in Canada and I have still benefited from this blog greatly. 
It was founded by the lovely Bola Sokunbi.
The blog is dedicated to helping women to become accountable, ditch debt, save money, and build real wealth.
There you have it, an epic list of Blogs for thirty somethings! 
Wow, that was a little hard. 
Finding a great list of lifestyle blogs for 30 somethings was a bit harder than I thought but I made it work. 
Which of these will you follow? Tell us in the comments below. 
If you are in your 20s, don't worry, we have you covered too. 
Here is a list of 20 blogs for 20 Somethings that you need to read this year! 
This blog was sponsored by My Dream Business Planner. 
A comprehensive Business Planner to set you on the right path to creating your perfect business so you can build a future that speaks volumes. 
A Business journal to inspire you to find that DREAM BUSINESS that you can do to make extra money finally doing what you love!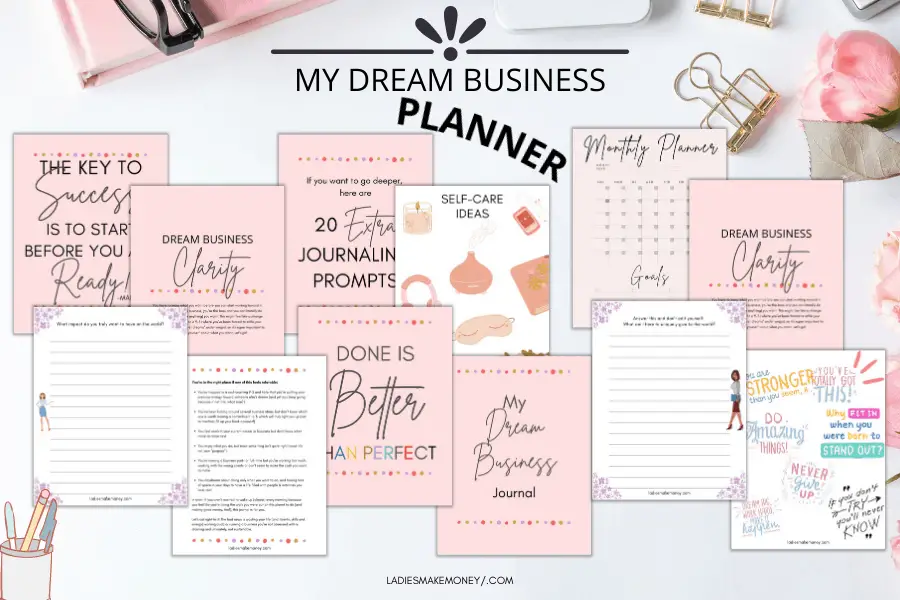 Before we go today, we want to give a list of 30 something books and other things we are reading and loving: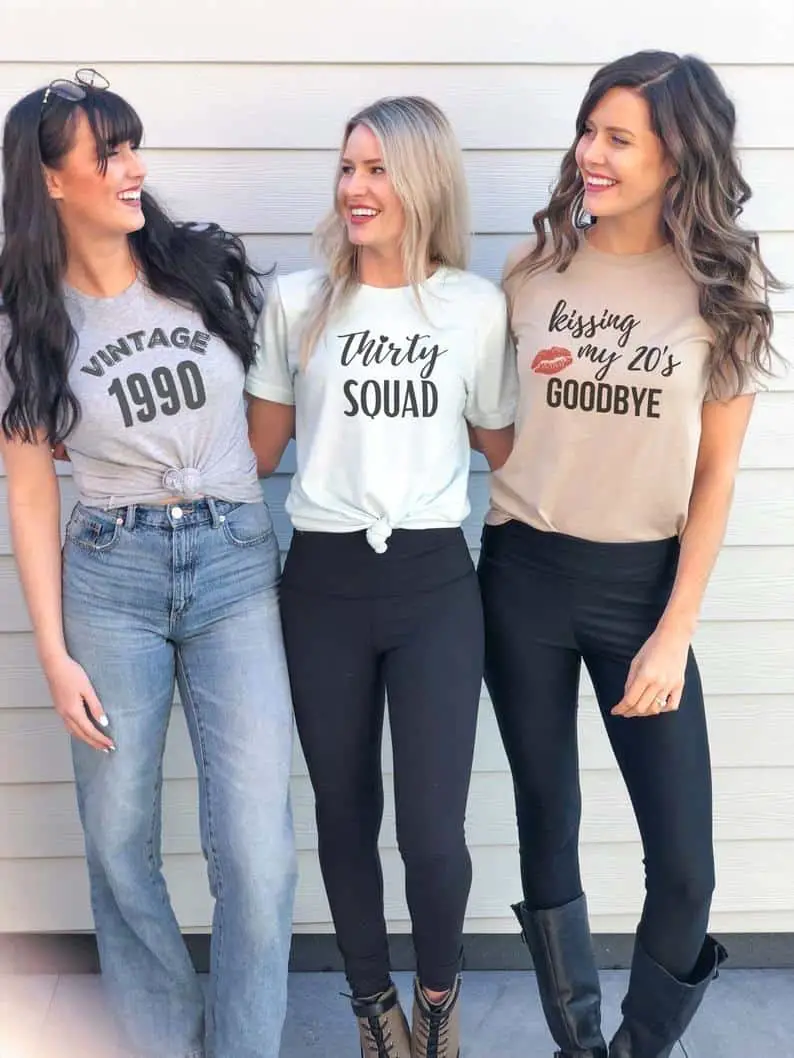 Get the t-shirts here! 
Enjoy your 30s and don't forget to follow some of these blogs for thirty somethings! 
Read this next: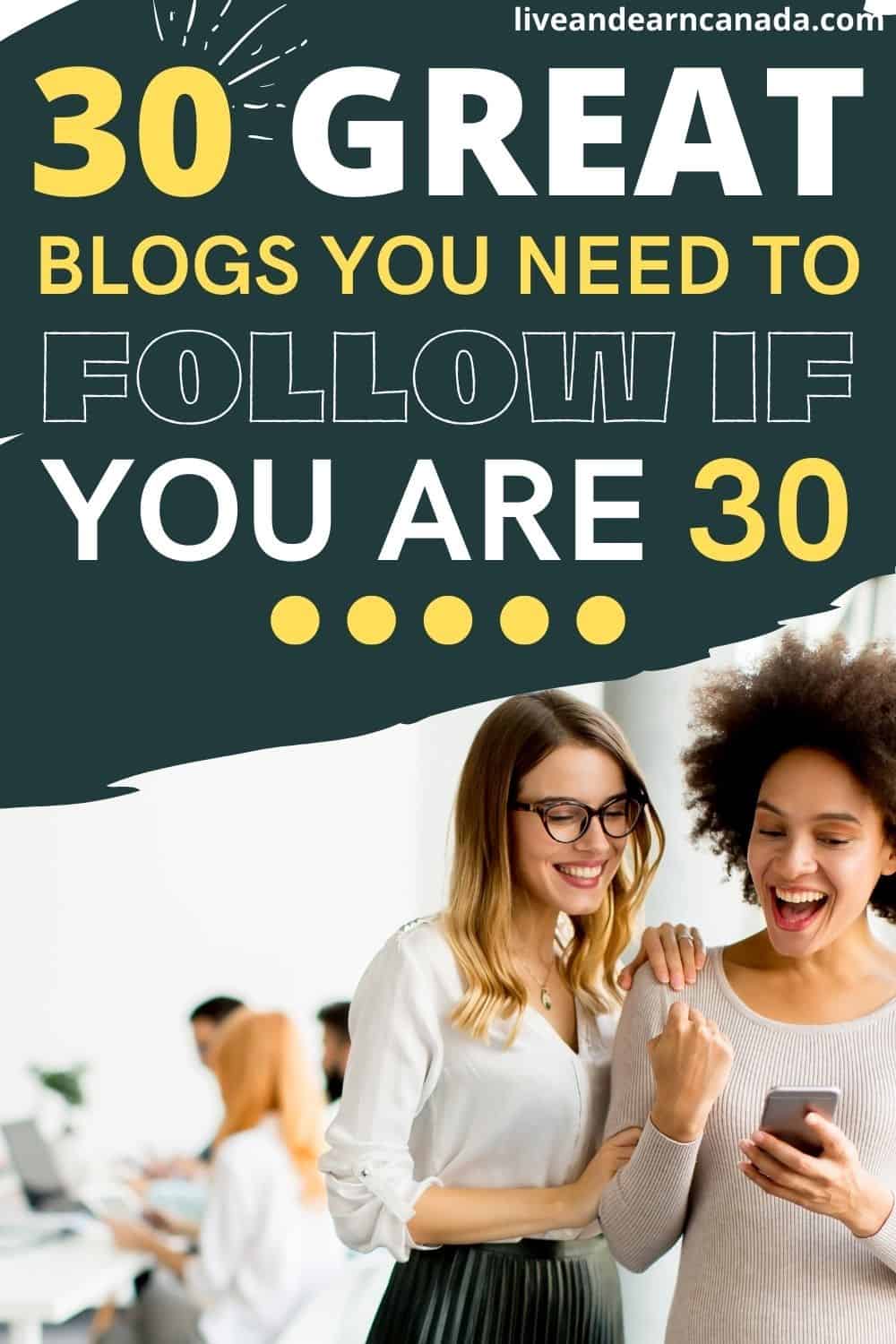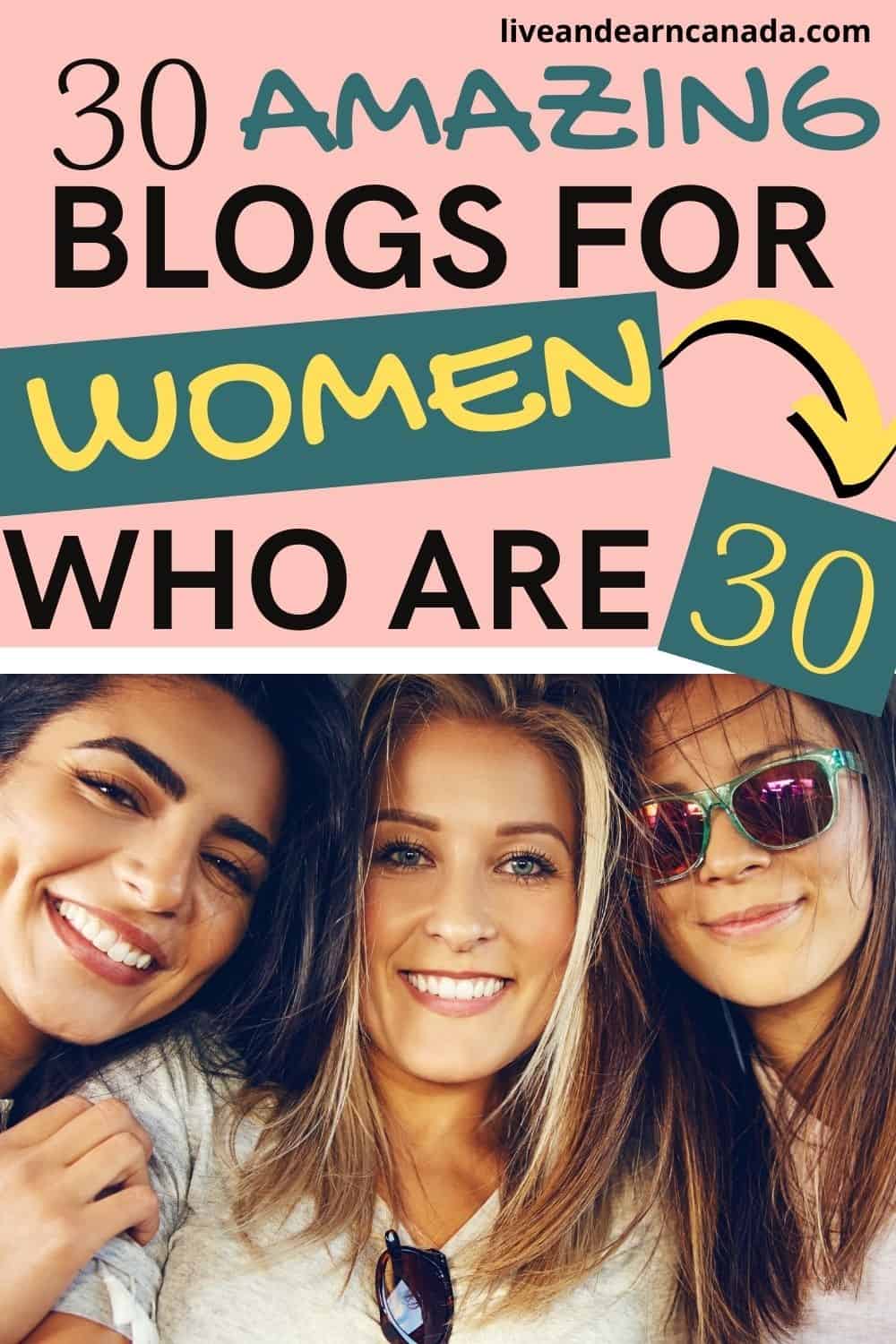 30 Amazing Blogs for Thirty somethings That You Need to Follow