Home Based Jobs Canada
If you are looking for great work from home jobs for Canadians, you have come to the right place.
Whether you are looking for a work from home job that completely replaces your current day job, or simply want to supplement the income from your current 9 to 5, a legit home-based opportunity can help you get started.
Today's growing gig economy is a predictor of how the future is going to look like in that more folks are going to be able to work flexibly, remotely, and on their own schedule.
Work from home jobs come with a ton of advantages, the most significant one being that you are your own boss!
So, if you are looking for ways to earn PayPal money, or get paid by a check in the mail from the comfort of your home, this resource is for you.
Benefits of Work From Home Jobs
I don't really mind driving to work on most days as I use the time to listen to podcasts or even some good music.
That said, nothing beats being able to pace myself from when I wake up in the morning until when I go to bed at night while working from home.
It is just less hectic.
Depending on the type of work and your personal needs and circumstances, some of the benefits of a home-based job are:
You save money, including on transportation costs, clothing, food, and more

Less stress. The stress of commuting back and forth, fretting over daycare for kids and fewer office politics

If you are disciplined, you can get more done within a shorter time frame

It allows for more time with your loved ones

Your schedule can be more flexible. For example, you could move your work hours to when it is easier to focus, e.g. at night.
There are plenty of work from home jobs for Canadians available and if you put the effort to find these opportunities, you will land a great paying gig. 
Don't forget to grab this monthly income task list which is totally handy for those looking for the best ways to make money during summer.
The monthly income task list is totally free and you can grab it today to keep track of your income!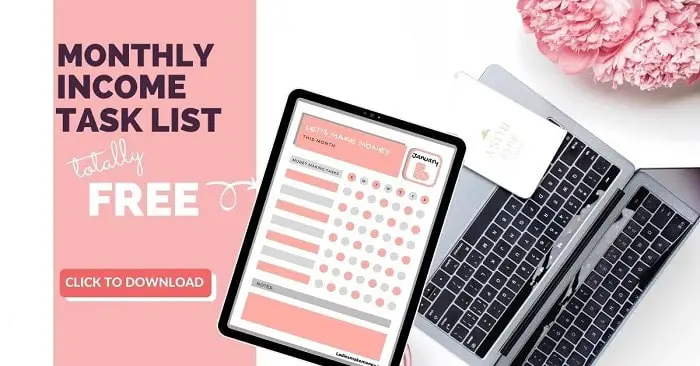 Legitimate Work From Home Jobs That Pay in Canada
Finding legitimate work from home jobs in Canada is not as hard as you think if you know exactly what to look for. 
Also creating opportunities for yourselves is what I have found to be the most successful way of going about it. 
Personally, I have been working from home since 2014. 
Most of these jobs are freelance work that has turned into full-time opportunities.
What jobs can you do from home in Canada?
Many of the following work-from-home jobs can be done on a part-time or full-time basis.
How much you earn will depend on the type of job, the number of tasks completed, and the effort you put into it.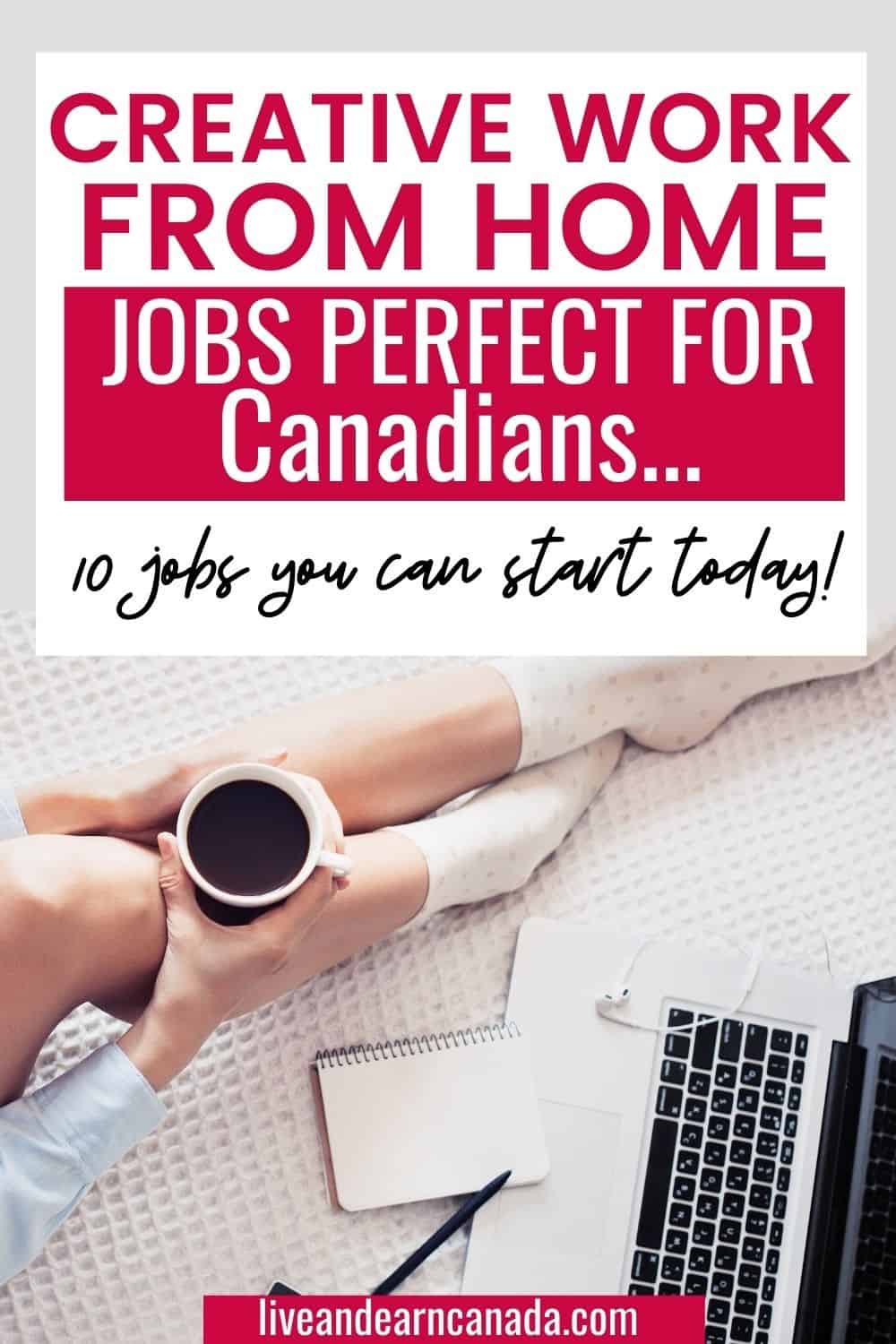 1. Work as a freelancer in Canada
There are many jobs available for freelancers on online job platforms such as Fiverr and Upwork.
Fiverr is a great place for any that is in desperate need of money fast to register their names to score jobs. 
While you will need to have previous experience with some of the tasks listed on these sites, some of them can be done by total newbies.
If you are looking for work as a freelancer in Canada you can check in Facebook groups, blogs or social media. 
Jobs you can do include writing, logo and graphic design, voiceovers, translation, proofreading, data entry, video editing, and hundreds of others.
You can also choose to become a freelance writer and make over $1000 a month writing articles for small businesses. 
Learn the steps you require to Write Your Way to Your First $1k right here. 
It's a proven method to help new writers like you fast-track their way to success with freelance writing – no experience needed.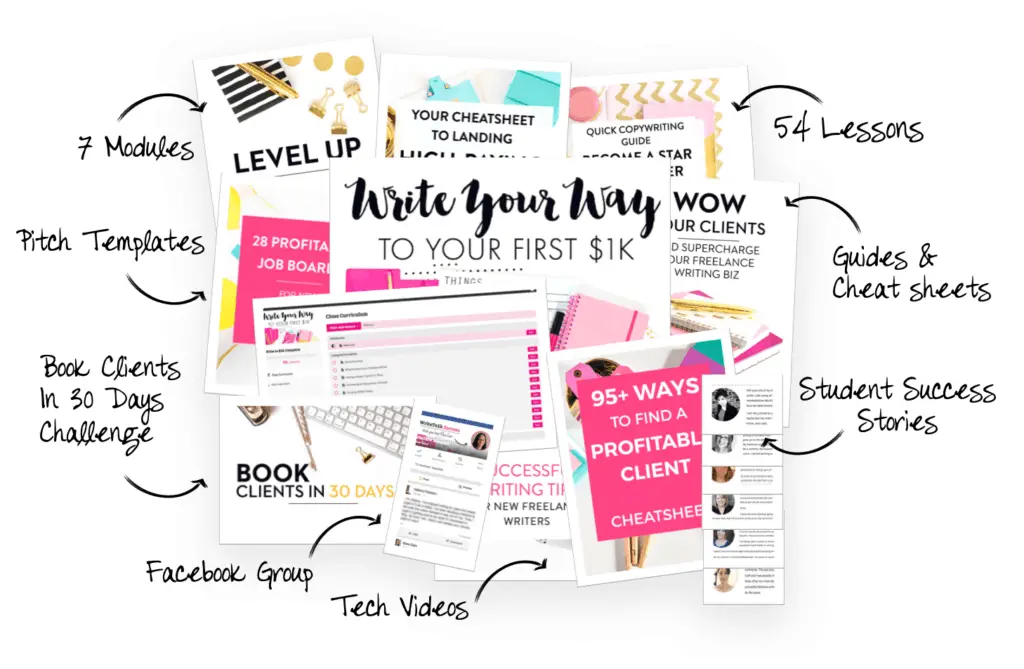 What is pays: Variable, depending on your skillset. On Fiverr, the minimum pay per task is $5, and there are jobs listed for up to $1,000.
2. Open an Online Store
If you have ever shopped on Etsy, eBay, or at an online store hosted on Shopify, the chances are that your purchase was from a small business owner operating from home.
E-commerce now accounts for a significant percentage of retail sales, and you can get a piece of the pie.
In fact, a very good friend of mine makes over $2 million a year selling printables on her online store. 
Easily open your online store using a platform such as Shopify and get it up and running using the pre-made templates and tools.
With drop shipping, you don't need to hold inventory and can ship products to your customers directly from the manufacturer.
If you want to start your own online store, I would recommend going with Shopify!
They have a 14-day trial which gives you the opportunity to try it out first. 
But first, you will also want to take this course to learn more about how to start a Million Dollar Online Store!
And if are not sure what to sell on your brand new store? 
Here are the top 13 things you can sell to make money with an online store.
What is pays: Variable depending on the profit margins of the products you are selling, the traffic you can generate, and your conversion rate.
3. Participate in Market Research
Brands and retailers use market research companies to gauge public opinions as it relates to products and services.
They use the data collected to inform their product development as well as their marketing strategy.
Market research panels aka survey sites do not pay you a lot of money.
However, they offer ways to monetize your free time.
Depending on the panel, you may get paid cash via PayPal or can redeem your rewards for gift cards including Google Play Credits.
You can also check out these sites:
What it pays: $50 to $200 per month.
4. Start a Blog
You don't need to be an award-winning writer to start a blog.
If you are knowledgeable about any subject or are passionate about it and it answers questions people have, you can start a profitable blog.
For the longest time, I was really inspired by all the fascinating stories of how bloggers were earning several thousands of dollars a month blogging.
I started on my journey of starting a blog from scratch in the hopes that I could make even just $800 a month from it.
With a lot of hard work, I was able to make money with my blog and now I make over $5000 per month blogging.
And now I have 5 amazing blogs that I am using to make income every single day. 
Decide on your niche and what you want to write about, pick a domain name, web host, and theme.
When your blog is up and running, you will need to promote it and can use social media to drive your initial visitors.
Over time, your blog should start showing up in search when people search for topics using a search engine (e.g. Google and Bing).
You can make money from your blog through adverts, affiliate marketing, sponsored posts, and more.
What it pays: $0 to as much as $100,000 per month. Yes, there are bloggers who earn 6 figures each and every month; however, you will need to put in the effort.
I documented my actionable tips on getting a blog from 0 to $5, 000 in my book!
Blog Income Strategies Simplified has over 60 strategies I use on the blog each month to ensure it continues to be profitable. 
Blogging for money is totally possible if you put your head down and work through what you need to do to make money. 
Sign up for my free 7-day blogging course on exactly how to start and set up a profitable blog from day 1! 

5. Teach English Online
Canadians can work as online tutors and teach various subjects including English as a Second Language (ESL).
Some ESL platforms require you to have a Bachelor's and previous teaching experience, while some don't.
Overall, your upfront investment for this job is minimal and includes access to a computer, good internet, webcam, headset and good lighting.
Teaching English online is one of the best work from home jobs for Canadians because it doesn't require you to go out to get the experience to do it effectively.
ESL platforms available to Canadian include VIPKids and QKids.
Other places you can also look online teach jobs: 
What it pays: $16 to $22 per hour.
6. Food Delivery Jobs in Canada
While food delivery does not involve sitting at home all day, it does qualify as a work from home job since you are not reporting to any physical office and you are an independent contractor.
Depending on the delivery service you join, you could deliver groceries, restaurant food and other items to customers in your area.
You will need to have a clean driving record, a vehicle in good condition, and a smartphone.
Some platforms offer you guaranteed pay and you keep the tips.
Here are few companies you can sign up with
Learn more about food delivery jobs in Canada.
What it pays: You could earn up to $25 per hour, however, the average pay is closer to $15/hour.
7. Work as a Virtual Assistant
Virtual assistants work remotely and help business owners with completing all kinds of work.
Some of the most common tasks a virtual assistant may be hired to do include:
Scheduling and appointment management

Email management

Social media account management

Data entry

Website management and content creation

Project management

Bookkeeping
You can find virtual assisting jobs on work portals including Indeed.ca, Freelancer.com, and UpWork.
If you are truly interested in becoming a VA, then you should absolutely take "Get Fully Booked VA" to jump-start your Freelance VA Business.
You'll walk away with a basic understanding of what it takes to get a virtual assistant business up and running!
Becoming a VA is one of the best work from home jobs for Canadians in my opinion. 
With this job, you can literally work from anywhere in the world!
What it pays: As per PayScale, the average hourly pay for virtual assistants in Canada is $20.56.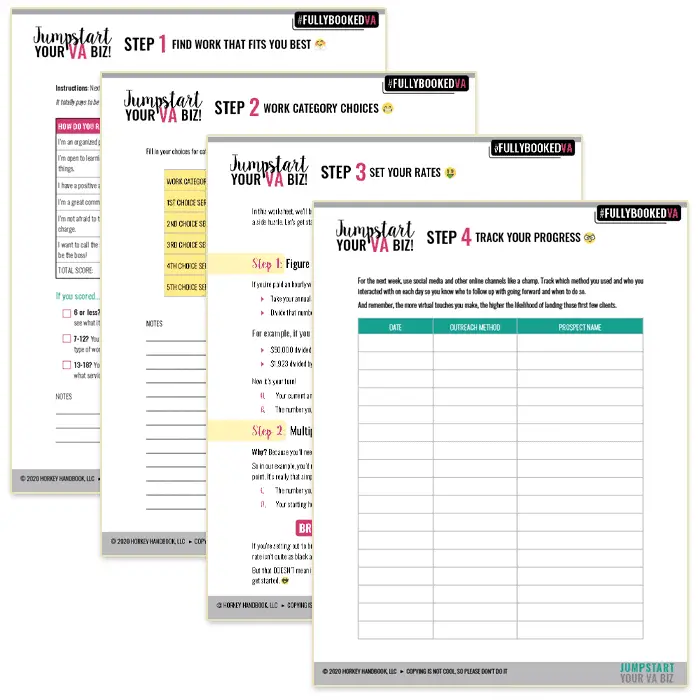 Become Fully Booked Using This VA System!
8. Become a Pet Sitter
If you love dogs and cats, you can use your home to board them and make money as a:
Pet sitter

Doggy daycare

Pet boarder
Pet sitting is an ever-growing industry.
If you have ever considered becoming a dog sitter, you may have wondered where you can find pet-sitting jobs.
You can use a money-making app like Rover to find pet sitting jobs in your area. The app also offers opportunities to get paid walking dogs in your area.
Rover is really your best option for getting hired for dog sitting jobs in Canada. 
If you've never heard of Rover, it's a bit like the babysitting site Care.com.
You simply go on the Rover website and sign up.
You will then be connected to a nationwide network of pet owners in need of caring providers who offer boarding, pet sitting, or dog walking.
If you are in desperate need of cash, then this is a great job for you. 
What is pays: Anywhere from $0 to $25 per hour.
9. Become a Proofreader
Work from home jobs for Canadians is really not hard to come by. 
I consider this one the best job for Canadians. 
If you find it easy to spot grammatical errors in a piece of writing and pay attention to details, this job could be for you.
Proofreading jobs are plentiful online since online businesses and publishers (including bloggers like myself) need people to proof their drafts before they are published.
My good friend was able to make over $40, 000 a year part-time as a proofreader. 
You can read the full review of becoming a proofreader here.
As a proofreader, your job may include you reviewing different content and checking for grammatical errors, spelling, and formatting.
What it pays: As per PayScale, the average annual salary of a proofreader in Canada is $47,319.
If you want to become a proofreader sign up for this amazing free proofreading webinar about how to build a profitable proofreading business in just 30 days!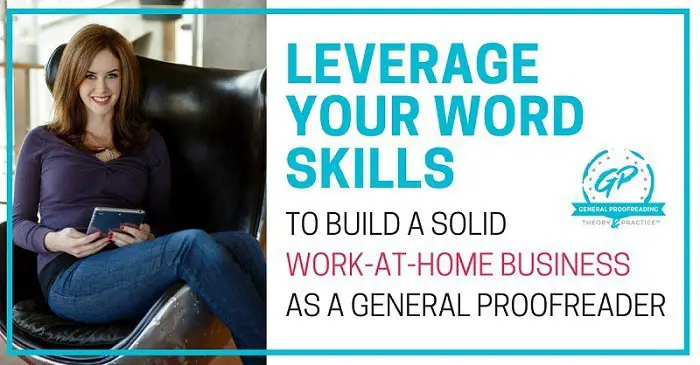 10. Become a Transcriber
Transcribers or transcriptionists convert audio and voice recordings into text.
As you would imagine, this job requires you to be able to type fast, have a good ear, and pay attention to details.
To get started, you will need a computer, good internet service, headset, transcription software, and a foot pedal.
If you search online, you'll find a LOT of information about becoming a general transcriptionist.
Transcription is challenging work, but you can train from home and work from home or anywhere you have access to a computer with an internet connection. 
If you need to need a work from home to supplement your income, then give transcribing a try today. 
Here are seven-lessons (mini-course) to jumpstart your transcription career. 
What it pays: You can expect to earn around $15 per hour on average. Medical transcriptionists can earn more.
To get more exclusive career tips sent directly to your email, sign up right here.
There you have it, a great list of work from home jobs for Canadians you can find today!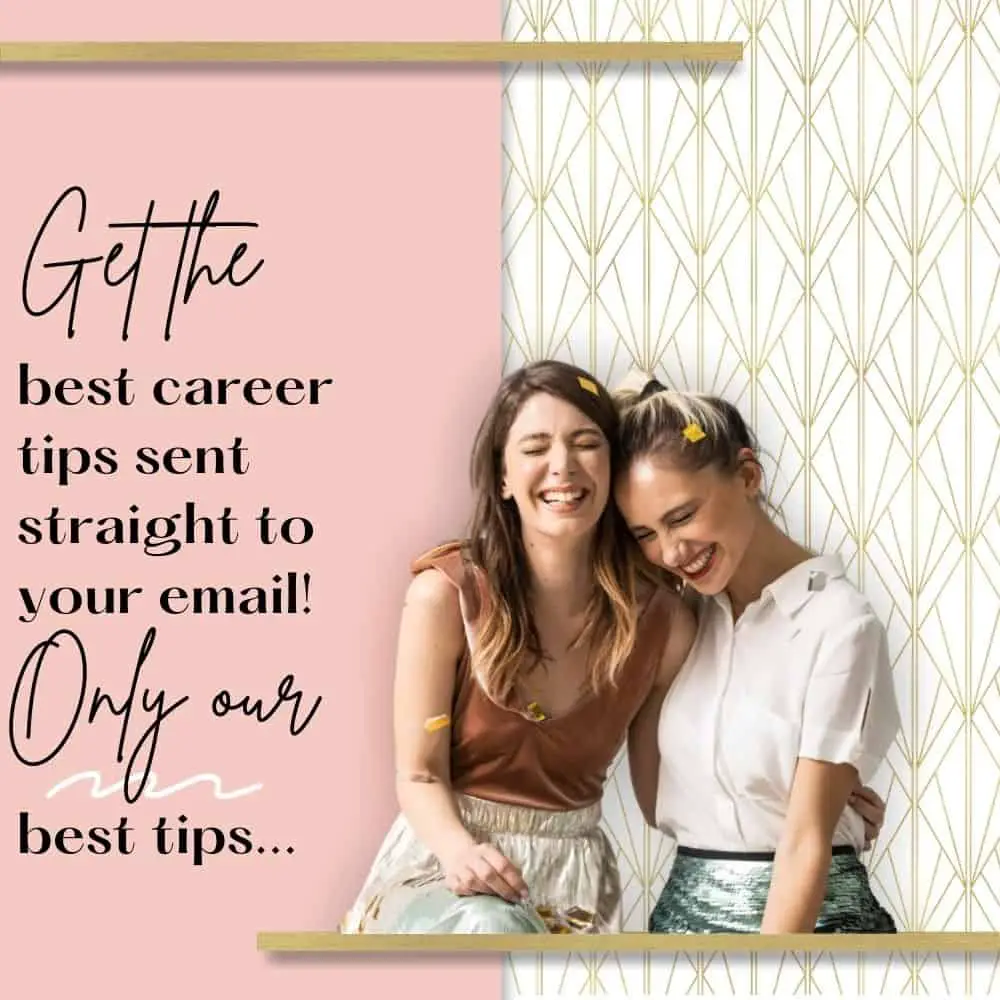 Take a look at this opportunity for the ones that fit in with your schedule. Whether you aim to replace your day job or are just looking for a side gig to earn extra cash, there is a work-from-home job for you!
Don't forget to grab my dream business journal to dig deeper to find that awesome job opportunity. 
Check it out here.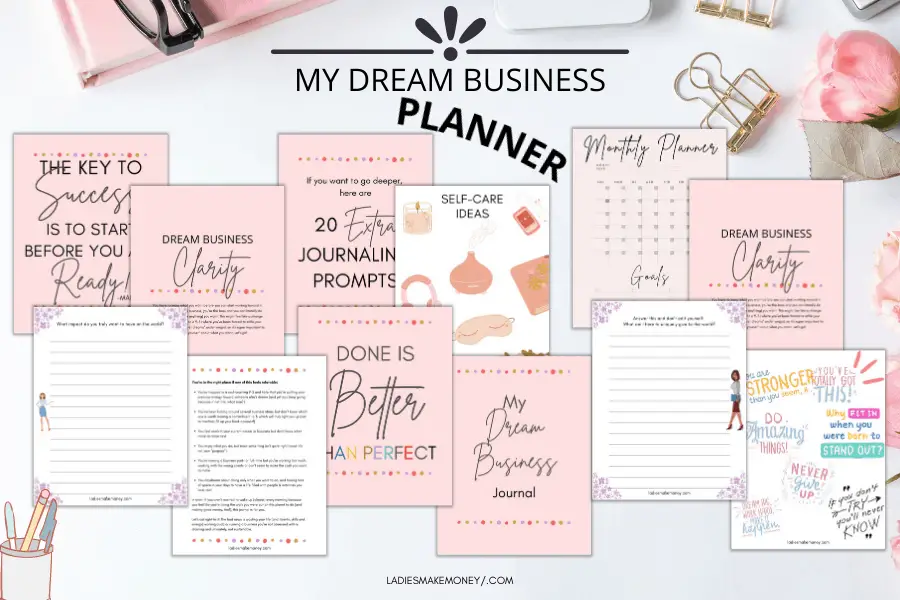 Read Next: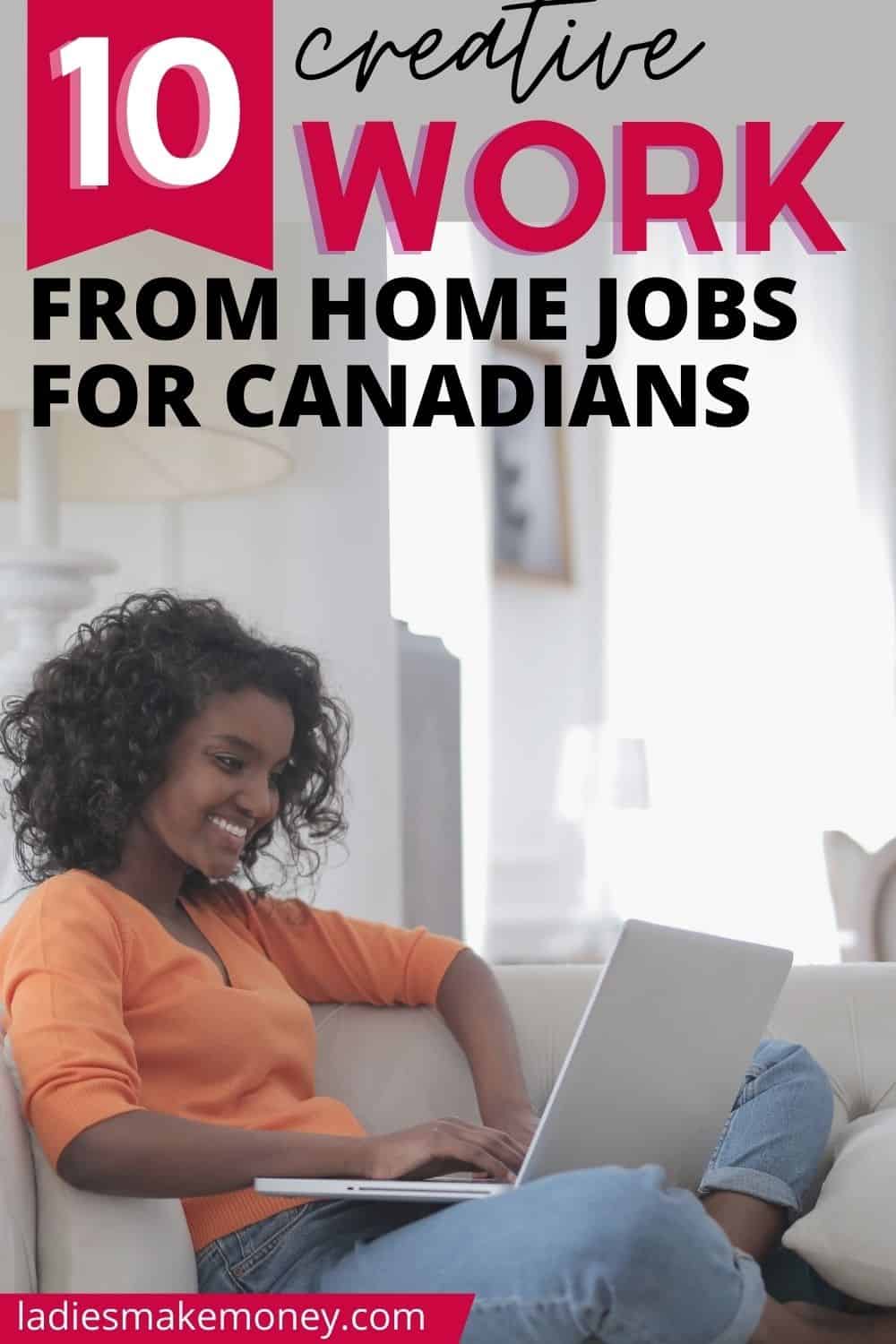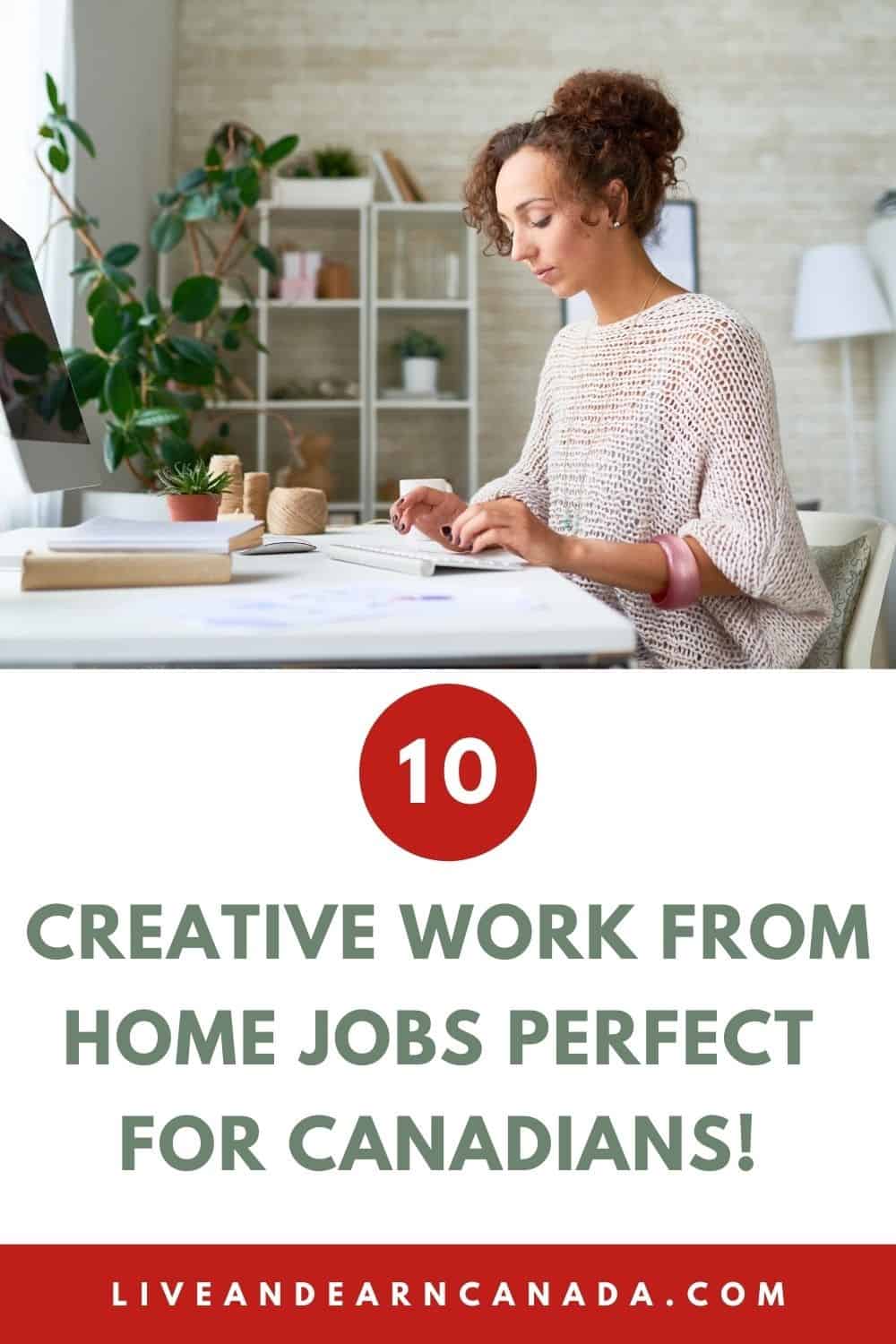 10 Profitable Work From Home Jobs for Canadians in 2021