If you happen to be in Canada on Canada Day, you need to catch the Canada Day fireworks!
Fireworks in Canada is a huge deal, especially on Canada Day!
People travel from all over the world just to be part of the big Celebrations we have here on Canada Day! 
And if you are one of those people that have chosen to travel to Canada to watch our amazing Canada Day fireworks, we want to share with our best tips! 
Traveling To Canada for Fireworks
Most places in Canada like Ottawa, Toronto, Vancouver will all put on a huge show for the Canada Day Fireworks.
And if you are planning to travel to Canada or if you are in Canada and you happen to not be in your home town, they are a few places you can catch the show!
Remember that July 1st which is Canada Day is a statutory holiday!
Most places will be off and access to certain roads will be closed, most businesses and stores will also be closed on that day! 
Plan your day accordingly! 
Where to Watch The Canada Day Fireworks
We are now going to share some of the best places in Canada that you can visit to watch the best Canada Day Fireworks show!
If you plan to travel, again, be safe, travel in ahead of time and plan for major delays.
Expect hotels and car rentals to be busy and in most cases fully booked months in advance especially in major cities!
So where are some of the best places to watch the Canada Day Fireworks? 
Before we get started on the best place to watch the Canada Day Fireworks, we did want you to follow us on Instagram for more tips. 
We also wanted to take the opportunity to let you know that we use Affiliate links on some of our blog posts. This means that we could make a commission if you click on an affiliate link and purchase something. Read our full disclosure and blog policy for more information.
Canada Day Fireworks
Here are the list of the best places to watch the fireworks in Canada! If you would like us to add your home town, tell us in the comments below!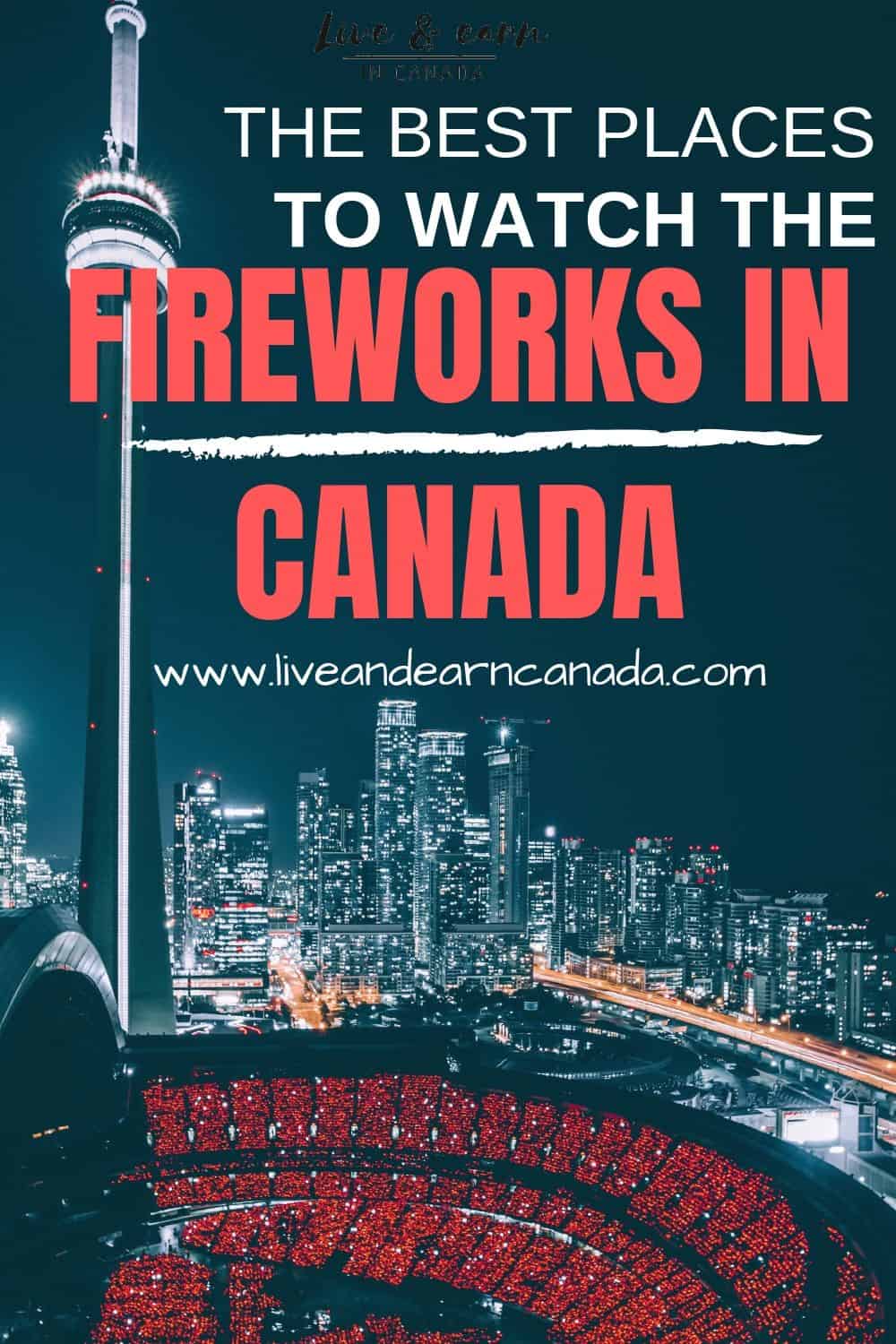 1// At The Parliament Hill, Ottawa
Again we are not biased just because we are in Ottawa, but what better place to watch the big show than in the nation's capital?
You can definitely watch the fireworks almost all around Ottawa, but most of the major activities will be happening in the downtown core right at the parliament hill!
And the best sport to watch the fireworks in Ottawa except for the Hill is:
The Confederation Part

Major Hill Park

Canadian Museum of History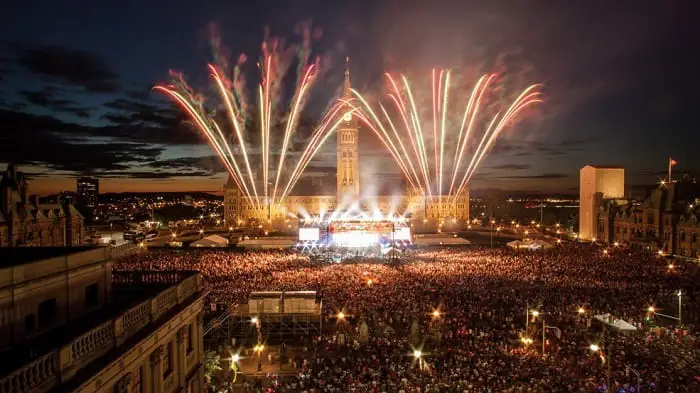 Source: Ottawa Tourism
2// Canada Day Fireworks In Toronto
The next best place to watch the fireworks would be in Toronto! 
Toronto is definitely busy and they know how to throw a great party. Be assured that you will definitely enjoy yourself in this amazing city!
You can join the rest of the city by catching the fireworks in a few different locations:
Nathan Phillips Square

Mel Lastman Square

Amesbury Park
And a few other locations around Toronto! Where ever you are in Toronto, be assured you will enjoy Canada Day!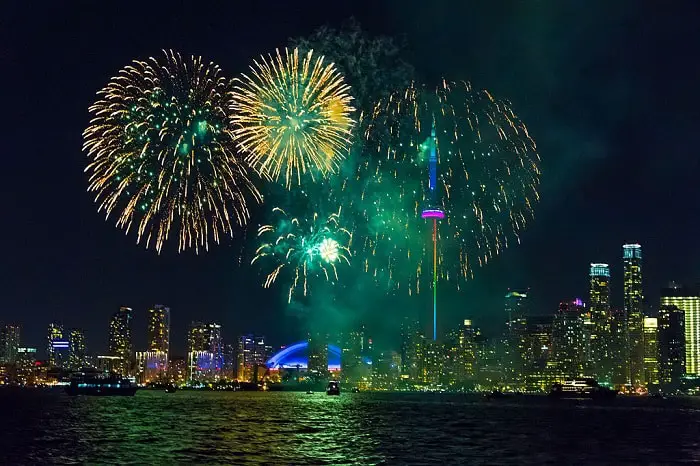 3// Niagara Falls Fireworks
Who doesn't love Niagara Falls?
Watching the fireworks over the Niagara Falls on Canada is even more breathtaking!
Because of this, Niagara Falls frequently has fireworks going off most of the year!
Beginning June 17th, Niagara Falls fireworks will be going off every night at 10:00 pm until September 2nd.
If you want a list of days that you can enjoy the Niagara Falls Fireworks, be sure to check their website frequently!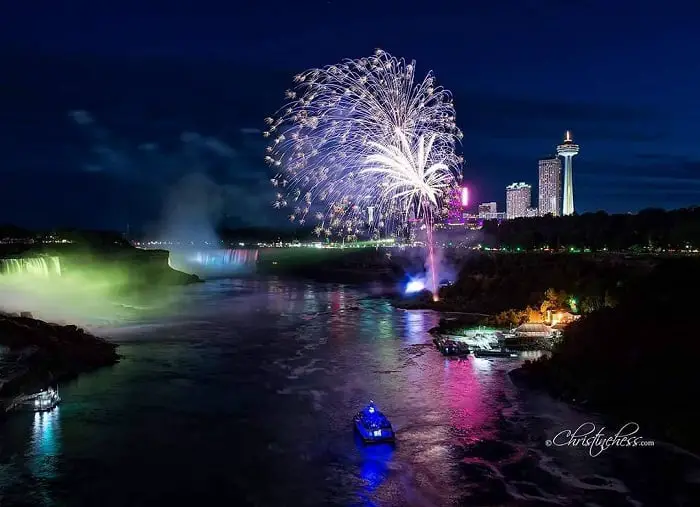 Source: website
4// Canada Wonderland Fireworks
Canada Wonderland is located in Vaughan!
They begin their Canada Day Celebrations a little early, typically the last day of June and goes on for two weeks!
At Canada Wonderland, you can enjoy live music, authentic Canadian food, street performers and more!
Quick history: Canada's Wonderland, located in Vaughan, Ontario (just outside Toronto), is a 300-acre theme park with more than 200 attractions including 16 roller coasters, and is the home to Splash Works, a 20-acre water park!
I definitely believe that you will enjoy your day here on Canada Day!
Source: Canada Wonderland
5// Canada Day in Banff
I love Banff! I went to visit with my family last year and fell in love with it! A post will be up soon about it! 
Celebrating Canada Day in Banff would be totally amazing! From their official website: 
The natural beauty, heritage, and culture of Banff and Lake Louise make for a fantastic setting to experience Canada Day on July 1.
There is no better way to celebrate than being among the mountains and lakes that have defined images of Canada around the world.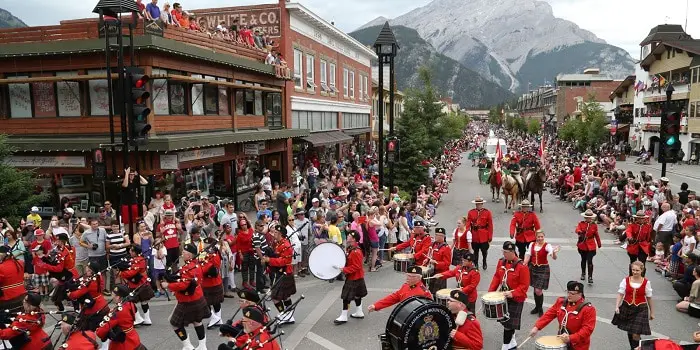 Source: Canada Day In Banff
6// Vieux Port Montreal
Vieux Port in Montreal also known as Old Port is the place to be. 
Montreal is a beautiful place in general so anything you do there, you will totally enjoy! 
Vieux Port stretches along the St. Lawrence River.
And every year on Canada Day, Montreal hosts its annual parade featuring street entertainment, food and fireworks.
The parade and the day-long activities makes the Old Port a family-friendly choice especially if you have kids!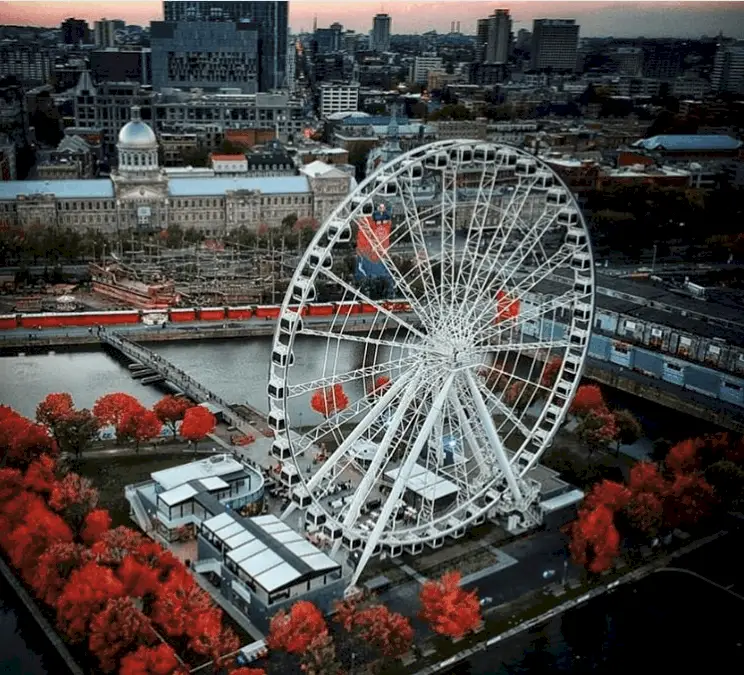 Source: lagranderouedemontreal
7// Canada Day At Canada Place
If you happen to be in  Vancouver for Canada Day, you might want to head over to Canada Place!
Canada Place hosts Downtown Vancouver's biggest Canada Day celebration with a free Waterfront Party that includes live music and entertainment on over three stages.
You are guaranteed an amazing time!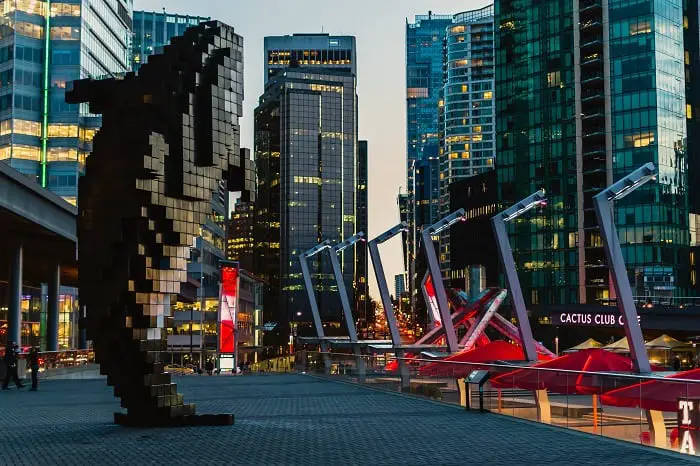 Source: Unsplash
8// Canada Day In Edmonton
If you are around, in the Edmonton area, you will not be disappointed by what they offer on Canada Day!
You can enjoy the best fireworks over Edmonton's River Valley Parks! 
Edmonton Canada Day celebrations include musical festivals, amazing firework displays, plenty of food and lots to do!
If you are ready to celebrate Canada Day in Edmonton, we are going to be right behind you celebrating with you!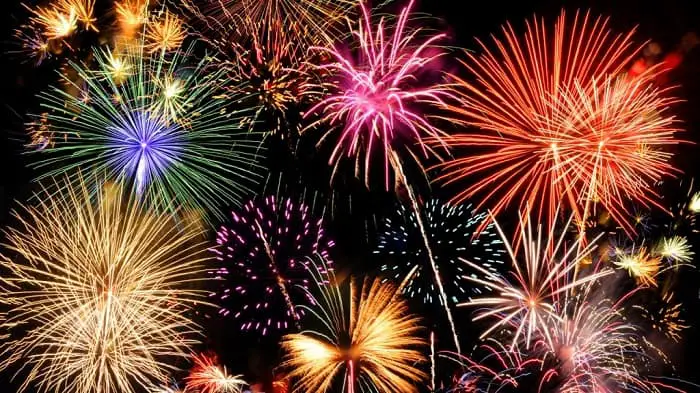 9// Fireworks at the Forks – Winnipeg
If you are in Winnipeg, you will be celebrating the Canada Day fireworks at the forks for sure!
The Forks is located in the downtown core of Winnipeg at the junction of the Assiniboine and Red rivers and it attracts more than four million visitors every year!
Canada Day at The Forks is definitely an amazing blend of music, history, and lots of fireworks.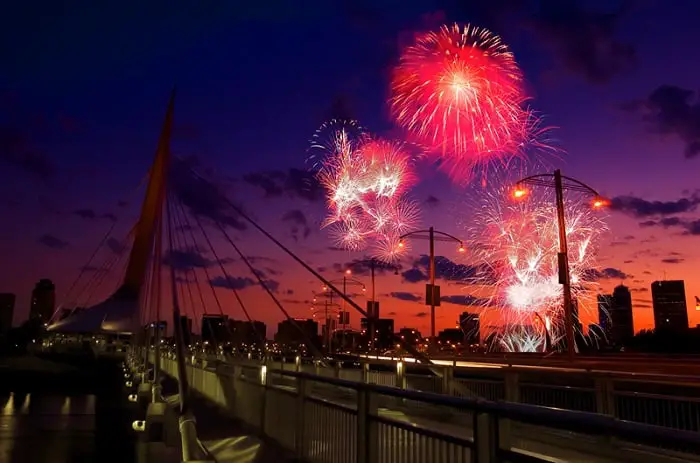 10// Canada Day in Halifax
Halifax will be hosting its annual pancake breakfast with amazing entertainment to go with it, including festivals and the famous fireworks displays!
The best place to view the fireworks in Halifax is from Alderney Landing or the Dartmouth Waterfront.
They have dedicated firework viewing point here!
On the more Halifax side, be sure to head over the waterfront area toward the ferry terminal closer to the Casino Nova Scotia!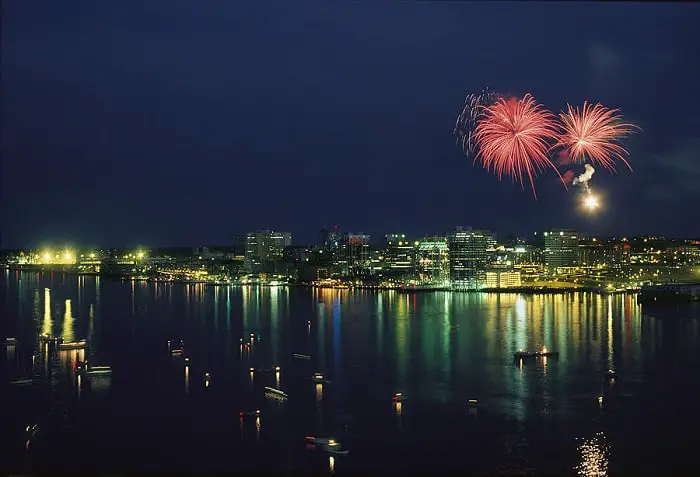 Source: Pixel
Want to be featured on our Instagram Page? Hashtag #CanadaDayEarned or #LiveCanadaDay
Canada Day Fireworks – The Best Place To Watch In Canada